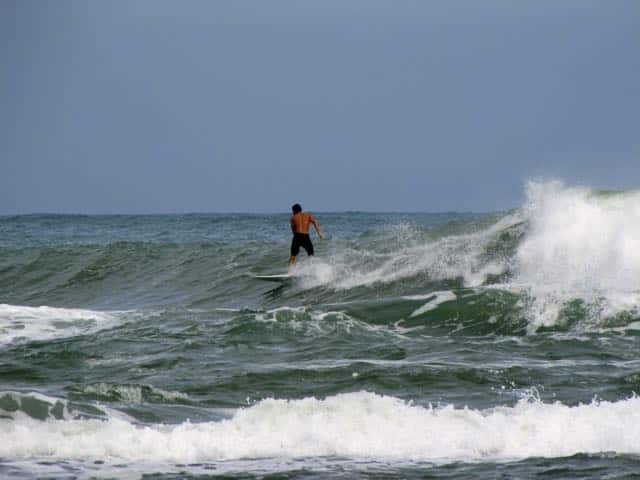 GO GREEN TIP #110: 5 Environmentally Friendly
Homemade Toiletries
I was standing in front of the sink of a shared bathroom in Puerto Viejo. Ten years before, when I first visited the same town, the only restaurant was a lady selling chicken from her own kitchen, a couple tables scattered on the porch, and it must have gotten business because the shared kitchen at this hostel still had all of one knife, no handle, and an assortment of about five broken pots and pans to accommodate a sleeping capacity of well over a hundred people. Now, there was a restaurant down every alleyway, all of them paved instead of dirt, and I counted something like three supermarkets, twenty-six hotels, fifty-seven souvenir stalls, and one first-rate bakery within a two-block radius.
For the moment, though, I was brushing my teeth at an hour a little earlier than normal for the patrons of this particular hostel, which had a nightly bar centered on an ice chest. There was no mirror to watch myself, usually an unattractive circumstance anyhow, so I scrubbed while reading a flyer posted next to the sink. It was about the ills of fluoride. With a mouth full of foamy chemicals that were no doubt killing me, I decided then and there, even if this hostel probably wasn't the marquee place to seek medical advice, it was time make a change. Toothpaste had always been a problem anyway.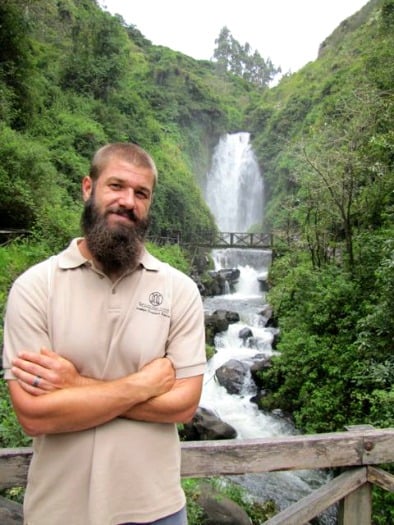 My wife Emma and I are the type always ready to join in on a good boycott or protest, willing to do without Nescafe or bacon if it'll make the smallest inkling of difference towards saving the world. In Central America, everywhere really, toothpaste had always been an issue as it is product dominated by conglomerate companies that test on animals and perform an assortment of unsavory acts in the name of whiter teeth. Such corporations seemed to hold even a larger monopoly in third-world settings. Finding a paste that lined up with our ethics, or whose offenses we had yet to discover, had long presented us with a challenge.
Fluoride was the proverbial straw.
How to Make Your Own Toothpaste
Making your toothpaste is not at all complicated. Ours is as simple as fine baking soda, essential oil (peppermint), and a bit of water. Other versions include coconut oil, which helps with the texture and has anti-bacterial superpowers, and I've also seen additional ingredients like natural hydrogen peroxide and natural sweeteners.
So, our adventures in homemade toiletries began in Puerto Viejo, Costa Rica, on an unassuming December morning in 2013, slightly overcast but poised to warm and clear up within a couple of hours. We were overlanding on our way to South America, hopping between eco-farms as volunteers. It turned out that homemade toiletries suited the scene right down to the gray water catchments, so from the toothpaste, a sparklingly clean success, we began to expand.
Next came deodorant, and the cards were stacked against us. I'm an admitted sweat hog, prone to saturated shirts, even further exaggerated by a backpack. Though research had shown potential harmful ingredients in the industry stuff, to put it "pH-balanced for a woman", I was fairly certain homemade deodorant wasn't going to contain my funk. But, as with toothpaste, the deodorant industry is Bogarted by multinational companies that we despise, so when our roll on ran dry in the sweltering heat of central Panama, I relented to giving it a go.
How to Make Your Own Deodorant
Just as simple as toothpaste, DIY deodorant only takes a few ingredients and the ability to mix them up. Some recipes seek to replicate the whole affair with waxy, bar-like concoctions with beeswax and coconut oil, but ever lazy in our adventure, we ended up on settling with baking soda, a little coconut oil, and a few drops of the essential oil of the week. A bit of that applied with a fingertip and it works as well as any deodorant I've ever used.
After the deodorant worked, we were in the full flow. The miraculous abilities of baking soda, something that up until then had occasionally made it into a cake but more or less lived in the back recesses of my grandma's refrigerator, had wowed us. What's more is we were inspired by how simple it was to make our own healthier, greener, and more ethical things. It was one of the moments where we were questioning why we'd not started this ages ago.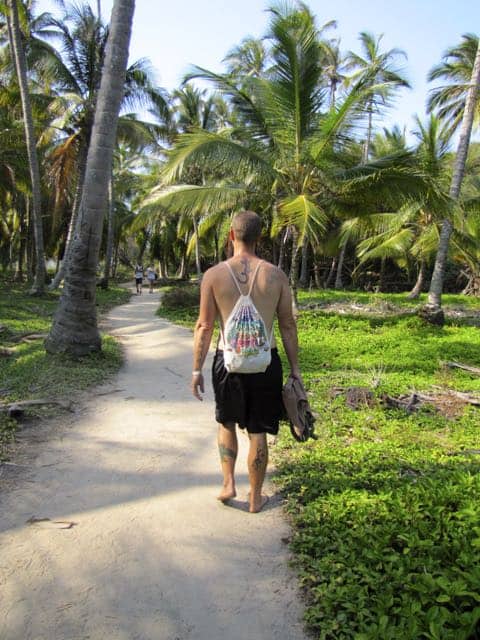 By Colombia, we'd advanced our product line to include shampoo and conditioner, tow things for which we once again had to quell doubts. I have an extremely dry scalp, and Emma oily hair, so we wondered what would happen with the old home remedies for that. What we discovered is that, without all the chemicals "fixing" everything, our respective scalp problems lessened after a month or so. And, we also discovered the apple cider vinegar is every bit as magical as baking soda.
How to Make Your Own Shampoo and Conditioner
Yet again, our recipe started and has remained a super basic mix of baking soda, essential oil (mints are really refreshing, Himalayan cedar is supposedly good for dandruff issues) and water. Typical recipes, though, call for other ingredients like castile soap and almond oil. Baking soda is said to mess the pH balance of things, drying out the scalp, so I minimize my use to a couple of times a week.
As for the conditioner, this is where my scalp really benefited, and Emma couldn't stop commenting on how soft her hair felt. We used watered down apple cider vinegar. That's it. It seemed to stop any flaky outbreaks with a day or two. I used apple cider vinegar a few times a week, often as a tonic after the shower. It worked better than anything I'd ever used.
In our excitement about these life-changing, budget-friendly advancements in our personal dental care, odor issues, and hair care, we began, as we all do nowadays, sharing articles and information on our Facebook. Most people were really inspired, the occasional person assured us baking soda was evil. And, a friend who is dentist told us baking soda's abrasiveness would destroy our tooth enamel, suggesting that, if we didn't want to use toothpaste, brushing with just water would be better.
However, we liked what the baking soda had done. It had made our teeth whiter. As well, brushing with water wasn't going to do much for morning breath. So, we decided to make our own mouthwash instead. We'd use it to rinse in the morning, and alternate it into the brushing routine at night. It worked a charm, allowing the baking soda to keep doing its thing but less destructively and allowing us to snuggle in close on lazy mornings without singeing each other's nose hairs.
How to Make Your Own Mouthwash
Our mouthwash recipe is amazing in that it is the closest of all of these products to the ones we are accustomed to, and it's just as simple. A few whole cloves, ten or more drops of essential oil — go cinnamon or citrus or mint — and hot water for it to steep in. The cloves provide anti-bacterial superpowers that leave the mouth feeling tingly and cleansed just like Listerine or other powerhouse mouthwashes.
Once these few ingredients — essential oil, baking soda, vinegar, and coconut oil — are around, everything starts to get a little greener. We found ourselves naturally moisturizing, battling down acne, treating wounds, and scrubbing. When the trip was over and we'd settled, we learned to use the same ingredients to make eco cleaning products for the house and, more or less, all out rejected the whole of those chemicals we all wish weren't around. It was surprisingly easy and effective.
It was also information that seemed imperative share. We hope you feel the same. –by Jonathon Engels, Photographs by Emma Gallagher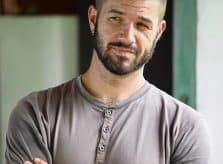 Jonathon Engels is a traveler, writer & teacher who's been living abroad as an expat since 2005. He's worked in nearly a dozen countries, and visited many others in between. He's currently on a slow travel trip from Central America to Patagonia, volunteering his way throughout the journey. He's a regular contributor to One Green Planet as well as Permaculture News, which focus on helping to keep the world green and clean. He's also the founder of The NGO List, a compilation of grassroots NGOs seeking international volunteers. His work can be found at Jonathon Engels: A Life Abroad, and his current whereabouts and goings-on are available on his personal blog.
 If you enjoyed our post on 5 Environmentally Friendly Homemade Toiletries, you might also like: 
GO GREEN TIP #49: Natural Beauty Recipes
GO GREEN TIP #69: 5 Green Ways To Clean Kitchens
GO GREEN TIP #71: The Eco-friendly Way to Clean Soap Scum & Bathrooms
GO GREEN TIP #73: 10 Ways For Using Castile Soap
GO GREEN TIP #90: Homemade Natural Hair Care Products
GO GREEN TIP #117: 10 Steps to Becoming a more Responsible Traveler