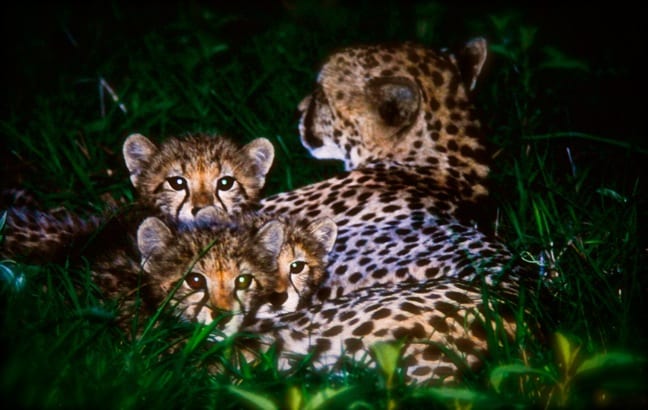 Baby Cheetahs in Kruger National Park
If you've never been on a nighttime safari drive, it's truly a spooky spectacle to behold. The darkness lends an added air of mystery to an experience already filled with awe and wonder. And, with your tracker's flashlight usually the only source of illumination, it can be a little scary knowing that wild things wander unseen all around you.
My memories of our game drives through South Africa's Kruger National Park are extraordinarily vivid. I remember the racing pulse of excitement the first night, when our Londolozi Game Reserve driver struggled to find pathways through the thick underbrush as we followed a female Leopard stalking her prey just after sunset. The thunderous noises of a massive Hippopotamus crashing through a thicket and running across the road behind us, faster than you'd ever imagine a creature so large could run. The incredible sight of 13 Lions stretching lazily in the road back to our camp, looking for all the world like sleepy, overgrown house cats. And the heart-pounding intensity as we watched a pack of cackling Hyenas chasing a herd of Gazelles, which leapt and bound gracefully across the road.
But one of my favorite nighttime wildlife sightings has to be this cute little trio of Baby Cheetahs, who we found hidden amongst the grass of the open savannah late at night, nursing contentedly on their mother. Cheetahs are my favorite of South Africa's big cats– I admire their distinctive markings, their speed, their gracefulness– but until this night they were the only species (including the rare African Wild Dog) that we hadn't seen. To stumble upon them in the dark, late at night, and see an entire family? It felt as if we hit the jackpot.
You can read elsewhere on GGT the story of how South Africa inspired our passion for ecotourism. But, for me, this photo captures one of those indelible little moments that makes Kruger National Park such a special place. In these adorable little faces, I saw the future of sustainable travel.  –text & photo by Bret Love
If you enjoyed our photo of Baby Cheetahs in South Africa, you might also like:
SOUTH AFRICA: Londolozi Game Reserve Safari
SOUTH AFRICA: Phinda Game Reserve Safari
SOUTH AFRICA: Zulu Memories From Kwa-Zulu Natal
INTERVIEW: South African Legend Johnny Clegg
INTERVIEW: Ladysmith Black Mambazo
INTERVIEW: Soweto Gospel Choir