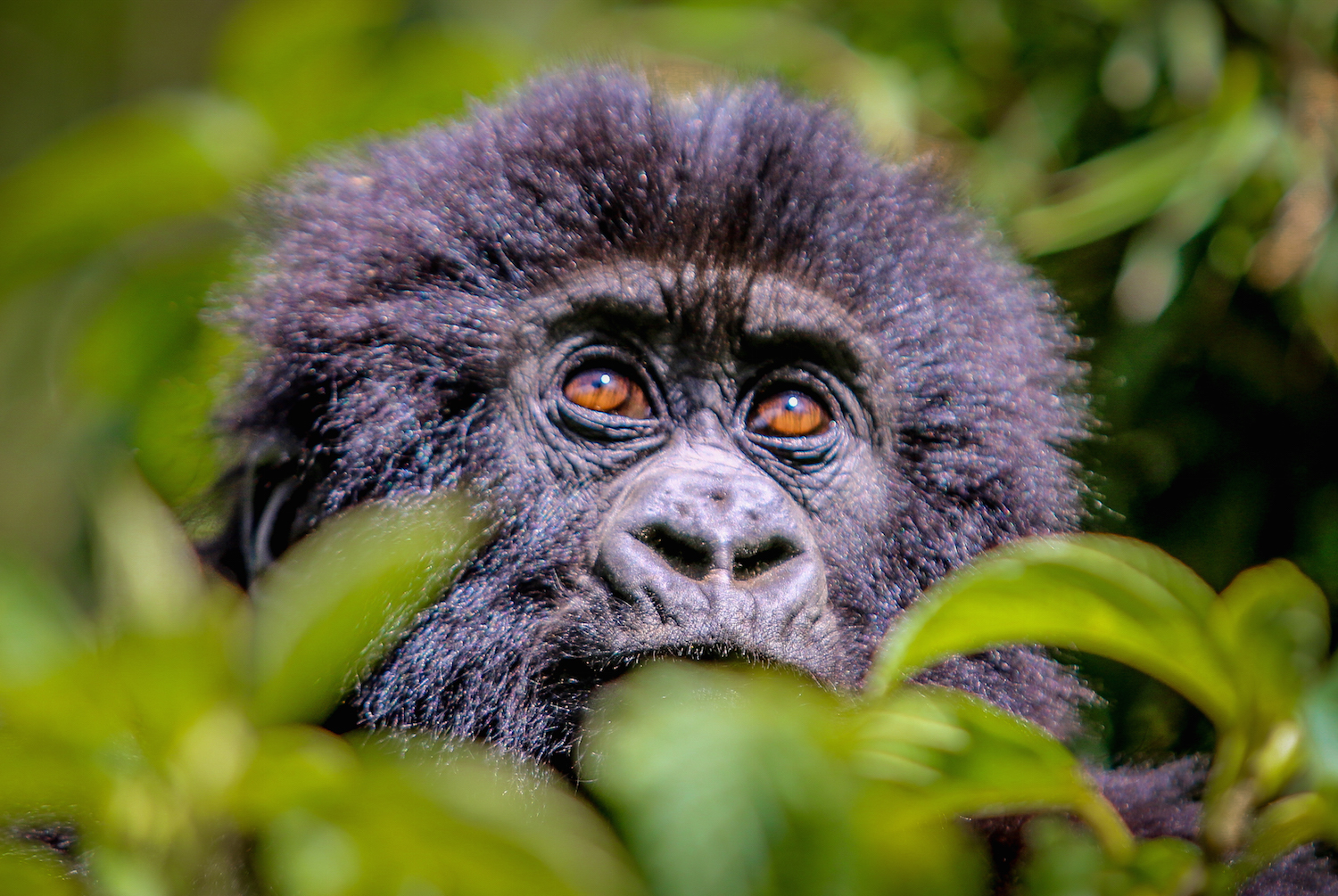 PIC OF THE DAY: Baby Gorilla
in Volcanoes National Park, Rwanda
Trekking to see the critically endangered Mountain Gorillas of Rwanda was one of those "bucket list" dreams we never imagined would come true. Even now, a month after we visited Volcanoes National Park, it feels strangely surreal, like something we saw in a movie long ago.
We'd been to the park the previous day to do a Golden Monkey trek, so there was lots of build-up and anticipation: waking up at the crack of dawn, arriving at the park to see hundreds of hikers and guides milling about, watching a traditional troupe of Rwandan singers and dancers perform, and splitting off into groups to get instructions before heading into the forest.
We'll have the full story about our mountain gorilla trek (including our insane guide, Françoise, who worked as a porter for Dian Fossey back in the '80s) coming next month, to coincide with the 30th anniversary of Fossey's death.
But for now we wanted to share this handsome little fella– the very first gorilla we saw as we turned a corner in the thick underbrush and entered a clearing our trackers had made. He was sitting right at eye level in some shrubs, just a few feet away from his mama. She kept a watchful eye on the 10-month-old, but seemed completely unconcerned by our proximity.
But the baby? He was FASCINATED by our camera. He gradually moved closer to get a better look, those wide eyes full of curiosity and wonder. Several times he leaned forward and pounded his little chest, and I had to stifle my laughter in an effort to stay quiet.
After showing us who was boss, the baby gorilla sat back down and started eating the greenery that surrounded him. As he briefly looked up towards the sun, we snapped this photo, which proved to be my favorite by far of the hundreds we shot on that magical, memorable day in the mountains of Rwanda. –Bret Love
If you enjoyed our Baby Gorilla photo, you might also like: 
PHOTO GALLERY: Madagascar Animals
PHOTO GALLERY: Amboseli National Park & Timbavati Game Reserve
PHOTO GALLERY: J.N. Ding Darling National Wildlife Refuge
PHOTO GALLERY: The Ansel Adams Wilderness by NatGeo's Peter Essick
PHOTO GALLERY: Our Top 20 Photos of 2014