After 10 years of traveling to ecotourism destinations all around the world, Mary and I have developed quite a few travel packing tips that make our trip preparation a breeze.
She's the organized one: For our trip to Sanibel Island, Florida she printed out a beach vacation packing list weeks in advance. Every time we thought of a new item we wanted to bring along, we added it to the list.
This was our first real beach vacation (i.e. no work obligations!!) in years. And since Sanibel is just a 9-hour drive from our home in Atlanta, we took a road trip down. This allows us to pack much more liberally than when we fly (which we always do carryon-only).
So our beach vacation packing list is a little different from our usual, including things like floats, beach canopies, and even my daughter's inflatable stand-up paddle board!
Here's a look at some of the new items we'll be taking along on our next beach vacation, from swimwear and sunglasses to snorkeling/Scuba gear and various kinds of sun protection.
READ MORE: The Best Travel Clothes For Every Travel Style
BEACH SWIMWEAR
Everyone's beach vacation packing list starts with swimsuits. Both Mary and my 16-year-old daughter are huge fans of the Red Dolly's retro pinup style. 
Mary likes it because the cuts flatter her curvy figure, while my daughter likes the fact that they usually cover a bit more skin than today's barely-there bikinis.
Red Dolly specializes in vintage clothing for "classy dolls," offering more than a dozen retro-style swimsuits for women and girls.
From the classic Polka Dot High Waist Bikini and the playful Pink & Green Cactus One-Piece pictured above to tropical and anchor-print swimsuits, all of their clothes are utterly adorable.
Many of them are also available in matching styles for girls and babies, making them a great choice for fun moms who want to flaunt their retro fashion flair. 
Most guys can probably agree that finding a decent pair of swimming trunks that do the simple job of being comfortable, long-lasting, and looking cool can be a bit tricky.
Kavu have made it easy with their new Go Big board shorts. Depicting a tranquil setting, featuring evergreen trees and blue sky reflected on the water of a placid lake, the design couldn't be more perfect for our style.
With black trim framing the gorgeous photo, the shorts feature a front-tie closure and a velcro fly.
There's also a front zipper pocket with an internal elastic cord key loop for holding small valuables or pieces of gear. They're perfect for the beach or just chilling by the pool.

READ MORE: Top 10 Things to Do in Coron, Palawan (World's Most Beautiful Island)
BEACH CLOTHING
Depending on where you're traveling to, bugs and insects can often be a problem at the beach. In Sanibel, no-see-ums (a.k.a. midges) can be a literal pain.
If you're headed to the Caribbean Islands, South America, or Africa, viruses such as Malaria and West Nile are real threats. So you need to be protected.
Not only does this tunic from Royal Robbins have a built-in bug repellent system, but it's still incredibly fashionable, not to mention comfortable to wear.
It has ventilation in order to keep you cool on warmer days and buttons up in the front for extra protection. It's also super lightweight and compact, which makes it easy to pack and travel with.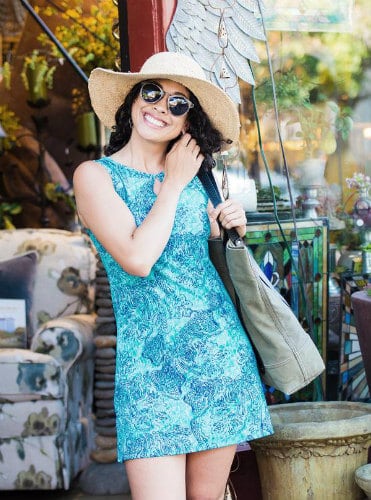 The Mermaid Scoop Dress from Nuu Muu is that rare piece of beach clothing that could almost be considered modest.
It's designed to be comfortable and very versatile, allowing you  to wear it as a beach coverup, resort wear, or even when doing yoga or playing tennis.
Nuu Muu have made a dress that has a beautiful design, with an aqua blue and white pattern overlaid with darker blue oceanic imagery.
But it also has a very flattering cut and style that suits almost every body type. It's versatile, comfortable, and gorgeous to look at, showing just enough leg to qualify as sexy.
No need to use a towel as a beach cover-up anymore. With this extremely comfortable shirt from Life is Good, your cover-up just got a lot more stylish.
The shirt is made of very soft and lightweight woven Modal Moss Crepe, which is perfect for hot weather.
The V-neck tee has a relaxed fit, which not only stops it from clinging and making you hot, but gives you a very flowy and loose-fitting silhouette. The neckline isn't too deep, and the 3/4-length sleeves roll up for more casual comfort.
The deceptively simple design is navy blue, which looks gorgeous in any aquatic setting. But, on closer inspection, all of the light blue stars in the pattern are made up of dozens of smaller stars. It's so cozy, you'll feel like a star while wearing it.

As a socially conscious business whose founders are passionate about empowering indigenous communities, we were drawn to Songa Designs founder Sarah Sternberg's story.
She fell in love with Rwanda during her first visit to the country, and founded Songa (Swahili for "the path forward") to help provide financial independence for local female artisans.
The beautiful Jacqueline Handbag, made from woven banana leaf with a repurposed cow horn accent, was designed by the local for whom it is named.
Measuring 15″L x 6″W x 10″H, it's the perfect bag for a day at the beach. Mary pairs it with Songa's new hand-dyed Unity Beach Sarong.
The vividly colored garment is part of their collaboration with Kenyan collective Mrembo Africa (which has a similar female empowerment mission), and makes a fantastic cover-up.
READ MORE: Top 10 Exotic Islands for Your World Travel Bucket List
WATER/BEACH SHOES
When the sun is out at the beach, that usually means it's going to be hot. That means you need protection, and not just for the skin on your face and body, but your feet as well.
We've all experienced the scorching sand that burns like fire. But even when you reach the water, there's often sharp rocks, coral, and– in places like Sanibel– seashells. Ask me about the time I stepped on the business end of a 6-inch Lightning Whelk and nearly had to go to the hospital!
Available for men and women, these beauties from Hey Dude are the perfect beach shoes. They've got double mesh to keep stuff out, dry quickly thanks to copious drainage ports, and breathe well to ensure your feet don't get sweaty. The fact that they're also stylish is just a bonus.

When you travel light as we do, every piece of clothing you pack needs to be versatile. We love anything that can be used on the beach, the trail, and/or a night on the town.
The Newport Retro shoes from Keen offer a great mixture of fashion and function. The fun tie-dye pattern captures a sense of whimsy and matches just about any beach outfit.
The sandals are made with what is called a Metatomical Footbed, which supports the arch of your foot to provide long-lasting comfort.
Best of all, Keen's unique design ensures that your toes are completely protected.

You know, by now, that we're extremely passionate about ecotourism and wildlife conservation. So naturally we enjoy wearing eco-friendly gear whenever possible.
Available in five colors, these new beach flips from Sole are a perfect example. They're made with a 100% recycled cork footbed, courtesy of a partner (ReCORK) that has collected over 75 million wine corks for re-use. 
The cork footbed has great moisture-wicking capabilities, and the flips are super comfortable thanks to moldable orthopedic support.
The cork also offers natural shock absorption, as well as equalizing the pressure distribution on your feet, which naturally helps to improve your balance and posture.


Specializing in comfortable, handcrafted footwear, Twisted X was one of our favorite new brands we discovered earlier this year at the Outdoor Retailer winter show.
Another great pair of eco-friendly sandals, Twisted X's Women's Eco TWX Sandal is made from recycled water bottles, with each pair using 13. For every pair sold, the sustainability-conscious company has pledged to plant a tree!
According to Mary, these sandals are incredibly comfortable, providing great arch support and all-day comfort. They're simple, ethically made, and eco-friendly, with a perfect casual style for the beach.

Billed as 'the ultimate trail-friendly sandal," the Z-Trail from Xero Shoes (which are available in men's and women's sizes) could possibly be the best sandals we've reviewed this year.
They're simply designed but incredibly well-made, strong, and durable. Frankly, we haven't found a single surface or activity that these sandals aren't perfect for.
They offer complete protection for the bottoms of your feet, yet they're incredibly lightweight and flexible.
You can use them on the beach, hiking trails, exploring ancient Mayan Ruins, or wandering the streets of a new city. Wherever you wear them, the Z Trail's unique design ensures you'll barely know they're there.

READ MORE: Top 20 Things to Do in Cancun (for Nature & History Lovers)
Cabanas/Chairs/Hammocks for the Beach
Though my younger self would barely believe my current self is saying this, shade is your best friend on the beach. Not only does it help prevent sunburn (and skin cancer), but it also keeps you and your food and drinks cool.
The Mountainsmith Shade Dome measures 10 x 10 feet, providing you with 100 square feet of shade space. It also comes with a removable wall, allowing you to adjust the wall with the rising or dipping of the sun, ensuring shade throughout the day.
The dome is incredibly easy to set up, and the handy stash pockets can hold your sunscreen, phone, or  other valuables to keep them from getting wet or sandy. It's great for the beach, but also perfect for picnic lunches in our favorite state or national park.

If you want shade at the beach, but prefer something a bit more semi-enclosed, the Kelty Cabana is a great option.
The cabana is fitted with three mesh side walls/windows, which give you a sense of privacy and also provide great ventilation. The mesh will also keep any bugs and insects out, as well as any serious sand blown by the wind.
Kelty has long been one of our favorite brands in the outdoor gear industry, and their legacy of quality shines through with this cabana. The wrapped fiberglass poles add structural integrity. And if you want to settle down for a nap, the front door toggles up for added privacy.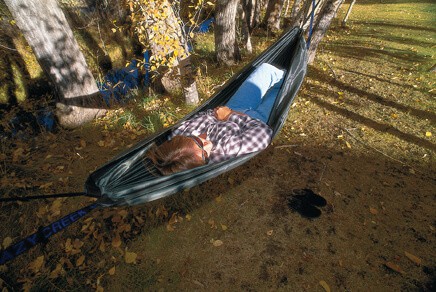 Crazy Creek Hammock
Is there anything better than having a midday nap in the shade of a few huge palm trees, with the sound of the ocean in the background singing you to sleep?
The Crazy Creek Hammock is one of the best hammocks we've tested for lazy days at the beach. And even though it looks a bit tricky, it's actually a cinch to set-up.
The coolest thing about it is that you can combine the hammock and a tarp (which can be purchased together or separately) to give you a brilliant sleeping option while camping.
The hammock is made of strong, 70D coated nylon and has a 300-pound weight capacity. Yet this lightweight hammock weighs just 23 ounces, and fits into its own 16″L x 7″W x 2″D stuff sack.
The GCI Roadtrip Rocker is like no other outdoor recreation-type chair we've seen, combining the convenience of a camping chair with the comfort of a rocker.
The chair is made with a patented Spring Action Rocking Technology. This means that it does not look like a conventional rocking chair, but it does the job just as well, if not better.
The padded armrests and mesh backrest keep you comfy for a full day of beach-bumming, while the beverage holder pocket… well, we don't need to explain why that's great.
It's a perfect, portable combination: A rocking chair that folds into a bag, then unfolds to be one of the most comfortable camping chairs we've ever tested.

READ MORE: 60+ Cool Camping Gear Reviews (For Every Camping Style)
SUN/SKIN PROTECTION
No beach vacation packing list would be complete without sunglasses. We've been fans of WeWOOD watches for years, so naturally we were drawn to their handsome Crux line of sunglasses.
The unisex design is available in 10 different colors, with stylish frames made of natural cotton fiber and wood pulp. This innovative approach allows them to achieve a natural look while using sustainable materials, as opposed to chopping down more trees.
The lenses (which also come in different colors) are, unfortunately, not polarized. But they do offer 100% UV protection, ensuring your eyes stay safe in the bright sun of the tropics.
With their wood grain texture and slick metallic accents, they also make a strong fashion statement that's equally cool whether you're lounging on the beach or exploring the local town.

Costa is another brand we've reviewed several times before.
Their new Pescador Sunglasses are also eco-friendly, made with a combination of recycled fishing net for the frames and recycled aluminium for the logo. They come with a ReFleece case, which is made from reclaimed textiles and recycled plastic bottles.
Even better, given our planet's current plastic waste crisis, every part of these sunglasses is recyclable. Even the nose and temple pads!
Costa offers seven different lens types for different light conditions, so you choose your pair based on your preferred activity. The Pescador is also available with removable shields, which are great for protecting glare from entering your peripheral vision.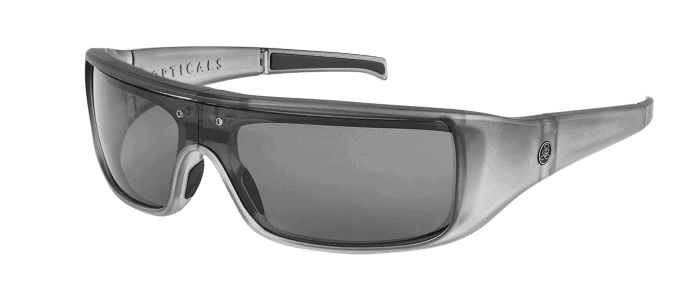 PopGear NYDEF Sunglasses
This may sound like hype, but these sunglasses from PopGear may revolutionize what you know about sunglasses.
These sunglasses are designed with a patented FL2 Micro-Rail System, which allows your sunglasses to fold up into a much more compact configuration.
Not only does this folding method make them great for travelers, but it also helps to protect your glasses from scratches and dings.
Of course the shades also block out 100% of UV rays, completely protecting your eyes against any harmful rays.
Confession time: I wear my sunglasses almost all the time when I'm not at home.
Not because I wanna look cool, but because my eyes are ultra-sensitive to sun, fluorescent, halogen… basically any intense form of light you can imagine.
Native Eyewear's N3 lenses block up to 4X more infrared light than regular polarized lenses, dramatically reducing blue light and filtering UV rays.
The result is crisp, high contrast visuals that are easy on the ol' baby blues. Their durable Kodiak Desert Tort and Kodiak Wood frames are my personal favorites: Both come with a SportFlex lens kit and are backed by a lifetime warranty.


What sunglasses do for your eyes, a hat does for the rest of your head (i.e. protects it from the sun). Whether we're hiking in Costa Rica, on safari watching for animals in Kenya, or visiting the world's most beautiful beaches, we've learned to ALWAYS pack a hat.
I'm pretty damn picky about my hats, but the Conner Aztec Boater is an excellent, eco-friendly option. It's made of recycled bottles, and comes in completely biodegradable packaging.
But beyond environmental concerns, the Aztec Boater is stylish, with a dash of that Indiana Jones-style swagger.
The brim is wide enough to protect you from the sun, and is also brilliantly ventilated to keep you cool on even the hottest days. Best of all, it will not shrink, it won't fade, and it even floats on water! What more can you ask for in a beach hat?

There's a long history of cancer in my immediate family (both paternal grandparents and both aunts). So the older I get, the more conscious I become of protecting myself from the sun.
So our family's beach vacation packing list always includes a variety of sunscreens, aloe, and other skin protection products.
We love Beyond Coastal's Natural Sunscreen and Natural Lip & Face Screen: Both use all natural ingredients, block 97% of sunburn-causing UVB rays, and were listed among the "Top Sunscreens" in the Environmental Working Group's annual sunscreen guide.
We also adore their Mint Leaf and Vanilla Bean Active Lip Balms. They moisturize with aloe vera, shea butter, and vitamin E, and were rated the #1 non-mineral lip balm by the EWG.

Other than impaling your foot on a seashell (which happened to me) or getting stung by a Sea Urchin (which happened to a friend), few things ruin a day at the beach faster than bugs.
Thermacell's Backpacker Mosquito Repeller offers beach-lovers and backpackers alike a compact, portable way to keep biting bugs at bay.
It weighs in at just 4 ounces, and uses the same gas canisters used for camp stoves.
Yet provides a 15′ X 15′ area of protection, with a fuel efficient design that can keep your evening mosquito-free on less gas than it takes to boil a pot of water. Bonus: No Zika virus for you!

READ MORE: The Top 10 Things to Do in Barbados (for Nature & History Lovers)
SWIM/SNORKEL/DIVE GEAR FOR THE BEACH
If you're anything like us, the most fun you have when you go to the beach is out in the water.
Whether you're snorkeling or just swimming laps, goggles are much smaller and easier to pack than a mask. But if you wear glasses like I do, you're going to need prescription lenses to ensure that you can actually see the marine life during your underwater adventure.
The Rec Specs Shark swim goggles from Sport RX are affordable goggles that you can order online, without having to go into a store. You just need a copy of your prescription and a measurement of the distance between your eyes.
Their custom made lenses ensure perfect clarity, while the sturdy, well-made body is designed for durability. It may take some adjustment to prevent water seeping in, but overall they're great goggles.

Mary and I are always happiest when we're in, on, or around the water. Last year we got serious about swimming for exercise, working our way up to doing 1.5 miles 3-4 times a week.
The Shine 2 Swimmers Edition fitness tracker by Misfit is tailor-made for swimmers, allowing you to track your laps, total swim distance, calories burned, and more.
It also features a smart button for controlling connected household devices, vibration alerts for calls and texts, movement reminders, and alarms.
It comes with two sport bands, action clip, and quick start guide. It's easy to use, and being able to track my stats while swimming at the lake has really encouraged me to push myself further in my quest to get in shape!

Finis offers a broad range of products for all skill levels, from fitness swimmers like us to hardcore racing enthusiasts.
Our beach vacation packing list includes their center-mount Swimmer's Snorkel, Edge high-velocity swim fins, and Circuit Goggles, which feature anti-fogging UV lenses and interchangeable nosepieces for a custom fit.
I'll also be using their Duo underwater mp3 player, which clips to your goggle straps and uses Bone Conduction audio transmission to deliver remarkably clear audio through your cheekbones to the inner ear.
I'm hoping to work my way up to using the Drag+Fly adjustable swim chute, which provides variable resistance for strength and endurance training.


I'm generally not much of a collector (thankfully I did not inherit my late father's OCD-driven hoarding). But I will admit to having more watches than any one person really needs.
Freestyle is a new brand for us this year, but I love the fact that their dive watches are all water resistant to 660 feet and backed by a limited lifetime warranty. It's tough to choose a favorite model.
The Hammerhead XL boasts a handsome silver 48mm case, durable black polyurethane band, and luminous hands and markers that glow in the dark.

The Precision 2.0 is a unique analogue-digital hybrid offering dual time, dual alarms, chronograph, and a large wrist fit. I love the all-black look, but at $40 cheaper the Hammerhead is a better deal.

READ MORE: Snorkeling/Scuba Diving the Cancun Underwater Museum
BAGS & COOLERS FOR A BEACH VACATION
Mountain Khakis Compass Backpack Cooler Tote
The appeal of Mountain Khakis' Compass Backpack cooler should be obvious. It allows 19.5 liters of hands-free carrying capacity, which is enough to hold 30 cold cans.
The bag is highly insulated with 15mm PE Foam, keeping the contents cool on even the hottest days. It's also highly efficient, with the seamless, vinyl drop-in liner preventing any leaks and making it easier to clean.
The built-in zippered security pocket offers a hidden place to store your valuables, and there's even a bottle opener lanyard inside it.
But our favorite features are the tote handle on top and the climbing rope handle on the side, which give you a variety of different carrying options.

Measuring just 14 x 15 x 10.5 inches, the Cooloir 24 from Mountainsmith may seem small. But the soft-sided cooler can easily hold 24 cans and ice, which is plenty for a day at the beach.
Made with heavy-duty closed-cell EVA foam insulation, the cooler is seam-sealed, with a double wall construction. In English, this means it's guaranteed to keep the contents cool for up to 72 hours.
The interior cooler is removable for easy cleaning: When it's taken out, the exterior lining can be used as a less-insulated cooler.
The bag also has a water-resistant external zipper, heavy-duty hardware, and adjustable padded shoulder sling and dual tote-style handles to give you carrying options.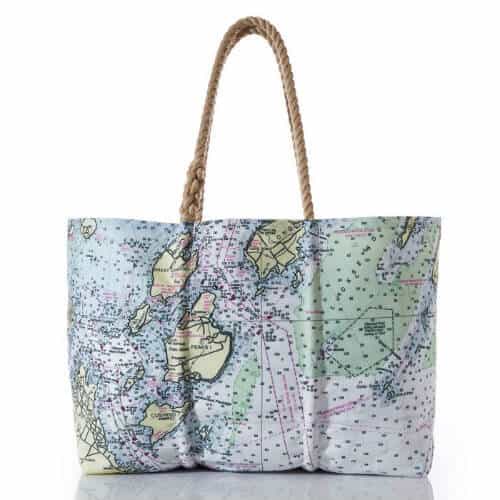 Seabags Casco Bay Nautical Chart Tote
If you're looking for something a bit more stylish in a beach bag, the Nautical Chart Tote from Seabags could definitely be your new favorite.
We love the artistic nautical map design, which depicts Casco Bay in Portland, Maine. Combined with the hand-spliced hemp rope handles, it gives this bag a unique appeal that seems tailor made for seaside activities.
For you eco-friendly fashionistas, the bag is made from recycled sail cloth, with a crisp, white interior liner. It's also machine washable, allowing you to clean any spills or stains without risking the integrity of the bag.
After investing several thousand dollars into a Canon 70D, two lenses, a 1.4 extender, and various other accessories, protecting our camera gear is an absolute necessity.
The Camera Base Layer from Matador is a great place to start. It protects your DSLR camera against the bumps and scratches that often come with outdoor adventure. And when you throw the integrated rain fly over the bag, it protects it from water as well.
The bag can fit most, if not all, DSLR cameras with ease. The Base Layer adjusts to the shape of the camera in order to ensure it is completely protected.
Best of all, with a weight of just 3 ounces, you can easily wear this bag around your neck, keeping your gear close and fully protected from the elements.

READ MORE: The Best Carryon Luggage for Travelers
BEACH FRIENDLY TECH
A portable charger can be a lifesaver in certain circumstances, especially if you're exploring remote places such as a secluded beach.
The LightSaver Max from Power Film Solar is one of the best portable solar chargers we've come across. The panel allows you to charge the device while the sun is out and you're enjoying your day, then quickly charges your electronic devices.
The charger is fitted with a powerful 18000mAh battery and has a USB output, allowing you to charge your smartphone, tablet, camera, and even laptop.
It takes a little bit longer to fully charge using the sun (about 6 or 7 hours). But you can fully charge it from a standard wall plug in about 3 hours, which is perfect for juicing it up the night before your trip.

The River Black Mobile Power Station from EcoFlow is one of the most powerful portable chargers on the market, and arguably one of the best. It's able to charge everything from your smartphone to your drone, and even a mini-fridge!
You can charge the power station via a wall outlet, solar energy, or in the car, which means you are never far away from a charging point.
And since the 11-pound unit is portable, you'll always have immense amounts of power (500W, with 11 outputs) to charge your devices quickly and efficiently.
The kicker? The River's Battery Management System automatically adjusts to whatever is plugged into it, regulating the power sent and protecting both the unit and the device being charged from surges.

This Bluetooth speaker from Outdoor Tech could possibly be the toughest and most durable speaker we've ever tested.
Rugged enough to be thrown or dropped, and easily surviving a few accidental swims, the Turtle Shell is the ideal speaker for any beach or water-based activity.
Not only is the speaker waterproof, but the thing also floats! So there's no need to worry about dropping it into the water or losing it.
The speaker also has a massive 20-hour battery life, and can be connected to other Turtle Shells, giving you an amazingly powerful sound system that can last for a full day of fun in the sun.


The Kicker Bullfrog BF100 is another portable waterproof speaker, which can be charged via USB. The device has a Bluetooth range of about 100 feet, which is great if you want to change the song without getting up from your beach chair.
The speaker has a battery life of about 12 hours, giving you plenty of entertainment time for a day by the ocean.
The one feature we really enjoyed most was the fact that you could connect two speakers together, giving you the option of having twice the sound.
The waterproofing is solid: We discovered that it floats by accidentally knocking it into the pool. But still it worked perfectly!

READ MORE: 125+ Best Gifts for Travelers (Arranged by Travel Style)
MISCELLANEOUS COOL BEACH GEAR
I hate the feeling of sand on my body. I think everyone can agree that getting your towel, clothes, and other personal items covered in sand is one of the biggest pains of spending a day at the beach.
This 8′ by 14′ mat from CGEAR makes those problems disappear. Yes, you read that right: The R.V. Sand-Free Mat will prevent sand from gathering on your stuff.
It works due to the dual-layer construction: Tiny holes in the top layer allow sand and dirt to pass through, making it great for the beach or the campsite.
The durable built-in D-rings also allow you to easily stake the mat down to keep it in place.

Because we always travel carryon-only, we love anything that allows us to lighten our load. The Podillow is a comfortable beach/poolside pillow that also has a secret storage option large enough to hold your passport, wallet, and other small valuables. No need for an extra bag!
The pillow comes in seven colorful patterns, and is made from material similar to that of swimsuits. Inside, there are food-based microbeads for added comfort.
The storage pockets not only keep your valuables safely hidden away while you're in the water, but also protect them from the water and sand. The included smartphone bag adds an extra layer of waterproofing.
Not only is it surprisingly comfortable, but the fragrant aroma infusion gives it a spa-like vibe that really enhanced our lakeside relaxation.

Remember how I mentioned my dislike of the feeling of sand on my body? The same goes for salt water on my skin. If we're at the beach and there are showers nearby, I hit them up soon after leaving the water.
But what about those times when you to want to wash yourself down (or at least rinse feet off), and there's no showers to be found?
With a 3-gallon capacity, the Lux Soft Tote from Rinsekit offers a perfect, portable solution. Spraying for up to 9 minutes, it allows you to shower yourself after a day at the beach (or campground). You can also hook it up to the sink for more extended usage.
The pressurized hose works just like a garden hose. Not only can you shower, but the pressure allows you to clean your cooking gear, bicycles, camping equipment, etc. There's also a hot water sink adaptor included, which allows you to take warm showers on chilly days.

Other Items on Our Beach Vacation Packing List
• Floats
• Frisbee
• Medication
• Shorts
• T-shirts
• Socks
• Dresses
• Meori Foldable Box (for groceries/picnics)
• Airweave Portable Mattress Topper (for pull-out sofa)
• Books/Magazines
• GoPro
• Manfrotto Carbon Fiber Tripod Kit
• Snacks.  –reviews by Bret Love, Mary Gabbett, & Bryce Fisher