This week, in an extraordinary collaborative effort, hundreds of travel writers from around the world will post stories about New Zealand for the Blog4NZ project. Parts of the tiny island nation off the east coast of Australia suffered terrible damage in the recent earthquake and tsunami there. But many parts of the islands remained untouched and are desperately hurting for tourism business. Although we've never been to New Zealand, it's been on our Top 10 Places To Visit list for quite some time. So we enlisted the help of our friend Jim McIntosh, a native New Zealander and travel blogger on Holes In My Soles, to contribute this guest blog on his favorite NZ ecotourism hotspot. 
KAPITI ISLAND, NEW ZEALAND
A Unique Nature Reserve
by Jim McIntosh, bird photos courtesy Kapiti Island Nature Tours
The skyline of our area on the lower North Island of New Zealand is dominated by Kapiti Island, almost all of which is now an internationally renowned, predator-free Nature Reserve (a small area of the northernmost end is still privately owned land). Rats, stoats, possums– all introduced predators have been eradicated, and restriction of private landings helps maintain that status, ensuring no stowaway rat gets ashore again.
Possums, with no natural predators and with lush vegetation growth all year round (unlike the seasonally dry Australian environment, from which they were introduced to NZ),  reached epidemic proportions in our country. Our Aussie cuzzies were destroying us! Chewing through millions of tons of new growth every night, these invasive animals are also known to raid eggs from bird's nests. The clearing of our native forests and introduced predators decimated our native bird life. The song disappeared from our forests. The deafening dawn bird chorus was stilled. Gone.

Kapiti Island's mountainous terrain of gullies and hills is now draped with regenerating native bush and, with it, the return of many birds bringing their songs to life again. As the bird population grows on the island, many will migrate to the mainland, finding refuge in the natural forest reserves along our coast, but taking their chances with predators here. Many survive, as we see them in our gardens feeding on nectar from flax, kowhai or other flowering trees. My blog Song of the Tui was inspired by my observations of tui in trees outside our home– new arrivals from Kapiti braving the dangers of the mainland.
Kapiti Island is now a safe haven, and the kokako, saddleback, stitchbird, brown kiwi, weka, brown teal and tui all make their home there.  Another kiwi species, the little spotted kiwi (which is extinct on the mainland), thrives there. Kaka and weka will playfully steal your crumbs.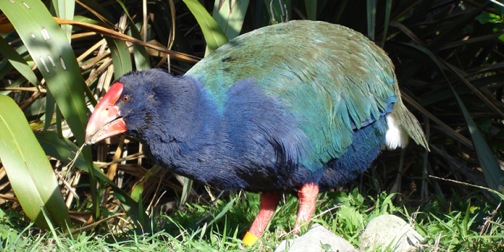 The island's safe habitats also allow programs to breed endangered species such as our critically endangered takahe. Only 280 of these heavy, robust flightless birds exist in the world, but Kapiti Island provides a perfectly safe breeding ground for the tame species.
To stay overnight on Kapiti Island, you can check out Kapiti Island Nature Tours. At Kapiti Nature Lodge you will be genially hosted, feasting off local seafood, and taking nighttime kiwi-spotting tours. There is also a volunteer option and a secluded and quiet natural environment, for those with a love of birdwatching or just a desire to get away from it all.