Christmas 2014 Gift Guide for Travelers
We're not really big on "stuff" in general, but in the past 6 years of traveling together Mary & I have learned that there are some products that simply make traveling easier.
Since we tend to explore a lot of different climates, over time we've developed a different Travel Packing Checklist for  different temperatures and cultural norms. And of course there are certain things, such as our camera gear and luggage, that we always take with us everywhere we go.
With just 8 shopping days left to go before Christmas, we thought it'd be a great time to share our gift ideas on the Best Gifts for Travelers in your life, each of which come GGT-tested and approved. And don't forget that you can make a gift donation to #JustOneRhino, contribute to a wonderful cause AND have a chance at winning more than $30,000 in prizes!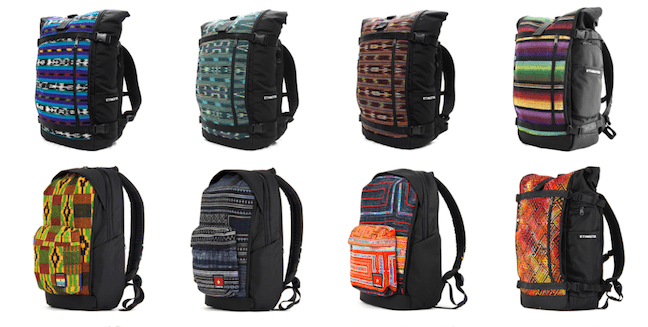 GIFTS FOR THE GENERAL TRAVELER
We've been fans of ETHNOTEK for years, and their messenger bag has been a constant companion for my laptop on our world travels. We also love their "Wayu" line of backpacks, which are available in myriad exotic designs hand-crafted in Ghana, Guatemala, Indonesia and Vietnam. The sturdy 25-liter pack measures 12 x 18.4 x 7.2, with an interior compartment large enough to hold 13-15 inch laptops. But it also looks really cool, whether on the street or the trail.
The MAGELLAN EXPLORIST 710 GPS makes a great gift for adventurers and road-trippers alike, with a 3.2-MP camera, mic and speaker allowing you to record geo-referenced images and notes all along your travels. It also includes complete road networks for the US, Canada, Western Europe and Australia, and major roads for the rest of the world. After getting ours, we wondered how we'd lived (and gotten lost) so long (and so many times) without one.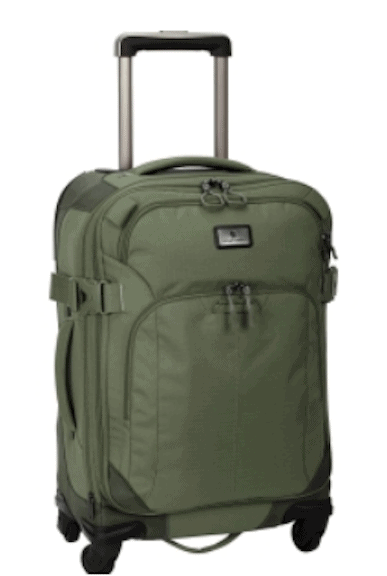 Because we travel so often, our luggage tends to take a pretty good beating (like the 2 hours we recently spent dragging them around cobblestone streets in Santorini). But the EAGLE CREEK ADVENTURE 4-WHEELED UPRIGHT 22 is a rugged, sturdy 4-wheeler that takes a licking and keeps on rolling. It features an expandable main compartment, Pack-It system integration, and add-a-bag versatility options. Hopefully, the two we own will last for a while…
Mary tends to get cold whenever there's any sort of draft. So the SECRET SWEATER has become her new favorite travel companion (well, other than me… hopefully). This cotton and knit 3/4 sleeve, open front layering cardigan comes packed into a pouch that's perfectly sized for folded in a packable pouch perfect for travelers. The minimalist design provides warmth without adding bulk, and (as the name implies) can be hidden under a jacket or used as  a light cover-up.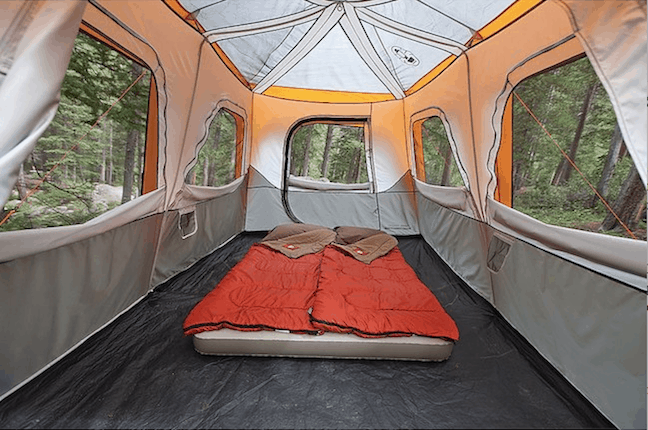 GIFTS FOR THE OUTDOOR ADVENTURER
One of the cooler concepts we've seen in tents this year is COLEMAN'S INSTANT 2-FOR-1 TENT & SHELTER, which gets bonus points for adaptability. You can take it to a picnic and just use the 14 X 8 shelter (which proved perfect for our summer days on Lake Allatoona) by itself, or you can attach the inner 8-person tent– which is big enough for two queen size air beds– for camping out.
Kelty is arguably my favorite camping brand, and the KELTY PK 50 BACKPACK– part of their new TraiLogic collection– is another great addition to the line. This 50-liter pack is completely zipper-less and compartmentalized for organizational ease. The flip-open roll-top design includes a stretch mesh pocket for your tent, separate sleeping bag stowage, and a detachable clothing compartment that can be removed to make it a 35-liter pack for short trips.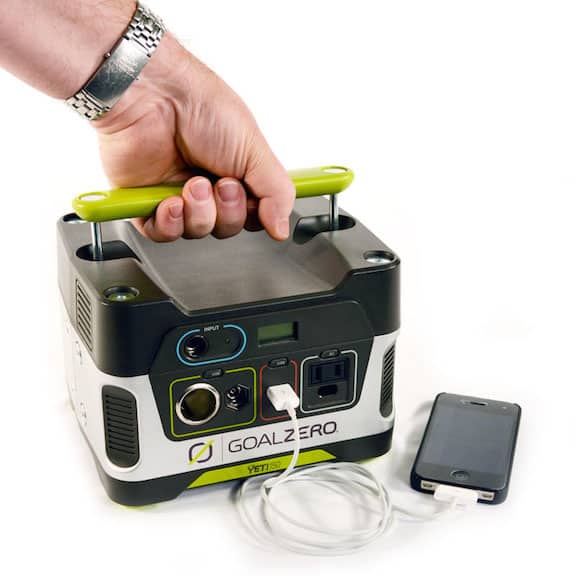 Over the last few years we've been moving towards being able to work on our laptops outside when the weather is warm. The GOAL ZERO YETI 150 GENERATOR marks our biggest step yet, offering 150 watts of solar-charged electricity that can be used to power everything from laptops and tablets to smartphones and cameras. When used in conjunction with their Nomad 27 solar panel, we can take it to the lake or camping and be fully charged by the sun in 13-26 hours, or from our car/boat battery in about 8 hours. There's no gas or oil involved.
We've raved about EXOFFICIO clothing so many times over the past few years, it's kind of amazing they don't sponsor us!   I first fell in love with their breathable, moisture-wicking Give-N-Go Underwear, which dry so quickly that I take just 3 pair on long trips and wash them all in the sink every 3 days. But after wearing their bug-repellant Bugs Away Ziwa Convertible Pants and Long Sleeve Shirts in the Galapagos, the Peruvian Amazon and Jordan, we now take their lightweight, UV-protected clothes every time we travel to warm tropical climates.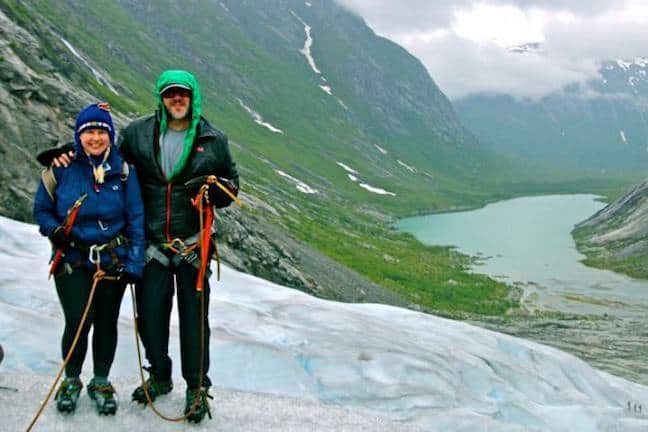 GIFTS FOR THE SNOW BUNNY/SKI BUM
In the interest of full disclosure, the Oslo-based HELLY HANSEN co-sponsored our trip to Norway this summer. But, after seeing how they performed while climbing Jostedalsbreen glacier during incredibly foul weather that ranged from a foggy drizzle to pelting hail, I now wear their breathable, waterproof Loke Pants and PrimaLoft-insulated H2 Flow Jacket anytime the weather outside gets frightful. I've even asked Mrs. Santa (a.k.a. Mary) to bring me more HH pants for Xmas!
If you don't yet know about YAKTRAX PRO TRACTION CLEATS, chances are you've never been anywhere that you'd potentially need them. I discovered them during our Winter tour of Yellowstone National Park back in 2012, right after falling and busting my butt on slippery black ice. Think of them like snow tires for your feet: They're compact, inexpensive, slip right over your shoes and provide amazing traction for icy conditions.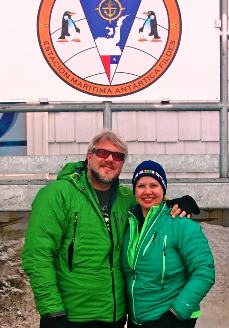 We wore clothing from EDDIE BAUER'S FIRST ASCENT line every single day of our 16-day trip to Chilean Patagonia and Antarctica. Co-created by some of the world's best mountain and ski guides, the entire line is lightweight, fashionably cool and more comfy than a cup of hot cocoa by a roaring ski lodge fireplace. From the weatherproof Igniter Pants and BC MicroTherm Down Jacket to the water-resistant Alchemist 40 Backpack, the tough-as-nails line remains a constant presence on our cold weather adventures.
Occasionally, Mary and I find a brand that we both become loyal to. With the unfortunate demise of GoLite, VASQUE  has become our go-to outdoor footwear brand. Mary loves their line of insulated hiking boots, particularly the PowWow model, which offer a combination of functional (warm, waterproof) and fashionable. I've got a pair of both the waterproof Breeze 2.0 hiking boots and Juxt hiking shoes, using the former for intense hikes and the latter for easy day hikes.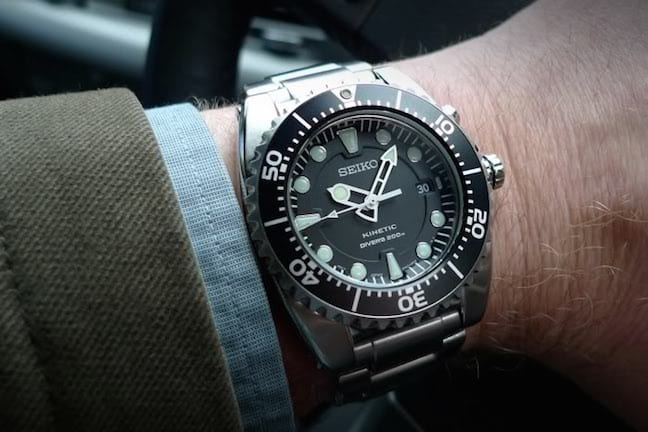 GIFTS FOR THE BEACH / SCUBA LOVER
As hard as we are on luggage, I might be even harder on my watches, as hiking, climbing, kayaking and diving take their toll. But the rugged SEIKO KINETIC DIVER'S WATCH– which is ISO certified as water resistant up to a depth of 660 feet– is designed to take a beating, and wisely being marketed to outdoor adventurers. For those unfamiliar with Seiko's Kinetic technology, the auto quartz watch uses your body's movement to keep it charged, which ensures greater accuracy and guarantees you'll never need a new battery. On an aesthetic level, the stainless steel band is as strong and manly as the broad bezeled face, offering the perfect mixture of function (i.e. you can easily see it underwater, even in the dark) and fashion (i.e. it looks great dressed up for a night on the town). After five years of watches that last about as long as a goldfish won in a carnival game, this may be the last, best timepiece I'll ever own.
I'm sure many amply-endowed women can relate to Mary's ongoing struggle to find bikinis that provide plenty of coverage, yet flatter the form. This year she fell for SUNSETS SWIMWEAR, which offers matching tops and bottoms in different sizes and styles to accentuate any figure. Treading the fine line dividing sweet and sexy, Sunset's mix-and-match swimwear separates offers serious support for ladies with curves, with enough coverage to fall short of "scandalous."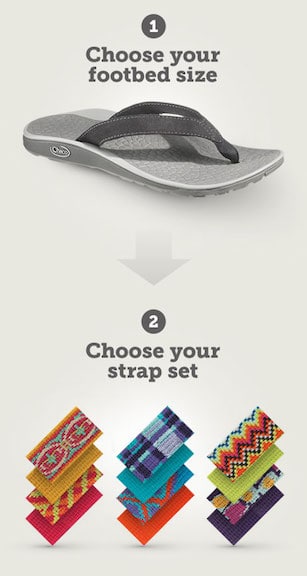 One of the more intriguing innovations we've seen in beachwear this year is the CHACO REVERSIFLIP SANDALS. They look like plain ol' ergonomic flip-flops out of the box. But for $20 you also get four interchangeable straps in vivid color patterns that you can switch up to match your mood (and outfit). Such simple fashion flexibility is a HUGE consideration these days, when airlines charge an arm and a leg for checked bags (we ALWAYS do carry-on).
When we first bought our DEEP SEE CLARITY SILICONE MASKS for our first trip together (to Hawaii's Big Island) back in 2009, Mary thought we'd never get enough use out of them to justify the expense. But after years of diving all over the world,  these masks have proven one of our smartest travel gear purchases thanks to the  double-sealed silicone skirt, sturdy but lightweight frame, and optional corrective lenses (which I need to, you know, actually see stuff).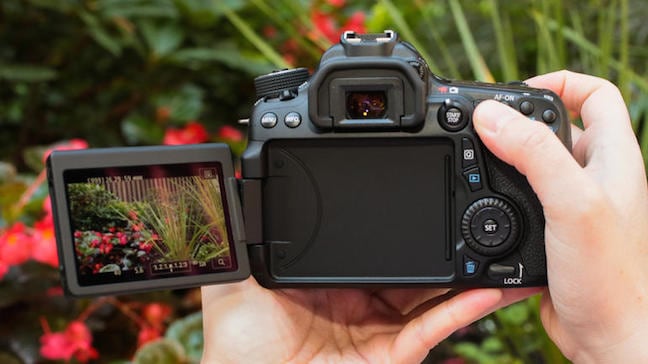 GIFTS FOR THE PHOTO BUFF
I've been a Canon loyalist for nearly 20 years now. I got my first EOS Rebel back in 1995, when I self-taught myself to shoot concert photos on film and wound up working for Rolling Stone (still have it, and it still works!).  This year we upgraded to the CANON EOS 70D, and blends the built-in Wi-Fi of the 6D, the 19-point AF sensor of the 7D, the fully articulated touchscreen of the Rebel T5i and the the DIGIC 5+ processor of the 5D Mark III. What that means in layman's terms, is that it's incredibly easy to use, sharp as a tack, and (at under $1000) perfectly priced for mid-range photo bugs!
Because I learned to shoot concerts with a run-and-gun style, it was rare that I used a camera tripod. But this year we've started stepping up our photography game by learning to use Lightroom and packing the MANFROTTO BEFREE TRIPOD on certain trips. With a closed length of just 40 centimeters thanks to a unique folding mechanism, the tripod is small enough to fit inside our carry-on. But it's also remarkably strong, holding up to 8.8 pounds, maximizing stability and minimizing vibration.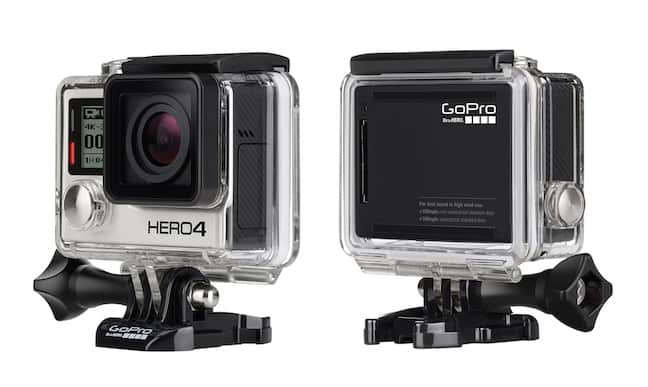 GOPRO HERO4 SILVER– Whether we're sliding down mountains in Antarctica, speeding down tributaries in the Peruvian Amazon, diving with sharks in Tahiti, this awesome video camera captures all of the action. There's a reason it's the go-to video camera for every adventure travel blogger we know. And since we use our GoPro every time we go diving, the GoPro Underwater Housing– which can go to depths of 197 feet– has been an invaluable add-on purchase.
Billed as the world's #1 monopod for GoPro cameras, the QUIKPOD SPORT SELFIE/POV EXTENSION POLE has become our MVP (most valuable photography) accessory. Extending from 18" to 53" and weighing just 9 oz, the pole allowed us to get incredible close-up video footage of tiger sharks, stingrays, moral eels and an octopus without putting ourselves in danger. It's also great for shooting our occasional selfies, with a built-in mirror.  –Bret Love
If you enjoyed our Christmas 2014 Gift Guide for Travelers, you might also like: 
50 Christmas Traditions Around the World
GLOBAL CULTURE: History Of Santa Around The World!
GO GREEN TIP #107: 5 Eco-Friendly Ways to Decorate for Christmas
GLOBAL CUISINE: Lebkuchen Recipe (Germany)
Atlanta Christmas Events [2015 Update]" href="https://greenglobaltravel.com/2013/11/13/atlanta-christmas-events/" rel="bookmark">Top 20 Atlanta Christmas Events [2015 Update]
Georgia [2015 Update]" href="https://greenglobaltravel.com/2011/12/21/best-christmas-light-displays-in-georgia/" rel="bookmark">The Best Christmas Light Displays In Georgia [2015 Update]