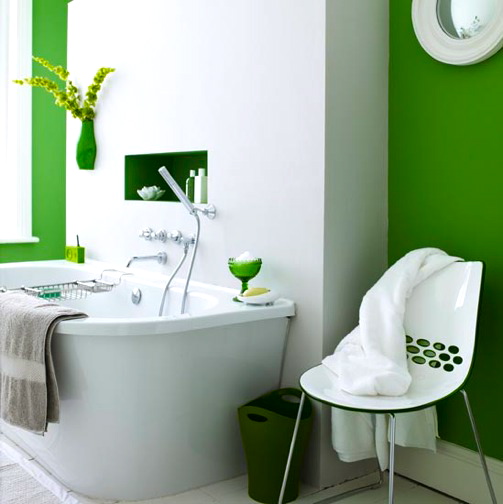 Eco-friendly Way To Clean Soap Scum & Bathrooms

By far the most dreaded household chore, cleaning bathrooms means headaches and burning eyes for many people. No one wants to bathe in germs, but many bathroom cleansers contain incredibly harsh chemicals that can not only harm you, but also the environment. Check out these eco-friendly alternatives to clean soap scum and other bathroom chores for a greener, cleaner bathroom.
• Scrub That Tub- A simple mixture of vinegar and water makes a miracle cleaner when it comes to getting rid of mildew buildup in the tub.  Simply spray the solution on the problem area, let sit, then wipe away. Soap scum can be removed with a baking soda paste composed of baking soda and dish soap. Scrub with a toothbrush to remove stubborn patches.
• Polish The Porcelain Throne– To maintain a sparkling clean toilet, use a mixture of baking soda and vinegar rather then harmful bleach. Scrub the toilet once a week to keep it at its cleanest.
• Make Your Sinks Sparkle– You can polish your faucet with a vinegar and water solution and wipe mirrors clean with cloth and white vinegar. The sink basin can be cleaned with a mixture of baking soda, dish soap, water and vinegar, which should tackle even the toughest stains.
• Unclog Those Dreaded Drains– Instead of using powerful (but harmful) chemical cleaners to clear a clogged drain, try using a combination of baking soda and vinegar. First manually remove what you can from the drain, and  then add the vinegar mixture. Let it sit for 15-30 minutes, and then run some  hot water down the drain.
• For Fantastic Floors– There's nothing grosser than a dirty bathroom floor. Try mopping the floor with a mixture of baking soda and warm water, and you can add some lemon juice for a fresh scent that's WAY better than Pine-Sol. Hang bath mats to dry after every use in order to avoid a buildup of mildew.   –Kristen Nipper
If you like The Eco-friendly Way To Clean Soap Scum & Bathrooms, then you may also like:
GO GREEN TIP #69: Green Ways To Clean Kitchens
GO GREEN TIP #73: 10 Ways For Using Castile Soap