When you live in the Southeastern United States, as we do, summer camping isn't always pleasant. Especially when temperatures soar into the upper 90s (as they do for much of June, July, and August), and humidity is high (which is most of the time).
But Autumn? It's arguably the best season for exploring the North Georgia mountains. The air is crisp and cool. The verdant greens for which my native state in known are offset by brilliant golds, oranges, and reds of the changing leaves. And yet it's still warm enough that you don't need a parka and gloves to spend the day outside.
Here's a look at some of the cool camping gear we've tested out for our favorite time of the year. Our reviews cover everything from backpacks and camp cooking gear to clothing, tents, and tech products.
Disclaimer: We receive no compensation for our product reviews.
TENTS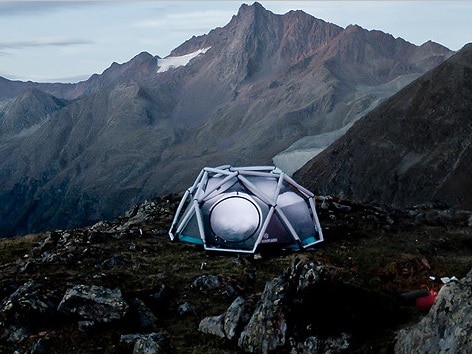 After staying in yurts in Panama and Patagonia, we've become huge fans of these glamping staples. This 54-square foot tent from Heimplanet combines the strong geodesic dome shape of a yurt with sturdy-yet-lightweight fabric and an innovative design that allows you to set the thing up in two minutes flat. Weighing in at over 12 pounds, it's made for durability rather than portability. It's also made for comfort, with room for 2-3 people, gear loft, storage pockets integrated into the walls, and 5 ventilation openings for maximum airflow. Get the optional 2-way Mini Pump to make set up and break down a breeze.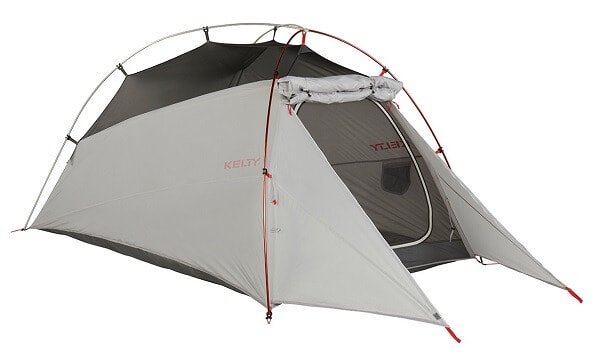 KELTY's HORIZON 2
Made primarily for backpackers, this 2-person, 3-season tent is the lightest one Kelty has ever made. It weighs in at a paltry 3 pounds, 10 ounces, offering 28 square feet of floor space (84″L x 52″W x 48″H). The hybrid one-piece design uses a hubbed pole system and signature Kelty Connect and Kelty Hug Clip connections, which make it a cinch to set up. The Stargazing Fly remains one of our favorite Kelty features, and we love that the dual-zipper vestibule can be converted into an awning for extra space. It's a little small for our family camping adventures, but a great little tent for two.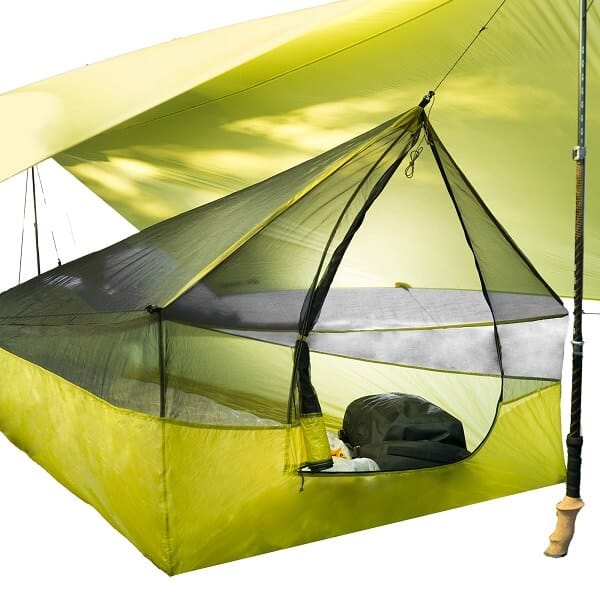 Here's a unique, ultra-lightweight concept that offers the protection of a tent without all the bulk in your backpack. Weighing just 10.6 ounces, the Escapist Tarp is a minimalist wonder measuring 10′ x 10′. Its eight tie-out points can be used with guy lines, tent stakes, trees, or trekking poles, allowing numerous set-up options. Pair it with the 14-ounce Escapist Bug Tent for 31.4 square feet of protection from insects, and a 5.8-ounce Escapist Groundsheet to keep the rain and dirty at bay. It's the next best thing to sleeping in the open air!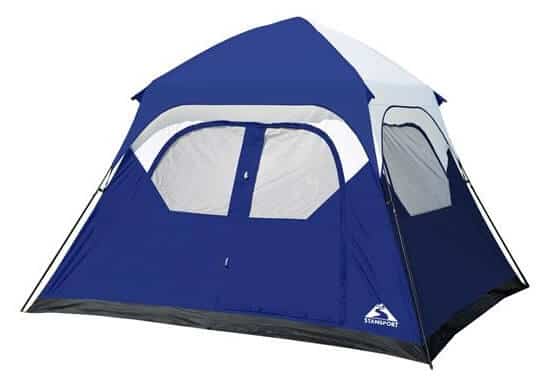 For outdoor recreation novices, the difficulty in setting up camp can be a huge deterrent. As implied by its name, this 10'L x 9'W x 71″H tent from Stansport takes the struggle out of the equation with a handy mechanism that allows it to be set up in mere seconds. Available at JC Penney, the tent has 6 windows and two doors for great ventilation. But it's pretty basic in terms of design. A word of advice: We didn't test it out in the rain, but some reviews have complained of water coming in through the bottom. Use a tarp, just to be safe!
CAMP COOKING
I hate cooking in a kitchen (which remains me of my 8 years in the restaurant biz), but I love grilling! Grilling small items such as shrimp, scallops, and veggies can be a pain, especially when you have to turn them one by one. The O'Plancha Griddle & Lid Cooking Combo can be used on a stove or grill, with a quick-heating surface and rimless design to prevent heat dispersal. The lid turns it into a mini-oven that can be used to cook pizzas or baked goods, with a built-in thermometer and a smoking rack that can be used to smoke meats. With the Griddle Turners (sold separately), it's everything you need to get your grill game on point.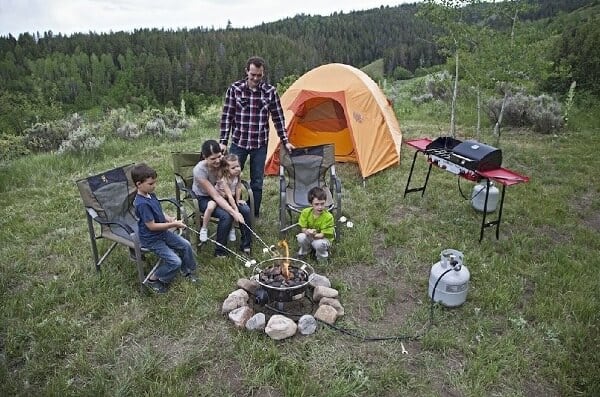 Campfires are arguably my favorite thing about camping. I have countless childhood memories of sitting around the fire, singing songs, telling stories, and roasting hot dogs and marshmallows. This 19″ wide, 13″ tall portable fire pit allows you to have that campfire feel virtually anywhere, whether you're out in the woods or on your back patio. The pit uses propane (but can be adapted to natural gas) and lava rock to radiate smokeless heat, and comes with 4 extendable roasting sticks and a carry bag. It's a great option for places where wood fires are banned or restricted.
Choosing between these two camp stoves is simple, depending on the type of camping you tend to do. Backpackers will prefer Camp Chef's Stryker 200, which weighs just 19.4 ounces (not including fuel). The 3-legged stand, 1.3-liter pot, stove, and lid all fit into a small mesh carrying bag. Best of all, it can heat a half-liter of water in just two minutes.
At 11 pounds, Coleman's Triton Propane Stove isn't going into the backcountry anytime soon. But with with 22,000 BTUs and space for a 12″ and 10″ pan at the same time, it's a powerful campsite cooking wonder. Its key features include Wind Block panels to help shield burners, Instastart matchless ignition, and PerfectHeat technology for more fuel-efficient cooking.
READ MORE: List of National Parks By State (An Epic Guide to "America's Best Idea")
BAGS/BACKPACKS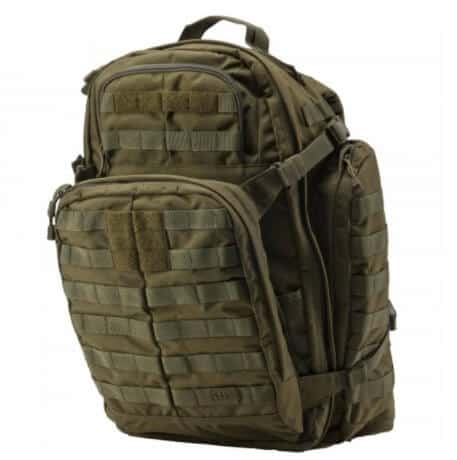 Originally designed for Law Enforcement, Fire, and EMS professionals, 5.11 Tactical's line is rugged and durable enough to stand up to the harshest of conditions. The RUSH72 was engineered to be a "bug out bag"– a portable kit that contains all the items you'd need to survive for 72 hours when evacuating from a disaster. So the 55-liter pack's water-repellant 1050D nylon exterior is virtually indestructible. There are multiple pockets inside for organizing your stuff, including one for maps and essential documents and a fleece-lined pocket for sunglasses. There's also a 21" x 13.5 hydration pocket, and an internal compartment with hangers and toggles.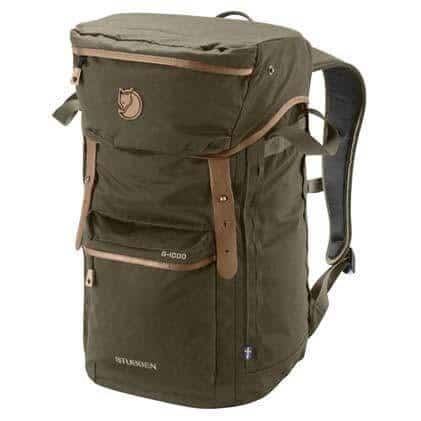 Made from G-1000– a quick-dry, water resistant material Fjallraven bills as "the Best Outdoor Fabric on the Market"– the Stubben Backpack gets bonus points for design innovation. The Swedish company's 27-liter day pack has an integrated frame and seat pad that allows it to double as a comfortable chair. Although the main compartment is loaded from the top, there are also zippers in the front that allow you to access the items inside without needing to stand up. And though it's primarily aimed at outdoorsmen, it's also a perfectly fine pack for autumn picnics, with room for a large packed lunch inside.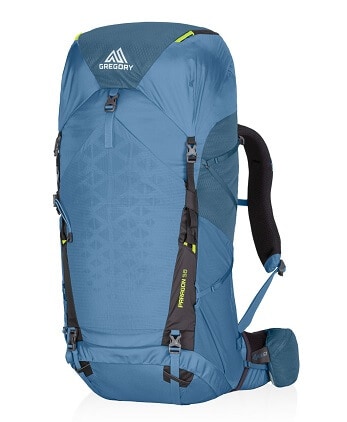 Weighing in at 3.9 pounds thanks to a lightweight aluminum chassis and matrix ventilated foam back panel, this 58-liter bag is designed for backpackers rather than day-hikers. The Aerolon suspension makes for an easy carry, while the quick-adjust hip belts and back, Gription lumbar pad, and dual density foam shoulder harnesses add extra cushioning comfort. Other attractive features include integrated rain cover, quick-stow sunglasses stash on the shoulder harness, dual-zippered hip belt pockets, and a removable daypack.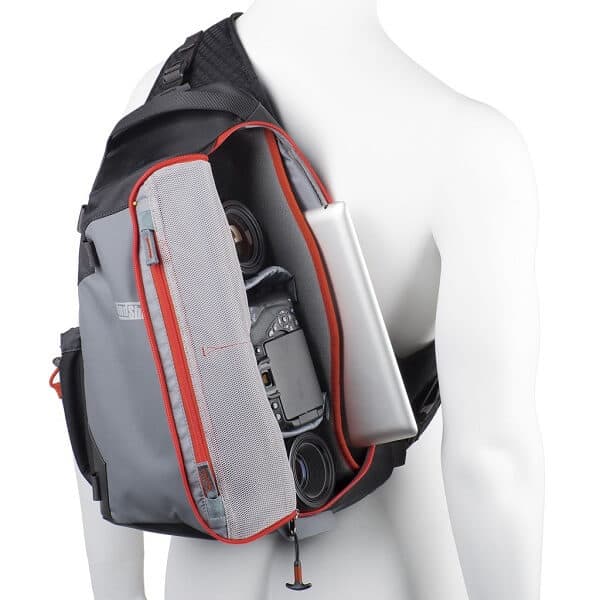 This unique sling-style backpack was designed with adventurous photographers in mind. The exterior fabric has a durable water-repellant coating, with a polyurethane coating on the underside for added water resistance. The YKK zippers and other external materials are also weather resistant to protect your valuable gear, with straps included for carrying a tripod or other gear. The side zipper offers quick access to your gear, with padded dividers and space for an ungripped DSLR, one or two lenses (depending on size), and a 10" tablet. Some 13″ laptops will fit in the padded pocket as well.
READ MORE: What is Glamping? (The Top 10 Glamping Resorts in the World)
CLOTHING
IBEX WOMEN'S WEAR
Ibex has been one of our favorite brands for years because they offer high quality Merino wool clothing designed for out door adventures. For those not hip to it, Merino wool is amazing because it's super soft, lightweight, and naturally regulates your body temperature and wicks moisture away from your skin. In terms of staying comfortable in all sorts of different weather conditions, it beats cotton and synthetics by a wide margin.
With our 3 week trip to Scotland and Ireland coming up, Mary was stoked to get several Ibex items to sample, including the Rowan V-Neck and the Woolies Bottom, Crew, and 2-Zip T-Neck. The V-Neck made be a little thin for our time exploring the Scottish Highlands and Islands. But their expedition-weight Woolies line is perfect for layering, providing a fleece knit base layer that will keep her warm and cozy even in cool, clammy weather.
HEAT HOLDERS' THERMAL UNDERWEAR
Heat Holders first made its name nearly a decade ago, with thermal socks made from a high-quality acrylic yarn mix with an incredibly soft, cashmere-like feel. Now they use that same high-tech approach to insular warmth for their thermal underwear line, which is available for both men and women. Their microfleece base layer tops and bottoms are surprisingly lightweight and breathable, yet they do an excellent job of trapping trap warm air close to the skin. The multi-dimensional stretch fabric is super comfortable, and the top has a 1/4-zip collar that allows venting to ensure you don't get TOO hot.
It's pretty rare (as in NEVER) that I develop fondness for a clothing line as quickly as I did with Ecoths. The new menswear line from eco-friendly fashion company Aventura is billed as "Urban Rugged Styling for the Uncommon Man." I like the fact that their style makes guys look hip without looking like they're trying to look hip, if that makes sense. Their Olive Jogger pants, Dax long-sleeve shirt, and Noah Zip-Neck Sweater are all as comfortable as they are cool, with a relaxed fit that balances fashion with feeling good.
Another new brand we just discovered this year, PACT is a company after our eco-friendly hearts. They specialize in organic cotton clothing and underwear, claiming that "Conventional cotton is the world's dirtiest crop." It uses about 16% of the world's insecticides and 7% of its pesticides, with around 20% of all industrial water pollution coming from the treatment and dyeing of textiles. PACT's certified organic cotton, on the other hand, uses no harmful chemicals or dyes, and is Fair Trade. From men's and women's underwear and t-shirts to leggings, hoodies and wrap dresses, every item we tested from them was super soft and cozy. The line not only feels good, but it's something you can feel good about wearing.
READ MORE: The Best Travel Clothing For 7 Travel Styles (An Epic Guide)
BOOTS
These hiking boots are timely for us: We leave today for a 3-week adventure that will find us trekking in the Scottish Islands & Highlands.
Le Chameau's Condor LCX is described as a stalking and hiking boot. It's waterproof, breathable, with a Michelin OC Deep Forest sole designed for rugged terrains. It's extremely comfortable and durable, temperature rated to -10ºC.
The Tracker FG is a more minimalist hiking boot designed to give you that barefoot feeling, even on extreme terrain. It's ultra-lightweight, with a waterproof inner bootie, weather-proofed uppers, and thermal insulation. It's also ultra-tough, with a sole 5X more puncture-resistant than standard boots.
Columbia's Daska Pass III are the least expensive boots here, but unfortunately they were also our least favorite. They look great, they're lightweight and waterproof, and make for a very comfortable walk. But they're not nearly as durable as the other boots we tested, and showed signs of peeling at the toe cap after a few days of use.
MISHMI TAKIN's KAMENG &
SPORTO'S DEFROST DUCK BOOT
One the women's side, we tested the Kameng Mid eVent Waterproof Hiking Boot from Mishmi Takin and the Defrost Faux Fur Lined Duck Boot from Sporto.
The Kameng emphasizes function over fashion. It's designed for long distance hiking on uneven terrain, so it's 100% waterproof, with an eVent membrane that breathes beautifully and wicks away sweat. The Vibram Gironda outsole provides a huge contact area for added stability and traction, with a stretch heel for comfort on hills and an OrthoLite cushioning foot-bed. At about 1.5 pounds per shoe, they're fairly light on your feet.
Available at Nordstrom, the Sporto Defrost is a little more fashionable. Their release is timed to the 40th anniversary celebration of the iconic duck boot, which gets a trendy modern update. The boot's hand-lasted suede upper, plush faux fur lining, and fully waterproof rubber shell are all attractive. Thanks to the rugged lugged sole and Thermolite insulation, Mary says that they feel just as good as they look.
TECH ACCESSORIES
POWER PRACTICAL's LUMINOODLE XL &
OLIGHT's H2R NOVA
Despite technological advances, camp lighting hasn't changed much over the years. But these two products are interesting enough to merit consideration.
The Luminoodle XL is a 10-foot long, waterproof LED light rope and lantern, powered via USB or the Pronto USB Battery Pack (sold separately). It's got universal ties, magnets, and a utility loop for easy hanging, so it's perfect for campsite, boat, RV, etc.
The H2R Nova is a headlamp/pocket light that uses a 18650 battery to produce 2300 ANSI rated lumens. In other words, it's EXTREMELY bright! The light is powered via Olight's signature magnetic USB charging cable, and can easily be removed from the head strap and attached via the pocket clip.
MYCHARGE's ADVENTURE ULTRA &
POWERFILM'S LIGHT SAVER
These days hardly anybody goes anywhere without a smartphone, tablet, or camera, which means you need to keep them charged.
The Adventure Ultra is an awesome device that's designed to replace bulky generators. Measuring 1.2c" x 5.8″ x 4.1″ and weighing just over a pound, the battery bank boasts a maximum power output of 45 watts. That's enough to charge most laptops and drones, or run a 42-inch TV for around 3 hours! Unfortunately you do need electricity to charge the device, which isn't always available when you're camping.
The LightSaver is a portable solar panel that's tailor made for backcountry use. Its compact, roll-up design makes it small enough to carry in your pocket. Yet, with its ultra-efficient 3,200 mAh battery, it's still powerful enough to charge a phone and small camera or GPS unit. Best of all, its battery recharges with just 6-8 hours of sunlight!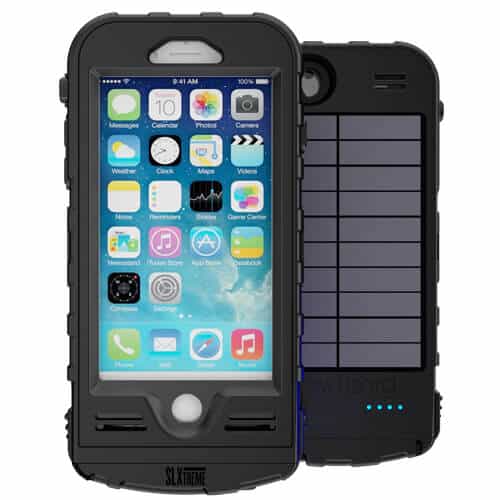 SNOWLIZARD's SLXtreme iPHONE 7 CASE
Designed with outdoorsmen in mind, this slim-but-rugged iPhone 7 case is arguably the toughest we've ever tested. It's water-proof and designed to withstand military-grade conditions, with a carabiner loop for attaching to your gear and rubberized side grips that make it easier to hold when it's wet or muddy. Best of all, it includes a built-in, solar powered battery that makes for lightning fast charging. And the QuickLatch system makes it easy to get your phone out, charged, and back in before your next adventure.
MISCELLANEOUS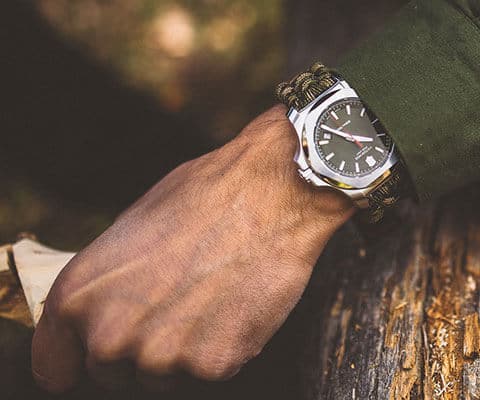 Available in six different colors, this watch from the company behind the Swiss Army Knife is a rare piece of cool camping gear that's less about function than fashion. Sure, its unique band is made from the military-grade paracord used for parachute suspension lines. And yes, you can unravel the 7 strands contained within the outer sheath, using them for everything from shelter construction to fishing line. But who's gonna buy a $600 watch to use Bear Grylls-style? Simply put, this watch is designed to stand up to the elements and make you look damn cool while doing it, even if you're more MacGruber than MacGyver.
ADVENTURE MEDICAL KITS' SMART TRAVEL KIT
Though it's especially useful for camping, where there are knives, fire, briars, and bugs, the Smart Travel Kit is a handy thing for anyone who travels. Measuring 7.75″ x 6.25″ x 2″ and weighing just 1 lb 1 oz, it's filled with all sorts of stuff you may need for minor emergencies. Things like bandages, gauze, a thermometer, aspirin, antihistamine, antiseptic, antibiotic ointment, antacid, wilderness & travel medicine guide, and much more. You might be able to buy the 32 different items included here for $50 and assemble such a kit yourself, but who has the time? We keep ours with us every time we leave the house.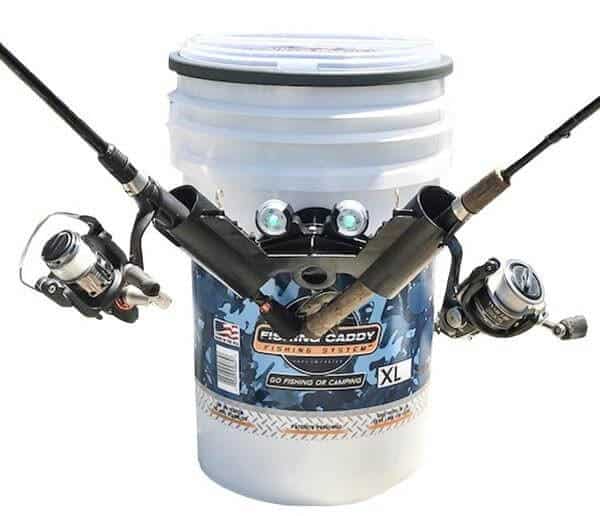 One of the best things about covering cool camping gear is the fact that, occasionally, we get sent a product so weird and innovative that we can't wait to share it. Creator Joe Pippins garnered national attention recently after successfully pitching his product on Steve Harvey's Funderdome. The former homeless man deserves props for creating a package packed with features. The 6.5 gallon bucket has a tackle box lid with 14 compartments, a dual fishing rod holder, a drink holder, 2 green LED lights for nighttime use, and a water spigot for emptying water after you clean your catch. It also doubles as a comfy fishing seat, holding a maximum weight of over 300 pounds. –Bret Love & Mary Gabbett