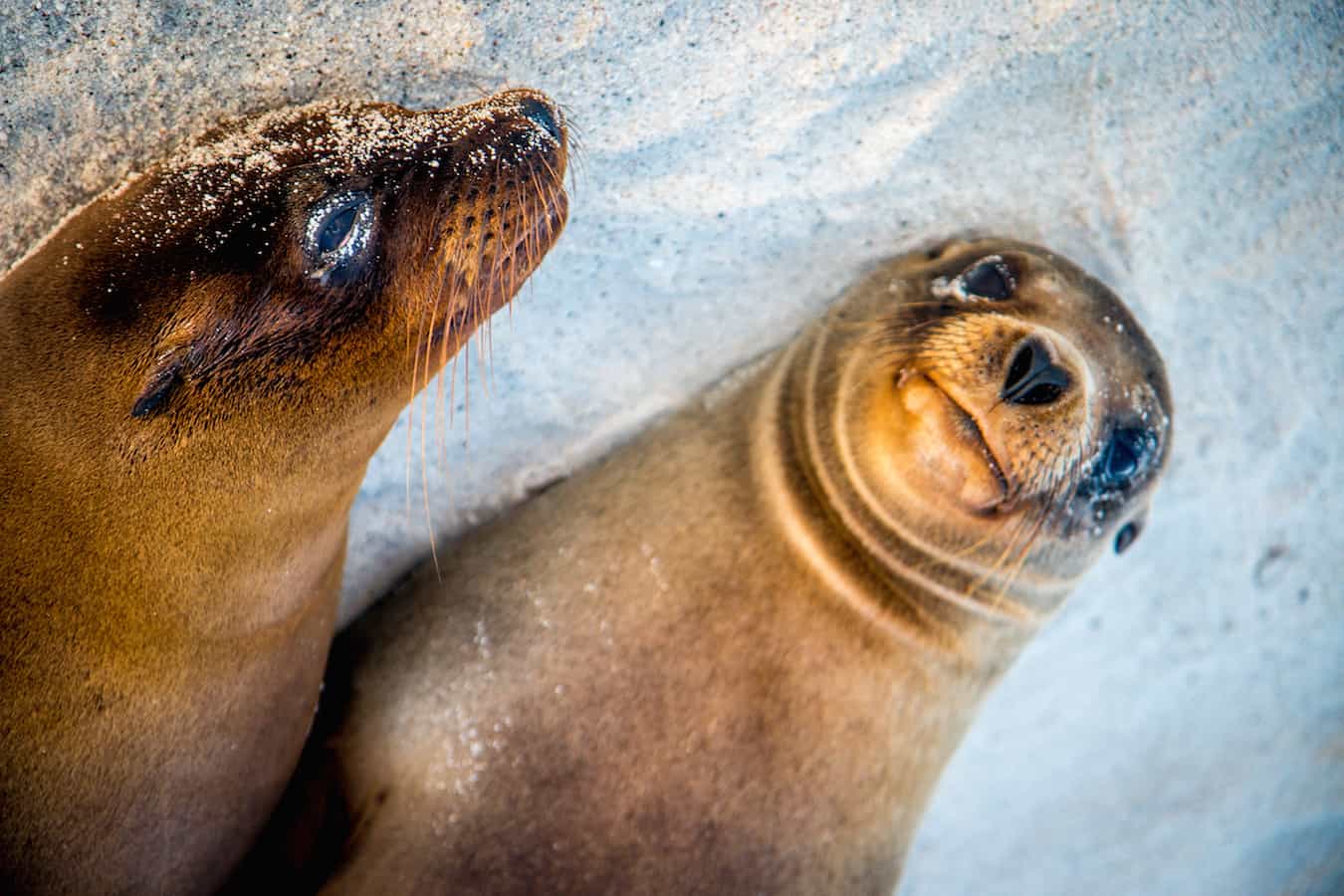 PIC OF THE DAY: Galapagos Sea Lions
I've been thinking a lot lately about the dichotomy of Nature: How it can be both devastatingly strong (see: hurricanes and earthquakes) and surprisingly vulnerable (see: climate change and rapid species collapse) at the same time. The fact that these two extremes are inextricably connected only makes the complexity of our planet's ecosystems all the more fascinating.
We've rarely visited any place in the world that better illustrated how strength and fragility can be two sides of the same coin than the Galapagos Islands. Eons of volcanic activity gave birth to harsh, rugged, lava-strewn landscapes, which kept the islands from being colonized until the early 20th century. But these inhospitable ecosystems also provided sanctuary for some of the most beautiful creatures we've ever seen, many of which are endemic and endangered today.
Darwin's Paradise is home to many of our favorite wildlife species, from the famed Galapagos Tortoises and the mini-Godzilla-like Marine Iguanas to the bizarre Flightless Cormorants and the tiny Galapagos Penguins. But the most engaging animals on the islands are arguably the ubiquitous Galapagos Sea Lions, which you'll find in almost every port, every beach and in the water every time you go for a swim.
There's a hard-and-fast rule in the Galapagos that says visitors must stay at least 6 feet away from wildlife at all times, but the Galapagos Sea Lions clearly did not get the memo. They're filled with endless curiosity, awkwardly ambling over to check you out on land or swimming gracefully alongside you as you snorkel in the sea. With their huge eyes, cute faces and funny flippers, the sea lions' charms ultimately prove impossible to resist.
We met this adorable duo at sunset in gorgeous Gardner Bay on the island of Española. Here, on a beautiful white sandy beach, hundreds of Galapagos Sea lions live in large colonies. These two young ones were snuggled up close together, looking up at us with sweet puppy dog eyes. It was only after we took the photo that we noticed the perfect heart-shaped nose of the one on the right.
This was one of the last photos we took during our recent trip to the Galapagos, which seemed appropriate: The trip made me feel as close to my daughter as these two Sea Lions looked, with a full heart that fell more deeply in love with these fragile, fascinating islands that helped launch our site's success back in 2011. –Bret Love
Our trip to the Galapagos was sponsored by International Expeditions, but we will never compromise our obligation to our readers. Our opinions remain our own.
If you enjoyed our post on Galapagos Sea Lions, you might also like:
7 Important Life Lessons I Learned in the Galapagos Islands
Darwin's Paradise: Galapagos Islands Animals, Ecotourism & Adventure
VIDEO: Swimming With Galapagos Sea Lions
VIDEO: Galapagos Tortoises
VIDEO: Marine Iguanas
VIDEO: Flightless Cormorants
ENDANGERED SPECIES SPOTLIGHT: Dhole
26 Weird Animals Around the World