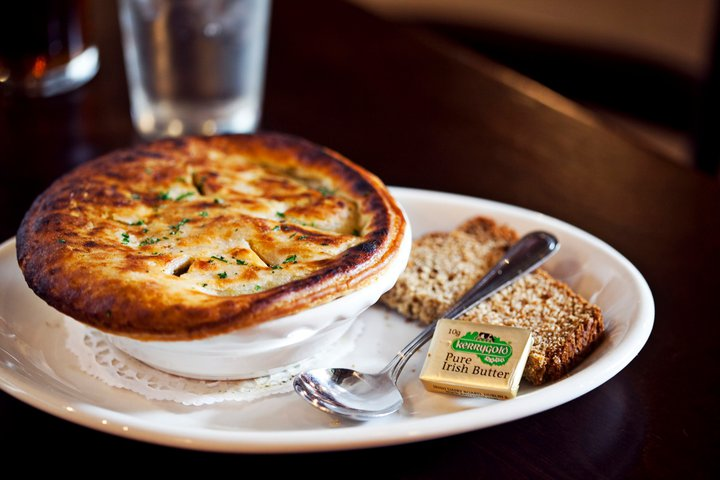 SHEPHERD'S PIE
Recipe provided by Ri Ra Irish Pub – Atlanta, courtesy of The Reynolds Group (photo by Heidi Geldhauser)
INGREDIENTS: 3 LB fresh ground lamb; 1 LB yellow onion diced; 4 Tbs AP Flour; 2 Tbs vegetable oil; 1 tsp chopped fresh rosemary; 1 tsp chopped fresh parsley; 2 cups lamb stock (chicken stock… can be substituted); 2 cups frozen peas & carrots; 8 Idaho Potatoes; 1 cup milk; 4 Tbs butter
FOR THE PIE- Heat large pot with oil. Add ground lamb and brown. Drain off grease and add yellow onion. Cook for 3-4 minutes. Add the flour and cook out for 5-6 minutes. Add the stock and mix well. Bring to heat and let simmer for 10 minutes. Add the chopped fresh herbs, peas and carrots. Season to taste with salt and pepper.
FOR THE MASHED POTATO TOPPING- Peel and dice washed potatoes. Bring to boil in salted water. When tender enough for a fork to pierce through remove from heat and drain. Let the potatoes steam off until almost dry. Mix in bowl with milk and butter. Season to taste with salt and pepper. Pour the Pie mixture into a 9×9 baking dish. Spread mashed potatoes over top and broil in oven for 3-4 minutes or until mashed potato on top is golden brown.
Serve family style with fresh bread, butter and cans of COLD Guinness for a great taste of Ireland!