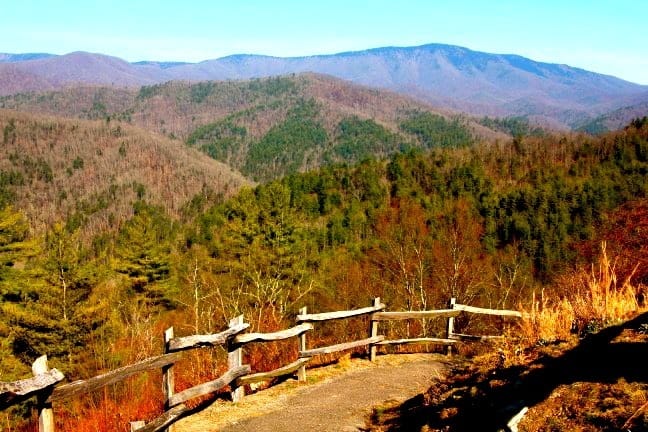 Great Smoky Mountains National Park

Exploring Cataloochee Valley
Created in 1934 and encompassing 522,419 acres, Great Smoky Mountains National Park is the most visited national park in America, attracting 9 million travelers each year. People come from miles around to camp, fish, hike the Appalachian Trail, and take in stellar views from the summit of Clingman's Dome (the park's highest point at 6,643 feet). We didn't do any of these things during our brief visit, but we had several other reasons to be excited.
The park was the first stop on our family's 8-day Spring Break road trip, which took us from Atlanta to Asheville, and then on to North Carolina's Outer Banks. It was the first time all three of us had traveled together since the previous summer, and also the first time meeting and hanging out with our good friends Cristina and Hal Brindley from Travel For Wildlife, who'd been to the park many times before.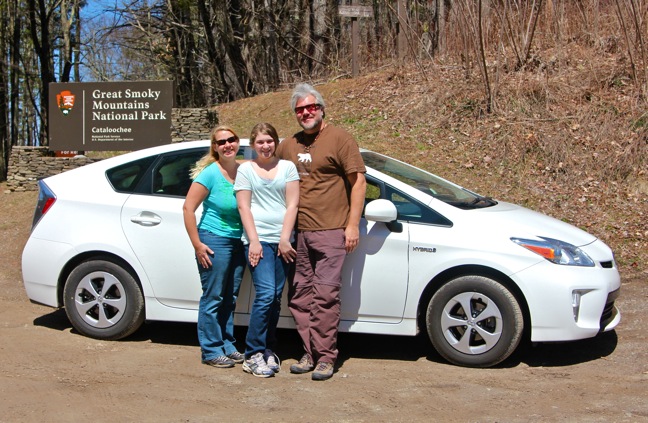 ON THE ROAD
Personally, I was strangely stoked because we got to drive a rented Toyota Prius– a car I've been wanting to test out since they were first introduced. I looked into getting one back in 2008, but they were way out of my price range. The hybrid vehicle took some getting used to, as the engine is silent when you start it and whisper-quiet when it goes into electric mode. But it was surprisingly spacious, had plenty of power for climbing the North Carolina mountains, and, at an average of 45 mpg over the course of our trip, proved even more economical than my fuel-efficient Hyundai Elantra.
Having a compact car proved to be beneficial on the road to Cataloochee Valley. The entrance road to this section of Great Smoky Mountains National Park is long, winding, and covered in gravel, with steep drop offs and no guard rails. Because it's narrow, you'll want to proceed slowly, as you'll likely need to stop or back up to let oncoming traffic pass. Fortunately, we got there fairly early– both in the day, and in the tourist season– so traffic was fairly minimal.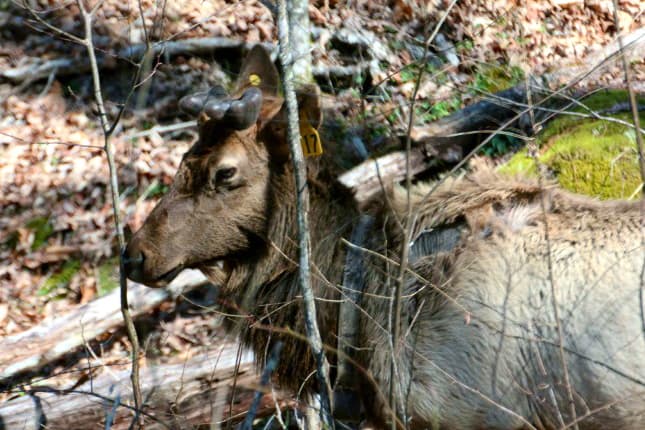 ELK REINTRODUCTION PROGRAM
We weren't even fully into the park before we spotted the main attraction we'd come to see: A male Elk grazing by the side of the road. Great elk herds once roamed the southern Appalachian Mountains freely, but the animals had been completely killed off in North Carolina by the late 1700s. Great Smoky Mountains National Park began an experimental Elk reintroduction program back in 2001, releasing a total of 52 animals in the span of one year.
The yellow tag on his ear indicated that the Elk we saw was one of the original releases, while orange tags are used to mark elk that have been born in the park in the years since. Some of the elk are radio-collared, monitored by biologists so they can learn more about the animals' movement and life span. The National Park Service publishes an annual Elk Progress Report: At the end of 2012 there were around 140 in North Carolina, with 13 newborn calves surviving the season. Naturally, these massive megafauna (adults weigh 500-700 pounds, measure 7-10 feet from nose to tail, and antlers can reach a width of five feet) are a huge attraction, particularly in Cataloochee Valley.
A SERENDIPITOUS MEETING
We learned a lot of this information from park volunteer Fiona Norton, whom we stumbled upon while searching for a restroom, and who ultimately proved to be a veritable font of information. She told us some fascinating facts about the male Elk: Shed every year in autumn, their horns start growing back around March, and can grow at a rate of up to one inch per day. Scientists are studying their regenerative capabilities, and are currently testing the tissue in relation to cancer research. In the fall, when males go into rut, she said their mating calls sound a lot like whales.
Fiona also had a Jeep full of instructional artifacts, and kindly gave us an impromptu overview of the fauna of Great Smoky Mountains National Park. Officials have counted more than 200 species of birds, 66 species of mammals, 50 species of fish, 39 species of reptiles, and 43 species of amphibians in the park. In addition to the Elk, the park has a Black Bear population of around 1,500, and has successfully reintroduced the River Otter and Peregrine Falcon. Fiona kindly let us touch Black Bear pelts, Elk skulls, Porcupine quills, and even pose with giant Elk horns. Plus, she gave us some insider tips of where the Elk herd had been spotted earlier that morning.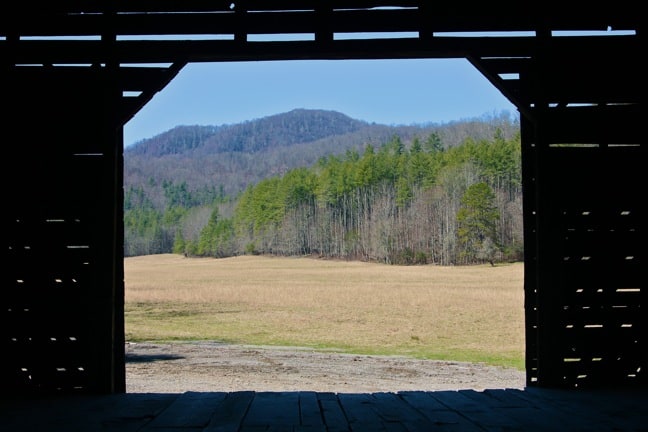 100 YEARS OF HISTORY
Even without all the wildlife, this section of the park would prove intriguing for history buffs. Back in the late 19th and early 20th centuries, Cataloochee Valley was home to around 1,200 people, most of them farmers (apple-growing was especially popular). It's easy to see why they chose the location: Surrounded by stunning 6,000-foot peaks, the valley is as pastoral and picturesque as it is isolated.
A number of historic frame buildings from that era– including two churches, a schoolhouse, and several residential homes– have been preserved in the valley, and visitors are allowed to explore them for a walk back in time. With its vast open fields, a quaint creek running through, and buildings built in the 1800s, it felt a little like walking through a chapter of Little House on the Prairie (check out the newspapers used to wallpaper an upstairs bedroom!). You can also hike the 7-mile Boogerman Trail, which takes you through gorgeous groves of old-growth forest.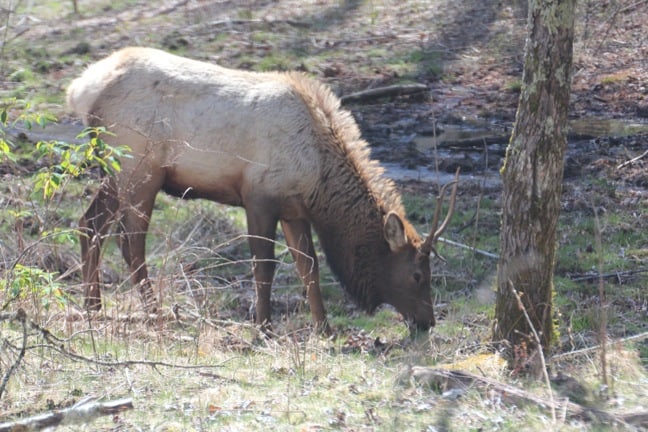 HANGING WITH THE HERD
Fortunately, we didn't need to walk very far. Hal and Cristina suggested we walk slowly as we hiked along an open field in which the Elk are frequently seen. Hal had smartly brought his binoculars, while I used my camera's 500 mm lens to scan the tree line on the opposite side of the field, searching for any signs of movement. We didn't see any, so we kept walking, enjoying the beautiful scenery, late morning sun, and great company.
Suddenly, Hal stopped in his tracks, thinking he'd seen something in the woods about 100 yards away. I looked through my camera's viewfinder, but saw nothing. We stood there for a few minutes, until whatever he saw moved again. Sure enough, he'd somehow spotted a small herd of Elk hiding in the shade of the woods.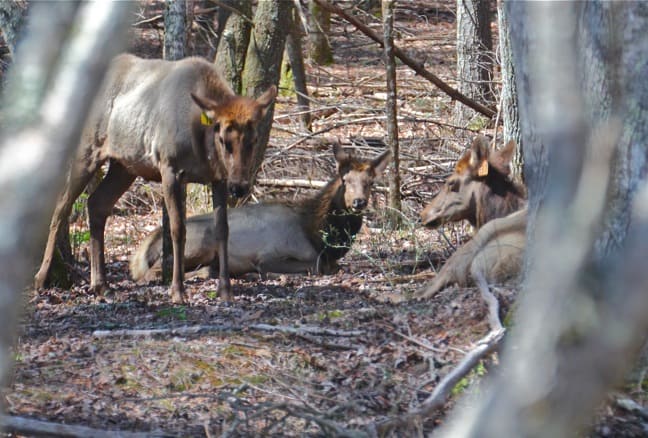 To be honest, I hadn't expected to see much of anything given our short time in the park. So I was surprised when we crept to within 50 yards or so and found a handsome buck grazing as a group of 10 or so females and young rested nearby. The male took no notice of me as I hid behind a tree and snapped photos, while the females actually laid down in the shade as we sat quietly and watched from a respectful distance. After more than a half-hour of Elk-watching, we left for a quick picnic lunch before heading back to Asheville for our next adventure.
Our time in Great Smoky Mountains National Park ended much too soon, and felt more like a brief introduction than our usual immersive experience. Still, we saw more than enough to convince us to make a return trip in the fall, when the leaves start to change colors and the Elk are in full rut. Clearly GSM is America's #1 National Park for a reason, and we can't wait to explore it in more depth. –Bret Love; photos by Bret Love & Mary Gabbett
This post was brought to you by Enterprise Rent-A-Car, which offers electric and hybrid vehicles at neighborhood and airport rental locations across the country. Visit their website for more information.
If you enjoyed our post on Great Smoky Mountains National Park, you might also like:
NORTH CAROLINA- Black Bears At Alligator River National Wildlife Refuge
NORTH CAROLINA- Asheville's Green Restaurants Scene
NORTH CAROLINA- Greensboro Travel Guide
NORTH CAROLINA- Hang Gliding Outer Banks