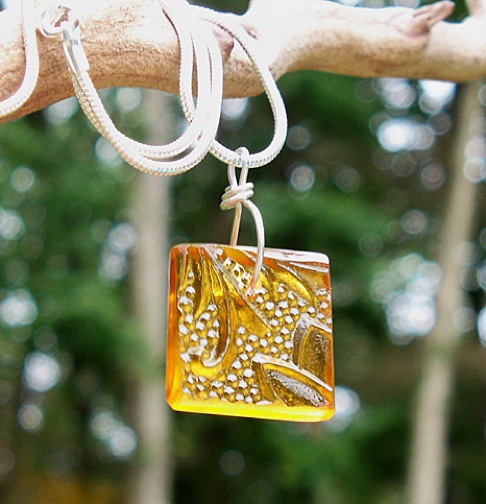 Bottled Up Designs
"Reduce • Reuse • Recycle" has become a popular mantra for the environmental movement, and we're always looking for companies that embody this eco-friendly ideal as well as ways to embrace it in our own lives. One of my favorite travel memories is of my lady and I combing a beach in Curacao for colorful shards of sea glass, which we later polished to get rid of rough edges and drilled to make necklaces for her and my daughter.
Laura Bergman, "reclaim artist" and founder of Bottled Up Designs has taken that concept several steps further, building a whole web-based business around rummaging through old bottle dumps near her home in Pennsylvania's Amish country, then creating gorgeous works of art from the antique broken glass she finds there. From delicate pastels of pink and green to bold blue and white China patterns, Berman's beautiful necklaces, earrings, vases, platters and Christmas ornaments find wonder in waste, some of which dates back to the Great Depression. We've got to love any company that takes the "Reuse" ethos to such sublime heights of creative inspiration!   –Bret Love
Green Global Travel receives no pay for product reviews, and won't recommend any product we don't use ourselves. But we do have an Amazon Affiliate Program, and if you buy through the link below, it will help support our site at no additional cost to you. Thanks for your support!
If you like Bottle Up Designs, then you may also like:
The Best Coffee in the World: A Gourmet's Guide
GREEN GEAR: Sustainable Watches – WeWOOD Wood Watches
How Using Wood To Hold Candles Puts "Reduce/Reuse/Recycle" Into Action -Timber Candle Company
Ethnotek, The Coolest Messenger Bags You'll Ever Own