Green Iguana Conservation Project
at San Ignacio Resort Hotel, Belize
[Editor's Note: We've shot a ton of video footage in the 3 years since GGT took off. But we don't post as many videos as we'd like because, frankly, editing them is a time-consuming process and we're not especially good at it. This video marks the debut of new team member Kartikay Kini, and you'll immediately notice the slick editing skills he brings to the table. You'll be seeing a lot more of Kartik's work this year, as we plan to step up our video game considerably! Please help us welcome him to the team.]
If you've ever fantasized about having a gaggle of iguanas frolicking all over you as if you were their own personal jungle gym, the Green Iguana Conservation Project in Belize is a dream come true. And if that's not on your bucket list? Well, I'm afraid you simply don't know what you're missing.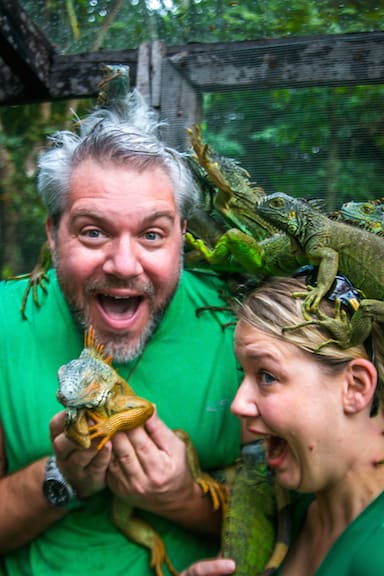 We met up with our guide, Humberto Requena, for a tour of the facility at Belize's San Ignacio Resort Hotel. The Project was co-founded back in 1996 by Mariam Roberson and Daniel Velasquez as a way to protect the species, which was suffering a population loss due to overhunting. Poaching of their eggs was also a problem, because some Belizians believe them to be an aphrodisiac.
On the day we visited, the facility was hosting Veterinary students from Mercy College in Westchester, New York. They were busy giving the iguanas iodine baths to remove ticks, fleas, parasites and salmonella from their skin.
The iguanas clearly loved the process, particularly getting scrubbed by the toothbrush. They would close their eyes and raising their chins like content little kittens. Of course, there were one or two troublemakers who seemed intent on avoiding bath time at all costs.
Noam, a 4-year-old male named after philosopher Noam Chomsky, is the unofficial mascot for the project, and easily the most mellow of the iguanas we met. At one point he fell asleep in my arms, lulled by the warmth of my body and my gentle stroking of his head. His skin had a beautiful orange hue because it was mating season, and the color helped attract females.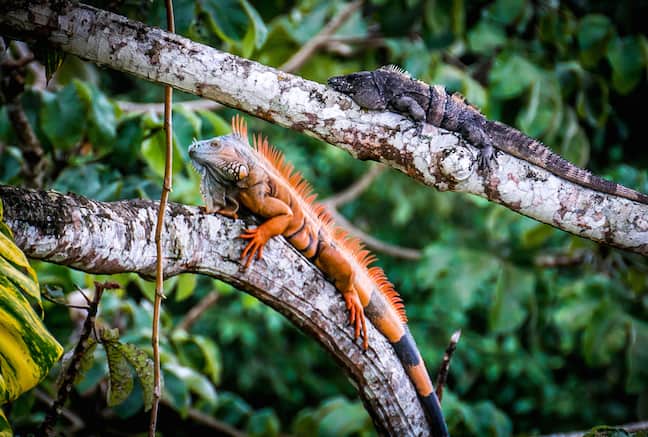 Unfortunately for Noam, 12-year-old grouch Oscar was the project's alpha male and was first in line for breeding rights. But that didn't stop Noam from putting on an incredible mating display while Mary was holding him, wagging his head and extending his throat pouch to show off for the ladies.
The facility has a captive breeding and release program for Green Iguanas, and helps rescue and rehabilitate injured animals brought in by the surrounding community. They also have an excellent education program designed to teach local kids to protect iguanas from hunting and poaching.
At the end of our visit, Humberto asked if we wanted to hold an iguana, to which the correct answer is always an emphatic YES!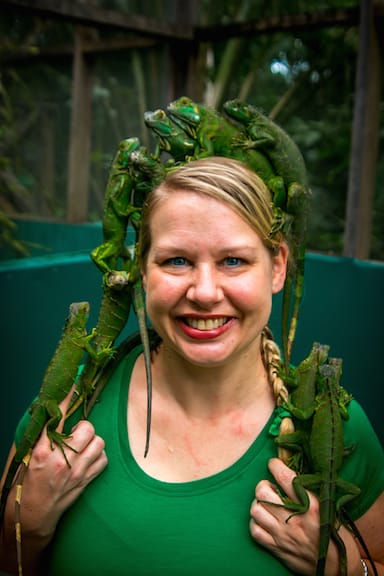 We were surprised and delighted as he kept piling more and more iguanas on our arms, and they began playing their version of King of the Mountain by climbing atop our heads. One of my favorite memories was the shocked look on Mary's face as she was covered in nearly a dozen baby iguanas, each of them looking like little Godzillas who thought her blonde hair was their own personal throne.
The Green Iguana Conservation Project was named TripAdvisor's #1 attraction in San Ignacio for 2014. It was easy to see why: Though we climbed ancient pyramids, scuba dived and explored caves littered with Mayan relics, hanging with the iguanas was easily the most fun we had during our time in Belize.  –by Bret Love; photos and videography by Bret Love & Mary Gabbett; video editing by Kartikay Kini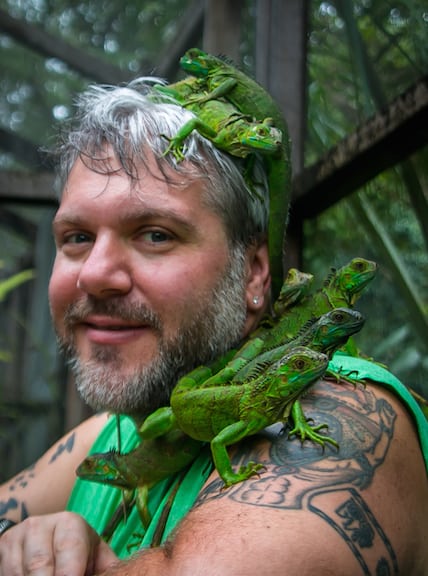 Our Belize trip was co-sponsored by San Ignacio Resort Hotel and the Belize Tourism Board. But we will never compromise our obligation to be truthful to our readers. 
If you enjoyed our post on the Green Iguana Conservation Project, you might also like: 
INTERVIEW: The Garifuna Collective Preserves the Rich Culture of Belize
COSTA RICA: Corcovado National Park
COSTA RICA- Tortuguero National Park
COSTA RICA- Photo Gallery: Wildlife
PANAMA– Big Game Fishing & Dolphins
PANAMA- Coiba National Park & Sharks