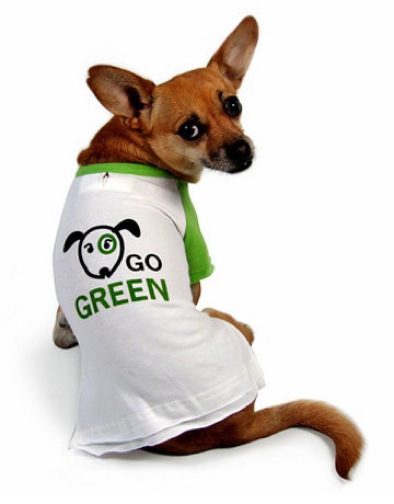 We all love our pets, so why wouldn't we want to get them involved in the Green movement as well? Pets are just as capable of leaving a carbon footprint as we are, so it's important to be environmentally responsible when it comes to caring for fido or kitty. Check out these five tips for green pet care!
• Scoop The Poop– Use biodegradable bags to pick up after your pet. It ensures that the waste won't end up in a nearby stream and keeps plastic out of landfills.
• Food For Fido– You wouldn't feed your kids meat that's been deemed unfit for human consumption, so why would you give it to your dog? Many dog and cat foods contain fillers, preservatives and meat from diseased cattle. To keep your pet in top shape, try feeding him organic pet food. It's made from organically raised farm animals and contains no artificial preservatives.
• Get Crafty For Kitty– You can make Green toys that your cat will love from scraps of cloth and yarn that you have laying around. Organic catnip is cheap and easy to grow, and makes a great filler for toys. Not only do these homemade toys cost a lot less than the pet store variety, but they are also better for the environment.
• Protect Native Wildlife– Always keep dogs on leash when outside and keep kitties inside only. Both dogs and cats are natural predators, and will hunt instinctively. Cats can decrease a bird population dramatically if allowed to roam freely. Plus, cats who are kept indoors live 10-12 years longer on average than their outdoor counterparts!
• Cleanse without Chemicals– Pets can be harmed by chemical cleaners, and are more likely to ingest them than humans are. Avoid using harmful chemicals in the house, such as bleach and anti-freeze. Instead, opt for more environmentally friendly options. Many companies sell Green cleaning products designed to be less harmful to animals. Always try to keep pets away from an area that has just been cleaned with chemicals. –Kristen Nipper
If you like Green Pet Care, then you may also like:
The Center for Rehabilitation Of Wildlife
Inside the Exotic Animals Trade