We didn't know much about Asheville, North Carolina– much less its Green Restaurants– despite it being just a 3-hour drive from our hometown of Atlanta. But when we decided to stop there to visit our friends Cristina and Hal of Travel For Wildlife en route to the Outer Banks last month, the folks at Explore Asheville were delighted to educate us about the mountain town's eco-friendly awesomeness. In retrospect, we're glad they did.
As it turns out, Asheville is the greenest dining destination in America. Out of 80 members in the Asheville Independent Restaurant Association, 17 are certified as green restaurants by the Green Restaurant Association (GRA), the nation's leading authority on the subject. Their certification standards for green restaurants are pretty intense, grading them on everything from energy consumption and chemical pollution reduction, to water efficiency and waste reduction, to sustainable food and furnishings. In order to maintain their ranking, green restaurants must continually improve sustainability year after year.
Since we were only there 2 days, we only had a chance to visit 3 of Asheville's green restaurants. But we loved the city's laid-back "Greenwich Village in the Mountains" vibe so much, we're already planning a return trip later this year. Read on for our reviews of Bouchon, The Green Sage Cafe, and Posana…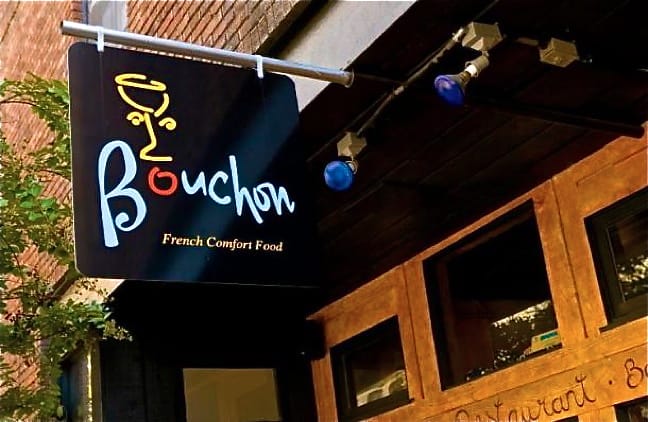 Bouchon • 62 N Lexington Ave • 828-350-1140
With its slogan of "Bon Appetit, y'all!" this bustling bistro makes it clear right from the get-go what you're going to get. Opened on Asheville's hip N Lexington Ave by owner/chef Michel Baudouin in 2005, Bouchon serves up French comfort food with a healthy dose of Southern hospitality. There's no haughty culinary pretentiousness here. From the unfussy decor of the long, narrow dining room (brick and warm yellow/orange walls, B&W photos of French street scenes, simple strung lighting) to the friendly staff, the emphasis is all about the customer experience.
Baudouin, who grew up in a 200-year-old farmhouse in France's Rhône Valley, prides himself on his sustainable values. In addition to recycling EVERYTHING, Bouchon composts almost all raw vegetable materials, and all of the restaurant's disposables are compostable/biodegradable. Baudiouin also practices the farm-to-table philosophy of sourcing everything he possibly can from local farmers and vendors, including Crain Family Farm, Sunburst Trout Farm & Bluewater Seafood Co. The dishes that result are wonderfully fresh and robustly flavorful.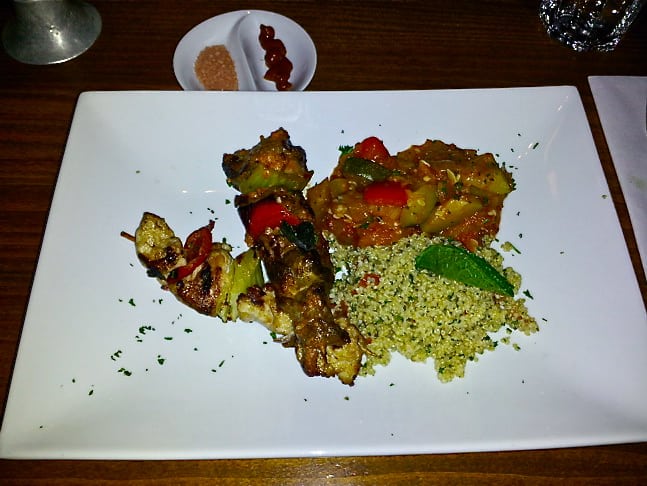 We were a little concerned how my 11-year-old daughter would feel about her first taste of French cuisine. But we needn't have worried. She practically devoured the Pique-nique Français, a homemade country-style paté served with locally made cheeses and chutney. And the grin on her face after she took her first bite of Escargots Bourguignon– snails in garlic butter under puff pastry– made it clear we were creating a diehard French food fan. She even loved the Brochette de Ris de Veau a l'Anis, a Pernod marinated sweetbread (i.e. various organs) kebob served with ratatouille and quinoa tabouli. But our favorite dish was the Steak au Poivre, the classic beef shoulder tenderloin topped with black pepper and cognac sauce.
Our only complaint about the restaurant was the noise level, which built to a roaring din on Saturday night. If you go, go early (or on a weeknight) if you want to have any sort of audible conversation and avoid a wait.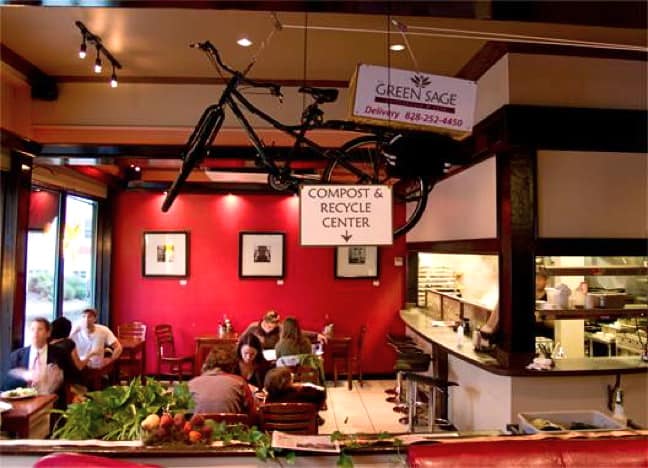 The Green Sage • 5 Broadway Street • 828-252-4450
With two locations in Asheville (one downtown, one in the southern suburbs), The Green Sage Coffeehouse & Café is one of only seven GRA 4-star rated green restaurants in the United States. As you might expect, their sustainable approach covers every aspect of their business: all food scraps are composted, used vegetable oil is picked up for conversion to bio-fuel, to-go containers and straws are compostable (the former made from sugar cane, the latter from potatoes), a bicycle is used for food delivery from the downtown location, and all interior elements were made locally (much of it from reclaimed wood and metals).
The southern location even FEELS fresh and clean from the moment you walk in the door, with sage green and sienna orange walls lined with nature/wildlife photos (taken by a local photographer, naturally), plank wooden tables, lime green lamps, and big comfy easy chairs by a big bay window. And of course everything on the menu is made fresh from scratch, using locally sourced organic ingredients whenever possible, with coffee from Fair Trade companies.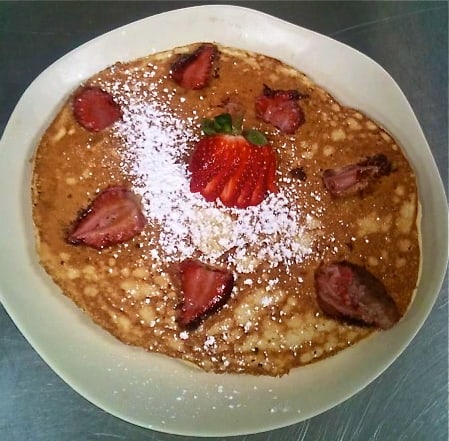 The restaurant offers a variety of burgers, sandwiches, rice bowls, and wraps, but we went for their breakfast, which is widely considered the best in Asheville. My daughter loved their decadent Carrot Cake Pancakes, a HUGE serving bursting with carrots and served with a side of cream cheese frosting. Mary and I shared an incredible Spinach Feta Omelet (served with Sweet Potato Home Fries) and a Wild Lox Bagel, both of which were practically bursting with fresh flavor and, like most of their menu, available gluten-free upon request. Since we were heading out on the road to Outer Banks that day, we also got a couple of muffins to go. Even after a few hours in the car, they still tasted freshly baked.
Everything we tried, from my Mocha Latte and fresh-pressed Organic Carrot Juice to my daughter's Strawberry Fields Smoothie, exceeded our expectations. We left Asheville longing for them to open their next Green Sage location near us.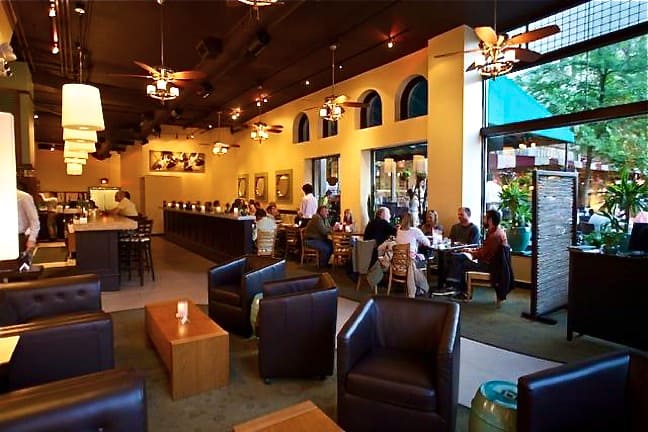 Posana Cafe • 1 Biltmore Ave • 828-505-3969
Located in the heart of downtown on Historic Pack Square, Posana Cafe was arguably our favorite among Asheville's green restaurants– the kind of casually elegant neighborhood eatery you wish you had in YOUR neighborhood. Executive Chef/co-owner Peter Pollay is an honors graduate from the Culinary Institute of America and has worked under legends like Wolfgang Puck. His passion for elegant, eco-conscious Contemporary American Cuisine comes across in every gluten-free bite.
His restaurant, which was about to undergo a remodeling when we visited, offers an upscale environment that straddles the line dividing classy and casual. Cool steel blue and beige walls were lined with colorful local artwork (all for sale), working hand-in-hand with simple wooden chairs, tables and ceiling fans and mellow music to create a peaceful, easy-going atmosphere that attracted an older, more mature crowd than some of the other restaurants we visited.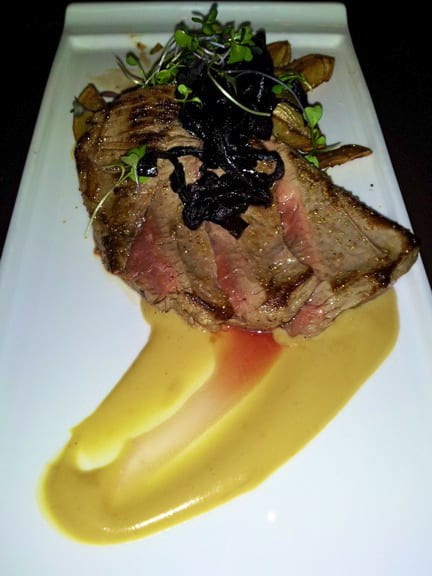 Pollay, who's taking over as President of the Asheville Independent Restaurants Association in October, has been a leading light in the city's Green Restaurants revolution. Nearly everything on his menu is locally harvested and sustainable: Even his trout comes from a farm located 15 minutes away. From the in-house water filtration system to hand soap made from leftover kitchen grease, the chef is blazing innovative trails that are influencing more and more of his fellow restaurateurs.
His menu is a model of creative simplicity. No words can adequately describe the delicate balance of flavors in his Little Gem Lettuce Wraps, featuring tamari glazed chicken and Asian slaw in gem lettuce cups, or the tangy zing of his Fried Green Tomatoes served with pimento cheese, pickled shrimp and green goddess dressing. The Lobster Mac & Cheese small plate was simply to die for, with ricotta gnocchi replacing the macaroni noodles and aged cheddar giving it a robustness miles away from the Velveeta crap I grew up on. Pollay's entrees, including Pecan Crusted Sunburst Farms Trout (with braised white beans, butternut squash puree and granny smith apple vinaigrette) and Carolina Bison Flank Steak (with pommes frites, garlic cream and red wine braised shallots), were absolutely exquisite, as were the homemade desserts.
In the end, Asheville's green restaurants impressed us at every turn. Though we were excited to get to the Outer Banks for the next stage in our trip, we promised ourselves a return trip in the fall to see more of this beautifully bohemian mountain town. We can't wait to see what Pollay and his fellow Asheville chefs will cook up next time around! –Bret Love
This post was brought to you by Enterprise Rent-A-Car, which offers electric and hybrid vehicles at neighborhood and airport rental locations across the country. Visit their website for more information.
If you enjoyed reading about Asheville's Green Restaurants, you might also like:
GEORGIA- Weekend in the North GA Mountains
GEORGIA- Top 5 Eco Attractions in North GA
NORTH CAROLINA- Greensboro Travel Guide
NEW YORK- Going Green in NYC
WEST VIRGINIA- Outdoor Adventures