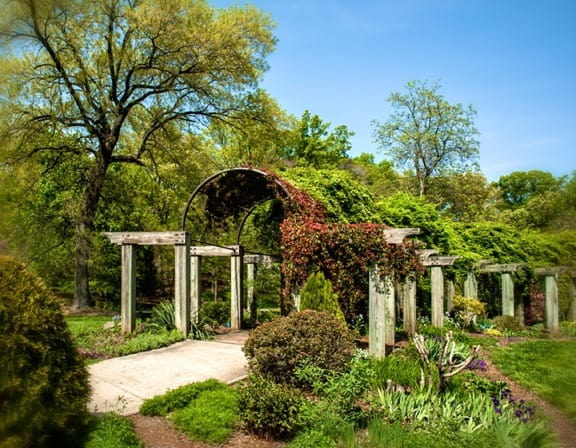 Greensboro, North Carolina Travel Guide
Going Green in Greensboro
Cool name aside, Greensboro, North Carolina might not strike you as one of America's best green travel destinations. The Atlantic Ocean is four hours to the east. The Great Smoky Mountains are 2.5 hours to the west. Still, the symbolic center of the Tar Heel State (Greensboro CVB, which hosted our stay, uses "The Middle Is the Best Part" as the city's unofficial slogan) has more than its share of eco-friendly attractions. It's also slap dead in between D.C. and Atlanta, meaning much of the East Coast can get to the city within a 5-hour drive.
Truth be told, one of the main reasons my wife, Zena, and I wanted to visit Greensboro was to experience the Proximity Hotel, which has been certified as Green LEED Platinum. Aside from being a pioneer in sustainable accommodations, the hotel practically drips in eco chic style. When you walk into the converted mill, you're greeted with eco-conscious architectural brilliance: Floor-to-ceiling windows provide natural light and relief on the electric bill. Exposed concrete and super high ceilings give rooms a sense of cool, while cutting down on the A/C expenses. To avoid the noise pollution of vending machines, there's even an honor drink bar on each floor. Simply reach in the mini fridge, grab your Coke and drop off a dollar.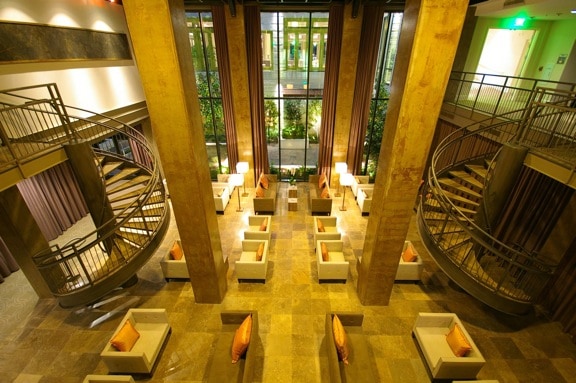 There are hundreds of other subtle (see: locally designed furniture) and not-so-subtle (see: 100 rooftop solar panels that heat 60% of the hotel's hot water) sustainable features around the hotel. "We used a lot of recycled material," says Tony Villier, facility manager at Proximity. "I think about 22% of the building. Things like the stairwells, which are 50% recycled content. You have the structural steel for the building, which is 90% recycled content. All of the gypsum wallboard here is 100% recycled. All of that came about from a process standpoint of adding one question to the design and construction process: Is there a more sustainable way of doing it? Of course, it has to make sense from a cost standpoint as well. Going broke is not sustainable. Being ugly is not sustainable. You have to make sure that things will be able to stay."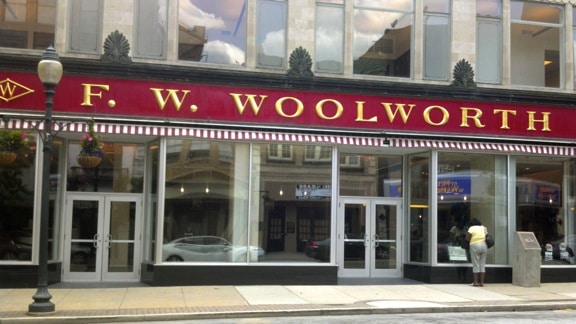 Like many Southern cities, Greensboro has its unpleasant memories from the Civil Rights era. Most consider Birmingham, Atlanta and Memphis as the heart of the movement, but Greensboro could easily be known as its brains. Back in 1960, four North Carolina A&T students– Joseph McNeil, Ezell Blair Jr., David Richmond and Franklin McCain– held a sit-in at an all-white lunch counter at the downtown Woolworth store. Many have called the courageous act, which was later duplicated all across Dixie, one of the most important moments in African-American history. Today the actual lunch counter is the centerpiece of Greensboro's International Civil Rights Center and Museum, a fascinating walk through time that feels amazingly current with all of its motion-activated halls and touchscreen exhibits.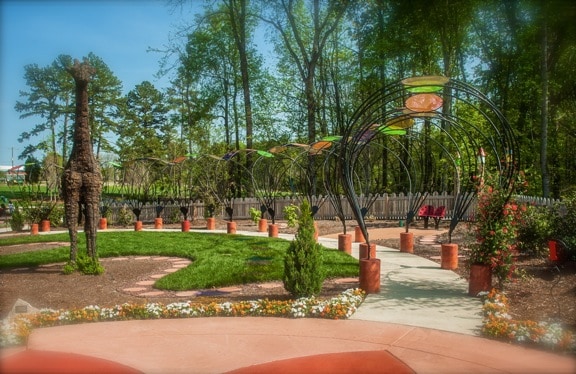 Beyond history lessons, boutique shopping and fun stops like the North Carolina Zoo and a Grasshoppers Minor League Baseball game, the city of about 270,000 residents prides itself on its outdoor attractions. Greensboro is home to a number of gorgeous parks, including Bog Garden and the Greensboro Arboretum. My wife and I ventured over to their newest greenspace, the 2011-installed Gateway Gardens, on a beautiful Saturday afternoon. The well-maintained place had a relaxing, whimsical feel. There was a larger-than-life storybook stage on one side, and steel-erected frogs perched on a wall on the other. All of which explains why we saw one family posing there with a professional photographer and another couple taking their romantic wedding day snaps.
The Tanger Family Bicentennial Gardens were about a 10-minute drive from Gateway (a running joke around the city is that everything is less than 10 minutes away), and it proved well worth the trip. More of a traditional park than anything else, Bicentennial Gardens' layout makes it a perfect space for weekend festivals. As it happened, we visited during Parisian Promenade, an annual event that transforms the park into a slice of France through music, artwork and revelers dressed in snazzy pantaloons.
"Greensboro has become known as a city of parks and gardens," explains Kathy Cates, director of the volunteer enhancement group Greensboro Beautiful. "Our residents really embrace the gardens. We are consistently able to have voter-approved bond referendums for parks and recreation facilities. It really has become a fabric of our community."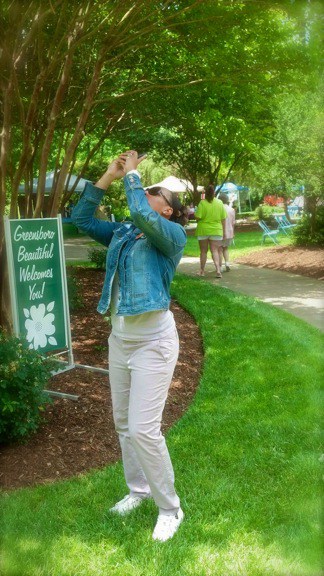 After a full day of garden hopping, hunger pains will inevitably start setting in. Thankfully, the one thing the city does almost as well as green is grub. Zena and I feasted on locally sourced, farm-to-table foodie fare such as homemade desserts from Cheesecakes by Alex, irresistible shrimp pasta at Bin 33, house-brewed beers at Natty Green's and delicious cage-free eggs at Iron Hen Cafe. Still, the meal that stood out most came from the Proximity Hotel's award-winning restaurant, Print Works Bistro. The menu is filled with sustainable selections such as mountain trout and lemon chicken paillard. Cross your fingers that the black pepper grilled salmon is in season when you visit. And their cream-filled pastries brought out for my birthday celebration were the proverbial icing on a great weekend.
During our drive back down to Georgia, my wife and I shared our personal highlights of the trip, agreeing that the hotel and civil rights museum were standouts. But she added how Greensboro, North Carolina was just a pleasant surprise overall, and I couldn't agree more. The city that prides itself on being in the middle of it all truly is a burgeoning center of eco-friendly fun in the South. –DeMarco Williams
If you enjoyed reading our Greensboro, North Carolina Travel Guide, you might also like:
Sanibel Island Eco Activities
Crystal River, Swimming with Manatees
North Georgia Mountains
Jekyll Island Eco Activities