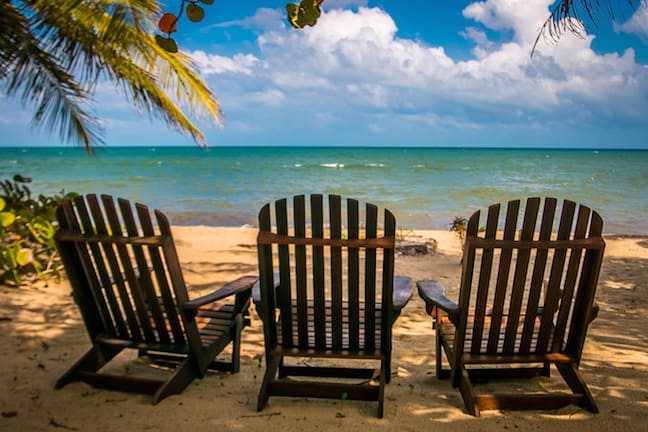 Beach at Hamanasi Resort, Belize
I've been thinking a lot lately about the stories we tell when we travel. Not just "we" in the sense of travel writers and bloggers, but human beings in general.
We use our cameras and mobile devices to capture snapshots of us at our idealistic best, every hair in place, smiling just so, capturing moments in which we're "living the dream" (to quote a popular blogger cliché). It's easy for other people to look at these photos in envy, jealous of our perfect lives and wishing they could have just a taste of the bounty we've been blessed with.
But while pictures like the one above may be worth a thousand words, they rarely tell the full story.
Usually I want to travel. Our trip to Belize was a rare case where I desperately needed to get away. Our end-of-year deadlines had been brutal, leaving me exhausted to the core after weeks of 12-hour days. My father passed away unexpectedly the day after Christmas, just before his 68th birthday, and his memorial service left me wrestling with a complex cauldron of emotions over the fact that I've been estranged from my immediate family for over two years.
By the time I got to Belize– a place I'd dreamed of visiting for over 15 years– I was beyond tapped out on a physical, mental and emotional level. After I was knocked into a reef by another Scuba diver who didn't see me beneath him, got severe leg cramps during our second dive and ultimately got seasick after my ascent– I literally broke down.
Honestly, it was the best thing that could have happened to me.
You won't see any photos of me getting sick over the side of the boat. You won't see pictures of the ugly scar I got from scraping my elbow on the reef.  And you won't see any shots of the tears I wept when I finally let go and acknowledged that I just wasn't able to handle all of the myriad things that had been piled upon my plate.
The photo you see above, of the beach at Hamanasi Adventure and Dive Resort, doesn't tell any of these stories. But that's not the point of this post. This shot– taken after our dive, a refreshing dip in the resort pool, and a snack to settle my stomach– is incredibly symbolic for me.
This dream-like image of peace and serenity represents promise and possibility, specifically the goals that Mary and I have been working towards the last four years. There's a chair for me, Mary and my daughter to sit in and gaze out on the gorgeous surroundings, with our dog Huckleberry at our feet. There are no laptops, phones, deadlines or other obligations to be met. Just time and space, shade from the midday sun, and remarkable natural beauty everywhere you look.
Of course, that's not the reality behind this image: In truth, I was nauseous, sweaty and at the end of my emotional rope, trying to force myself to be OK at a time when I was decidedly not OK. I was simply trying to get a few quick shots of this beautiful beach before moving on to our next adventure. But it's representative of the dream that I aspire to– the dream that we push ourselves to our limits to in an effort to achieve.
And I know deep in my heart that, by the next time we visit this beautiful beach in Belize, that dream will have become real…  –Bret Love
Our trip to Belize was sponsored by San Ignacio Resort Hotel & the Belize Tourism Board, but we will never compromise our obligation to our readers. Our opinions remain our own.
If you enjoyed our photo from Hamanasi Adventure and Dive Resort, you might also like:
COSTA RICA WILDLIFE Photo Gallery
GALAPAGOS ISLANDS BIRDS Photo Gallery
SANIBEL ISLAND WILDLIFE Photo Gallery