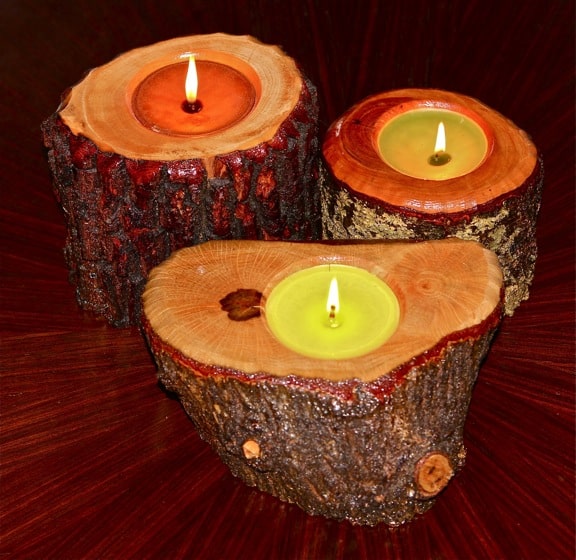 How Using Wood To Hold Candles Puts "Reduce/Reuse/Recycle" Into Action
Sometimes we find great craft ideas and creative inspiration in the unlikeliest of places.
I was at my daughter's school, picking her up before the holidays, when I saw one of the women in the front office showing off a gift she'd just received from one of the other parents. It was a gorgeous section of wood made to hold candles. It had been cut and lacquered (to keep the bark and moss from rubbing off) and hollowed out before soy candle wax had been poured into it. We spend a lot of time in the North Georgia Mountains and have been to many shops filled with Appalachian-style craftwork, but I'd never seen anything like it, so I left her my card and asked her to have the artist call me.
His name, appropriately enough, was John Woods, and he seemed somewhat shocked to hear from someone in the media. Woods doesn't even have a website for his Timber Candle Company yet, but what he does have is lots and lots of product at surprisingly sweet prices (most run $20-$30). Aside from the simple fact that they look cool, we love the fact that Woods is a small, independent, home-based artisan who crafts these candles in his spare time simply because he loves working with wood.
But what we love even more is the fact that Woods gets the raw materials for his pieces by putting the Reduce/ Reuse/ Recycle motto in action. He doesn't chop down trees to get the Oak, Pecan, Maple and Cherry wood he uses to create his beautiful candles. Instead, any time he sees or hears a chainsaw in action, he drives over and asks the person doing the cutting if he can have some of their wood. As a result, Woods' garage has the look of a mad arborist's workshop, with logs and branches strewn about, various woodworking tools, and literally hundreds of candles.
He's hoping to get a website up soon, but in the meantime anyone interested in inquiring can email him at [email protected]. and please tell him Green Global Travel sent ya!  –Bret Love
If you like How Using Wood To Hold Candles Puts "Reduce/Reuse/Recycle" Into Action, then you may also like:
The Best Coffee in the World: A Gourmet's Guide
GO GREEN TIP #95: Recycling Tips
GREEN GEAR: Sustainable Watches – WeWOOD Wood Watches