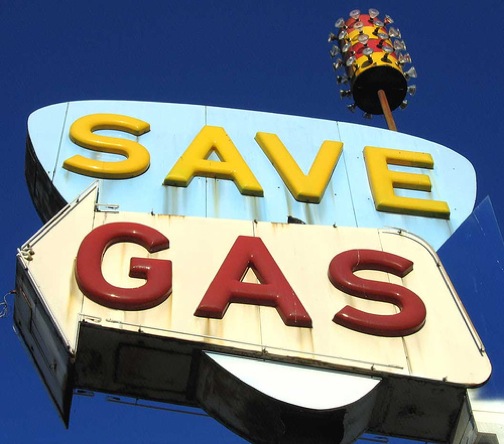 How To Conserve Gas – Facts & Myths
Yesterday we made our monthly visit to Costco (where fuel is usually 10¢ a gallon cheaper than it is at normal gas stations), and decided to go ahead and fill Mary's car up even though we still had 1/4 of a tank left. Even at their deeply discounted price, the cost around 13 gallons of gas was over $50! Compared to other states, Georgia's gas prices are actually surprisingly low, but even here they're expected to rise to $4.50/gallon this summer!
In our current economic times, everyone is looking for ways to save money, but it seems that there are a lot of misconceptions out there about fuel economy.  Fortunately, the American government has a website called FuelEconomy.gov, which offers a great overview of the various facts and myths about conserving gas:
• Using Premium Fuel Improves Fuel Economy–  Totally false. If you believe this, I know some BP executives who have a story about the Gulf oil spill not impacting wildlife to sell you.
• Vehicles Must Be Warmed Up In Cold Months Before Being Driven–  Also not true. The only reason to warm your car up is so you'll be warm and the windows will defrost. If you really want to conserve energy, use a jacket for the former and a pitcher of hot water on the latter.
• It Takes More Gas To Start A Car Than To Let It Idle– This is one of the biggest misconceptions about fuel economy. Idling uses 1/4 to 1/2 a gallon of gas in an hour, costing a couple of cents per minute. So if you're stuck in stop-and-go traffic, it's probably not worth it to stop and restart your car, but if you're going to be idling for more than a few minutes you probably want to shut it off.
• Aftermarket Additives Can Improve Fuel Economy– There are tons of "miracle products" that make bold claims about improving gas mileage, but both Consumer Reports and the Federal Trade Commission have refuted such claims. The only thing these products do is lighten the load on your wallet.
• Tips That Can Actually Save You Money On Gas– Drive sensibly (aggressive driving lowers gas mileage by 33%), maintain a steady speed via cruise control, remove excess weight (an extra 100 pounds in your trunk reduces your mpg by 2%), use overdrive gears, keep your engine properly tuned, keep tires properly inflated, use your car's recommended grade of motor oil, and consider upgrading to a hybrid vehicle such as a Prius. If we had a fleet of 50 mpg cars on the road today, we'd save more oil annually than there is in the entire Gulf of Mexico!   –Bret Love
If you liked How To Conserve Gas, then you might also like:
ECO NEWS: EPA Unveils New Fuel Economy Labels
ECO NEWS: New U.S. Fuel Efficiency Standards (Plus 30 Other Obama Accomplishments)