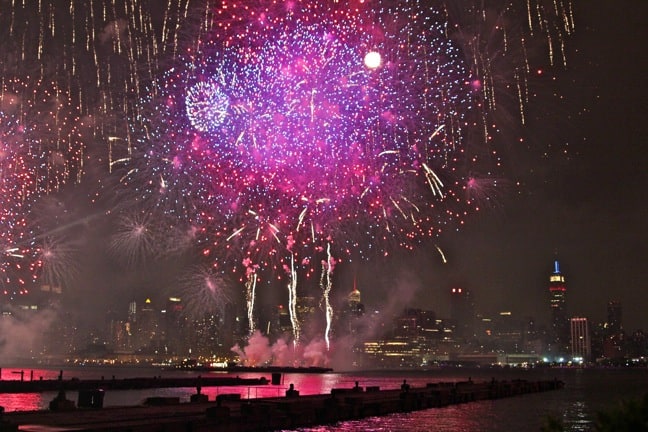 Macy's 4th of July Fireworks in New York City
We normally avoid cities like the plague. But the Big Apple? Well, that's a whole different story.
For one thing, it's a global hub of arts and culture. For another, it's where Mary grew up (specifically, on Staten Island). But most importantly, we still have a ton of family and friends in the area. And so it was that we took a family road trip a few years ago to visit Mary's dad and college friend Jill, and  to find out if it was possible to Go Green in New York City.
It was a wonderful week of adventures that took us from our base in Greenwich Village to the American Museum of Natural History, from a river cruise around Manhattan to riding bikes in Central Park. But, for me, the most memorable highlight was taking Mary and my daughter to see the Macy's 4th of July Fireworks.
Jill lived right on the Hudson River, and the pier outside her building provided the perfect vantage point from which to watch the annual Independence Day spectacle. There was naturally a vast sea of people crowded shoulder-to-shoulder, but we managed to find some open space hidden behind a line of trees (talk about "Going Green"!) beside the pier. From here, we could see three of the four barges from which the fireworks were launched, with the incredible Manhattan Skyline (including the red, white and blue colors of the Empire State Building) in the background.
It was the first time we'd ever traveled anywhere for Independence Day, and the Macy's 4th of July Fireworks definitely made it one of our most memorably family vacations to date. Now, every time I see fireworks, it takes me back to that incredibly special day…  –Bret Love
If you enjoyed our post on the Macy's 4th of July Fireworks, you might also like:
Going Green in New York City, Pt 1: Museum of Natural History

Going Green In New York City 2-  Central Park
FRIDAY PHOTO: Twin Moose Babies