Mary and I are not historically huge brand loyalists when it comes to travel, but we are both inherently thrifty by nature.
Even when our general money situation isn't tight, we're still always on the lookout for good travel deals.
Whether it's taking a small ship cruise through Alaska's Inside Passage early in the season or taking a trip to Kauai because we found flights at 50% off their normal price, our best adventures of 2019 started with killer discounts.
And though we're not master travel hackers, we have gotten hotels and flights to the Galapagos, Greece, and other exotic islands using airline miles and points accrued from our various credit card purchases.
So when we heard about the relatively new Marriott Bonvoy loyalty program– which promises steep discounts on 7000+ hotels in 131 countries– we decided to check it out for ourselves.
Here's an overview of how the Marriott Bonvoy program works, the participating hotel brands, the varying levels of membership, and how you can accrue and use your points.
READ MORE: The 25 Most Unusual & Unique Hotels in the World

What is Marriott Bonvoy?
Marriott Bonvoy is now the official loyalty program of Marriott International, and encompasses all of the parent company's hotel brands.
It was launched in February 2019, and combined elements of their Marriott Rewards, The Ritz-Carlton Rewards, and Starwood Preferred Guest loyalty programs.
Membership in the program gives travelers access to an array of benefits.
These include exclusive member rates, earning points towards free night award stays, being able to use all features of their mobile app, setting your reservation preferences, and much more (which we'll get into in the member benefits section below).
READ MORE: The 15 Best Isla Holbox Hotels & Resorts (Mexico)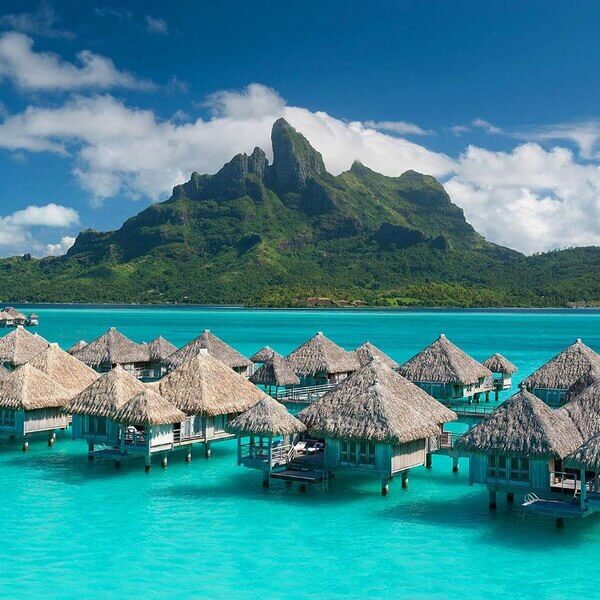 Which Hotels Are Part of Marriott Bonvoy?
The Marriott Bonvoy rewards program includes more than 7000 hotels from 30 hotel brands in 131 different countries.
These run the gamut from Luxury and Premium hotels to more budget-friendly Select hotels and even Longer Stay hotels.
Members can get discounts on stays at hotels all around the world, including approximately 30 different countries in Africa and the Middle East.
Here's a look at all of the Marriott hotel brands included in the new rewards program:
Luxury Hotel Brands
Edition • JW Marriott • The Luxury Collection • The Ritz-Carlton • St. Regis • W Hotels
Premium Hotel Brands
Autograph Collection Hotels • Delta Hotels • Design Hotels • Gaylord Hotels • Marriott • Marriott Vacation Club • Meridien • Renaissance Hotels • Sheraton • Tribute Portfolio • Westin
Select Hotel Brands
AC Hotels • Courtyard • Fairfield • Four Points • Loft Hotels • Moxy Hotels • Protea Hotels • Sprinhill Suites
Longer Stay Hotel Brands
Element • Homes & Villas by Marriott International • Marriott Executive Apartments • Residence Inn • Townplace Suites
READ MORE: The Top 20 Eco Resorts & Eco Lodges in the World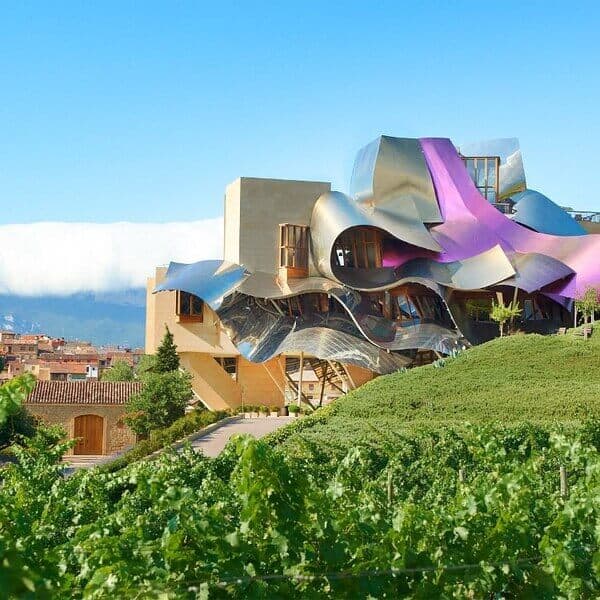 Marriott Bonvoy Member Benefits
The Marriott Bonvoy program offers its members numerous exclusive benefits.
These include a Best Rate Guarantee (when you book through official channels, such as Marriott.com, the Marriott Bonvoy App, Customer Engagement Centers, or directly with a hotel), free Wifi, mobile check-in, and rewards that include free nights.
But the program includes 6 different membership levels, with different requirements and different benefits for each one. Here's a brief overview…
Member Status
Requirement: Stay o-9 nights a year
Additional benefits include keyless entry (using your smartphone), no blackout dates on Free Night Awards, the ability to use cash + points combos to pay for your room, instant point redemption, and ability to use the PointSavers program.
Silver Elite Status
Requirement: Stay 10+ nights a year
Includes Member benefits plus 10% more points on every eligible hotel purchase, priority late checkout (subject to availability), dedicated Elite reservation line (open 24/7), and an ultimate reservation guarantee. If they can't honor your stay for any reason, they'll pay for you to stay nearby and compensate you for your troubles.
READ MORE: The 15 Best Palawan Resorts & Hotels (Philippines)

Gold Elite Status
Requirement: Stay 25+ nights a year
Includes Member & Silver Elite benefits. Plus 25% more points on every eligible hotel purchase, enhanced room upgrades (subject to availability), 2 PM late checkout (subject to availability), a welcome gift of 250-500 extra points at check-in (depending on hotel brand), and enhanced in-room Internet access (their fastest available speed).
Platinum Elite Status
Requirement: Stay 50+ nights a year
Includes Member, Silver & Gold Elite benefits. Plus 50% more points on every eligible hotel purchase, enhanced room upgrades (including Select Suites, subject to availability), a choice of welcome gifts (which may include points, meals, or other amenities), an annual gift choice, lounge access, and 4 PM late checkout (subject to availability).
READ MORE: The 15 Best Places to Stay in Costa Rica (Hotels & Resorts)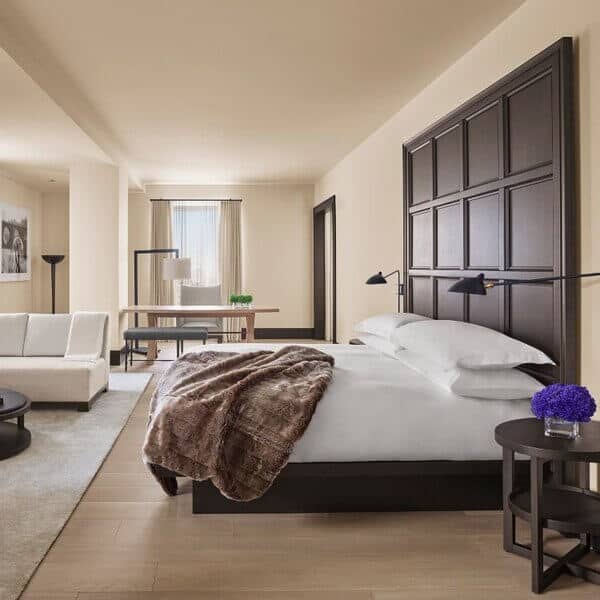 Titanium Elite Status
Requirement: Stay 75+ nights a year
Includes Member, Silver, Gold & Platinum Elite benefits. Plus 75% more points on every eligible hotel purchase, a 48-hour guarantee on room availability, and an additional annual gift choice. Options include 5 Suite Night Awards, a Free Night Award, gift Gold Elite status, Elite Night Credits, and more. You can also register for complimentary United MileagePlus Premier Silver Status.
Ambassador Elite Status
Requirement: 100 eligible nights and spend $20,000/year
Includes Member, Silver, Gold, Platinum & Titanium Elite benefits. Plus their ambassador service, which allows you to get personal assistance with your stays at anytime (no matter where you are), and the freedom to choose the 24-hour check-in and checkout time that works best for your schedule.
READ MORE: The 15 Most Haunted Hotels in America
Earning & Using Marriott Bonvoy Points
Hotel stays are just one of many different ways Marriott Bonvoy members can accumulate points towards future rewards. The program's many partners include:
CHASE VISA CARDS– The "Bold" card gives you 30,000 bonus points after you spend $1000 on purchases within 3 months, and has no annual fee. The "Boundless" card earns you 75,000 points after you spend $3,000 in 3 months, with a $95 annual fee.
HERTZ– Through their partnership, Marriott Bonvoy offers special savings and up to 2,000 points when renting a car from Hertz.
CRUISE WITH POINTS- When members book a cruise with lines like Carnival, Norwegian, and Royal Caribbean through Marriott Bonvoy, they get special discounts and earn up to 25,000 bonus points.
EAT AROUND TOWN– When Elite members join this special program and eat at one of the more than 11,000 restaurants in their system, they earn 6 points for every dollar they spend on dining out.
Other than booking free nights at Marriott-affiliated hotels, there are lots of other ways you can use your points.
You can also redeem your Marriott Bonvoy points to pay for airfare, rental cars, travel packages, gift cards for major retailers, and a variety of unique experiences around the world. For more details, visit their website at Marriott.com. –by Bret Love; photos provided courtesy of Marriott Bonvoy
This post was brought to you in part by Marriott Bonvoy. But our opinions remain our own, and we will never betray our obligation to our readers.