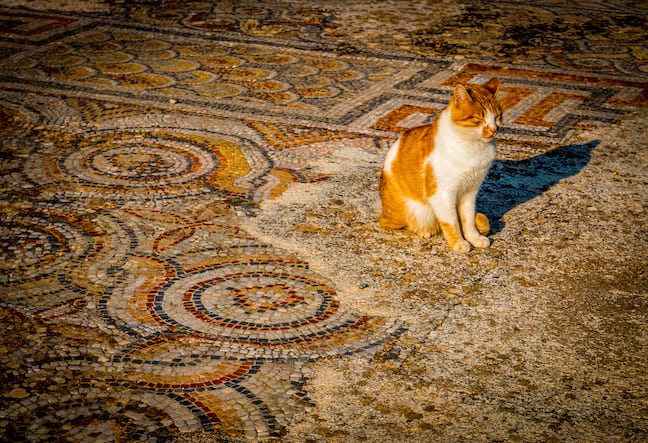 I have a love/hate relationship with cats. I love them for their independent spirits, their mischievously playful nature, and the rumbling motor sounds they make in moments of bliss.
Unfortunately I'm also crazy allergic to them, getting itchy, watery eyes and sneezing uncontrollably when they climb and rub on me (which they inevitably do). That part, I hate.
But the mysterious Cats of Ephesus–  the Greek city built in the 10th century BC, which was among the seven churches of Asia mentioned in the Book of Revelation– ultimately proved to be a quirky attraction that made this ancient archaeological site all the more interesting.
There are literally hundreds of cats roaming Ephesus. You'll see them sitting like statues at the base of columns lining the ancient streets, dozing atop intricately carved marble sculptures and seemingly guarding the impressive Library of Celsus.
One peeked out playfully, as if he might swat us just for fun, as we strolled through public baths built by Emperor Constantine I. Another sat atop an ancient row of toilets, looking like some sort of feline bathroom attendant waiting to offer us a paper towel and a mint on our way out.
Nobody really knows for sure how the Cats of Ephesus got here, or how they're fed. But they all appear well cared-for, and locals seem to have a laissez-faire attitude about their presence.
It's a well-known fact that Cleopatra once brought cats as a gift to Caesar Augustus in Rome.  Some local legends suggest that the cats who populate Ephesus today may be the descendants of felines the Egyptian queen introduced during her visits to the city.
But these ruins remained largely buried by the sands of time until 1895, when German archaeologist Otto Benndorf began the first significant excavation of the site. Benndorf later founded the Austrian Archaeological Institute, which still plays a leading role in the excavation of Ephesus today (around 85% of the massive city is still waiting to be uncovered). Our tour guide suggested that archeologists brought the cats to help keep the rodent population in check.
For me, this photo of an orange tabby sitting amongst intricately designed mosaic tile work dating back to the Byzantine era perfectly encapsulates the mysterious beauty of Ephesus. Looking at his regal pose, it's easy to understand why cats were held sacred by the ancient Egyptians (whose goddess Bastet was depicted in cat form), and domesticated by the Romans (who are credited with introducing the domestic cat to Europe).
Regardless of how they got there or how they manage to survive, the Cats of Ephesus add a sense of mystery and magic to this archaeological site, serving as a living embodiment of its ancient history. –Bret Love; photo by Mary Gabbett
If you enjoyed our post on the Cats of Ephesus, you might also like: 
PIC OF THE DAY: Turtle & Dragonfly in Sanibel Island, Florida
PIC OF THE DAY: Baby Cheetahs in South Africa
PIC OF THE DAY: Twin Moose Babies in Sweden
PIC OF THE DAY: Red-Eyed Tree Frog in Costa Rica