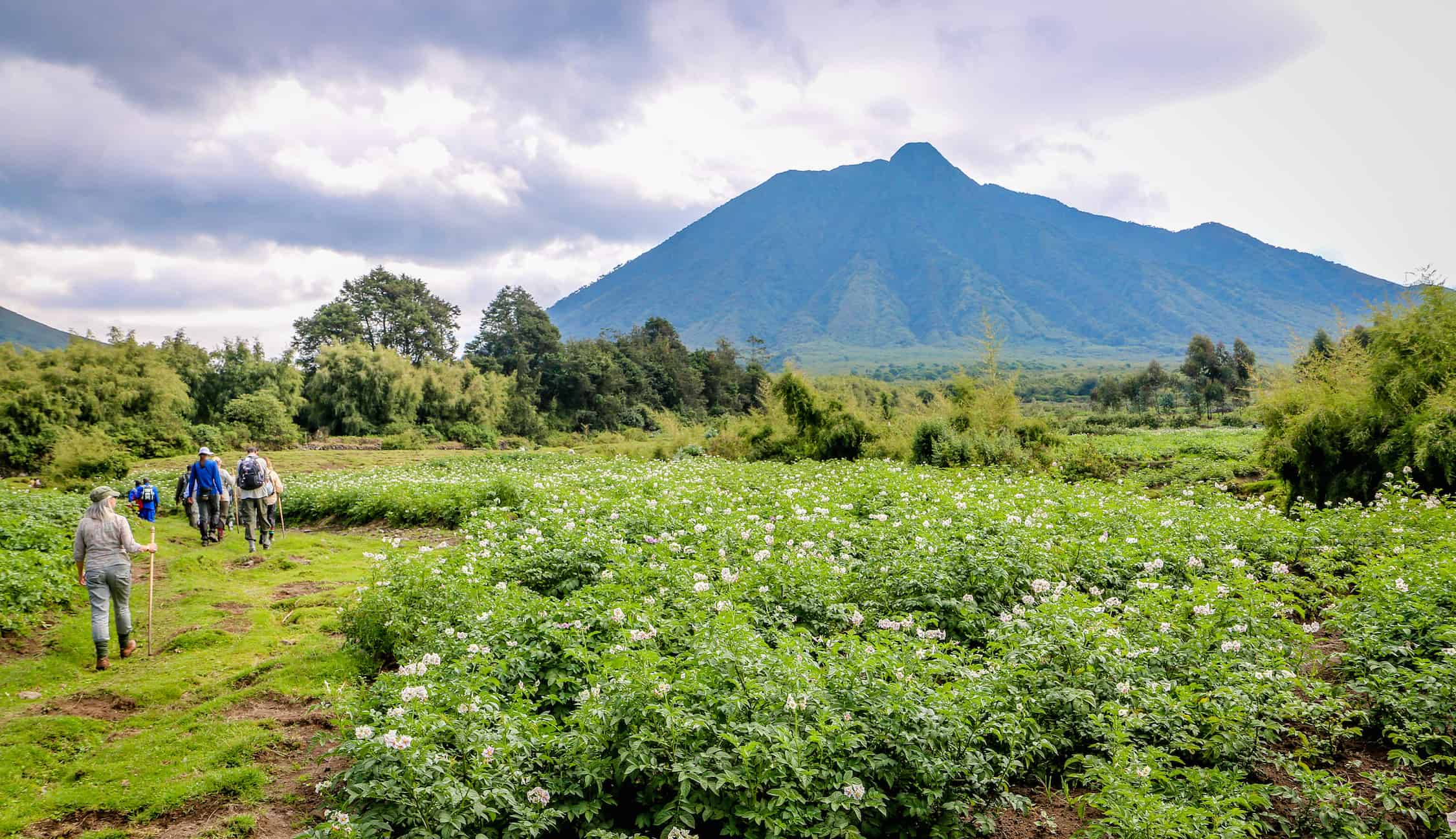 PIC OF THE WEEK:
Trekking Rwanda's Parc National des Volcans
There's a powerful transformation that happens within the soul and spirit anytime we take the first step of a journey. And sometimes even the anticipation of adventure can be just as powerful as the adventure itself. Such was the case during our first visit to Rwanda's Parc National des Volcans, more commonly known as Volcanoes National Park (not to be confused with the park on Hawaii's Big Island).
Located in northwestern Rwanda and bordering Virunga National Park in the Democratic Republic of Congo and Mgahinga Gorilla National Park in Uganda, Volcanoes is home to 5 of the 8 volcanoes in the Virunga Mountains. It's most famous as home to more than 50% of the world's endangered Mountain Gorillas, thanks in large part to the groundbreaking research and conservation efforts of Dian Fossey.
The excitement was palpable from the moment we entered the visitor center parking lot. There are 80 tourists a day who gather at sunrise for a once-in-a-lifetime trek to see one of 10 habituated gorilla groups. There were over 100 guides, trackers and porters there to ensure things run smoothly, as well as a young group performing traditional Rwandan songs and dances in front of a spectacular volcano backdrop.
We weren't there to see the gorillas that day. Instead, we joined a group of 8 other travelers for a gentle trek to see Rwanda's endangered Golden Monkeys, an endangered species found only in the Virunga Mountains. Found in groups of up to 60, the Golden Monkeys are significantly less well-known than the gorillas, and have only been habituated to human presence over the past 15 years.
The hike was almost impossibly picturesque, with majestic mountains towering above us on all sides. We passed by glorious fields of Pyrethrum flowers, which are known as "nature's insecticide" and constitutes one of Rwanda's most important cash crops. Kids from neighboring villages walked beside us for part of our journey, waving "Hello" and then giggling uncontrollably as we responded in kind.
The hour we spent with the monkeys, watching them leap from tree to tree and gnaw on bamboo shoots contentedly, was wonderful. But the journey was perhaps even more memorable than our ultimate destination, surrounded by spectacular sights we'd dreamed of seeing for decades. In this case, to paraphrase Robert Louis Stevenson's famous quote, the great affair was to move. –Bret Love; photo by Bret Love & Mary Gabbett
If you enjoyed our post on Rwanda's Parc National des Volcans, you might also like:
INTERVIEW: Dian Fossey Gorilla Fund International CEO Tara Stoinski
PIC OF THE WEEK: Baby Mountain Gorilla in Parc National des Volcans
ENDANGERED SPECIES SPOTLIGHT: Western Lowland Gorilla
GO GREEN TIP #112: Simple Wildlife Photography Tips
NEPAL: Hiking The Annapurna Circuit