With my birthday approaching and my daughter turning 16 in two months, I've become increasingly conscious of time.
The 18 summers we have with our kids pass all too quickly, leaving us precious few moments to establish strong bonds we hope will last a lifetime.
So the timing of our recent trip, which started off with whitewater rafting the New River Gorge West Virginia, seemed significant.
We've been taking these father-daughter trips ever since her mom and I divorced in 2004. We started close to home, with low-key vacations in Sanibel Island, Florida.
By the time she turned seven I'd taken her to swim with reef sharks in the Bahamas and snorkel shipwrecks in Aruba. In recent years we've been fortunate to cruise the Galapagos Islands and go on an incredible safari in South Africa.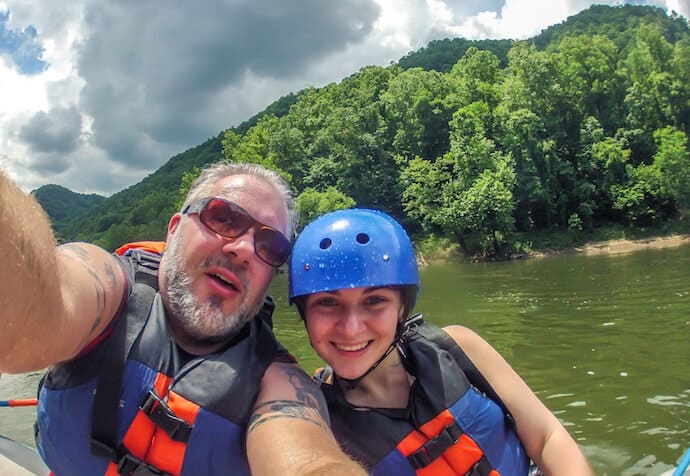 Naturally, these adventures abroad brought us closer together. But they also helped my shy, quiet daughter blossom into a stronger, braver, more adaptable human being.
They challenged her preconceptions and pushed her outside her comfort zone. They expanded her cultural horizons, exposing her to a very different side of the world from the privileged one she and her friends live in.
Now, as she begins dating, driving, and dreaming about her impending adulthood, these daddy-daughter outings are more important than ever.
And our adventure-focused visit to West Virginia's Adventures on the Gorge was arguably our most exciting and exhausting trip to date.
READ MORE: Water Wonders: A Father-Daughter Story
History of New River Gorge, West Virginia
Established in 1978 by President Jimmy Carter as a unit of the National Park Service, the New River Gorge National River encompasses nearly 73,000 acres of stunning natural beauty.
The New River, one of the world's oldest rivers, stretches around 360 miles. But the park only includes the 53 miles that cut through deep canyons in the Appalachian Mountains of southern West Virginia.
There's a lot of American history here. The New River Gorge area supplied coal and lumber that helped power America from the late 1800s to the mid-20th century.
Henry Ford had an early auto manufacturing plant in nearby Nuttallburg. You can still see remnants of coke ovens, coal carts, and abandoned buildings along the railroad tracks today.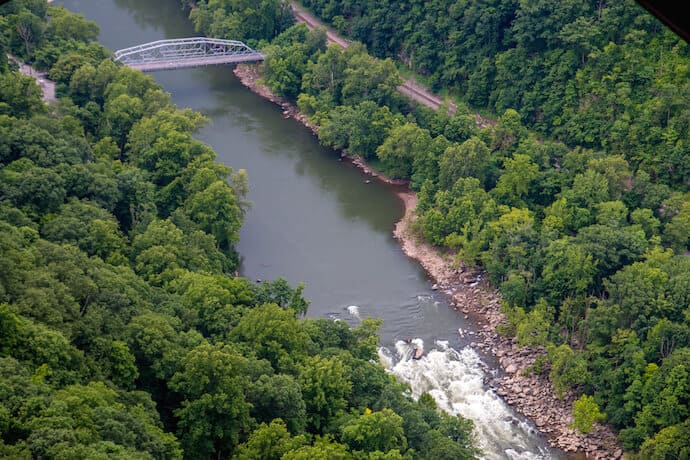 These days the New River Gorge National River has returned to the wild, evolving into a playground for outdoor adventurers.
It's one of the east coast's most popular rock climbing hotspots, with more than 1,400 established climbing routes. The hard sandstone rock is filled with cracks, with sport climbs and many advanced routes rated in the 5.10-5.12 range.
But what drew me back to West Virginia's New River Gorge was the opportunity to go whitewater rafting, which Mary and I didn't have a chance to do during our 2010 visit to the area.
The 6.5-mile stretch from the Cunard put-in to the Fayette Station take-out offers come of North America's best whitewater rafting, with rapids ranging from Class II to Class V when the water level is high.
READ MORE: Outdoor Adventures in West Virginia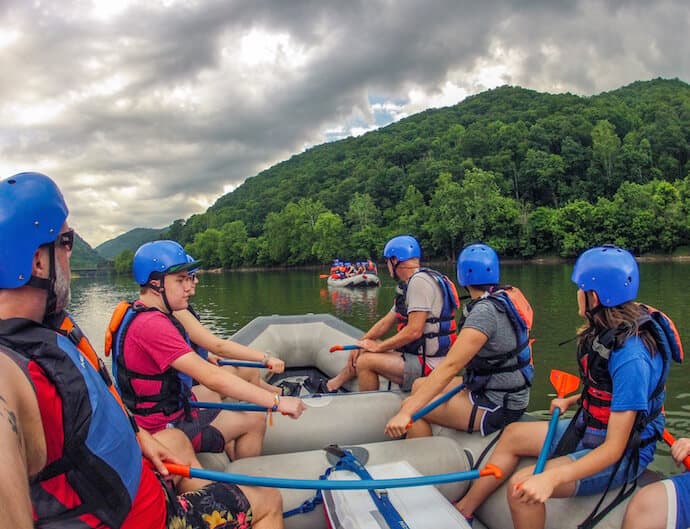 Rafting the New River: Part I
There was nervous anticipation in the air as we met up with our new friend John Zeydel, his 15-year-old son Chance, and our Adventures on the Gorge guides.
The morning mist shrouding the New River Gorge peeled back to reveal ominous skies. Having never experienced whitewater before, my daughter seemed quiet and anxious.
As we got our life jackets and helmets on and put our raft into the water, a steady drizzle added to the river's already impressive flow.
Our rafting guide, Ike, told us the New River was running at 3 feet (which refers to the water's velocity rather its height). In his eyes, this is the perfect level: Intense enough to keep things interesting, but not dangerous.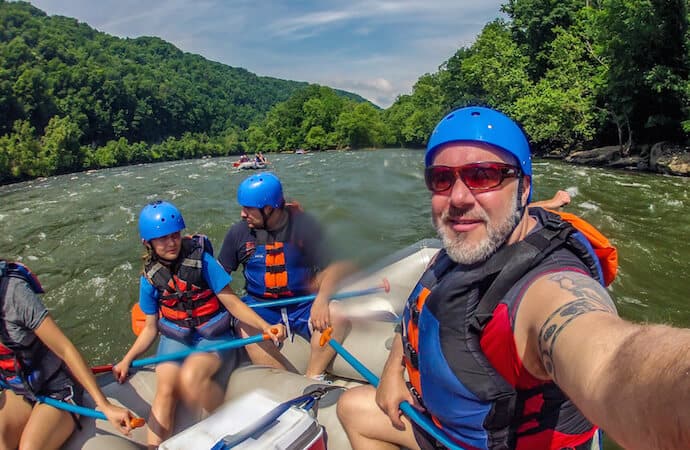 The first half of the 6-hour journey was tame, allowing newbies time to get comfortable with the basic commands.
Ike would call "Forward two!" or "Reverse one!" and everyone would paddle in sync, getting a feel for what it was like to row in unison.
My daughter, who's done plenty of kayaking and standup paddle boarding, took to it immediately. Sitting in the front left seat, she set the pace for our side.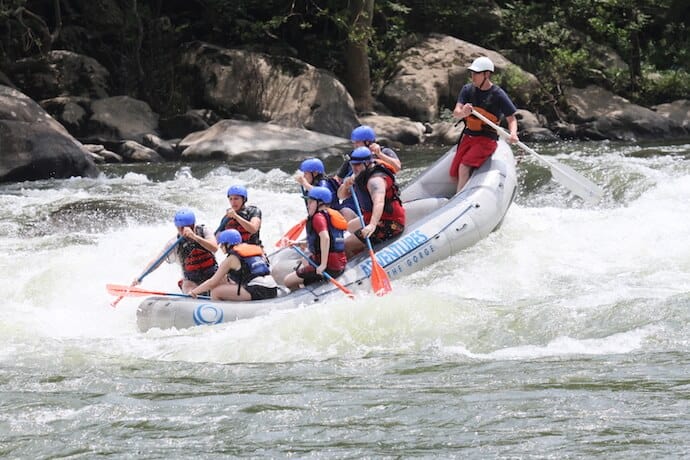 Class III rapids with names such as Upper Railroad and Ender Waves provided a tantalizing taste of the intense action to come.
The whitewater bounced us around like a Pinball (the name of another rapid), cooled us down, and whetted our appetite for the Class IV and V rapids we knew were coming. Everyone was smiling, our confidence building gradually.
We got our first taste of true excitement on the aptly-named "Surprise." This rapid sneaks up on you, drops you several feet into a churning cauldron of waves, and forces you to muscle through by paddling with all your might.
The feeling was indescribably exhilarating, and the look of pride on my daughter's face was priceless.
READ MORE: 10 Rivers For Your World Travel Bucket List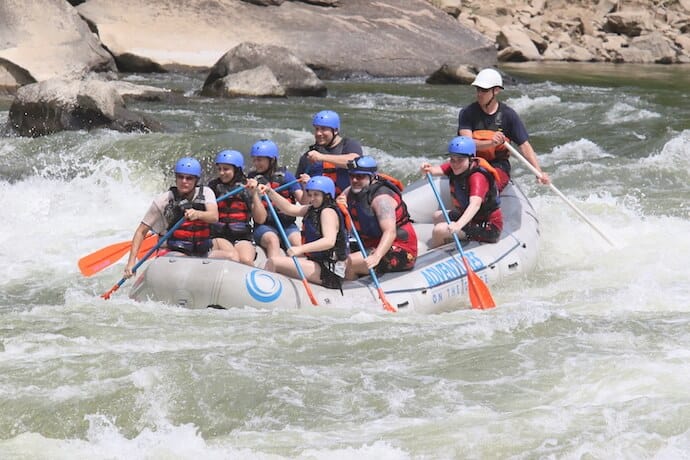 Rafting the New River: Part II
By the time we stopped for lunch, the storm clouds had cleared away to reveal stunning blue skies and breathtaking mountain scenery as far as the eye could see.
Combined with the infusion of protein, water, and sugar into our systems, the change in weather left us ready and raring to take on the more challenging second half of our all-day adventure.
Where the first 3 miles of the Lower New River was enjoyable for its low-key, relaxing vibe, the second 3 brought on a seemingly endless succession of Class III-V rapids.
The higher the water velocity, the more fiercely the whitewater whips at your raft.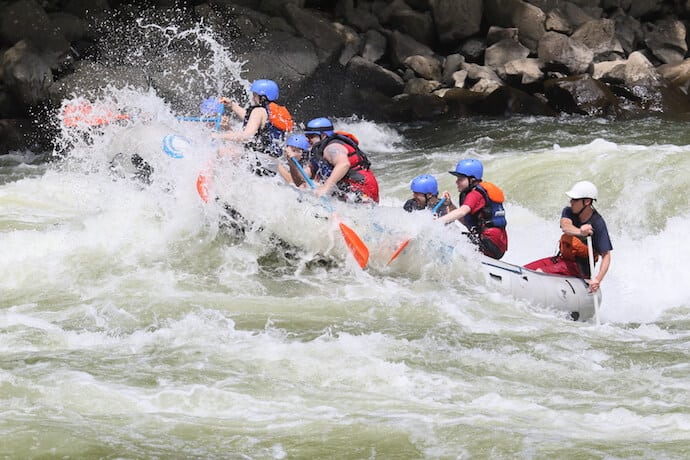 Moving behind my daughter into the second seat, I felt the impact of every crashing wave much more deeply.
As you'll see in the video above, some of the rapids slammed into us with serious hydraulic force. By necessity, our rowing became much harder, and much faster.
Noteworthy rapids you'll encounter when whitewater rafting the New River Gorge include the back-to-back Class IV hazards of the Upper and Middle Keeney, as well as the intimidating (and aptly-named) Greyhound Bus Stopper.
But the one I'll likely remember forever is the Double Z, a zig-zagging series of cross-river cuts, churning holes, and "bumpy-bumpies" that left us dazed, confused, and delighted.
Along the way, knees were jammed and scraped, rowers were tossed into the middle of the boat, and at one point my daughter briefly lost her paddle during a crashing bump.
But everyone stayed in the boat (except when we were allowed to swim down gentler rapids), which we considered a major win!
READ MORE: 10 Best Canoe Trips For Your World Travel Bucket List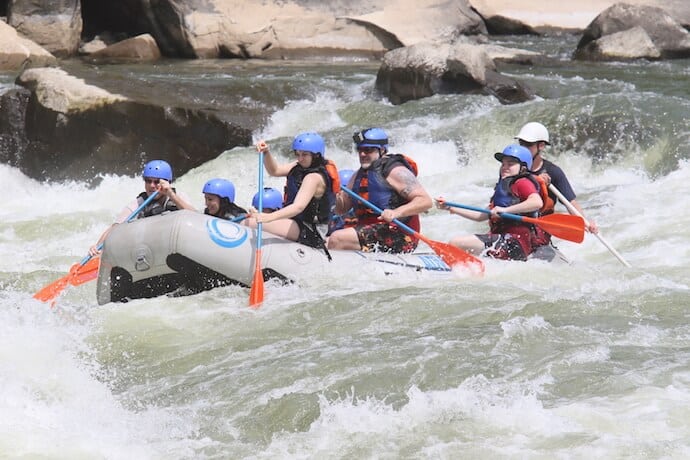 Epilogue
Rafting West Virginia's New River Gorge honestly kicked our asses and left us bone-tired.
But it also inspired us, reminding us teamwork can help conquer even the toughest obstacles. And it showed me how much my daughter has grown and matured over the last few years, growing bolder and more confident in facing down the things that frighten her.
Over our next few days with Adventures on the Gorge, my daughter and I faced our fears again and again.
From the TreeTops zipline tour and TimberTrek obstacle course to the BridgeWalk (which takes you on a narrow, 3,000-foot-long catwalk across the New River Gorge Bridge, 820 feet above the river), we constantly challenged our bodies and minds.
In the end, I realized that my little girl really was growing up and preparing herself for a life where dad won't always be right behind her when she falls.
I saw her stronger, braver, and tougher than she'd ever been before, her face filled with grit and determination. I've never been prouder, and never been more thankful that we still have a few more summers left… –text and still photos by Bret Love; action shots courtesy of Adventures On The Gorge
Our trip was hosted by Adventures On The Gorge, but our opinions remain our own. We will never compromise on the integrity of our connection with our readers.