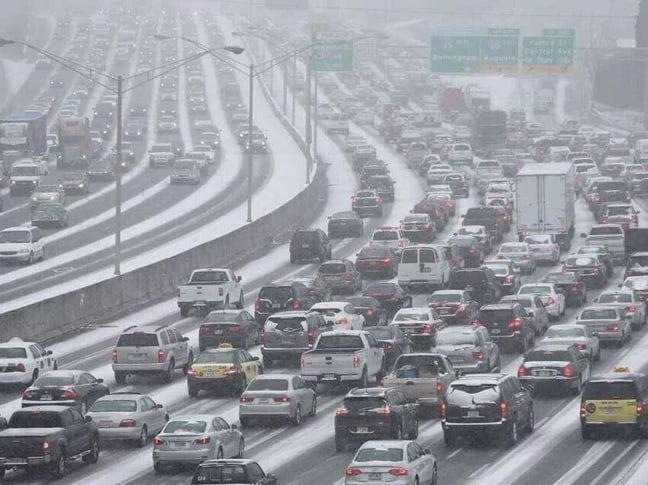 20 Stories from SnowedOutAtlanta
That Will Restore Faith in Humanity
The two inches of ice and snow with which Winter Storm Leon blanketed metro Atlanta in a matter of hours yesterday has just barely begun to melt, and already folks are rushing to point fingers of blame. The Republican state government passed the buck to the (Democratic-leaning) City of Atlanta; the city wants to blame the state; both of them want to blame the meteorologists… it seems like everybody is pissed off at somebody.
Meanwhile, many people who live north of the Mason-Dixon line wondered what all the fuss was about, mocking Georgians for lacking the infrastructure to deal with what folks from Chicago or Minneapolis would consider mild winter weather at worst.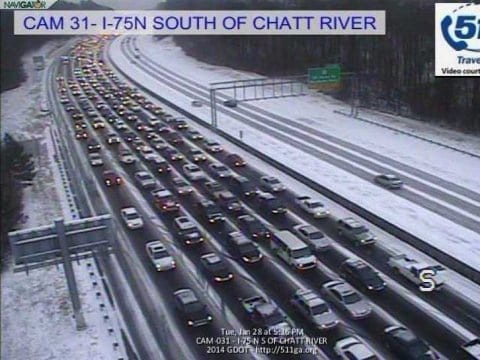 But while politicians were busy bickering and outsiders were busy snickering, a funny thing happened: The people of Atlanta banded together via social media and actually got down to the business of making things better. A Facebook community called Snowed Out Atlanta was formed early yesterday afternoon, and attracted more than 10,000 people in a matter of hours. Some were looking for help, others were trying to provide help for those in need, and not a single one of us wasted time worrying about who to blame.
There were pregnant women, children, elderly and diabetics whose lives were saved by good samaritans risking their lives to bring people food and water, or opening up their homes and businesses to provide shelter to complete strangers who got stuck in traffic. "Southern Hospitality" is not dead: It's alive and well, and it made the last 24 hours a LOT less disastrous than they would've been otherwise. Here are just a few of the inspiring first-hand stories we've heard that should help restore faith in humanity: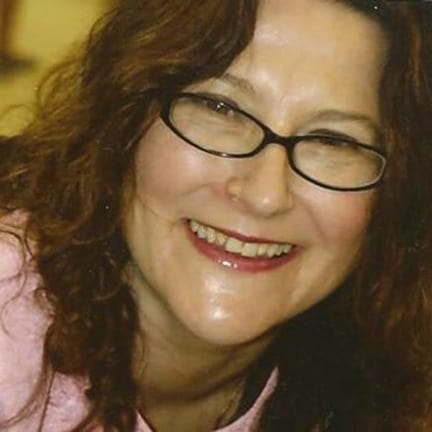 1) When Michelle Sollicito arrived at her Marietta home yesterday and saw how many others were stuck in traffic jams all around the city, the technology consultant created the SnowedOutAtlanta Facebook group to encourage crowd-sourced assistance (including an interactive map). The group had less than 2000 members when we joined, but those ranks grew by nearly 300 people every 15 minutes as the day wore on, with people needing help and those offering help joining in equal measure. With nearly 50,000 members as of today, Sollicito told the AJC that the group had helped over 400 people, including an elderly woman with cancer, a pregnant mom with a young child, and a man with a heart problem who needed to get to the hospital.
2) Our friend Joshua Carstens told us about an anonymous young couple in their early 20's who were "walking down the exit ramp I'd already been sitting on for 2 hours, passing out free bottles of water and bags of food. I wouldn't take it for free, but I traded a can of Red Bull for a bottle of water in case someone behind me needed the energy. After 11 hours of travel (of what ended up as 11 hours 43 minutes), the water was much appreciated!"
3)  "Chet Wooten went out last night after he was already home," Shannon Chambley-Pealor told us, " and helped get children and faculty home that had been stranded at Mason Creek Middle School off Liberty Rd in Villa Rica. I knew my daughter had tons of friends, so when I saw the post that the kids were stranded I posted it to her page. Within minutes Chet responded and was on his way!!! Awesome guy!!!"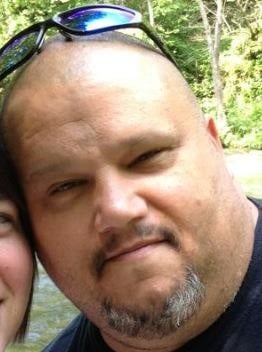 4)  "I teach at Dugan Elementary in Paulding County," wrote Lindsay Elkins. "We had a Good Samaritan, Coach Joe Keller, who used his truck to transport over 100 students and staff to their homes. He does not have any children at our school, but spent 6 hours making sure all of our kids were able to get home. Then I found out that it was his birthday. This was such a selfless act. It's nice to know there are still people out there who care."
5) Lee Huynh was among a group of about 2 dozen people helping push cars up the hills on Cobb Parkway, between best buy and target. Huynh and another man brought some cat litter to help provide traction on the road,  and ultimately helped clear the road enough so that the sand truck could get through to finish the job.
6) LaTasha Ursin thanked numerous "Angels" for helping her make the difficult 9-hour trek home: "These Angels came in different forms: They were [Pakistanis] who helped me to navigate my car, a young Caucasian college student who helped push my car to help me gain momentum, a duo that put a belt on the bottom of my car and pulled me over the black ice, a young woman who went from car to car and offered her open home to those who were stranded, and a pair of youth who offered me chips and a Slim Jim when I was hungry. My God, these strangers did so much for me and did not even know me that their kindness truly restored my faith in humanity."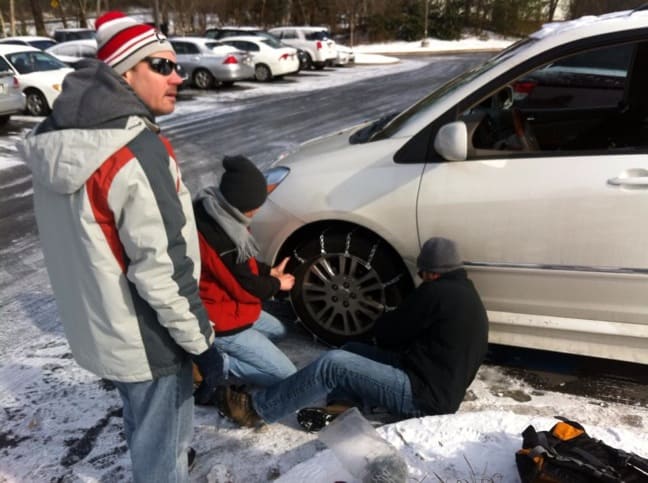 7) "I wish I could tag these amazing strangers," wrote Rebecca Watters on the SnowedOutAtlanta page. "I walked down to Veterans Memorial Hwy to bring food and water to stranded motorists. We found a woman and her quadriplegic husband that were stuck in her car all night. They had no food or water and couldn't walk because he is wheelchair-bound. These amazing men used their own chains on the woman's car. They helped the couple navigate to a complete stranger's house so that they could get in from the cold. The stranger opened their doors to this woman and her handicapped husband. Gestures like this should restore everyone's faith in humanity."
8)  "Thanks to the guy handing out waters and Coca-Cola on Cobb Parkway approaching Barrett last night,
said Todd Aspinwall. "It took me 10 hours to drive from Windy Hill Rd to Kennesaw, and I had been without water for about 5 hours. The bottle of water was the motivation I needed to make it home safely. Amazing to hear about all these stories!"
9) "I want to thank the Good Samaritans last night that took over traffic management on the very hilly stretch of McGuInness Ferry Road northeast of Bethany Road, just outside of Milton," said Stephanie Jones. "They had one guy at the top of the hill, one guy in the middle with a glow stick, and one guy at the bottom, using their cell phones and letting one car go up or down at a time on a particularly bad hill. Their good advice with keeping the car in first gear and not stopping no matter what helped me get past the pileup of cars at the bottom of the hill and up the hill, to get home safely after a six-hour ordeal. I never would have made it home last night if it wasn't for them. God bless y'all for your kindness."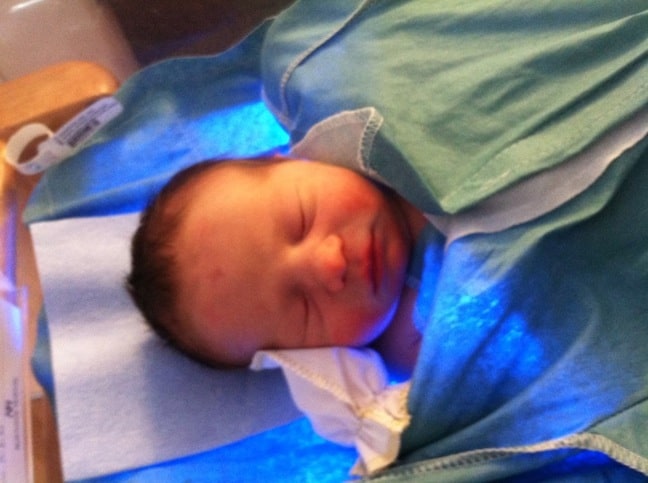 10) Arguably the most famous story to emerge from "Snowpocalypse 2014" so far is that of the baby who was born yesterday in a car stuck in traffic on I-285. The baby, named Grace (as in "by the grace of God") was delivered with the help of Sandy Springs police officer Tim Sheffield, who stopped to offer assistance while en route to the scene of an accident. Coincidentally, it was Sheffield's birthday, so he and Baby Grace will have their special day in common.
11) "I want to give a shout out to Megan Webb Grout," said our longtime friend Marci Miller. "She lives near I-285 and Riverside. She and her husband and their neighbors trekked onto the highway to hand out food and water to stranded motorists. She also took in a bunch of kids from our elementary school whose parents couldn't reach them."
12) Jennifer LeDuke Lott paid tribute to the staff at a local school: "40 elementary school children spent the night at Spalding Drive Charter in Sandy Springs because buses couldn't get home. Dozens of amazing teachers stayed, too. They made a dinner out of what they could find in the school kitchen, and neighbors from around the school walked up with blankets and pillows for all. Breakfast is being served at 8 am; no idea when parents will be able to get there."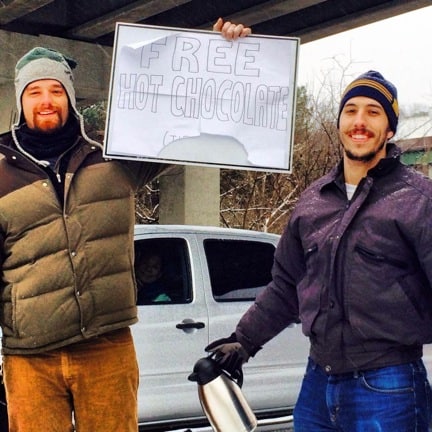 13) Though not quite as famous as Baby Grace (whose photo appeared on the Today Show), "hot chocolate hunks" Zach Haedt and Sam Tarquina created social media buzz for serving up hot cocoa to motorists stranded on I-75. Just looking at these guys kind of makes ya feel warm and fuzzy, doesn't it?
14)  "Yesterday my dad's car slid off the road and into a ditch on Tyrone Road in Fayette County," said Melanie Smith Frazier. "He was stuck and alone. Thankfully, a man in a truck came along and helped to pull him out. He didn't identify himself, and would not give his name or phone number when my dad asked him about sending him something for his troubles. He did mention that he had already helped 20-30 people so far, and that he was just trying to help. After he got my dad back on the road he went on to help another truck that was also stuck. This gentleman is probably in his 30's, brown hair, slender build, with a southern accent. In hopes that he or someone who knows him may see this, THANK YOU. From the bottom of our hearts, thank you!"
15)  Valerie Wilson was another SnowedOutAtlanta member with a lot of people to thank: "Thank you Ellen for spending 9 hours in the car with me after I had to leave my truck in a subdivision across from the school. Thank you Niki for giving me a safe, warm place to stay last night. Thank you to the teacher who gave me a ride to paulding county. Thank you to a kind man named Jeff for driving me to the front of my subdivision. And finally, thank you to the three men on a beer run who returned me to my wonderful husband and son. I am truly grateful for your kindness to me. Also, for the many other selfless individuals who picked up strangers, provided people with a warm place to stay, or food and water. People from the North may tease us, but I lived 22 years in Michigan, and I have never seen anything like this. Today, I am proud to be a resident of Georgia. Thank you everyone for you kindness over the last 24 hours."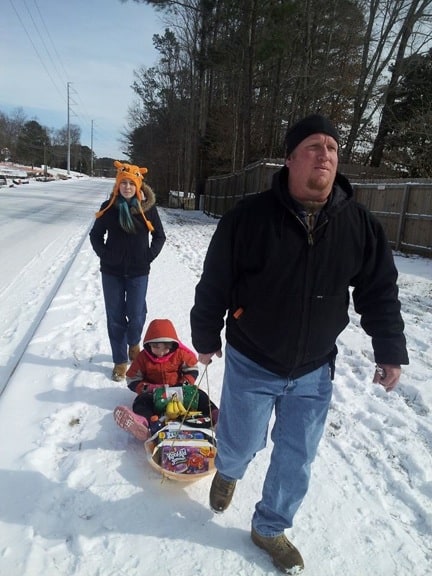 16) Jeanne Harn and her husband Randall, son Darwin and daughter Faith walked 2 miles to I-75 in Kennesaw to pass out snacks and drinks they had loaded in the family sled. "There were college students walking the interstate as well, handing out fruit & things. So happy to see everyone helping," she said. "We just walked 2 miles back home, will warm up, & then head out the 2 miles to I-575, to help those folks."
17)  Polly Hammock Young's guardian angel helped by saving people, one slice at a time: "I could not get to my child yesterday because of traffic, and there were no buses getting through anytime soon. I walked to the school–about two miles– to bring my child home. Had a very nice gentleman give us a ride to the end of the road, and then we stopped for pizza at Star Pizza on the corner of Hwy 9 and Hembree Rd. There was ONE person there trying his best to feed everyone that came in. God bless that man and all he did to help out some tired, cold, hungry people."
18) Maya Keiser was extremely proud of her husband, Rob Keiser. "After driving 8 hours, and then walking a mile in his suit and dress shoes, he bundled up and brought food and water to stranded drivers on Hwy 120 in Roswell. He spent over 2 hours helping, then brought home a man in need of shelter. This morning, he went back out again for 4 hours, giving snacks and trying to get stalled cars moving. He also helped salt and hammer ice."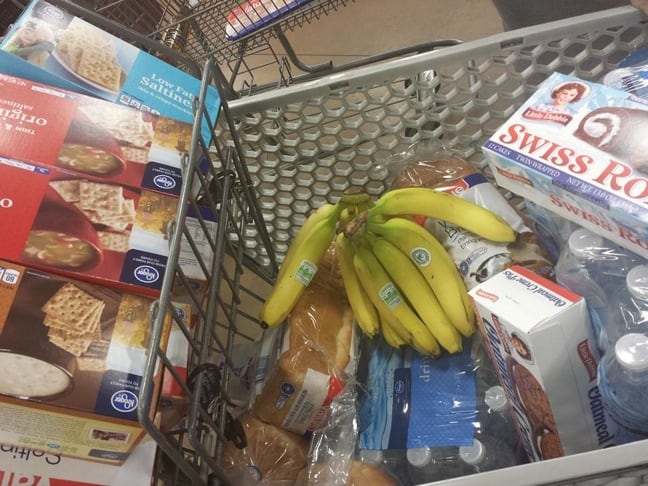 19)  "I'm so proud of my cousin Dariella Blanco," gushed Ivan Salgado Jr. "She stayed up all night helping people, bringing them water, food, gas and blankets. It's people like this that we need more of in this world. If everyone would care just a lil' more and help each other, what a beautiful world we would live in!!!"
20) But perhaps it was Dorothy Marsil, founder of the SnowedOutAtlanta- Thanks & Rescue Stories Facebook page, who summed up our feelings on Snowpocalypse 2014 perfectly: "The real news story should be all of the people who are helping people in need. KSU students were out pushing cars and inviting people in. People were walking from their homes to the road and bringing water and snacks to stranded motorists. Businesses were opening up or staying open and housing stranded people. A manager at Kroger was cooking up breakfast for everyone in the deli for free. Mattress Firm in Canton invited in people who were stranded near their store. Several restaurants are serving free food to those who can get there. People on the roads who still had gas were taking others into their cars to allow those who were walking to warm up and charge their phones. That is amazing! This is the real story!" We couldn't have said it better ourselves! –Stories compiled by Bret Love
 *We will be updating this post with more stories as we receive them. To share your story, please email [email protected] with SnowedOutAtlanta in the subject line*
Visit Success Stories of Snowed Out Atlanta and SnowedOutAtlanta- Thanks & Rescue Stories on Facebook for more inspiring stories that will restore your faith in humanity!