SPRING 2016
OUTDOOR GEAR REVIEW
Spring won't officially be sprung for another few weeks (March 20). But with daily temperatures reaching the mid-70s here in our home state of Georgia, our local parks are already packed with nature lovers every weekend. Here's our extensive outdoor gear review for Spring 2016, featuring a range of products designed to enhance your hiking, biking, climbing, and camping experiences…
Disclaimer: We receive no compensation for our product reviews. 
TENTS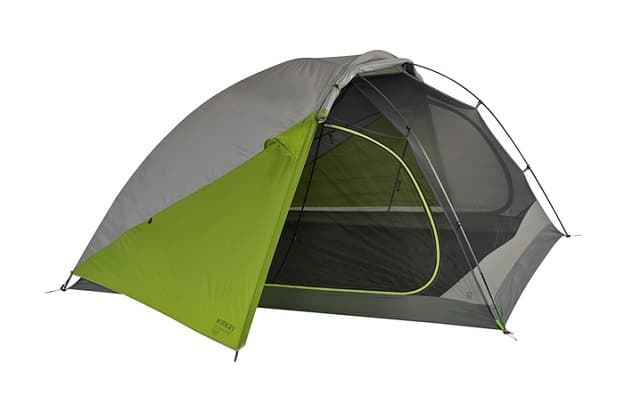 KELTY TN4
With my linebacker-sized self, Mary, my 14-year-old daughter, and our Aussie Shepherd mix, Huckleberry, space is a primary consideration for us when it comes to choosing tents.
The Kelty TN4 is a rugged, durable 4-person, 3-season tent that offers 56 square feet of floor space. It's primarily aimed at backpackers (which we are not): The stuff sack saves space in your bag, and it weighs in at a manageable 6.6 pounds.
The hug clips and snap-into-place poles ensure a quick and easy set-up, and the 11 x 11-foot vestibule leaves ample room for our family. But our favorite feature is the Stargazing Fly, which rolls up for night sky viewing and rolls back down in a flash should inclement weather strike.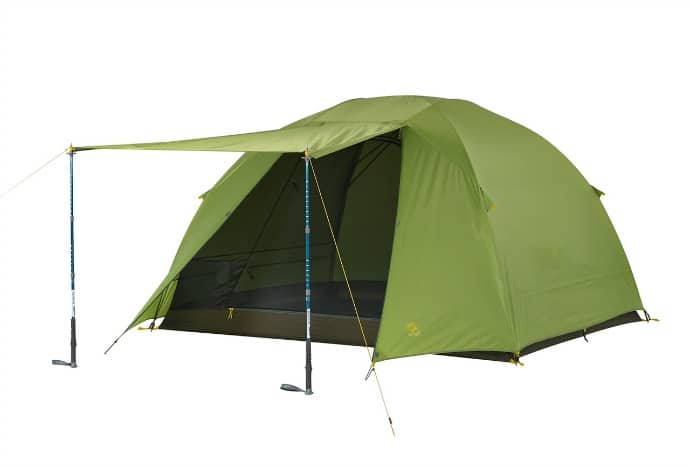 SLUMBERJACK Daybreak 4
This 3-season, 4-man tent is considerably more budget-friendly than the Kelty, with an MSRP of just $159.95.
Size-wise it's even larger than the TN4, with 57.75 square feet of floorspace and 99 x 84 x 58.5-inch dimensions. But with a packed weight of 9 lbs, 15 oz, this one's better suited for drive-up campers than true backpackers.
The fiberglass pole construction makes it simple to set up, and the no-see-um mesh keeps bugs out while allowing maximum breeze in. But its most distinctive feature is a full-coverage fly that can be reconfigured with two trekking poles to provide a shaded porch area. Overall it's a solid tent for campers on a budget.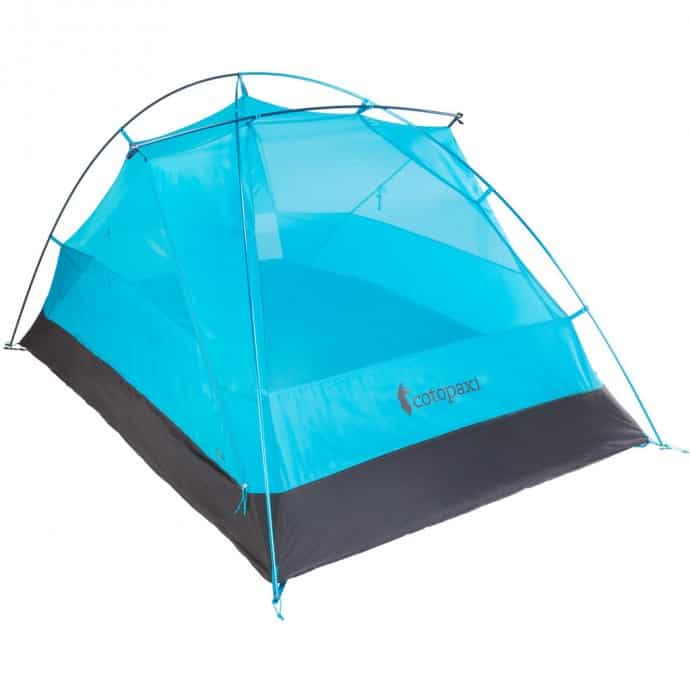 COTOPAXI Techo 3
With its durable aluminum poles, double-wall (and two-door) design, extended sidewalls, and ample storage (see: four internal mesh pockets and an integrated gear attic), the Techo 3 is an awesome and attractive 3-person, 3-season tent.
But what really got our attention was Cotopaxi's mission to use sales of their "Gear for Good" to fund sustainable poverty alleviation.
Registered as a Public Benefit Corporation, Cotopaxi uses a portion of its profits to give targeted grants to help advance health, education, and livelihood initiatives all around the world. We love the idea that you can buy good products you need and do good for the planet at the same time!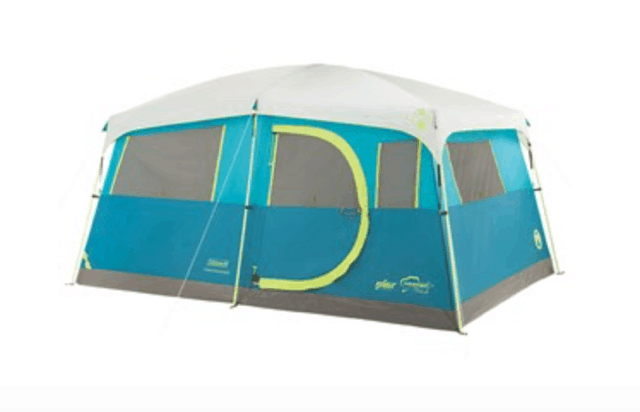 COLEMAN Tenaya Lake 6P Fast Pitch Cabin with Cabinets
With a 14-year-old daughter who lives with us 50% of the time, the amount of time Mary & I can spend abroad is limited. But when she graduates high school we plan to visit all the best U.S. National Parks in one big road trip. This massive "mansion" tent is going along for the ride!
The dimensions on this thing are incredible: It's 13 feet long and 7 feet wide, with a center height of 6'8″ and two gear compartment "cabinets," each measuring 2′ x 2′. It's big enough for two Queen-sized air mattresses, and includes a room divider for privacy. But, at over 16 pounds, it's clearly not for backpackers. Luckily it comes with a wheeled storage bag for easy transport.
The design's "Fast Pitch" technology (which uses pre-attached, color-coded top poles and hub, as well as Insta-Clip suspension) makes set-up a breeze. And the hinged door almost makes it feel like a tiny house. Of all the tents we tried out this month, it's easily the most tent for the money.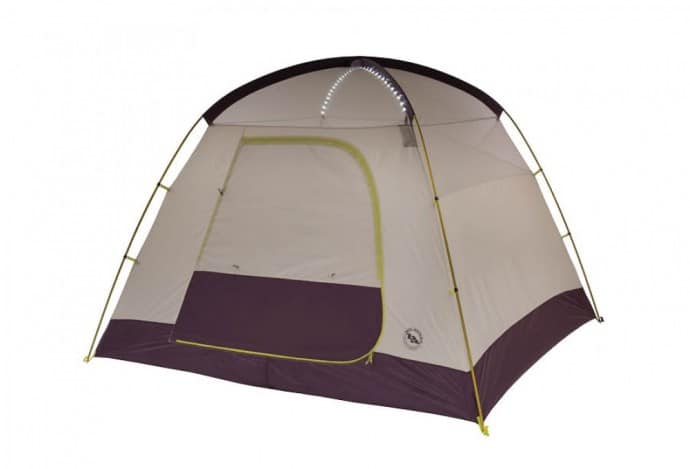 BIG AGNES Yellow Jacket mtnGLO
Occasionally a product comes along that's so brilliantly simple, you wonder why nobody ever thought of it before. That's how we feel about the Yellow Jacket mtnGLO, a 4-person expansion on the smaller model that earned Big Agnes Editor's Choice recognition from Backpacker magazine last year.
This tent is perfectly sized for family camping, with 60 sq ft of floor space and 68" of head room. But its most unique feature is the integrated ambient LED lighting, which comes on with the click of a button.
The only downside is that, with an MSRP of $400, this beauty is out of a budget backpacker's price range. But if you've got deep pockets, it's a beauty!
SLEEPING BAGS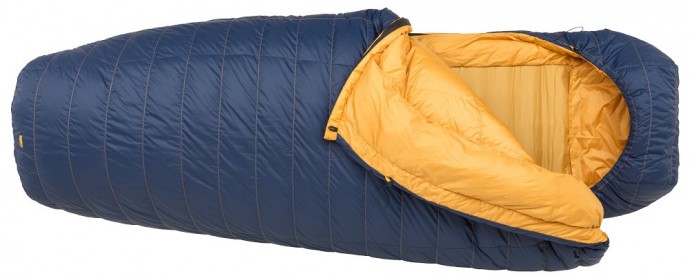 BIG AGNES Summit Park 15
Picking sleeping bags for camping in spring is tough due to the vast swings in temperature. Mornings in our North Georgia mountains in March and April can vary from lows of 30º to 60º.
The Summit Park 15 from Big Agnes is best for early-season camping: Made from 600-fill Downtek, with comfy quilt-like construction, it's a roomy bag designed to keep you cozy down to 15º.
We love how the draping effect of the design gives it a cozy comforter feeling, with corner hand pockets that make it easy to wrap around your shoulders.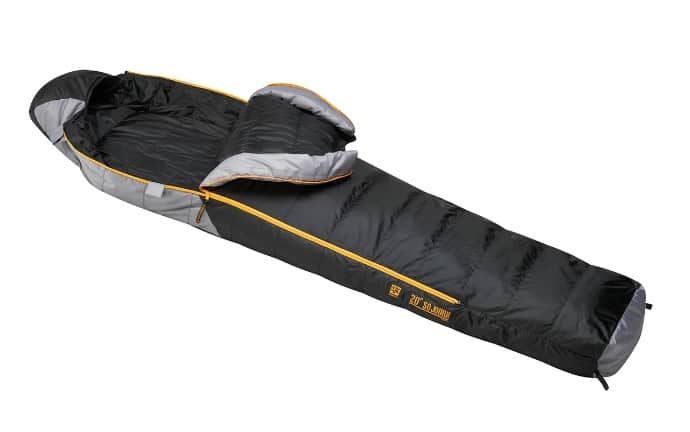 SLUMBERJACK Sojourn 20
This mummy-style bag from Slumberjack offers an innovative "arms-out" design that keeps your head and chest warm while you manage tasks without ever having to leave the comfort of your bag.
But the real story here is the lightweight, 550-fill Dri-Down™ insulation. Each individual down plume is treated with a hydrophobic polymer that stays drier and fluffier longer (and dries out faster) than untreated down.
The bag is designed to stay snug and cozy down to 20º. But the 57″ long zippers with sliders also allow for great ventilation when the weather warms up.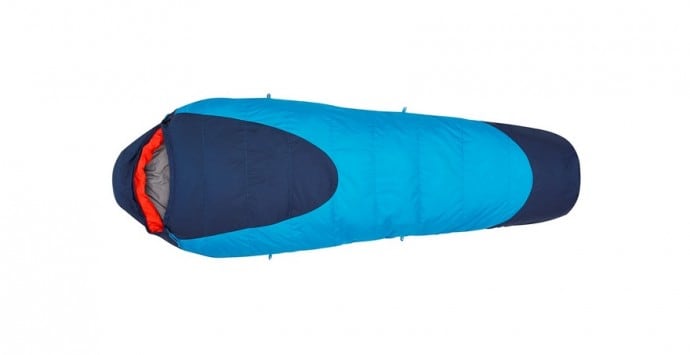 KELTY Cosmic 20
Arguably the best bargain sleeping bag in the bunch, the Cosmic 20 from Kelty is less than 1/2 the price of Big Agnes' Summit Park, but it doesn't skimp on quality.
The 600-fill hydrophobic DriDown™ is rated to keep you warm down to 20ºF, and the thermal-comfort hood and natural fit footbox keep you snug as a bug in a rug when temps drop.
Weighing in at just 2lbs, 6 oz, it's the lightest bag of the bunch, making it perfect for serious backpackers on a budget.
BACKPACKS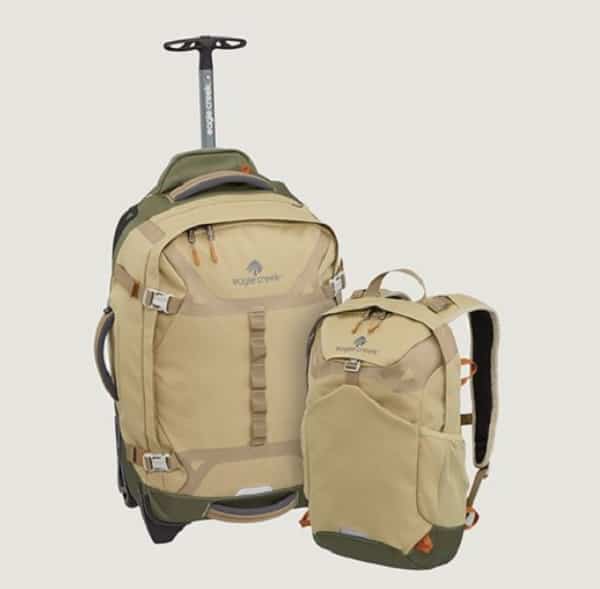 EAGLE CREEK DoubleBack 22″ Carry-on
As mentioned earlier, we're not big on multi-day backpacking trips. But we often travel to places where rolling luggage is impractical and backpacks for day-hikes are essential.
That's why we love the unique, flexible design of Eagle Creek's new DoubleBack 22″ Carry-on. Weighing in at just 5.1 lbs, the wheeled bag is rugged enough to go off the beaten path, with a water-repellant ripstop exterior, durable exoskeleton, and oversized treaded wheels.
It also quickly converts into a backpack with 39.5L storage capacity and has a removable day pack attached, offering a range of options for adventurous travelers like us.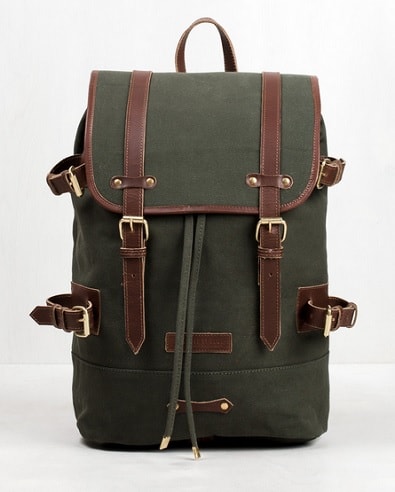 UNITED BY BLUE Derby Tier
I started backpacking and camping when I was 5 years old, spending a week with our church's youth group (which my parents led) hiking part of the Appalachian Trail.
Made with waxed organic cotton canvas, leather, and sturdy brass hardware, the Derby Tier backpack is a classy throwback that reminds me of my formative '70s-'80s camping experiences.
In addition to its retro aesthetic pleasures, we love that United By Blue is a brand that gives back. For every product purchased, they remove one pound of trash from the world's waterways!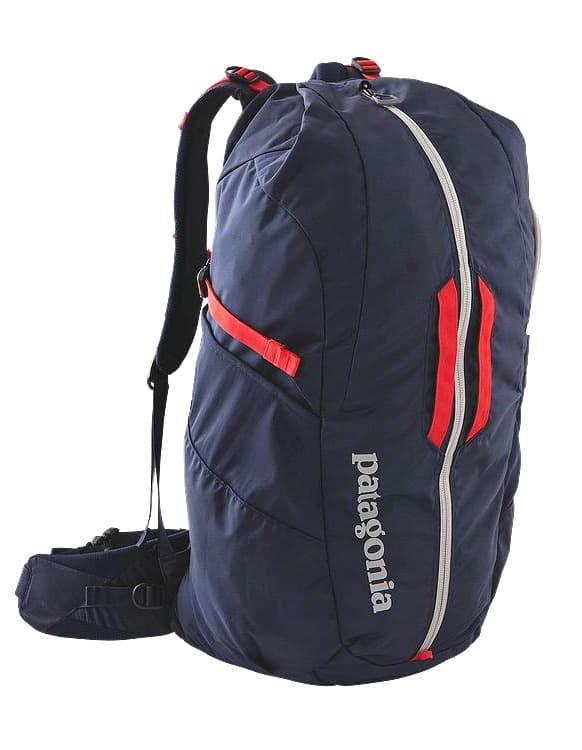 PATAGONIA Crag Daddy 45L
Founded by world-renowned mountain climber Yvon Chouinard in 1970, Patagonia is one of the world's most respected outdoor brands. It's also a role model for corporate philanthropy, donating 1% of sales or 10% of profits (whichever is the greater) to environmental activism causes.
Their Crag Daddy 45L is a sleek, lightweight water repellent climber's backpack that offers easy packing via a long, duffle-style zipper. The internal frame ensures maximum comfort and mobility, with Air Flow mesh shoulder straps and a back panel that conforms to your torso.
Storage-wise this thing holds a ton of gear, with an internal stash pocket and two stretchy exterior mesh pockets for water bottles.  Best of all, it weighs in at less than a pound.
SHOES/BOOTS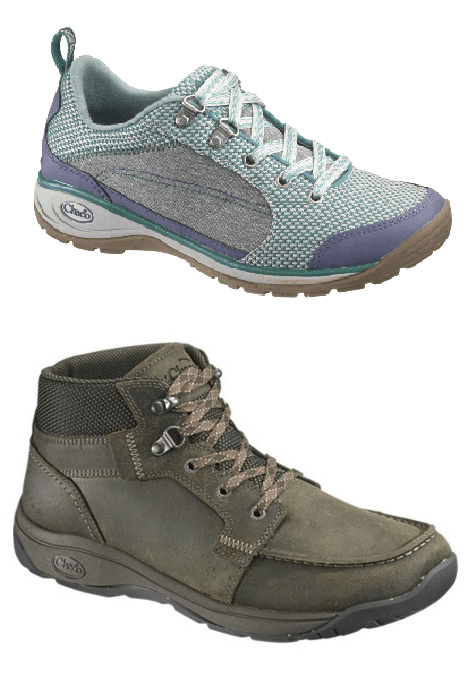 CHACO Jaeger Boot & Kanarra Shoe
Whether we're walking across jagged lava rock in the Galapagos Islands, climbing glaciers in Norway, or hiking through the desert in Jordan, we tend to be pretty rough on our shoes. So we're constantly looking for rugged brands that can stand up to the challenges our travels present.
Chaco has become one of our favorite outdoor recreation lines, offering a broad range of shoe and boot styles for men, women and kids.
I'm digging their Jaeger Hiking Boot, which is equally suited to urban or actual jungles, while Mary loves the casual crossover style of their Kanarra Casual Shoe. Both boast an EcoTread rubber outsole (made from 15% recycled content) that offers great traction, while the removable, knit-lined footbed provides exceptional comfort.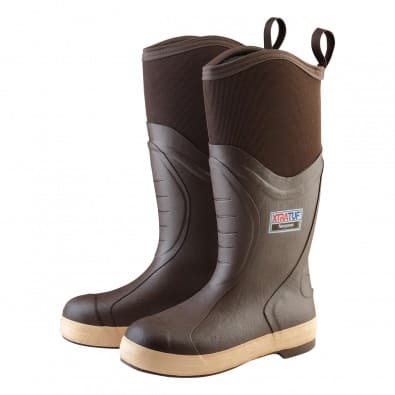 XTRATUF Elite 15″
Speaking of jungles, we could've used the rugged Elite 15" Insulated Performance Boots from Xtratuf when we were trekking up muddy hills to see Gorillas in Rwanda's Volcanoes National Park.
Coming up nearly to the knees, these bad boys are 100% waterproof and resistant to oil, acid and chemicals. But they're also comfortable, with breathable Airmesh lining and a 5mm Neoprene bootie that's comfort rated to -20ºF.
The reinforced rubber layers ensure long-term durability, and the slip-resistant Chevron outsole is designed for solid footing on rough terrain. In short, they're called XtraTuf for a damn good reason.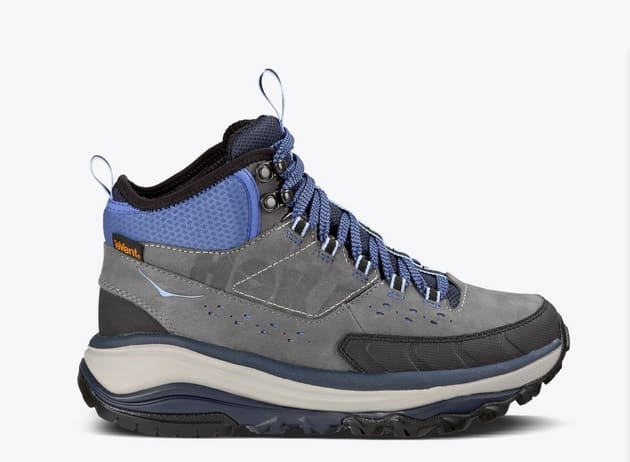 HOKA ONE ONE Tor Summit Mid Hiking Shoe
Best known for the past six years as a running shoe company, Hoka One One recently launched their  new Tor Summit hiking boot line for men and women alike.
Mary particularly loves their blend of style and substance. They almost look like hi-top sneakers, with a "Meta-Rocker" geometry designed to improve stability on uneven terrain.  The cushioning is exceptional: They're arguably the most comfortable hiking shoes we've ever owned.
But they're also sturdy, with a Vibram MegaGrip outsole rubber with 5mm lugs for improved traction and a waterproof membrane with full bootie construction that's designed to keep your feet warm and dry even in the worst weather.
TECH PRODUCTS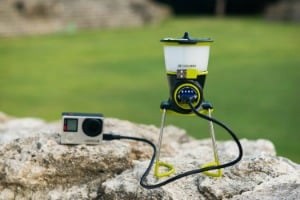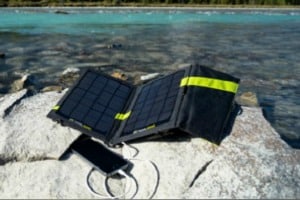 GOAL ZERO Lighthouse Mini Lantern & Nomad 7 Solar Panel
We've been Goal Zero fans since 2013, when we started using their Yeti 150 Solar Generator to charge our  laptops and phones during long days at Lake Allatoona.
Their Lighthouse Mini Lantern & Power Hub, which was an Innovation Award nominee at the Consumer Electronics Show, proves that big things come in small packages. Weighing just 8 oz, it can provide up to 500 hours of light on one charge, and also charges phones, headlamps, etc. via USB port.
You can pair it with their foldable, weather-resistant, Nomad 7 Solar Panel for seven watts of endless backcountry power.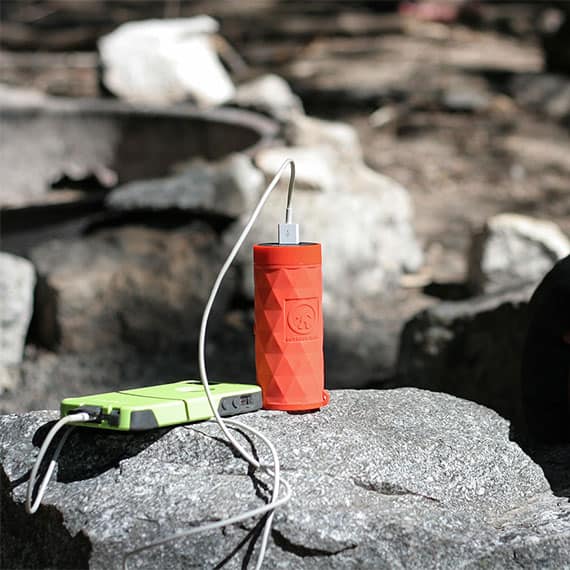 OUTDOOR TECH Buckshot Pro
One of the central tenets of sustainability is making the most out of everything we buy, ideally getting multiple uses from any given item.
The rugged Buckshot Pro is a marvelous piece of technology that serves multiple purposes. It's an easily mountable wireless Bluetooth speaker with surprisingly strong bass sound; it's a glow-in-the-dark LED flashlight with three settings; and it's also a 2600mAh phone-charging power bank.
It's also water resistant, lightweight (6.7 oz) and– at under 6 inches tall and 2 inches wide– portable enough to go anywhere you want to take it.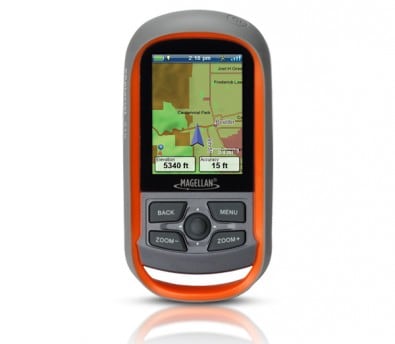 MAGELLAN eXplorist 310 GPS 
As diehard nature lovers, we're not the types to rely too much on technology (heck, I don't even own a smartphone!). But when you're exploring the great outdoors, having the right device can literally be the difference between life and death.
The submersible eXplorist310 GPS from Magellan is great for adventurous hikers and backcountry campers.
Its numerous cool features include a World Edition map (including roads, water features, city centers and more), paperless geocaching, a transflective screen that's it readable in direct sunlight, 18 hours of usage powered by two AA batteries, and an ability to record your tracks with "Breadcrumbs," which allows you to find your way back at the end of the day, no matter how far you may roam.
MISCELLANEOUS OUTDOOR GEAR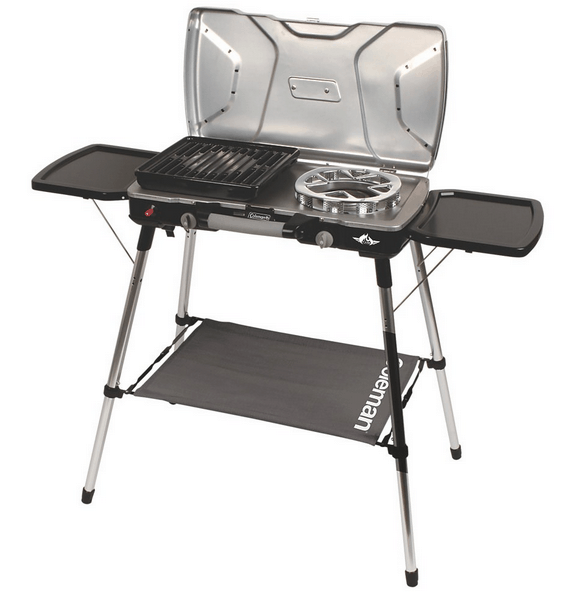 COLEMAN FyreCommander 3-in-1 Stove
As Mary will tell you, I'm not a huge fan of cooking in the kitchen: It reminds me too much of my 8 years in the restaurant industry. But I love to work the grill when we're cooking out at the lake.
Campsite cooking gets a helluva lot easier with the FyreCommander 3-in-1 Stove from Coleman.
Its extensive features include WindBlock protection for faster cooking, interchangeable cooktops, 200 sq in cooking area, side tables, and a DripTrap to catch grease for easy clean-up.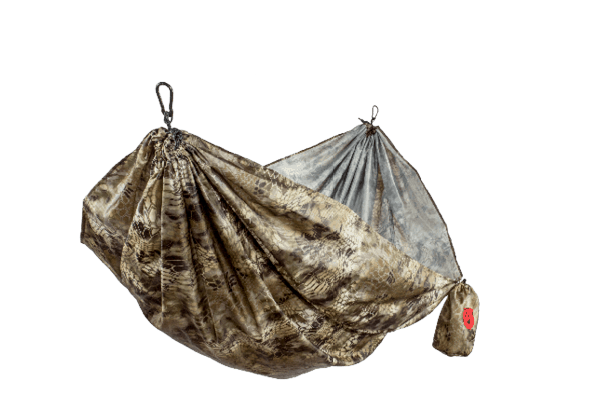 GRAND TRUNK Kryptek Double Hammock 
If I'm being honest, I'm not usually a huge fan of hammocks. I can never quite seem to get my 6'2″, 245-pound form to fit in them comfortably. But with its 400-pound capacity, the Kryptek Double Hammock from Grand Trunk is large enough even for big guys like me.
It's available in three styles– the traditional Highlander, the dark Typhoon, and the Arctic-looking Yeti– all with matching aluminum carabiners and an innovative reptilian pattern designed for  maximum camouflage.
Made from durable, non-stretching ripstop material and measuring 10'6″ by 6'6″, with weight of 19 ounces, this is a serious hammock for serious outdoor adventurers.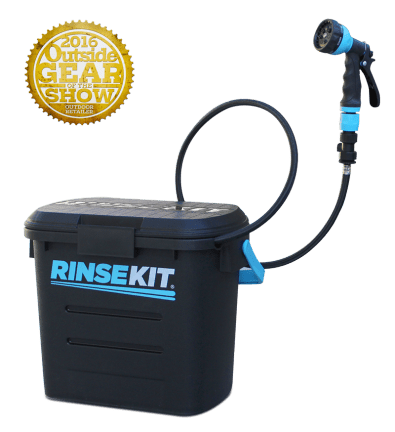 RINSE KIT Portable Sprayer
Winner of a Best Gear of Show award at the Outside Retailer trade show, the Rinse Kit Portable Sprayer is like having a portable, pressurized garden hose with you wherever you go.
Perfect for rinsing off after swimming, surfing, hiking or fishing, the 2-gallon kit kit requires no pumping and no batteries, but delivers the pressurized spray of a typical household spigot (around 65 psi) for up to four minutes.
You can fill it with hot or cold water, and the nozzle offers 7 settings ranging from simple jet stream to a soaking shower. It also includes a built-in ruler for measuring fish, a folding handle, and a lid that's perfect for standing on to change when you're finished. In short, it's the perfect way for ripe adventurers to wind down after an active day in the great outdoors!
–Bret Love
If you enjoyed our Spring 2016 Outdoor Gear Review, you might also like: 
Our Travel Packing Checklist: GGT's Gift Guide for Travelers
The Best Coffee in the World: A Gourmet's Guide—

Top 10 Mountains For Your World Travel Bucket List
Best Uncrowded National Parks for Your World Travel Bucket List