Spring for me has always been associated with exploring the great outdoors. My parents led a church youth group, then a Girl Scout Troop, for a good portion of my childhood.
So I can recall many weekends spent hiking and camping in the Chattahoochee-Oconee National Forests, Georgia's Blood Mountain, and even the 32-acre property we moved to when I was a teen.
These days I don't get a chance to camp nearly as much as I used to. But we still love exploring, both at home (see: Amicalola Falls, Brasstown Bald, Red Top Mountain) and abroad (Costa Rica, Patagonia, Rwanda).
Check out our outdoor gear reviews for our thoughts on some of the best Tents, Backpacks, Sleeping Bags, Camp Cooking, Tech, Boots/Shoes, and more available for Spring 2017…
Disclaimer: We receive no compensation for our product reviews.
TENTS

At 6'2" tall and around 250 pounds, I'm a big dude. So 2-person tents often feel uncomfortably cramped for me. The first thing that stands out about the Tufly SL 2+ is its spaciousness: At 88 inches wide and 105 inches long, it's got ample room for two people in the center and gear (or dog) in the vestibules. It offers tons of interior storage, including 6 mesh pockets, 2 media pockets, and gear loft loops. With a trail weight of just 4 lbs 3oz., the super-light 3-season tent uses DAC tent poles, whose Green Anodizing process is safer for the environment and reduces waste water considerably. But the tent's coolest feature is that it was designed by the women of Big Agnes, and a portion of every sale is donated to SheJumps, a non-profit working to encourage more ladies of all ages to participate in outdoor activities!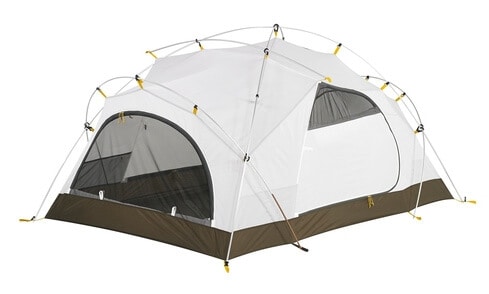 This 2-person tent from Slumberjack has the disadvantage of being considerably heavier (weighing 7 lbs 5 oz) and a little smaller (60 x 93 inches) than the Tufly. But its rugged 5-pole construction and full-coverage fly gives this 4-season beast the strength to stand up to just about any weather conditions nature throws your way. Three doors and three vestibules give you an array of options for entry and gear storage, with a front fly that can be extended via trekking poles for a shady spot outside. The large front window and high-low venting system make it perfect for warmer weather, too, allowing you to control air flow and prevent interior condensation.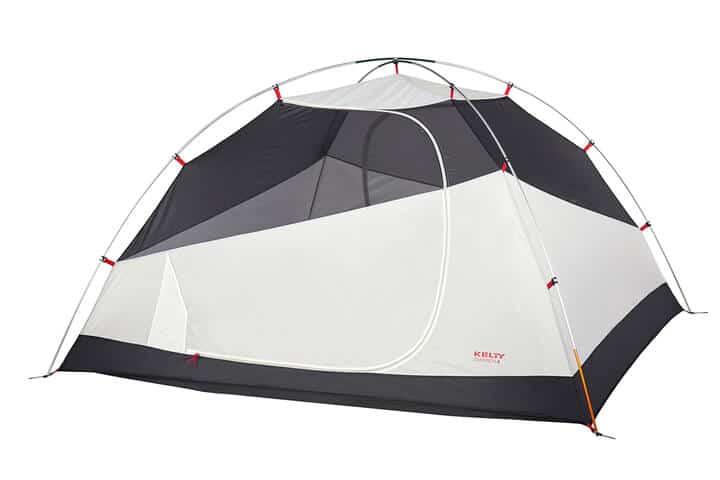 In our Outdoor Supplies for Autumn 2016 piece we reviewed Kelty's Gunnison 2.3, which was a bit too small for our taste. But the newly redesigned Gunnison 4 is the perfect size. At 99 inches long and 88 inches wide, it offers considerably more head and shoulder space than its predecessor. The 3-season tent has two doors and two vestibules, one of which transforms into an awning using hiking poles. The Kelty Connect all-in-one hubbed pole design and included footprint are really easy to set-up, while the roll-top cube carry bag and 7 lbs 13 oz weight makes it surprisingly portable for a 4-person tent. This is arguably Kelty's most accessible family tent to date, perfect for hardcore campers and amateurs alike.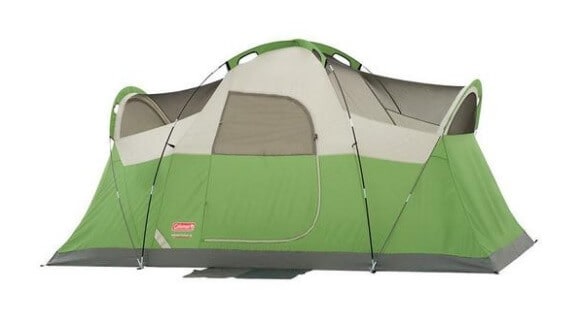 Coleman Montana 6-Person Tent 
Speaking of accessibility, this 144-inch long, 84-inch wide dome tent from Coleman is one of the most affordable big tents on the market. (Max Warehouse has it for around $137.) It's an entry-level tent, but offers the durable quality for which Coleman is known. The frame is tested to withstand winds over 35 miles per hour, and their patented WeatherTec system is guaranteed to keep you dry no matter how bad the weather gets. The 5'8"-tall interior is wide enough to hold two Queen-size air mattresses, and the extended door awning creates additional space for dry storage. It's obviously too heavy for backpacking, but this green giant is perfect for drive-up campsites, with a built-in E-Port for electrical power.
READ MORE: List of National Parks By State (An Epic Guide to "America's Best Idea")
BACKPACKS
 
Matador is a self-funded startup from Colorado native Chris Clearman, and their 24-liter Freerain24 is the smallest backpack we've ever featured. Weighing just 5.5 ounces and packing away to fit into the palm of your hand, it's also the most portable (a big deal for us carryon-only types). But don't let its size fool you: The Freerain24 is big on features, including puncture-resistant material, waterproof roll-top construction, dual side pockets for easy storage, and breathable shoulder straps. Thanks to the attached storage bag, you can use it as a day pack and then tuck it away inside your luggage!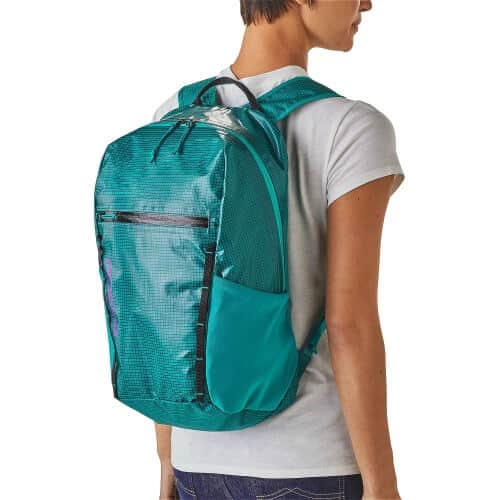 Patagonia is one of those brands we love, not just because their products are cool, but because of what they stand for. Tomkins Conservation, led by the company's late founder Doug Tomkins and his wife, recently donated a MILLION acres of wilderness in Patagonia to create new Chilean national parks. This lightweight, bomber nylon day pack is sleek and water-repellant, with a large stash pocket and mesh water bottle pockets. The fact that they're made sustainably– with Fair Trade labor practices and a "Zero-Wastewater Discharging System"– is a feel-good bonus.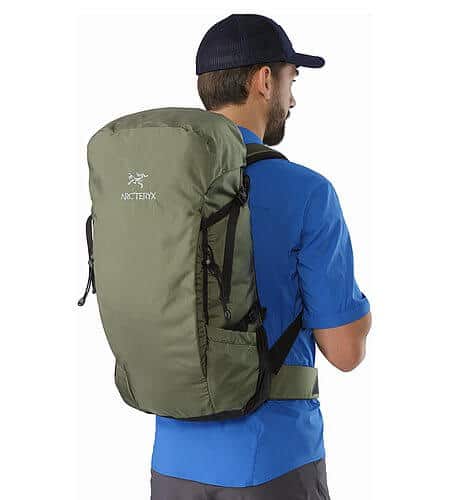 The largest of the backpacks we tested for this season's outdoor gear review, the 32-liter Brize was also my personal favorite. That's largely because of the increased comfort provided by the ergonomic Aeroflorm back panel (which helps to improve airflow) and the padded shoulder straps. I also loved the ease of organization provided by an internal pocket, top pocket for small items, zippered front pocket for quick access, and side pockets for water and/or snacks. There are also options for hydration bladders, SwiftClip bungee straps to secure trekking poles, and attaching mountaineering tools.
SLEEPING BAGS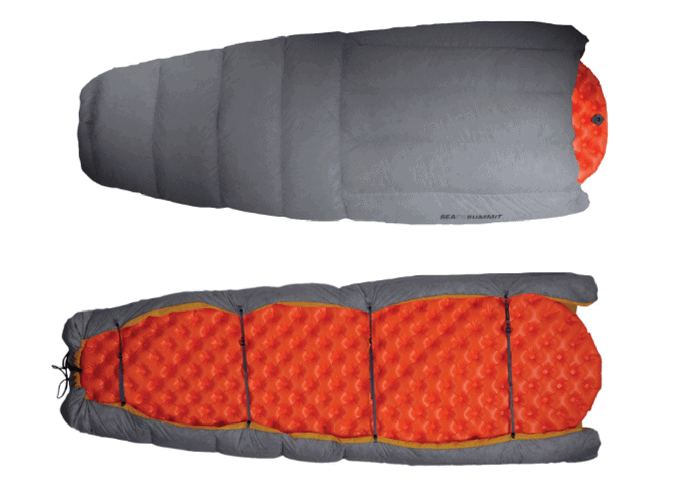 The Ember- EBII is technically not a sleeping bag, but a 3-season "Down quilt sleep system." Weighing in at just 19 oz for the Regular size or 25 oz for the Large, this versatile quilt is primarily designed for ultra-light backpackers. But it's rated from temps down to 25ºF, thanks to the 750+ Loft 90/10 Premium Duck Down filling. The mummy-style bag is spacious and remarkably cozy: As mentioned before, I'm a big guy, and even the Regular size is comfortably wide and long for me. There are also four adjustable straps to secure the bag to your sleeping mat, as well as a compression bag for easy packing.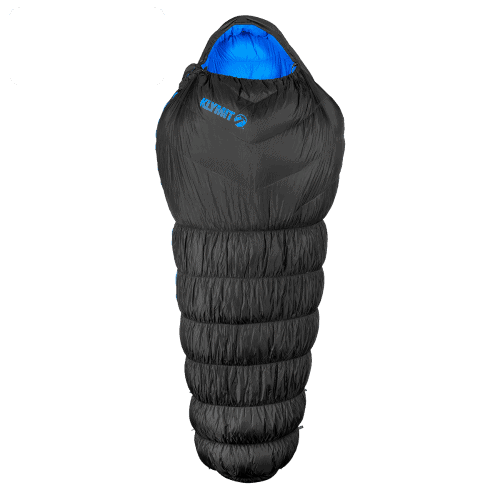 At 3.1 lbs, Klymit's KSB 20º is double the weight of the Sea to Summit bag. But thanks to 650 fill-power down it's wonderfully warm and toasty, with a draft collar, insulated mummy hood, and over-stuffed foot box designed to minimize heat loss. Our favorite features are all about adaptability. The oversized chest area and flexible baffles make it comfortable enough for a strapping buck like me. But the adjustable Length Locks allow you to reduce its length by up to 15 inches, making it a better fit for my petite lady. The collar stash pocket and handy compression sack are cool features, too.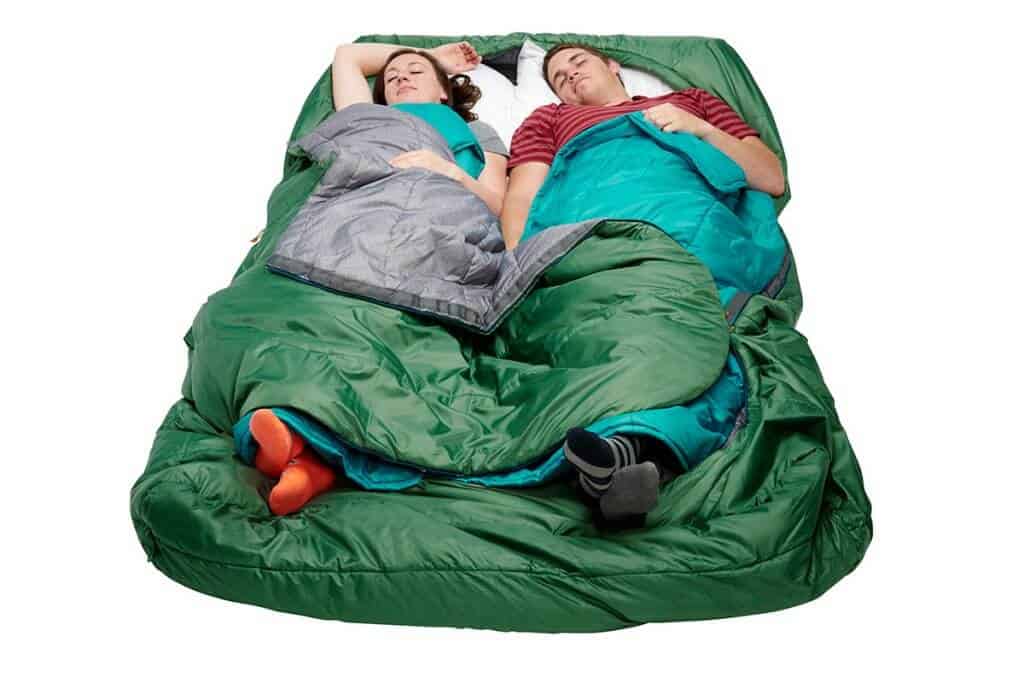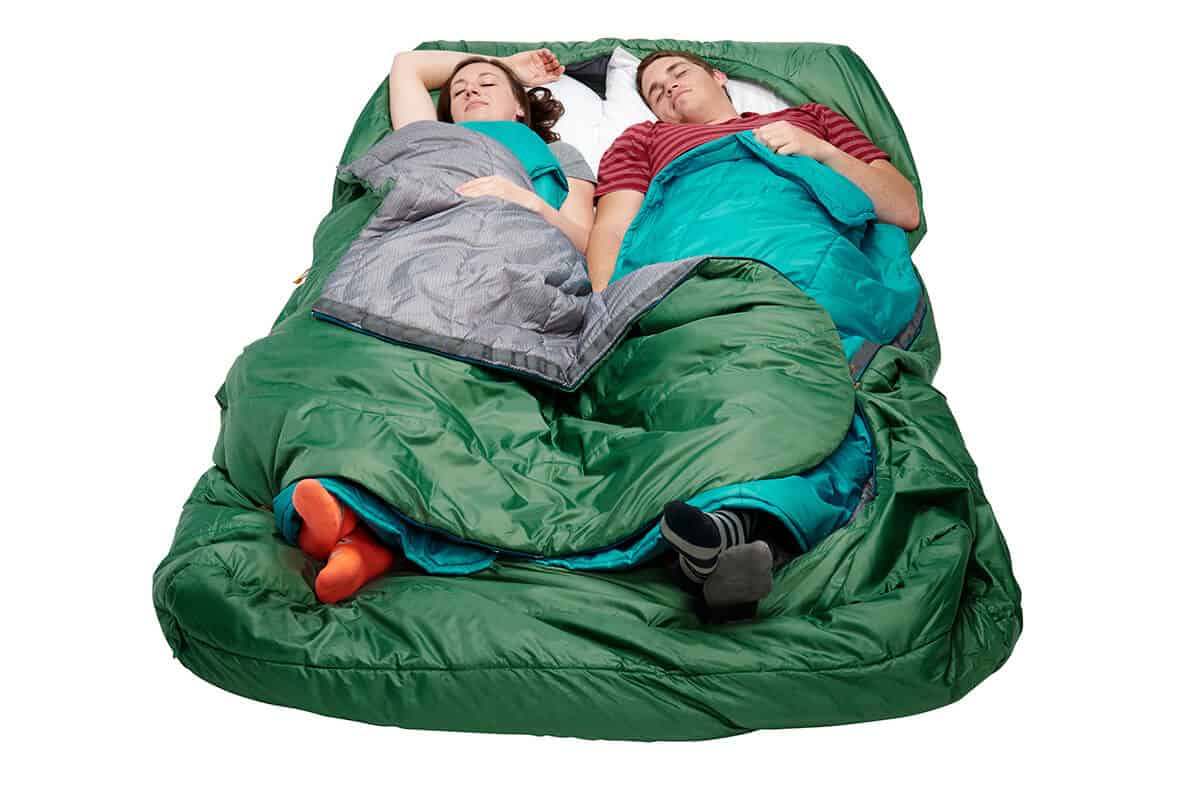 Mary and I live, work and travel together 24/7/365. We're a perfect complement: She gets cold, I burn hot. So a sleeping bag that allows us to remain attached at the hip is a huge draw on those frigid early Spring/late Autumn nights. Weighing in at a whopping 9 lbs 8 oz, this behemoth isn't gonna be on any backpacker's packing list. But with its 6'6" length, Cloudloft insulation, two built-in blankets, and a zip-off top layer, it's a perfect snuggle nest for weekends in the mountains. The oversized hood even offers enough room to bring our favorite pillows from home!
CAMP COOKING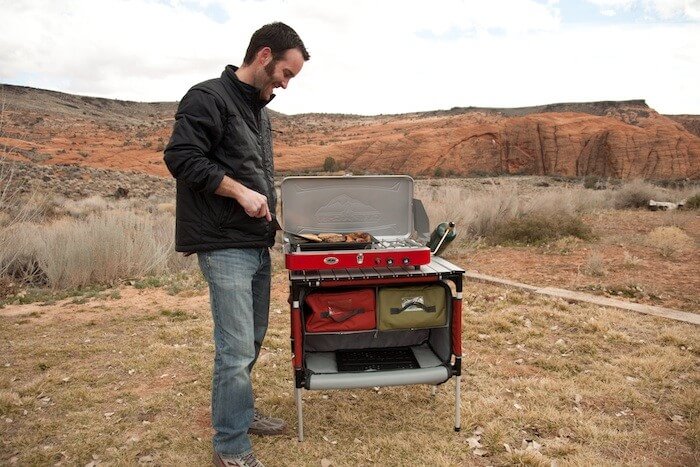 Mary loves spending time outdoors, partly because it's my favorite place to cook. Put me on a stove or grill at the lake, beach, or mountains, and I'm one happy camper! Combining these two products from Camp Chef makes it easy to prepare tasty foods on the fly. The portable Sherpa Table can be used for prep space, base for the stove, and/or dining table, with four removable storage bags for keeping utensils and ingredients organized. The compact stove packs a lot of power into its 13.5″ x 23.5″ x 4″ size, with two high-pressure 20,000 BTU burners, a nickel-coated steel cooking grate, and 3-sided wind barriers. Add a one-pound propane cylinder and you'll literally be cooking with gas!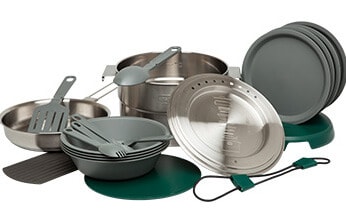 This 19-piece set offers nearly everything you need for camp cooking except the fire and a prep knife. There are plates, bowls, and sporks for four; a 3-ply fry pan; silicone trivet and dish drying rack; and a cooking spoon and spatula. All of it packs down into a 3.7-quart stainless steel cooking pot and weighs just 5.6 pounds. Best of all, there are stacking instructions for re-assembly printed on the bottom of the bowls and the vented pot lid.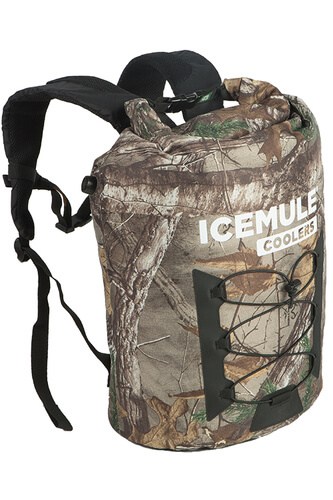 We've been Yeti devotees for several years now. But, at $200-$300, their portable coolers are not the most affordable. At nearly half the price, IceMule's RealTree Pro Cooler line offers outdoor enthusiasts a budget-friendly option that doesn't skimp on rugged quality. Available in 20- and 30-liter sizes, the cooler's tough exterior tarpaulin fabric is rated to 65 lbs. The MuleSkinETTM inner layer is two times thicker than you'll find on most soft-sided coolers, with PolarLayer Insulation that keeps food/drinks cold up to 24 hours. It's also buoyant, with ventilated back pads for carrying comfort.
By the time my father passed away in 2015, he'd collected thousands of knives. I never understood his obsession, but Helle of Norway has given me a newfound appreciation for the craftsmanship involved in creating the perfect knife. The Arv (Norwegian for heritage) is truly a work of art. Its 3.5" blade is mirror-polished durable carbon steel. Its gorgeous rounded handle alternates rings of beautiful Birch wood and bone. Its curves feel tailor-made to nestle right in your palm. In short, it's such a handsome Helle piece, I finally understand why my dad framed so many of his favorite knives rather than actually using them.
TECH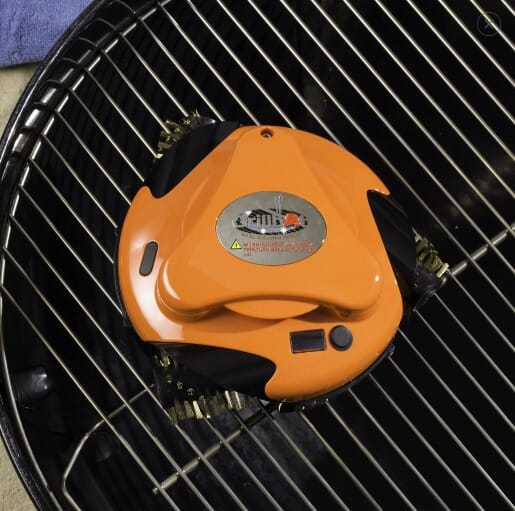 Grillbot
A few months after Mary and I started dating, when I began taking my dog to her house, I bought her a Roomba to help keep her floors hair-free. The Grillbot works in a similar fashion for cleaning grills, keeping them squeaky clean without all the elbow grease. It's super simple to use: Push the button 3 times for 30 minutes of cleaning, and the built-in timer does the rest. A smart computer brain regulates speed and direction, while three electric motors and replaceable wire brushes do the dirty work. The only thing you have to do is remember to recharge it while you're grilling!
Motorola's Talkabout T260 radios are handy for communicating when you're exploring the wilderness and out of cell phone range. They offer 2-way communications up to a 25-mile range, NOAA weather channels and alerts, and a hands-free iVOX feature. Midland's ER310 is a must-have for emergencies, keeping you informed in case of severe weather (or worse). It's sustainably powered, using solar energy, hand crank, or rechargeable battery. Its features include an incredibly bright LED flashlight, an SOS morse code flashlight beacon, and ultrasonic dog whistle for alerting search and rescue teams in emergency situations.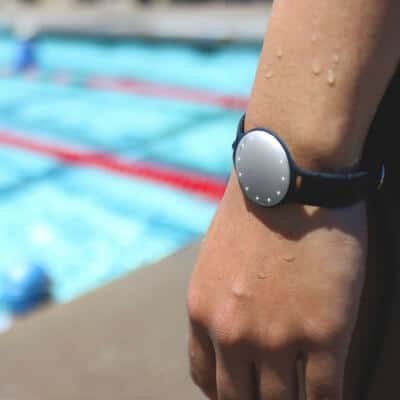 Misfit Speedo Shine 2 Swimmers Edition
Having damaged my knee cartilage from a decade of playing soccer and several years as a dancer, running will never be my exercise of choice. So when I want a great workout, I swim. This fitness tracker is tailor-made for swimmers, allowing you to track laps, swim distance, calories burned, and more. It also features a smart button for controlling connected household devices, vibration alerts for calls and texts, movement reminders, and alarms. It comes with two sport bands, action clip, and quick start guide. The only downside is that the battery has to be replaced at least once every 6 months.
Before we dive into my reviews, let me just say that people who annoy others with loud music in the great outdoors DO NOT deserve the privilege of enjoying nature. So please be respectful of others when using outdoor speakers! That being said, both the JBL Charge 3 and iHome's IBT9 offer a significant amount of portable power in relatively small, shockproof/waterproof packages. The JBL allows you to connect up to 3 devices simultaneously, with its 600mAH power bank providing up to 20 hours of playtime and charging smartphones and tablets via USB output. The iHome boasts amazing sound quality, with a built-in speakerphone, built-in mic, and digital voice echo cancellation for crystal-clear calls. Its power bank can also charge mobile devices.
BOOTS/SHOES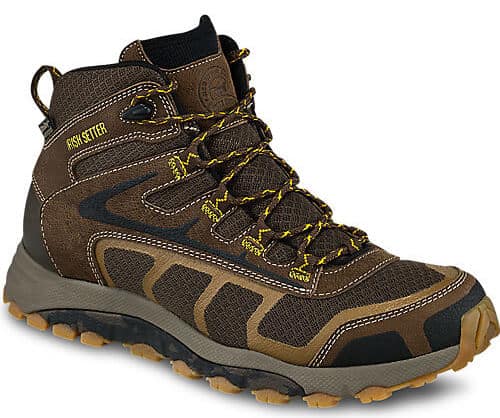 Combining maximum durability with minimum weight, Irish Setter's Drifter line is tailor-made for tackling the trail. Available in four styles, the Drifter benefits from four trademarked technologies. ArmaTec is a protective covering used to provide abrasion resistance and prolong the life of the boot. CuShin helps minimize pressure on your shins from the tongue of the boot, improving flexibility and comfort. ScentBan kills bacteria that cause odors. And the UltraDry Waterproofing System helps keep your tootsies dry. In terms of both look and feel, they're my favorite boots we've tested in years!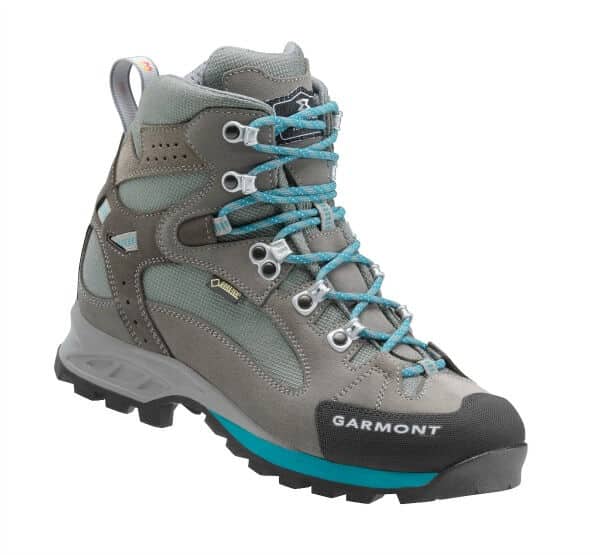 Founded over 50 years ago, Garmont is one of the most respected brands in upscale outdoor footwear. The Rambler GTX reflects their commitment to cutting-edge materials and technologies. Its light weight and low profile Gore-Tex upper are designed for speed, providing additional sensitivity at the front of the foot for technical hikes. The midsole is extra cushiony, while the Vibram outsole has extra deep lugs to improve grip on varied terrain and resistance to abrasion.  The boot's only drawback is its price: At around $250 list, they won't fit a budget traveler's budget.
My original KEEN hiking boots have traveled around the world, from the snowy shores of Antarctica to the muddy mountains of Rwanda. The Gypsum II Waterproof Boots seem equally durable, and the Olive color is even more attractive. The heel support structure and 4mm multi-directional lugs ensure solid footing even on the most rugged terrain. The dual density EVA footbed provides cushioning comfort, while their Cleansport NXT technology provides natural odor control. Not sure I'm willing to give up my old pair, but the Gypsum II makes a great addition to my KEEN collection.
Icebug Oribi RB9X & XERO Prio
My lack of knee cartilage prevents me from running, but I often wear running shoes for our day hikes. Icebug's Oribi is named after an African antelope known for its speed, grace, and agility. As you'd expect, the shoe is incredibly light, fits like a glove, and cushions your feet wonderfully, with a RB9X outsole making them perfect for the trail. Mary loves the minimalist design of XERO's new Prio running and fitness shoe. As with the brand's popular sandals, the emphasis here is on Natural– natural fit, natural flexible motion, natural (i.e. shoeless) feel, and natural (vegan-friendly) materials used in its construction. They also come with a 5,000-mile sole warranty!
READ MORE: The Best Travel Clothing For 7 Travel Styles (An Epic Guide)
MISCELLANEOUS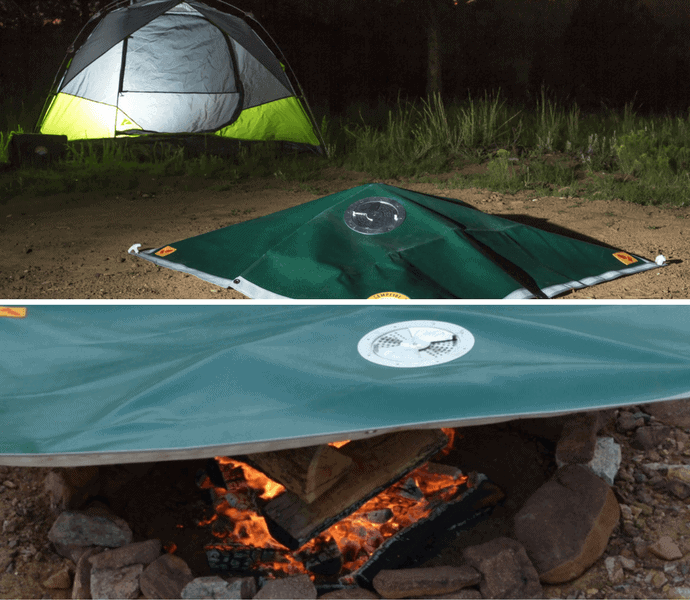 Making its debut at Winter Outdoor Retailer, this is one of those rare inventions so clever, you wonder why nobody thought of it before. Anyone who's ever camped (or watched Survivor) knows that "fire is life," and keeping a fire going in the wilderness takes a LOT of work. The Pro Camper Kit makes it easier: Made from military-grade fabric, the 68" x 60" Campfire Defender can be placed over the fire to protect it from rain and extend coal life by up to 8 hours. The kit also includes two fire stakes, 8 glow-in-the-dark tent stakes, LED flashlight, utility gloves, and a canvas carrying bag.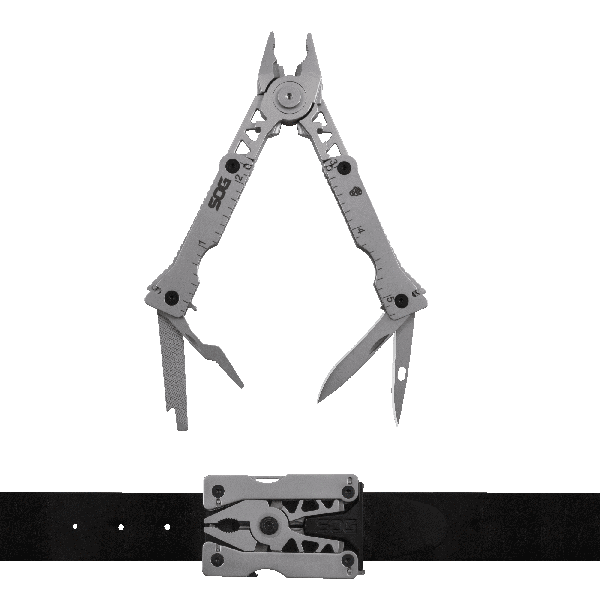 Anyone with a love of tools (or Transformers) will appreciate the ingenuity behind this new multi-tool from SOG Knives. Available in two sizes, this compact wonder offers 11 tools, including an awl, blade, bolt gripper, bottle opener, crimpers, file, flat screwdriver, needle-nose pliers, soft wire cutter, and more. Best of all, the SYNC I folds down into a 2.4" rectangle that can be used as a belt buckle, money clip, or simply clipped onto your backpack. Weighing just 2.6 oz, it's small and portable enough that you'll always have it in a pinch.
As a teen I went hiking in Georgia's Cloudland Canyon, ran out of drinking water, and filled my canteen from the crystal-clear stream. The dysentery that resulted remains one of my worst travel memories. Now I know better, and thanks to these microbiological water bottles I'll never drink dirty water again. At around $45 the Lifestraw is cheaper, with a 2-stage filtration process that removes 99.9999% of all waterborne bacteria and parasites from up to 264 gallons before needing a new filter. At around $150, the LIFESAVER is pricey. But it provides up to 1,056 gallons of clean water, filters out 99.99% of viruses, and reduces the turbidity of cloudy, muddy water.
Layback Las Olas Canvas Hammock & 
I've never been a huge hammock fan, but Mary and my daughter both are. These two hammocks are both beautiful: The biggest difference between them is the print and the fabric. The 8 ft x 4 ft Las Olas Hammock is made for the beach, with a beautiful blue and white surf pattern, brass eyelets, and heavy cotton canvas construction. It comes with a matching bag for easy transport. The 10'6" x 6'6" Grand Trunk Hammock comes in 15 different patterns– ours is Green Palms on a white backdrop– made from parachute nylon, with nautical-grade carabiners. Both are attractive and easy to set up (GT's requires Trunk Straps, sold separately), but only Grand Trunk's is big enough for two. –Bret Love