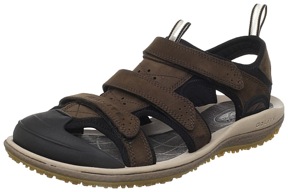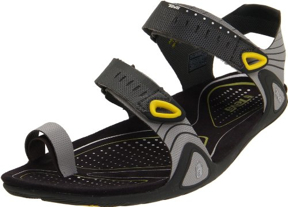 Summer Activity Shoes

Teva is arguably among the most recognizable names in the outdoor retail industry. Invented in 1982 by rafting guide Mark Thatcher, the brand (whose name is Hebrew for "nature") made thong-style sport sandals ubiquitous among outdoor enthusiasts and college students everywhere. GoLite, by comparison, is a relative newcomer on the scene, founded in 1998 on the principles of simplicity, innovation and environmental sustainability.
As fortune would have it, we received a sample of GoLite's new
Flood Lite 
sandals right around the same time we got the new
Zilch sandals from Teva
, so we thought it might be fun to compare the two summer activity shoes head-to-head, David vs. Goliath-style. Old school Teva is undoubtedly the bigger brand, but could up 'n' comer GoLite ultimately prove to be better?
Teva's Zilch is a minimalist sandal designed for those who enjoy the feeling of being barefoot, but who still want the support and protection from the elements of a shoe. It's incredibly lightweight, with a comfortable footbed and solid tread grip that makes it appropriate for slick or dry surfaces. There's a 2-layered toe loop to keep your big piggy in place, and a flexible, soft-lined strap system that ensures a perfect fit. Personally, I'm not a fan of things in between my toes, and prefer a bit more arch support than the pancake-flat sole has to offer. And while the breathability of the design is excellent, the lack of substance makes the shoes more appropriate for hanging out or leisurely walking.
GoLite's Flood Lite, on the other hand, is
perfect for active travelers
like us. There's a great rubber toe-shield to protect your tootsies from rocks, pine cones and other detritus, and a comfy EVA midsole that provides excellent arch support. The three fully adjustable velcro straps both look (thanks to brown suede leather) and feel great, while providing additional protection for the feet. But the most unique element of the Flood Lite sandals is the grip of the rubber soles, which are designed to mimic the feet of a gecko and provide excellent traction on muddy trails, slippery rocks and uneven surfaces. As a result, the Flood Lites will join the
Discover Lite hiking shoes
we reviewed back in March among our favorite
outdoor adventure
footwear.  
–Bret Love
Green Global Travel receives no pay for product reviews, and won't recommend any product we don't use ourselves. But we do have an Amazon Affiliate Program, and if you buy through the link below, it will help support our site at no additional cost to you. Thanks for your support!
If you like Summer Activity Shoes – GoLite vs. Teva Sandals, then you also may like:
TRAVEL GEAR: Tevas Gnaroski Water Shoes
The Best Coffee in the World: A Gourmet's Guide
TRAVEL GEAR: Travel Light With Convertible Pants
TRAVEL GEAR: Travel Light Clothing Suggestions
GREEN GEAR: Sustainable Watches – WeWOOD Wood Watches