For a relatively small mountain town with a population of just over 87,000, there is a surprising wealth of things to do in Asheville, NC.
There's a vibrant cultural community, particularly in the River Arts District. Thanks to an infusion of wealth brought in by the Biltmore Estate in the early 20th century, there's historic art deco-influenced architecture. There is also a critically-acclaimed restaurant scene, with lots of craft Asheville breweries and farm-to-table fare.
Thanks to sound city planning, many of the best Asheville hotels are within walking distance of its major attractions. But our favorite aspect of Asheville is the fact that it's surrounded by wilderness, including ecotourism attractions such as Great Smoky Mountains National Park, Linville Gorge, and Pisgah National Forest.
Here's a look at some of the best things to do in Asheville, NC for nature lovers, from foraging for food and kayaking to rock climbing and watching rare, endangered wildlife…
READ MORE: Asheville, the South's Green, Progressive Mecca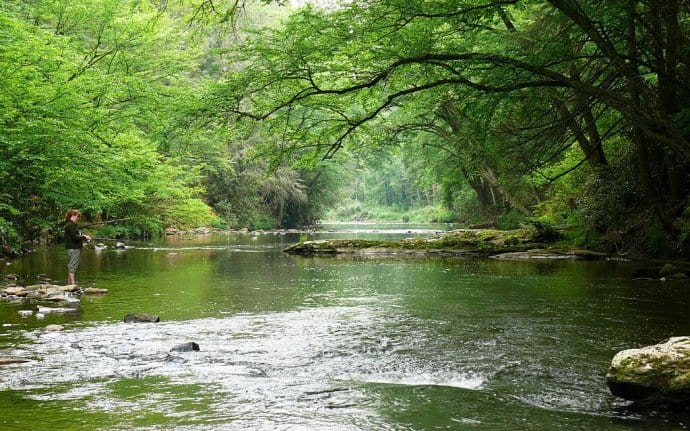 LINVILLE GORGE FISHING
Known as "the Grand Canyon of North Carolina," the 11,876-acre Linville Gorge wilderness area is one of only two gorges in the Southern United States that was never clear-cut for logging. The Linville River is situated approximately 1,400 feet below the ridge, so hiking Linville Gorge is most enjoyable for those who like a somewhat strenuous challenge.
In addition to bears, foxes, raccoons, hawks, and other wildlife, the area is also a haven for fly fishing in North Carolina with anglers hoping to hook their limit of well-stocked brown, brook and rainbow trout.
Hiking down into Linville gorge in an intense, all-day affair. But there's much easier access near the 45-foot drop of Linville Falls (located about 70 minutes outside Asheville), where the Linville River intersects the Blue Ridge Parkway.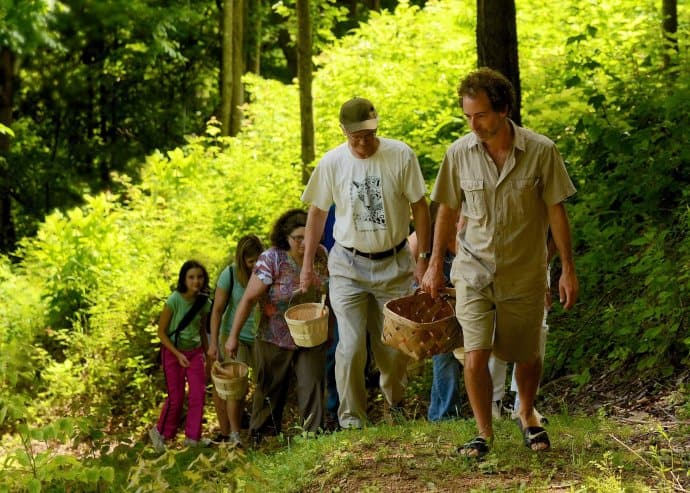 FINDING FORAGED FOODS
In 2013 we wrote about how incredible Asheville's Green Restaurant scene is. Nearly 20% of the Asheville Independent Restaurant Association's members are certified by the Green Restaurant Association. Perhaps it's no surprise when you consider that this nature-lover's paradise boasts over 300 wild edibles!
Founded in 1995, eco-tour operator No Taste Like Home offers "Wild Food Adventures" that teach travelers how to safely harvest edible wild plants for themselves. Exploring local fields and forests with an expert, you'll find a broad variety of edible berries, greens, flowers, nuts, seeds and North Carolina mushrooms.
Afterwards, you can either take your foraged foods home or visit one of the company's six local restaurants. There, the chefs will whip up an appetizer with the ingredients you've foraged, giving you a taste of what founder Alan Muskat calls "find dining."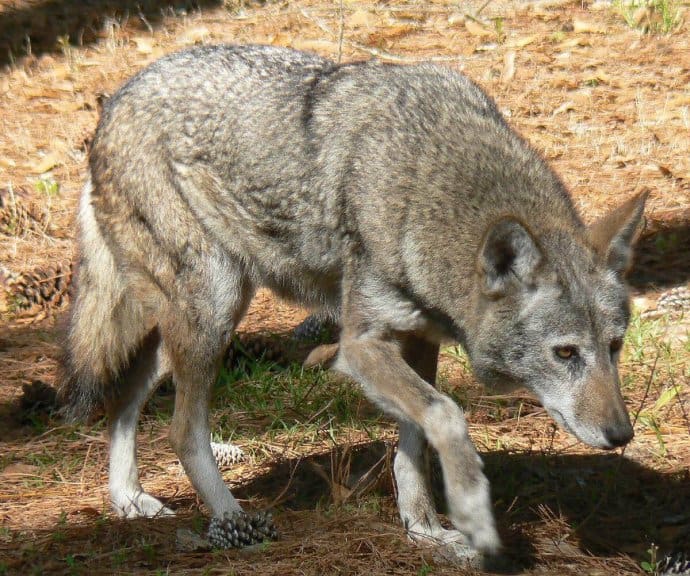 SEE RED WOLVES IN NORTH CAROLINA
The Red Wolf is one of the most critically endangered canid species in the world. They were officially declared extinct in the wild back in 1980. But, thanks to captive breeding programs, they've slowly begun to recover. There are now around 130 in the wild and 250 others in captivity.
One of our favorite things to do in Asheville, NC is the 42-acre Western North Carolina Nature Center is all about connecting people with the plants and animals of the Southern Appalachian Mountain region. Their animal exhibits include Black Bear, Cougar, Coyote, Red and Gray Fox, Raccoon, River Otter, and many more.
But the most unique offering is the chance to see around a dozen Red Wolves in North Carolina, who have been known to howl in unison when the mood strikes. The Nature Center's breeding program is helping to save this beautiful species, which is endemic to North Carolina.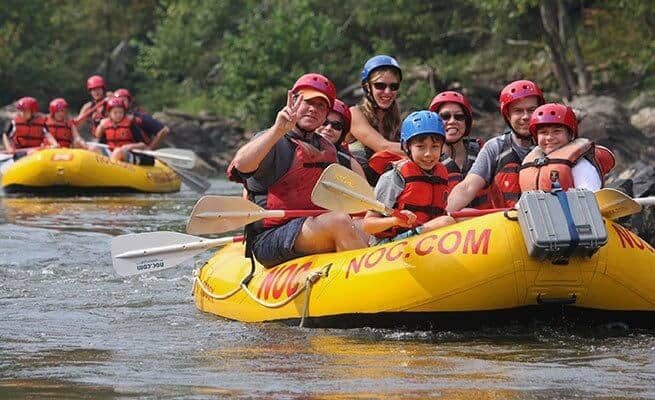 RAFTING THE FRENCH BROAD RIVER
The French Broad River winds its way right through the heart of Asheville. The river is lined with lush, verdant parks perfect for picnics and recreation. Rafting the French Broad River is one of the most fun things to do in Asheville with kids or a group of friends.
The Nantahala Outdoor Center has been offering guided rafting trips here longer than anyone else. They have half-day tours that are aimed at beginners (ages 8 and up). There are also full-day, 8-mile, intermediate tours that tackle more challenging Class IV rapids.
Hardy kayakers will especially love hitting the river in the off-season, when the water is high and tourist traffic on the French Broad River is relatively low.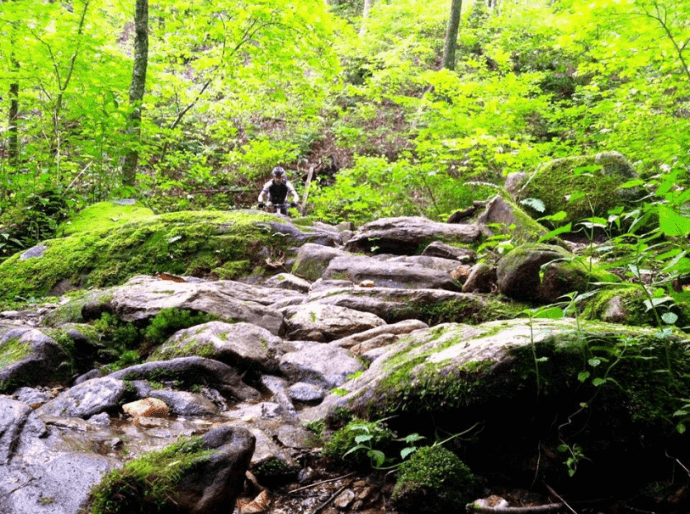 MOUNTAIN BIKING PISGAH
One of the first national forests in the eastern United States, Pisgah National Forest encompasses more than 510,000 acres of the southern Appalachian Mountains.
This gorgeous haven offer lots of things to do near Asheville, NC for hiking, camping and mountain biking enthusiasts. Pisgah Mountain Bike Adventures offers half-day, full-day, multi-day, and even nighttime tours guided by locals who know the area like the back of their hand.
Best of all, they can customize your Pisgah mountain bike adventure to match your style and ability, whether you prefer climbing, downhill, or single-track riding.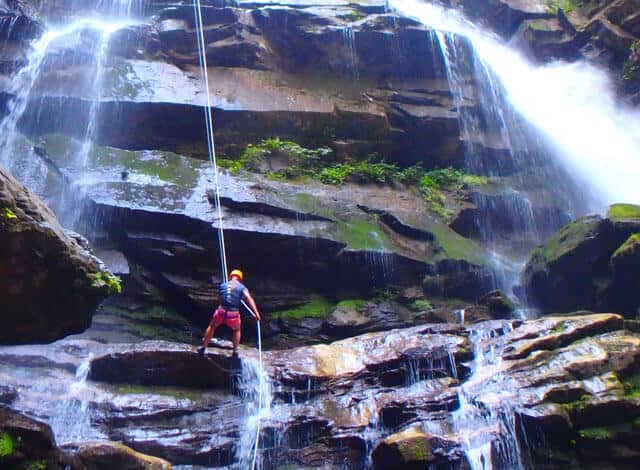 RAPPEL IN GREEN RIVER GORGE
A tributary of the Broad River, the Green River begins in the Blue Ridge Mountains and flows into the Piedmont region. Located southeast of Asheville, the area surrounding the Green River Gorge boasts some of the most biodiverse forests in the eastern U.S.
Green River tubing is always popular here due to the river's controlled water flow. But for a change of pace, try canyoneering, one of the most adrenaline-pumping things to do in Asheville.
Green River Adventures offers two options for rappelling. At 70 feet tall, the Little Bradley Waterfall is perfect for youngsters (aged 12 and up) and first-timers. Big Bradley Falls, at 200 feet, is more challenging, and recommended for thrill-seekers ages 15 and up. Both tours include expert instruction and plenty of practice time.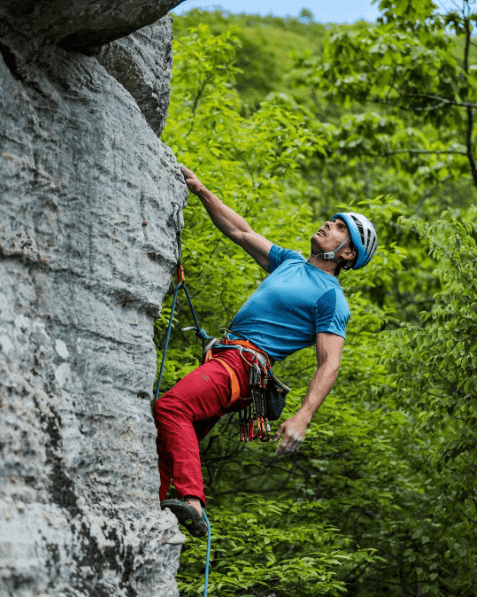 ROCK CLIMBING AT CHIMNEY ROCK
Made famous by the 1992 film The Last of the Mohicans, Chimney Rock State Park is located 25 miles outside Asheville. It's become increasingly popular amongst rock climbers in recent years thanks to its challenging cliffs, rock walls, and boulders.
Fox Mountain Guides & Climbing School (the only school in the Southeast certified by the American Mountain Guide Association) offers 1-on-1 instruction and guided trips for skill levels ranging from beginners to experts.
Check out Rumbling Bald Mountain, which features 1,100 acres of world class technical rock climbing and around 1,500 boulders to conquer. All are easily accessible by car.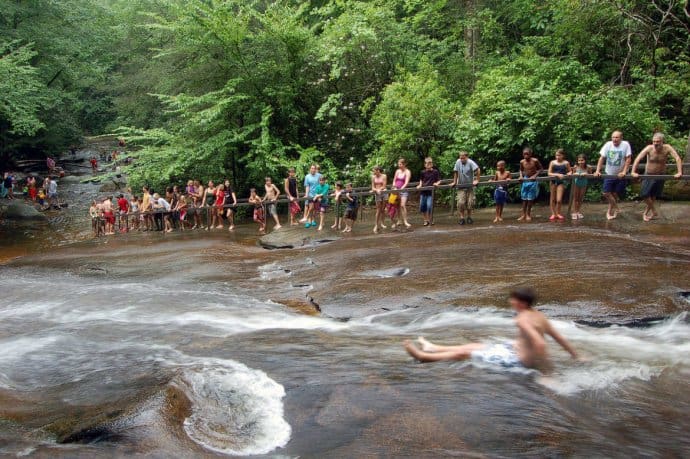 SLIP DOWN ASHEVILLE'S SLIDING ROCK
It may be a mountain town, but Asheville can still get hot in the dog days of summer. There's nothing better at the end of a long day of outdoor adventures than cooling off in one of the area's countless waterfalls.
If you're still hungry for more action, head to Sliding Rock in Pisgah National Forest. This is considered "the king of swimming holes," offering a 60-foot natural rock water slide that feeds into an 8-foot deep pool.
Fair warning: The mountain waters can be chilly, usually around 55-60º! But there are observation areas for folks who find those temps too "refreshing." Just get there early, because this local hotspot is a popular place for families in the summertime.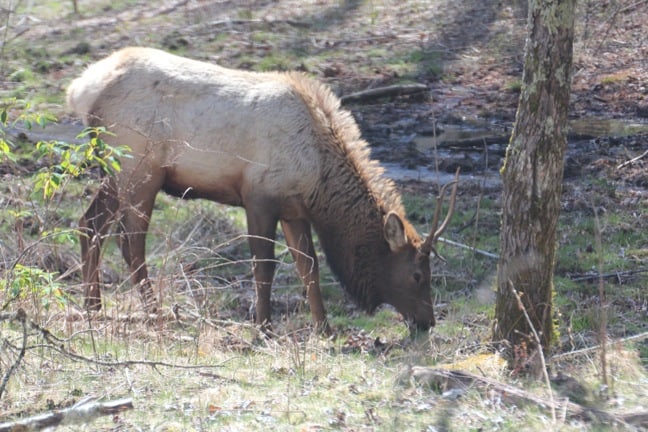 WATCH FOR CATALOOCHEE ELK
Great Smoky Mountains, the most visited of America's National Parks, boasts a bevy of wildlife species. It's home to 200 species of birds, 50 species of fish, 39 species of reptiles, 43 species of amphibians, and mammals such as Black Bears, Raccoons, Bobcats, River Otters, Beavers, and two species of Fox.
But the most noteworthy animal you'll find in the park is its ever-expanding Elk herd. Elk once roamed these North Carolina hills by the thousands, but they were all killed off by hunters in the 1700s.
Thanks to a 2001 reintroduction program, there are now over 150 Cataloochee Elk in the park. The Cataloochee Valley (which is surrounded by picturesque 6000-foot peaks) is the best place to see them. These massive megafauna can often be found grazing along the road into the park. But park volunteers can typically tell you where the herd was spotted last.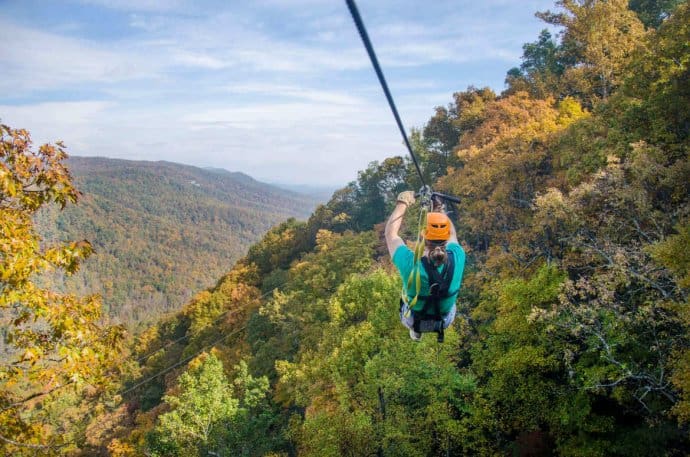 ZIPLINING IN ASHEVILLE, NC
Putting an eco-friendly pin on typical zipline tours, Navitat Canopy Adventures speaks for the trees and encourages their guests to respect the beauty of nature.
The company's Moody Cove Adventure is perfect for first-timers, combining 10 ziplines (one 1100 feet), two bridges, two rappels and two hikes. The Blue Ridge Experience is bigger, higher and faster. It boasts one zip measuring 3,600 feet long and 350 feet high, going at speeds up to 65 mph.
Adrenaline junkies will love The Ultimate, which combines both packages for six hours of invigorating action and incredible mountain views. –Bret Love
If You Like It, Pin It!