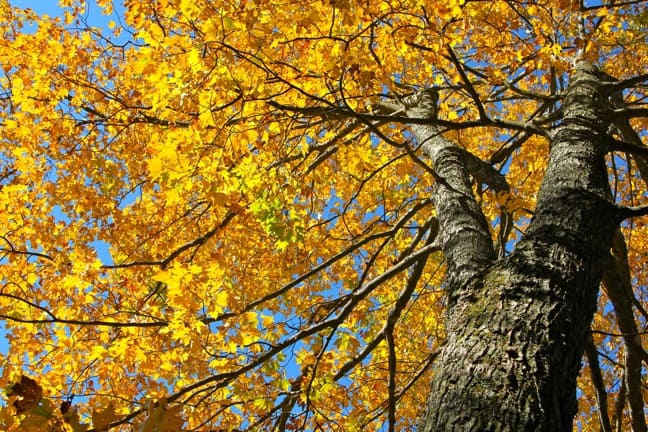 Top 5 Eco Attractions in North Georgia
Atlanta has become world-renowned as the cultural mecca of the South. What is less well-known is how much of nature's wondrous splendor there is to be found within a two-hour drive of the bustling urban metropolis. As the dog days of summer give way to the cooler temperatures and warm colors of autumn, adventurous outdoor-lovers venture outside the I-285 perimeter, exploring the mountains, lakes, waterfalls and old-fashioned Southern hospitality North Georgia has to offer. Here are 5 of our favorite ecotourism attractions in the area:
AMICALOLA FALLS STATE PARK
A family favorite ever since my daughter was born, Amicalola Falls is one of the state's most popular state parks thanks to its easy access, easy hiking trails (many of which are paved with recycled rubber), and 729-foot cascading falls (the tallest east of the Mississippi River). Amicalola (Cherokee for "tumbling waters") has seen marked improvements in recent years, including the addition of a brand spanking new observation deck that provides incredible scenic vistas. Hardcore backpackers often come this way, making the 8.5-mile hike to Springer Mountain, which marks the southern end of the 2,135-mile Appalachian Trail. But most visitors go for more casual hikes, fish for freshwater trout in the well-stocked pond and enjoy a quiet picnic near the base of the falls.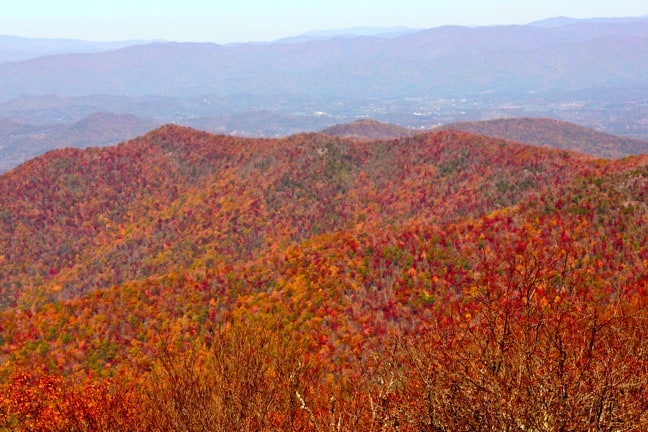 Georgia's highest mountain, at 4,784 feet above sea level, Brasstown Bald is perhaps the best place in the state to get a view of autumn colors at their most radiant. Known to the native Cherokee as Enotah, the site's current name actually comes from a misunderstanding of the Cherokee word "Itse'yĭ" (New Green Place, or Place of Fresh Green), which settlers mistook for "Ûňtsaiyĭ" (Brass). The "Bald" refers to the unparalleled, unobstructed 360-degree view visitors get from the top, where you can see four states (Georgia, North Carolina, South Carolina and Tennessee)  simply by turning your head. As a result, the moderate hiking trail up to the Observation Tower can get a bit crowded during peak season. But, with rocking chairs, a small picnic area and such scenic surroundings, it's a great place to spend an autumn afternoon.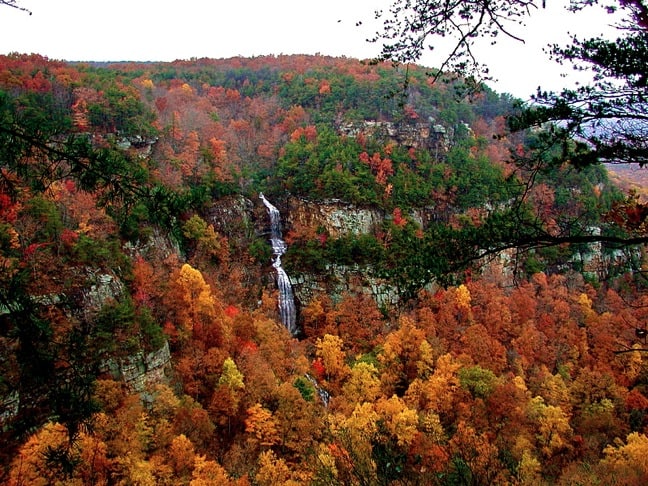 CLOUDLAND CANYON STATE PARK
Slightly more off-the-beaten-path, this 3,485-acre state park on the western edge of Lookout Mountain is rarely crowded, but offers a diverse range of activities for outdoor enthusiasts of all fitness levels. Casual nature lovers can simply stay in the picnic area parking lot, where you can get stunning overviews of the canyon without ever breaking a sweat. But more hardy hikers will love the 4.8-mile West Rim and Waterfalls Trail, offering more in-depth exploration of the area (which ranges in elevation from 800 to around 2,000 feet). The gorge was cut into the mountain by Sitton Gulch Creek, producing striking rock outcroppings offset by colorful flora that grows increasingly spectacular at this time of year. The park really earns its name in the morning, when fog makes it seem as if you're walking in the clouds.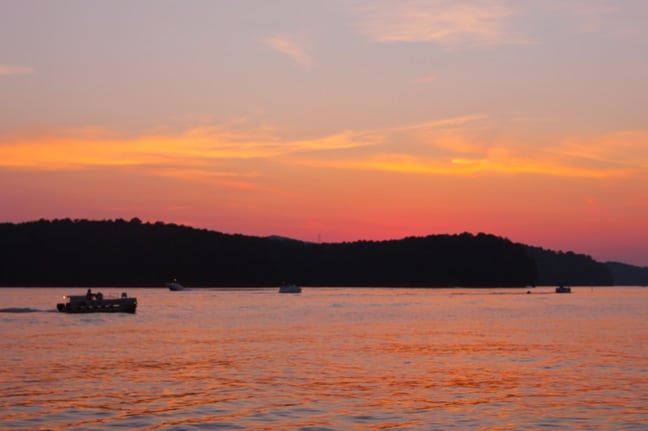 RED TOP MOUNTAIN STATE PARK
We'll go ahead and acknowledge right up front that we're biased towards Red Top: It's the closest of these parks to our house, we keep our pontoon boat docked nearby, and when we're not traveling the area is our home away from home. The 1,562-acre park, which was named for the iron-rich soil's deep red color, is located just 45 minutes from downtown Atlanta, making it one of Georgia's most popular outdoor recreation destinations. Set on the 12,000-acre Lake Allatoona, the park attracts avid boaters and fishermen year-round, and its 15.5 miles of hiking trails provide frequent wildlife sightings (including herons, egrets, kingfishers, geese and ducks) and spectacular views of autumn colors. Just last week, we watched a family of four deer frolicking and feeding in a cove there for nearly an hour. Truly a magical place!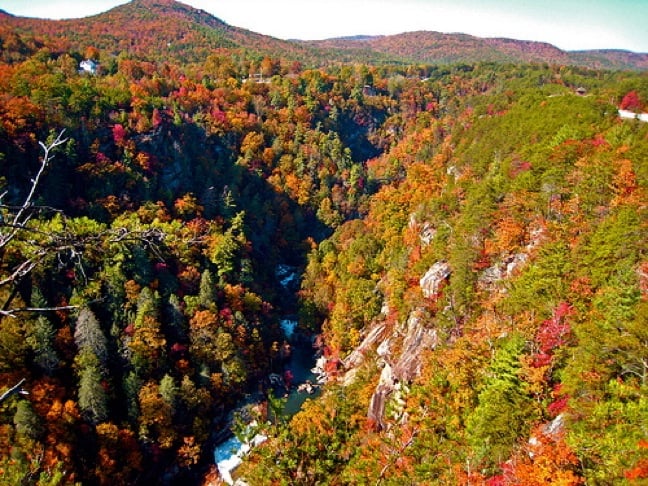 TALLULAH GORGE STATE PARK
Georgia may not be able to match the Grand Canyon for sheer size and scope, but this 2,689-acre park is arguably among the most impressive canyons east of the Mississippi, with incredible autumn colors that seem to set the hillsides ablaze. The gorge is two miles long and nearly 1,000 feet deep, with over 20 miles of trails for hiking and mountain biking. Though tourism is at its peak this time of year, views of the gorge are awe-inspiring all year 'round, particularly from the rim trails and a suspension bridge that sways 80 feet above the floor of the gorge. The park typically offers 100 free permits a day for hikers and rock climbers, but some November weekends are set aside for whitewater kayaking, as controlled water releases of 500-700 cubic feet per second thunder through the gorge. The Interpretive Center  offers exhibits on the area's rich history and fragile ecosystem, as well as a documentary film about the Tallulah Gorge.  –by Bret Love, with special thanks to Don Esa for his photo
If you enjoyed reading about the Top 5 Eco Attractions in North Georgia, you might also like:
INTERVIEW: Appalachian Trail Guru/Author Winton Porter
Georgia Christmas Light Displays
Belugas at the Georgia Aquarium
Our Happy Place: A Celebration of Staycations