Jamaica is known around the world for its gorgeous climate, "no problem, mon" attitudes and, of course, Jamaican music genres such as ska, reggae, and dub music.
But ecotourism enthusiasts will find that the Caribbean islands offers plenty of outdoor attractions as well.
Ecotourism in Jamaica is everywhere, from the tourist meccas of Negril and Ocho Rios to the Blue Mountains (where some of the best coffee in the world is grown).
Here are our picks for the Top 5 Ecotourism Attractions in Jamaica…
READ MORE: Top 20 Things To Do In Jamaica for Nature Lovers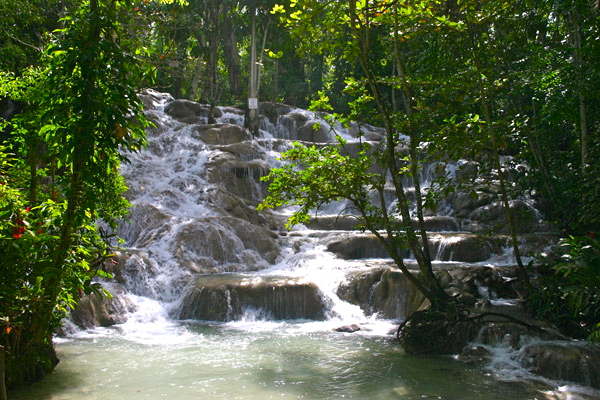 CLIMB ONE OF THE WORLD'S COOLEST WATERFALLS
There's a reason this natural wonder in Ocho Rios is Jamaica's #1 tourist attraction.
Cascading 600 feet down to the Caribbean Sea, the majestic Dunn's River Falls' protruding rock ledges create a series of natural stair steps that make it a relatively easy and exciting climb for visitors of all ages and ability levels.
With a guide leading each group up the most navigable path, visitors join hands to help each other clamber up the slippery rocks, go down small rock slides into cool pools, pose for souvenir photos and encourage each other ever closer to the spectacular view from the summit.
READ MORE: The 10 Best Waterfalls for Your World Travel Bucket List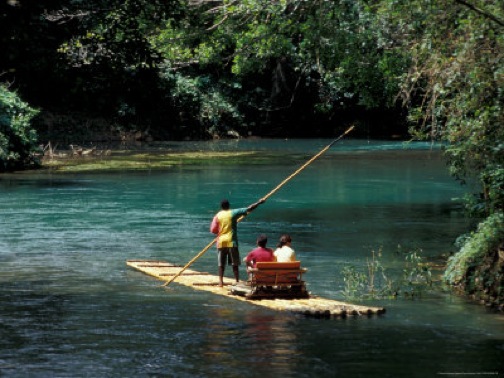 DRIFT LAZILY DOWN THE MARTHA BRAE RIVER
Located approximately 30 minutes from Montego Bay, Trelawney's Martha Brae is the epitome of a lazy river, and River Raft Limited's bamboo raft excursion offers the perfect way to see its tropical wonders.
Start with a cool dip in the pool at Rafters' Village, then let your captain guide you on a 3-mile tour that includes vivid stories from Jamaica's rich historic past, stops for swimming and a ridiculously fun rope swing at Tarzan's Corner.
Finish the trip with a cool tropical drink or a bite to eat at Martha's Rest, a quaint bar/restaurant and souvenir shop.
READ MORE: Best Caribbean Islands to Visit (If You Love Nature & Hate Crowds)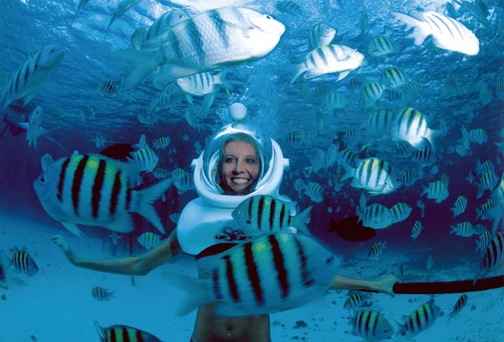 GO UNDER THE SEA
Are you intrigued by the scuba diving experience, but don't have the time or money to get certified?
Located on Doctor's Cave Beach in Montego Bay, Chukka's Sea Trek Adventure allows you to explore the wonderful world under the Caribbean Sea without even getting your hair wet!
Guests are fitted with a space-age helmet that sits on their shoulders and allows for underwater breathing; you can wear prescription glasses underneath, and don't even need to be able to swim.
Lowered to the bottom of the sea, guides lead visitors on a tour of dazzling marine life in their natural habitat among the coral reefs, making for an impressive undersea experience everyone in the family can enjoy.
READ MORE: The History & Evolution of Dub Music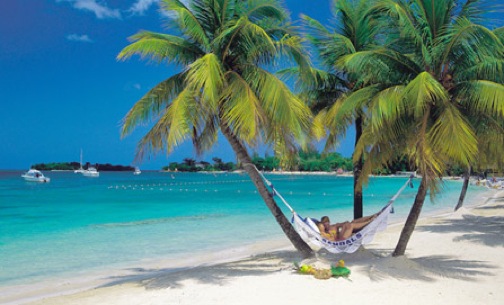 SPEND A DAY AT THE BEACH
In a country where "no problem, mon" is the unofficial national mantra, Negril is arguably the most laid-back of all Jamaica's major cities.
Seven-Mile Beach is probably its greatest attraction, with golden sand, calm waters, concessionaires offering everything from jet skiing and parasailing to snorkeling, and vendors hawking everything from souvenirs to hair-braiding services.
At night, pay a visit to the legendary Rick's Café, where you can savor one of the island's finest sunset views while cooling off with signature tropical drinks such as Planter's Punch and Tropitinis.
Or, if you're bold, make the traditional leap from their cliff set 40 feet above the crystal blue Caribbean waters.
READ MORE: The History of Jamaican Music Genres (From Ska & Reggae to Dub)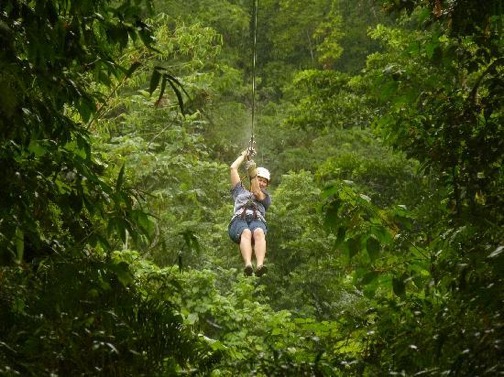 ZIPLINE THROUGH THE FOREST

Chukka Caribbean Adventure's Original Canopy Tour is a 3-hour trek through the forest canopy via a series of decks and platforms connected by zipline traverses.
After safety briefing and demonstrations, guides lead visitors on nine traverses coupled with intermittent nature walks filled with information about Jamaica's diverse landscape and history.
Each traverse is unique, with colorful names such as "Limestone Cliff," "Threesome Stop" and, the highlight, the "Inter-parish Express," which is over 1,000 feet.
Zooming at speeds of up to 35 mph across springs, the Great River and a 150-year-old dam, there's no other Jamaican experience quite like it.   –Bret Love; photos provided by Jamaica Tourism Board
Read more about Jamaica:
Lee "Scratch" Perry- Jamaica's Dub Legend
Caribbean & Latin American Art