You never really realize how important your travel fashion choices are until you find yourself in a remote destination for two to three weeks with no access to laundry services.
Traveling light (i.e. carry-on luggage only) and combining business travel with ecotourism adventures only serves to complicate matters more.
Over the past 7+ years of traveling together, Mary and I have gotten much smarter about what and how we pack.
We've even created an informal Travel Packing Checklist, which changes depending on the type of climate(s) we're traveling to.
Because technology changes constantly and new innovations help make our travel lives much easier, this list is ever-evolving. What follows is our 2016 travel fashion guide, with clothing and accessories suited to six different travel styles.
Disclaimer: We receive no compensation for our product reviews.
Travel Fashion for the Ecotourist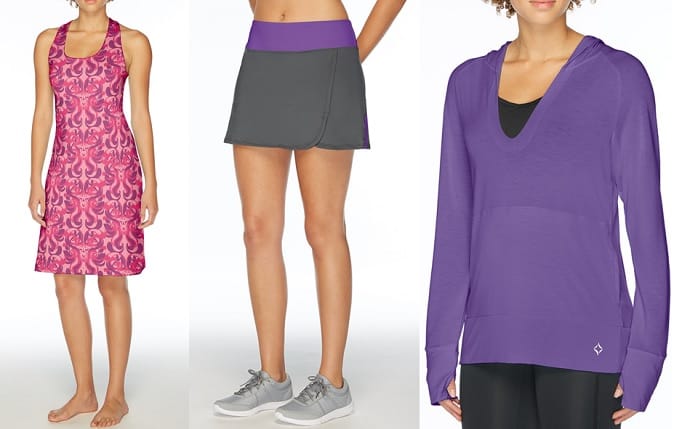 Finding clothing/accessories that are both fashionable AND eco-friendly can be a challenge. So we were excited to discover Stonewear, an apparel brand inspired by the rock climbing culture of Boulder, Colorado.
From the lovely Lyra dress and flirty Crush Skort to the super-supportive Dryflex Double Cross Top and comfy Breeze Pullover, the entire line is made from sustainable fabrics (using recycled plastic bottles, wood cellulose, etc.).
With their flattering fit, they'll make you look as good as you feel.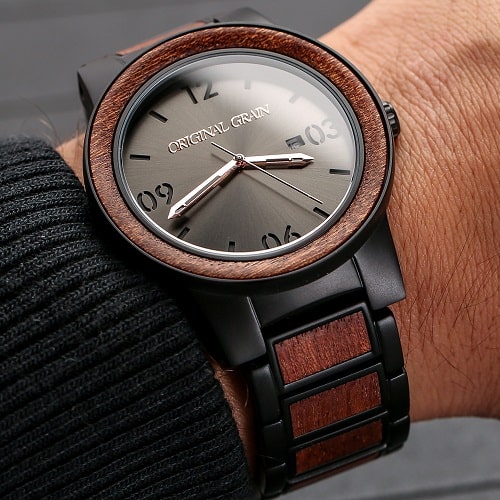 I'm generally not much of a collector, but I do have enough watches to wear a different one every day of the work week.
The hand-crafted Sapele/Black Barrel watch from Original Grain is my new favorite, matching sustainably-sourced inlaid wood with sleek matte black stainless steel.
In addition to sourcing all wood for their timeless timepieces responsibly, the California-based company is partnered with Trees For The Future, planting 10 trees for every watch sold.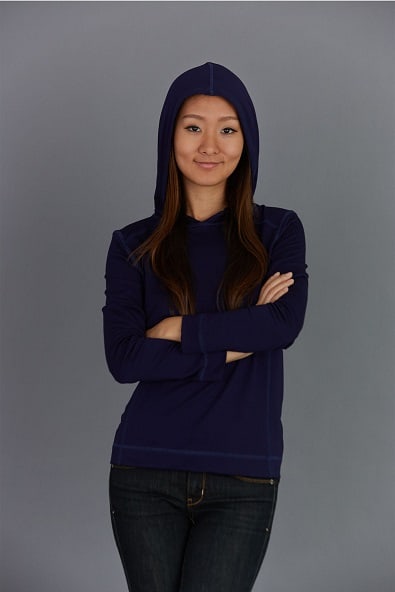 When it comes to textiles, bamboo fiber is one of the world's most sustainable fabrics.
It can grow 3-4 feet per day without using any pesticides or chemical fertilizers, requires very little water, minimizes CO2, generates up to 35% more oxygen than equivalent stands of trees, and can improve soil quality.
Trying out the Bamboo Pullover Hoodie from Northfolk reveals another benefit of bamboo: The terry weave fabric is remarkably soft, offering casual comfort for long airplane rides and chilly nights.
Plastic is bad for the planet, right?
But recycling and repurposing to eliminate waste is great! Yuco Sunglasses, part of the Ocean Collection from Bureo, are made entirely from Net+Positiva plastic, which is made from recycled nylon fishing net material sourced in Chile.
Designed by Karün X Bureo, the stylish grey Yuco was inspired by native whale species spotted off the Chilean coast, and comes with premium Carl Zeiss Polarized lenses.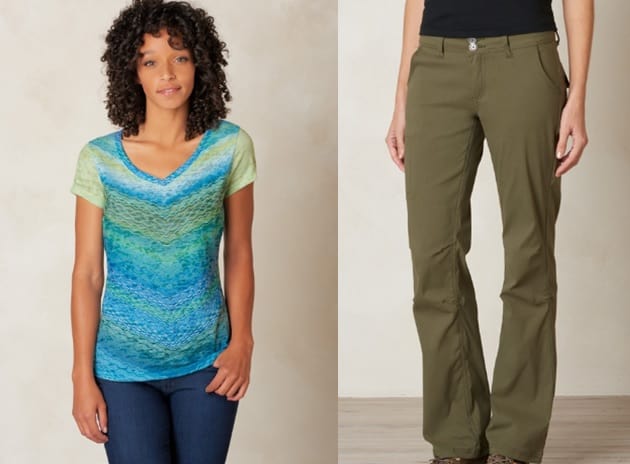 Mary's been a fan of prAna for years, and rarely travels without a few of their versatile pieces.
Their Spring 2016 line includes casual, comfortable choices such as the colorful Hillary Top and the water-resistant Halle Pants.
We also love the company's commitment to sustainability, offering Fair Trade-certified clothes; using recycled down, polyester, and wool; and giving back to non-profit organizations such as Outdoor Outreach, which helps underprivileged kids connect with nature.

When we launched our new Green Global Travel Fair Trade Boutique, we wanted to create unique products that would allow people to show their love of wildlife while also helping to protect it.
Our designer-quality Wildlife Bracelets That Give Back pay tribute to the animals we've seen on our travels, with 3-bracelet Birdwatcher, Marine Life and Safari collections.
We're donating 10% of all our profits from our store to wildlife conservation charities, making them gifts you can feel good about giving and receiving!
Travel Fashion for the Jungle/Safari Traveler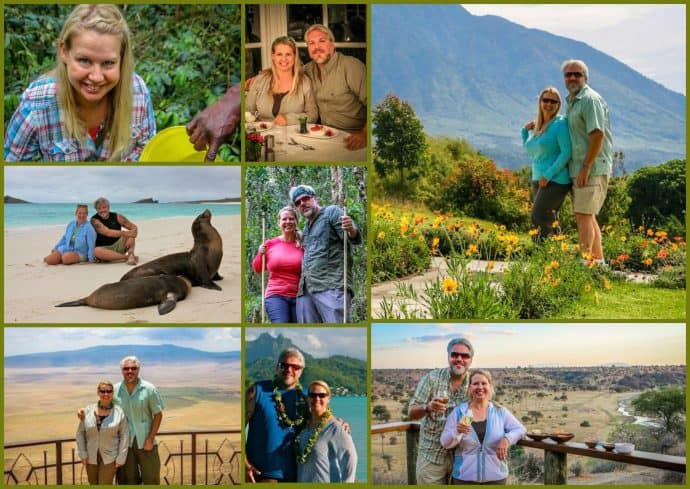 As much as I love nature and wildlife, mosquitoes are where I draw the line. And with the Zika virus, dengue fever and malaria all caused by the pesky critters, we're being extra cautious by loading up on Insect Shield clothing for my upcoming trip to South Africa with my daughter.
We first experienced the benefits of Insect Shield technology back in 2010, when we wore the BugsAway line from Exofficio during our trip to Mexico's Riviera Maya.
he lightweight fabric proved remarkably comfortable, moisture-wicking, and water/stain resistant, plus it's treated with an odorless Insect Shield that repels bugs for 70+ washings.
The line has expanded quite a bit since then, and we now take their Damselfly and Ziwa Convertible Pants, Lumen and Hakuna shirts, and even their quick-drying Give-N-Go underwear with us everywhere we travel.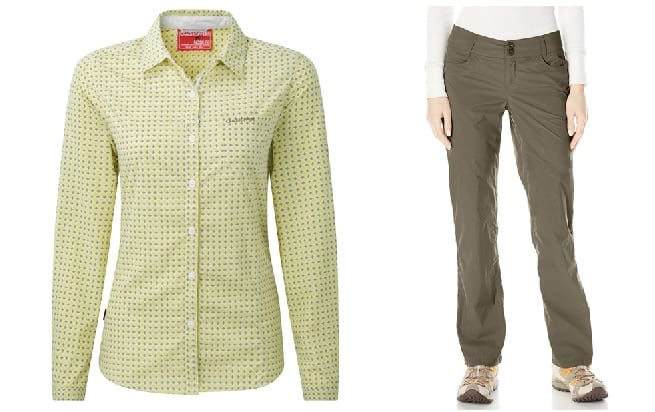 Craghoppers is one of Mary's favorite clothing brands. They've recently partnered with National Geographic to launch a full line of adventure clothing that benefits the society's efforts in supporting the health and diversity of our planet.
Their NosiLife Insect Shield line, which provides up to 90% protection from mosquitoes and other biting insects, includes Pro Lite Pants and the Olivie Long Sleeve shirt.
Both are ultra-lightweight, flattering to the figure, and designed to dry quickly for wash-n-wear convenience.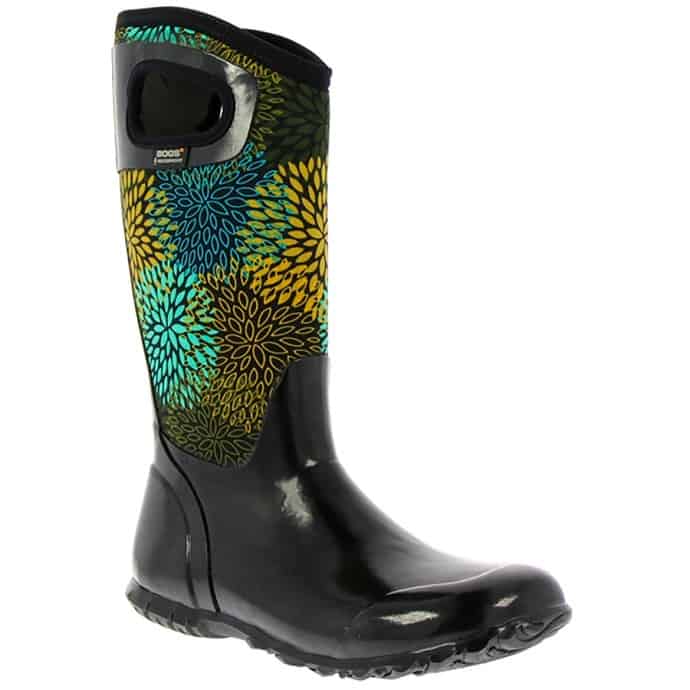 During our recent trip to Rwanda, we learned first-hand the importance of a good set of boots while traipsing through mud and buffalo poop during a hike to see critically endangered Mountain Gorillas.
The North Hampton Floral insulated rain boots from Bogs are more than up to the challenge.
hey're 13" tall, 100% waterproof, and comfort-rated for temperatures down to 5˚F/-15˚C. But they're also designed to wick moisture (a.k.a. sweat) away from your feet so they stay dry and cozy, no matter what the weather.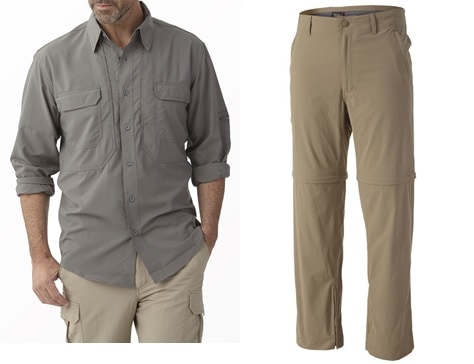 Though they don't use InsectShield technology, Royal Robbins is another clothing line that works well for jungles and other tropical (read: hotter than Hades) destinations.
Their Travel Stretch Convertible Pants are lightweight but durable, with 8 pockets, wrinkle resistance, and easy zip-off legs.
I pair them with the Expedition Stretch Long Sleeve shirt, which offers cooling ventilation, roll-up sleeve tabs, quick-drying convenience and a tailored fit that looks just as handsome in the city as it does in the jungle.
Travel Fashion for the Beach Lover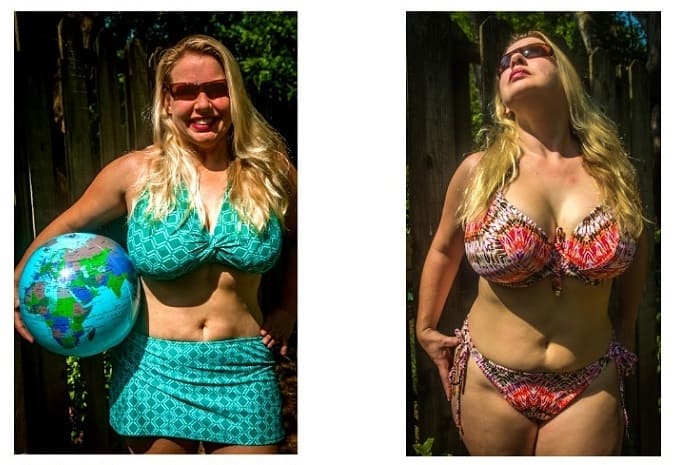 Mary (Pisces) and I (Cancer) are both water signs, so we tend to be happiest when we're in/around the ocean. And since we're hoping to visit numerous islands in Southeast Asia this year, beach gear has been on our shopping list.
Finding swimwear with a flattering fit can be a struggle for many people, but particularly those with ample assets, like Mary. So she was thrilled to discover a line whose bikinis hug her curves perfectly.
We originally knew Bare Necessities as a lingerie brand. But we were delighted to discover that they also offer a variety of sexy swimsuits– including the Vero Beach Envy Halter from Sunsets and the Inferno Convertible Swim Top from Freya– in cup sizes up to G.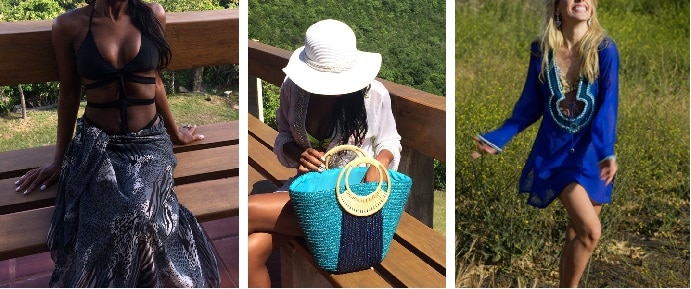 Mary's much better than I am about protecting herself from the harmful rays of the sun.
In addition to sunscreen, she can often be found wearing her stylish White Hat and Blue Leopard Print Sarong from Beach Glam as a cover-up when we spend days on Lake Allatoona.
She likes the line so much, she's now got her eye on their Electric Blue Kaftan Tunic.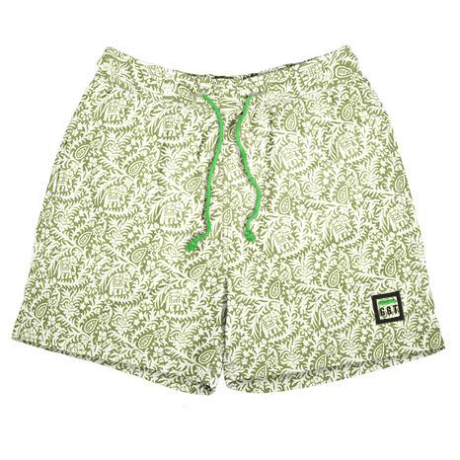 I'm extremely picky about swimsuits: I love the length of board shorts, but find most department store patterns boring.
So I was excited to discover Tarifa & Company, a designer brand based in Cadiz, Spain. The line allows men to customize every detail of their swimsuits, including pattern, length, and cord/pocket color.
Their "Wanderlust" fabric, which features white elephants and birds on a sage green background, looks fantastic emblazoned with a GGT monogram!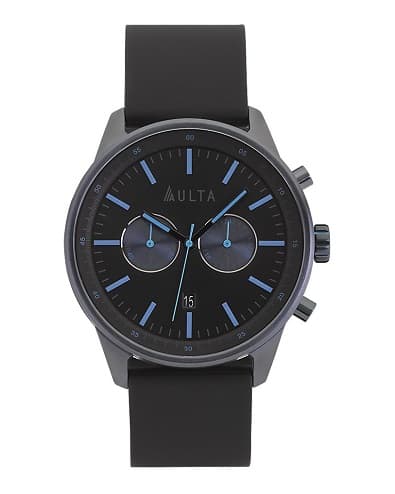 Another new addition to my growing watch collection, the Leeway Black and Blue from Aulta Watches is an ocean-inspired gem.
The 44mm surgical grade stainless steel case, hardened mineral crystal, and stainless steel screw down case and crown make it water resistant to 100 meters.
With the rugged, waterproof polyurethane band, it's perfect for surfers and Scuba divers.
There was a time when we'd buy cheap sunglasses at the convenience store. But these days we both need prescription lenses, and Mary loves these Isabela Pomegranate Fade shades from Costa Del Mar.
Named after one of the Galapagos Islands, the sunglasses are large and lightweight, with heavy duty nylon frame, scratch-resistant polarized glass lenses for 100% blockage of UV light, and a limited lifetime warranty.
 Travel Fashion for the Active Traveler

We'd never heard of "kinetic compression wear" until Opedix reached out to us. But their concept– developed via years of research at the Steadman Clinic in Vail– is cool for people who stay active during their travels.
Their Knee-tec Tights and Blade-tec Shirts use strategically-placed compression bands that align the kinetic chain of your muscles, which helps reduce pain and fatigue from exercise.
In terms of improving posture and minimizing shoulder and back pain, the results Mary saw were impressive.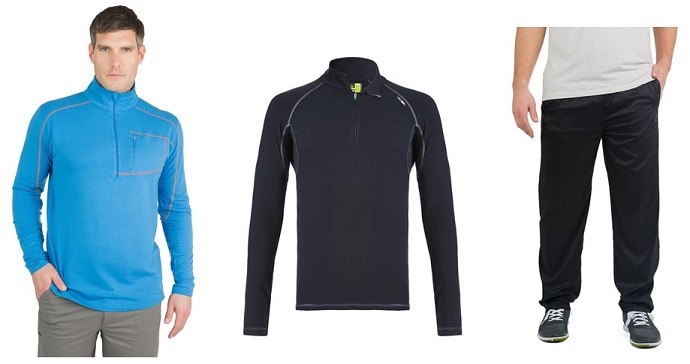 As someone whose natural body heat has led to me being called a "human furnace" on multiple occasions, I've never been a big fan of fleece.
But trying out the Greenwich Pant, Base Layer Zip and Tahoe Fleece Pullover from Tasc Performance quickly converted me into a believer. The ultra-soft comfort of the bamboo fabric was as surprising as the athletic fit was flattering.
Best of all, the light weight fabric breathes beautifully, wicking away moisture to ensure I stay dry even on long hikes.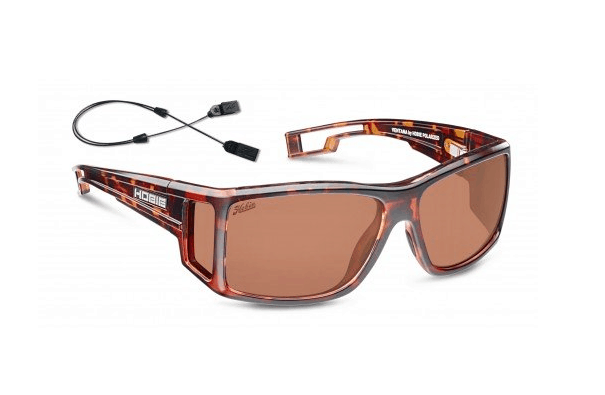 When it comes to shades, I've been a Hobie Polarized loyalist for years.
Their new Ventana Sunglasses look like a funkier version of the Bayside Heritage Sunglasses I got back in 2014. The stylish Satin Tortoise frames are paired with prescription-ready polarized lenses that filter out 100% of the sun's glare.
They're tailor-made for people like us, who spend long days out on the water, and come with a micro-fiber cleaning case and lifetime guarantee.
Remember the old ads about the deodorant "strong enough for a man, but made for a woman"? I've got a bit of gender envy for these Mist RB9X women's running shoes from Icebug. The royal purple and lime green colors look like something Prince would've worn on an afternoon power walk. The form-fitting airy mesh upper keeps the feet cool in summer heat, and also ensures they weigh the same whether wet or dry. the RB9X sole provides superb stability and traction on wet surfaces, yet it's durable enough for city wear.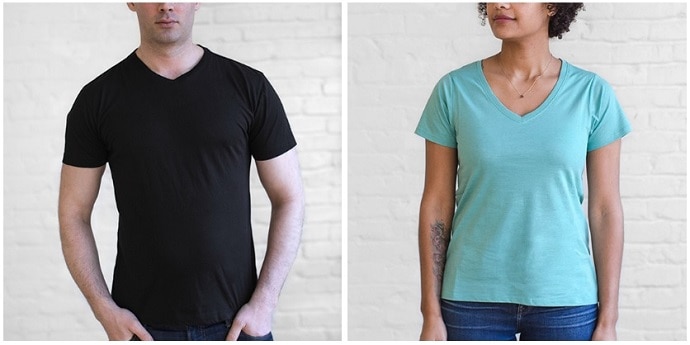 I love it when we discover a new product that solves problems with science I do not understand. That's the case with Ably Apparel, which has nearly tripled its Kickstarter goal with 46 days to go.
Their revolutionary t-shirts use an eco-friendly technology called Filium, which makes natural fabrics repel liquids, stains, and odors.
This makes their shirts water-resistant and odor-resistant: Your sweat simply evaporates! For active travelers trying to pack light, it's a simple shirt you can wear over and over again.
Travel Fashion for the Luxury Jetsetter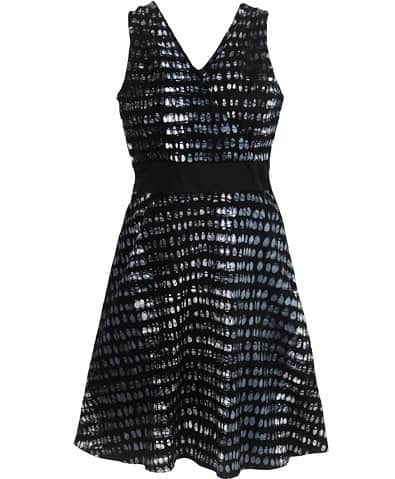 Mary is always on the hunt for cute dresses that travel well, which is one of many reasons we love the clothes from Global Mamas.
Based in Ghana, the Fair Trade co-op makes 100% cotton, hand-batiked, A-line dresses using traditional techniques passed down from generation to generation.
The black sleeveless Emi Dress pictured above is our favorite: The empire waist has a fitted bodice with a crossover front, natural fit skirt, and gathers at the shoulder, making for a flirty, flattering look that's equally suited to fancy events or professional networking.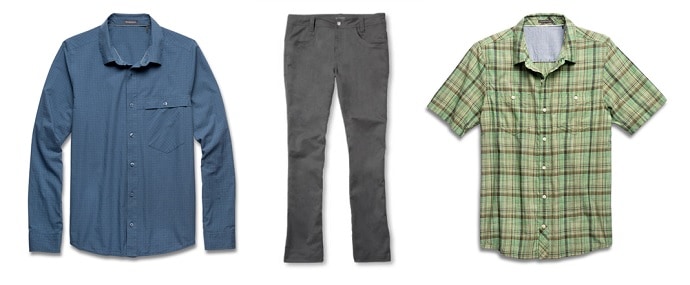 In the last 18 months I've gone from never having attended a conference to being a speaker at seven of them. So I'm always looking for relaxed professional men's clothes that travel well.
The Rover Pant from Toad & Co. feels just as cozy as your favorite cotton khakis, but the lightweight chinos are durable, quick-drying and wrinkle-free.
You can dress them up by pairing them with the Yonder or Airbrush Long-Sleeve shirts, or keep it casual with a short sleeve such as the Huckleberry or Smythy.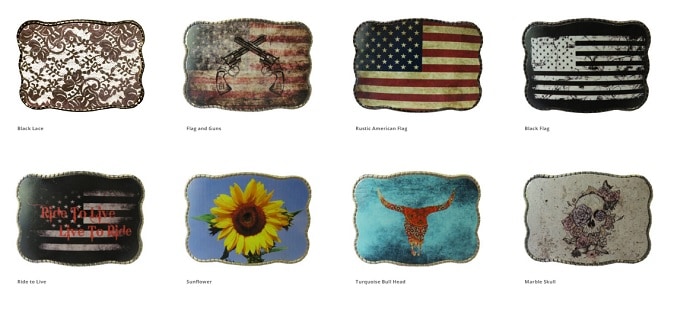 Growing up with a grandfather raised in early 20th century New Mexico, cowboy boots and slacks were typical Sunday dress.
The new Western-style Wallet Buckle offers a creative blend of fashion and function, with men's and women's designs ranging from Rustic American Flag, Black Lace and Sunflowers to Turquoise Bull Skulls.
What makes them awesome is the hidden chamber inside that holds your credit cards, cash and/or ID. It's an innovative way to protect your valuable when you travel!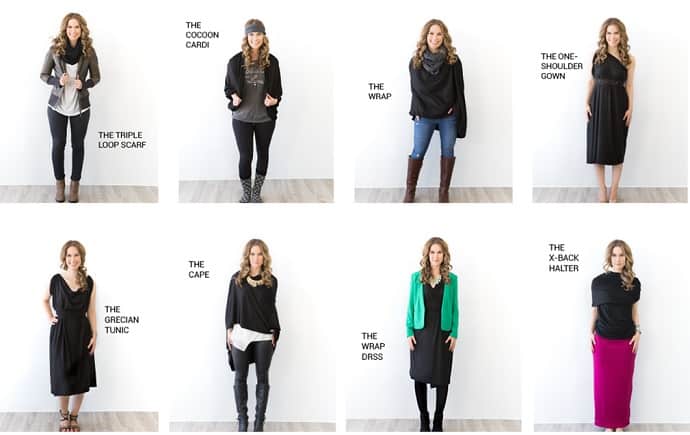 One of the most important elements of travel fashion is finding items that serve multiple purposes and work in myriad situations. The versatile Chrysalis Cardi from Encircled is a perfect example.
Made from sustainable fabrics and available in nine colors, this chameleon-like cardigan can be worn eight different ways, from cape or triple-loop scarf to wrap dress or Grecian tunic.
Pair it with their inventive, reversible Flipside Leggings, and you have an endless variety of outfits from two light, easily packable pieces!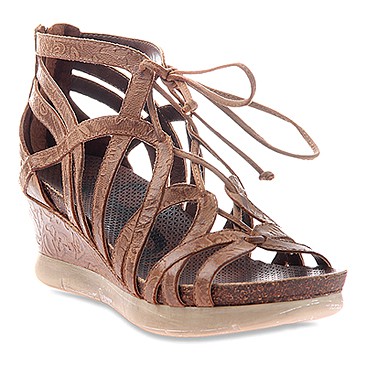 Spike Lee once asked Michael Jordan, "Is it the shoes?"
In the case of these boho chic Nomadic Wedges from OTBT Shoes, it most definitely is.
Available in five colors (including Hickory, pictured above), these Gladiator-inspired shoes are sexy enough for the streets of Santorini, but fierce enough to wear in a battle with Russell Crowe.
Strutting the fine line between comfortable and kick-ass, these are Mary's favorite shoes of 2016.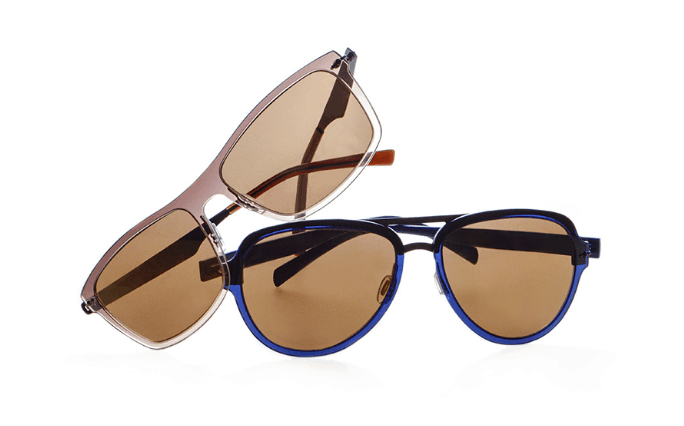 Remember in the intro, when I talked about how technology constantly changes our approach to travel fashion? That's certainly the case with Aspire Eyewear. 
These futuristic prescription glasses are made from something called SDN-4. I'm not sure what it is, but the result is an incredibly thin, lightweight and hypoallergenic frame that feels like you're not wearing any glasses at all.
They've got dozens of fashion- forward styles to choose from, but the Diplomatic Olive Tortoise Fade was the one we both loved.
Travel Fashion for the Arctic Traveler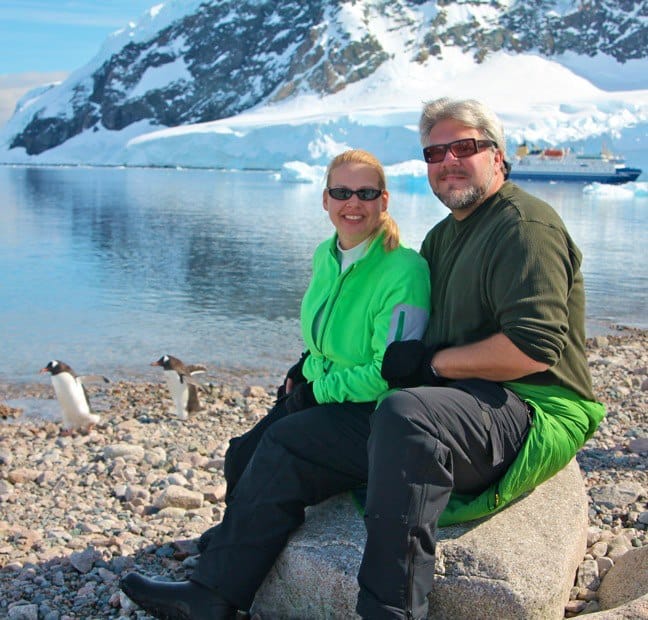 Back in 2012, before our blog even reached its second anniversary, we somehow managed to land Eddie Bauer as clothing sponsor for our trip to Chilean Patagonia and Antarctica.
We still wear their First Ascent line– Nail Drive Soft Shell Pants, Sandstone Shield Hooded Jacket, Peak XV Down Jacket, etc.– every winter, and on every trip we take to cold climates.
Co-created by some of the world's best mountain and ski guides, the entire line is lightweight, fashionably cool, and more comfy than a cup of hot cocoa by a roaring ski lodge fireplace.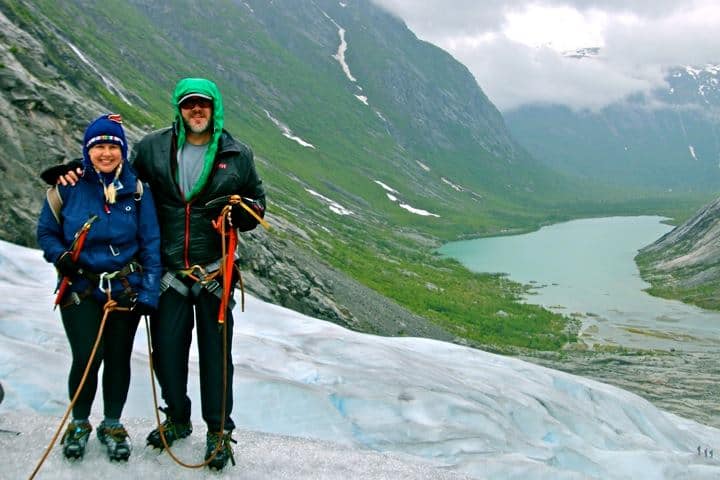 After seeing how the Helly Hansen line performed when we climbed Norway's Jostedalsbreen glacier during foul weather, I wear their waterproof clothes anytime the weather outside gets frightful.
Their quick-drying Active Training Pants are comfortable enough for everyday wear, and I pair them with a base thermal for warmth in frigid conditions.
The merino wool of their HH Warm Run long sleeve training top wicks away moisture and heat, and features 360-degree reflectivity for nighttime visibility.
When it's cold, I wear a PrimaLoft-insulated H2 Flow Jacket on top, keeping me snug as a bug in a rug.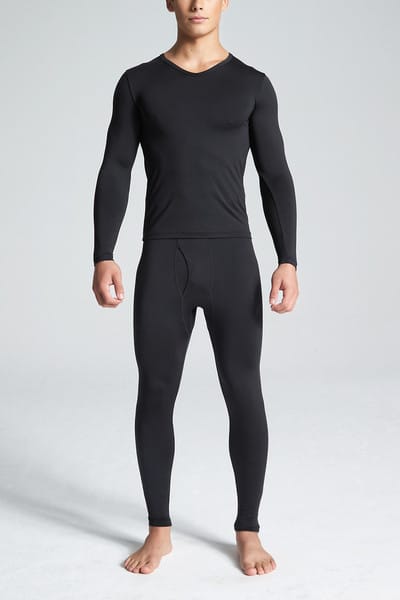 Speaking of base layers, the Thermaluxe Thermal Set from Tani is the perfect foundation upon which to layer your cold climate wardrobe.
Made from a biodegradable nylon fabric called Nilit, these ultra-thin, high performance underthings insulate your body by capturing and conserving your natural body heat.
Yet their fine weave naturally wicks moisture away from your body, with anti-bacterial and deodorant properties that ensure your skin stays dry and fresh throughout your adventures.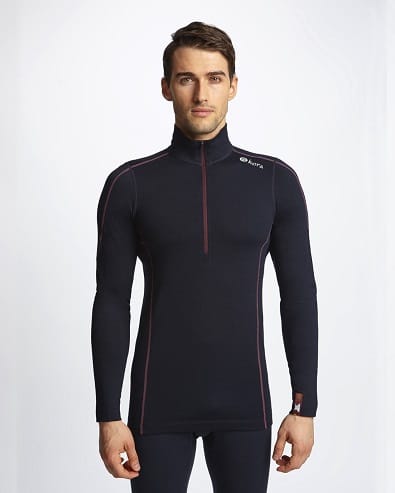 Merino wool has been hot for outdoor retailers for several years now. Kora founder Michael Kleinwort came up with the idea of using yak wool to make clothes during a winter trek in the remote Eastern Himalayas. Kora's Shola 230 Zip and Leggings prove their "Hima-Layer" fabric to be luxuriously soft and warm, even at sub-freezing temperatures. But they also breathe well and resist odor, making them easy to wash and wear for numerous days on end.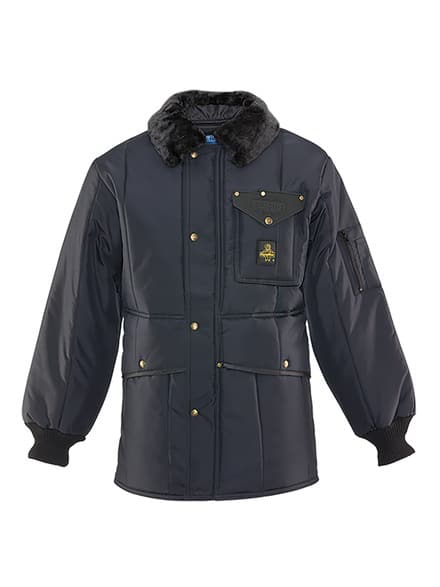 With a comfort rating of -50º Fahrenheit, the Iron-Tuff Jackcoat from RefrigiWear is a cold weather beast fit for the hardiest Arctic (or Antarctic) explorers.
It's made for people who work outside in extreme temperatures, with 11.25 oz. RefrigiFill insulation, 300 Denier polyester outershell, oversized insulated pockets, reinforced brass rivets at stress points, and a water-repellent, windtight finish.
And with an MSRP of just $125, it's an affordable alternative for adventurers on a budget.  –Bret Love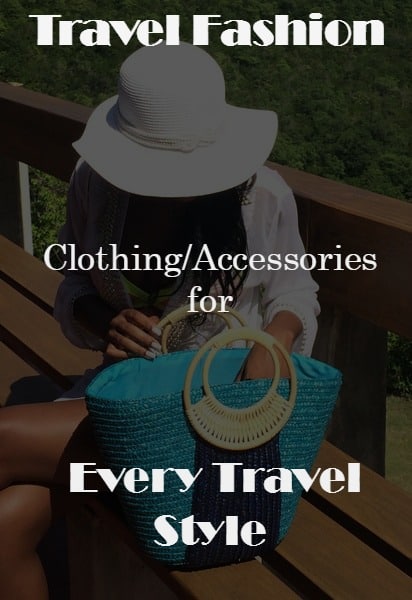 If you enjoyed our Travel Fashion Guide, you might also like: 
Spring 2016 Outdoor Gear Review
Our Travel Packing Checklist: GGT's Gift Guide for Travelers