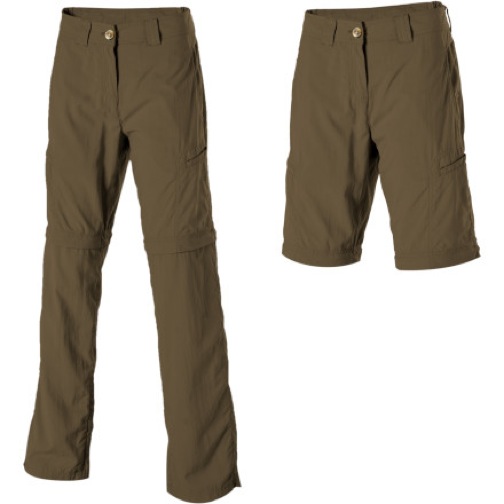 Travel Light With Convertible Pants
I hate pants! Working from home, I refuse to wear them, and since we live in the South I can usually wear shorts outdoors until mid-November fairly comfortably. What can I say, my legs are like wild horses that hate being restrained!
But for our forthcoming trip to the Galapagos Islands, it was recommended that we travel light but bring pants for both hiking treks and cool nights. Fortunately, our friends at ExOfficio  sent over some of their Bugsaway Ziwa Convertible Pants for us to try out, and after a test run I've got to say that they are the single most comfortable pair of pants I've ever owned.
For starters, the extremely lightweight "nycott" nylon fabric is remarkably comfortable, with a relaxed fit, partial elastic waistband and a peach finish that makes them extra soft. The fabric moisture-wicking, water/stain resistant and comes with an Odorless Insect Shield that repels biting bugs for approximately 70 washings.
The pants take up virtually no space in our wheel-aboard luggage, are wrinkle-resistant, and can be easily washed in a sink and dried out in a matter of hours, making them perfect for hiking, camping and other outdoor adventures. Best of all, the legs zip off easily to convert to shorts, which will quite likely be my preferred way of wearing them.The Bugsaway Ziwas may not convert me to wearing pants year-round anytime soon, but for our once-in-a-lifetime Galapagos adventure, they're the only pants I'll need.  –Bret Love
Green Global Travel receives no pay for product reviews, and won't recommend any product we don't use ourselves. But we do have an Amazon Affiliate Program, and if you buy through the link below, it will help support our site at no additional cost to you. Thanks for your support!
If you like Travel Light With Convertible Pants, then you may also like:
TRAVEL GEAR: Travel Light Clothing Suggestions
Sustainable Watches – WeWOOD Wood Watches
The Best Coffee in the World: A Gourmet's Guide
Easy Ecotourism Tips: 10 Simple Steps To More Sustainable Travel