Our Travel Packing Checklist
GGT's Gift Guide for Travelers
After three years of frequent travel, we've got packing down to a science. We NEVER check luggage, so everything we travel with has to fit into two carry-ons, a laptop bag and a backpack. From rolling up clothes tightly to packing clothes that can be easily hand-washed, we've learned a few tricks along the way.
What follows is our travel packing checklist of everything we take with us, from luggage and clothing to photo and video gear. In our opinion, these are some of the Best Gifts for Travelers that money can buy.
We were not compensated by any of the companies mentioned, but if you make a purchase through our Amazon affiliate link, we do get a small % at no additional cost to you:
PHOTO/VIDEO GEAR
Canon Rebel T5i Digital SLR Camera– I've been a Canon loyalist ever since I started doing concert photography back in the mid-'90s. We're hoping to upgrade to the 70D soon.
GoPro Hero3– Whether we're sliding down mountains in Antarctica, speeding down tributaries in the Peruvian Amazon, or diving with sharks in Tahiti, this awesome video camera captures all the action.
Tamron AF 28-75mm f/2.8 Lens– Weighing 18 ounces, with a max f/2.8 aperture and minimum focus distance of 13 inches, this is our most versatile lens, great for everything from macro to landscapes.
Tamron AF 90mm f/2.8 Macro Lens– My oldest piece of gear, I've used this macro lens since my first press trip in 1997. It captures incredible color and detail, great for portraits, flowers, frogs, and bugs.
Sigma 150-500mm f/5-6.3 Telephoto Zoom Lens– If you've seen our close-ups of wildlife in the Galapagos Islands, Patagonia, or Antarctica, you've seen this surprisingly affordable zoom in action.
Neewer NW680/TT680 Speedlite Flash E TTL Camera Flash– Our newest piece of gear, we bought this one specifically to deal with low light situations in the Costa Rican jungle.
Manfrotto 293 3 Section Carbon Fiber Tripod Kit– Small enough to fit in a carry-on, light enough to carry on all-day hikes, yet made with durable carbon fiber, what's not to love about this travel tripod?
M-ROCK Double Access 6030 Arches Laptop & DSLR Camera Sling Backpack– Padded dividers, water resistance, and various side- and front-access points made this our camera bag of choice.
Aquapac Waterproof SLR Camera Case 458– We still need to do more experimenting with this one, but it allows you to use your DSLR underwater at depths up to 5 meters. Great for snorkeling!
GoPro Underwater Housing– We use our GoPro every time we go snorkeling or diving. This housing allows you to take it to depths of 197 feet, but you may want to get a red filter as well if you're diving deep.
Quik Pod DSLR Monopod– Extending from 18" to 53", this monopod is made to hold DSLRs, but we use it as our GoPro pole, allowing us to get great underwater shots without getting too close to wildlife.
Canon Battery Charger– We shoot hundreds of photos every day, so we always take 2 batteries on our trips, charging one while we use the other.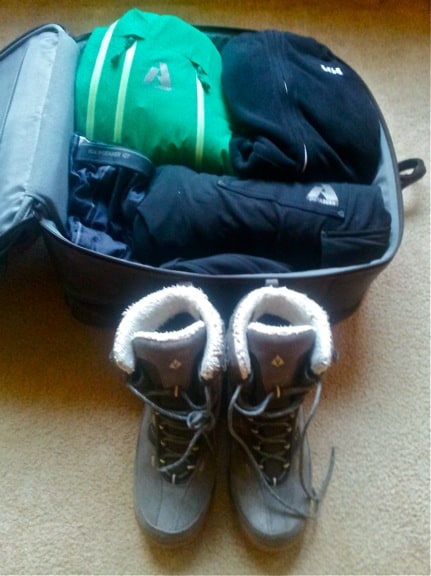 COLD WEATHER GEAR
Helly Hansen Women's Stella Jacket– Made for skiers, this Scandinavian jacket is breathable, waterproof, and PrimaLoft-insulated, keeping you warm or cool depending on weather conditions and activity level.
Eddie Bauer BC MicroTherm Down Jacket– Winner of Backpacker Magazine's 2012 Editor's Choice Snow Award, this 800-fill down parka is weatherproof yet breathable. The only jacket I needed in Antarctica.
Vasque Ultra-Dry Women's Boots– Mary loves Vasque's line of insulated boots, particularly the PowWow model, which offer a combination of functional (warm, waterproof) and fashionable.
Kamik Men's Boots– I love this Canadian line, especially the Snowcliff, which is waterproof, well insulated and moisture wicking, with outsoles make to grip snow and ice.
Eddie Bauer Igniter Pants– We wore these every single day in Antarctica. With their water-repellant, windproof shell, PrimaLoft insulation, and reinforced knees and seat, we stayed dry as a bone while playing in the snow.
Icebreaker Technical Base Layers– This company uses New Zealand-grown merino wool, which offers softness, breathability and warmth. After layering them, we occasionally went without jackets in Patagonia.
YakTrax Pro Traction Cleats– I discovered YakTrax during a Winter tour of Yellowstone, right after falling and busting my butt on the ice. Now we take them anywhere we're likely to encounter snow and ice.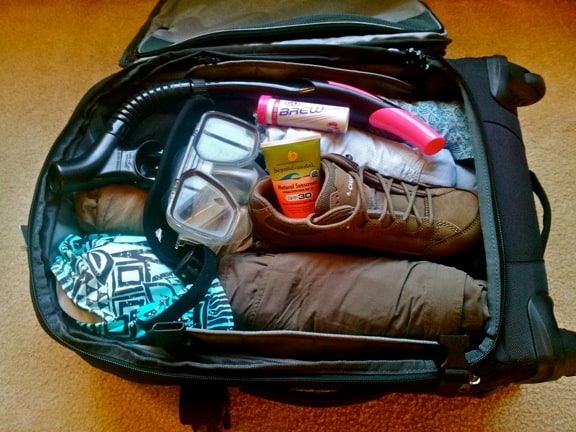 WARM WEATHER GEAR
ExOfficio Give-N-Go Underwear
– We've been wearing ExOfficio men's boxer briefs and women's bikinis exclusively on our travels for 2 years now. They're breathable, moisture-wicking, and wash/dry quickly.
ExOfficio Bugs Away Ziwa Convertible Pants
– With built-in bug repellant, easy conversion from pants to 10″ shorts, and quick-drying nylon fabric, these are the only pants/shorts we ever take on our travels.
ExOfficio Bugs Away Long Sleeve Shirt– I realize it may seem like we're sponsored by ExOfficio, but the company's never given us a penny. We just love their lightweight, UV-protected, easy-to-wash clothes!
Champion Men's Double Dry Muscle Tee– Being built like a linebacker, I sweat like crazy in tropical climates. The moisture-wicking properties of these shirts keeps me cool, and they wash/dry in a flash.
Keen Br
yce Waterproof Hiking Shoes/Boots– This lightweight, waterproof, mid-length boot is my favorite for hiking, with a breathable liner to keep moisture out and a tread outsole to help you stay steady on rough terrain.
Lowa Renegade Waterproof Hiking Boots/Shoes
– Mary prefers these sturdy, all-terrain boots, whose moisture-wicking footbed and shock-absorbent Vibram sole make them perfect for day hikes.
Sunsets Swimwear
– Treading the fine line dividing sweet and sexy, Sunset's mix-and-match women's swimwear separates offers serious support for ladies with curves, with just enough coverage to fall short of "scandalous."
Frogg Toggs/Dri Ducks Packable Adult Poncho
– Ultralight, waterproof and surprisingly breathable, these compact, packable ponchos will be an absolute must for our #EcoCostaRica jungle explorations.
Oceanic Ultra Dry Snorkel- When I bought these during our first year together, Mary questioned whether we'd use them enough. Five years later, we use their patented dry snorkel technology nearly every time we travel.
Deep See Clarity Silicone Mask– With a double-sealed silicone skirt, sturdy but lightweight frame, and optional corrective lenses (which I need), these masks have proven one of our smartest travel gear purchases.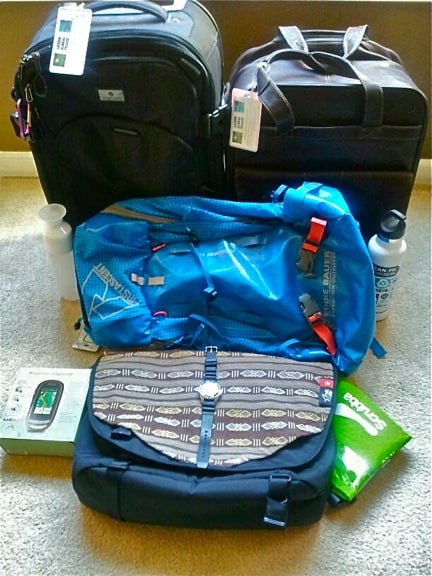 LUGGAGE/GENERAL GEAR
Eagle Creek Adventure 4-Wheeled Upright 22– This rugged 4-wheeled carry-on features an expandable main compartment, Pack-It system integration, and add-a-bag versatility options.
Jill-E Jack Large Rolling Leather Camera Bag– My Indiana Jones-style carry-on offers protective padded walls, removable Velcro dividers, and a protective sleeve pocket large enough to hold a 17" laptop.
Eddie Bauer Alchemist 40 Backpack– This tough, versatile, water-resistant pack is expandable, making it equally appropriate for long hauls or short day hikes.
Ethnotek Laptop Bag– My favorite laptop bag I've ever owned: Stylish, comfortable and extremely durable, but also big enough to hold both of our laptops and cords, and still have room left over for snacks.
Momentum M1 Watch– I go through watches like a backpacker goes through hostels. With a stainless steel case waterproof to 660 feet and virtually unbreakable rubber straps, this rugged dive watch is definitely built to last.
Magellan eXplorist 710 GPS– A great gift for hiking and driving adventurers, rugged and waterproof with complete road networks for the US, Canada, Western Europe and Australia, and major roads for the rest of the world.
Beyond Coastal Active Sunscreen (SPF 34)– Ever since we learned how sunscreen pollutes the water, we've been using this biodegradable stuff, which is free of Oxybenzone, Paraben and oil, but also water/sweat resistant.
John Varvatos Sunglasses– I get more compliments on my sunglasses than any other product I own. Having eyes that are extremely sensitive to light (both sun and florescent), I'm rarely seen without them!
Dynex Universal Adapter and Converter– A must for international travelers, this adapter plug converts power outlets in more than 150 countries around the world. The built-in surge protector Keeps your devices and appliances safe from foreign electricity spikes.
Nuun Active Hydration Electrolyte-Enhanced Drink Tabs– Last year I got heat stroke in the Amazon. Now we put one of these in our water during outdoor activities to replenish vital nutrients. –Bret Love
If you enjoyed Our Travel Packing Checklist, you might also like:
Three Terrific Tents for Autumn

Ethnotek: Socially Responsible Backpacks & Messenger Bags
WeWOOD Wooden Watches
Waliwa Amazonian Skin Care: Eco Friendly Beauty Products