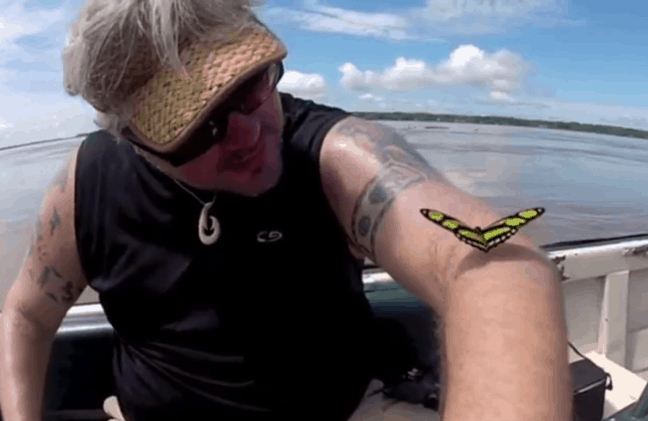 We've been trying to bring you this video of Peruvian Amazon river cruise highlights from our trip with International Expeditions for months now, but technical difficulties with our video editing software kept slowing us down. So we're extremely excited to share it, as we think it gives you a great feeling for just how amazing our experience was. Every morning we'd load off the Aquamarina into the skiffs you'll see here, venturing off into the Amazon River's various tributaries. In the video, you'll get close-up views of some of our favorite encounters, from a colorful species I dubbed the Breterfly to a flock of Greater Egrets, from a Pink-Toed Tarantula to a multi-hued Caiman Lizard, from a pod of Dolphins to playful Squirrel Monkeys. You'll even got shots from one of my all-time favorite travel experiences: Getting to do a cannonball into the Amazon River! The music you'll hear in the background was recorded live in Peru, performed by the Aquamarina Band. We hope you'll enjoy watching it as much as we did making it. –by Bret Love; video by Bret Love & Mary Gabbett
Check out International Expeditions for planning your own Amazon River Cruise. Mention Green Global Travel and receive $250 off per person, combinable with any other published IE discount. Right now that includes free international and in-country airfare from Miami.
If you enjoyed Amazon River Cruise Highlights, you might also like:
VIDEO: Amazon River Boat Party With Peruvian Music
Photo Gallery: Piranha, Iguana & Hotter Than A Sauna
Photo Gallery: Parakeets, Punk-Rock Birds & Pimp Monkeys
Photo Gallery: 3-Toed Sloth, Toucan Sam and the Elusive Pink Amazon River Dolphin
Photo Gallery: Up Close & Personal with one of the Amazon's Most Endangered Species
Photo Gallery: Visiting a Shaman, Peruvian beauty & the cutest kids you've ever seen!