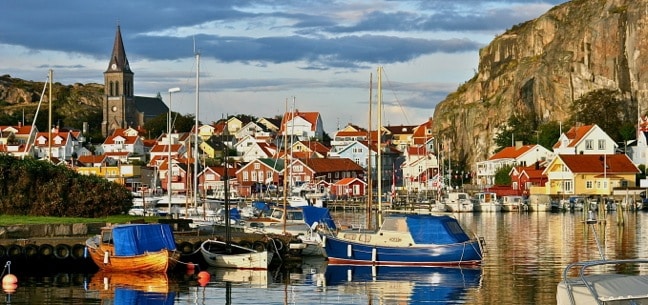 Our Next Adventure:
West Sweden in a Volvo!
In the 5+ years that Mary and I have been a couple, we've been fortunate to go on many life-changing adventures.
We've visited hundreds of cities, nearly 30 countries and five continents, all while balancing our myriad freelance jobs and parenthood. And yet somehow we've never visited Europe together, despite the fact that it's one of the world's "greenest" and most accessible regions.
Never, that is, until now…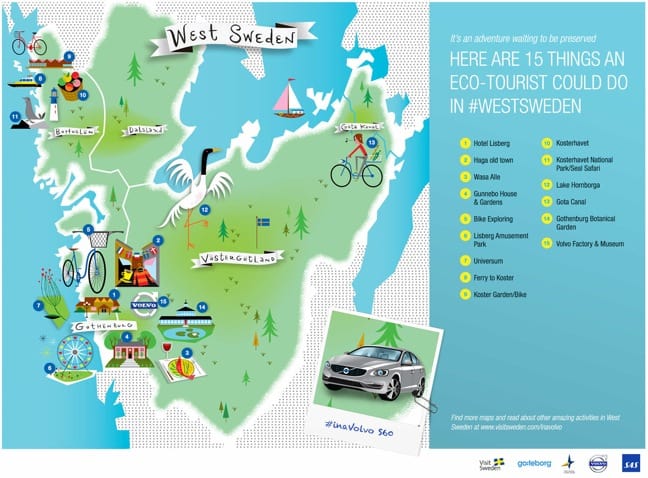 WHY WEST SWEDEN?
Until recently, almost everything I knew about modern-day Sweden could be summed up in 5 words: ABBA, IKEA and The Swedish Chef (Bork Bork Bork!). But I've always been fascinated by Scandinavian mythology and the history of the Viking Age, and was aware that Sweden has been a leading light in Europe's impressive sustainability movement.
So when Visit Sweden contacted us last month and asked us to explore West Sweden as part of a new promotional campaign they're working on, we were understandably excited for a number of reasons.
For one, Sweden has the highest percentage of renewable energy in the EU (over 47%), and the government is investing billions of dollars towards achieving 16 environmental quality objectives by 2020. For another, Sweden (like its Scandinavian brethren Denmark, Finland and Norway) is ranked among the World's Happiest Countries. Lastly, we found out we were chosen as the official Eco-Tourist bloggers for their #WestSweden campaign!
WHAT'S VOLVO GOT TO DO WITH IT?
Volvo was originally founded in Gothenburg in 1927, and the cars are still manufactured there today. As part of the company's Overseas Delivery Program, U.S.-based purchasers will receive a complimentary trip to West Sweden, including flights and one night at a hotel in Gothenburg. They'll visit the Volvo Factory there, pick out their new Volvo, take it out for a test drive, and then have it shipped to their nearest authorized dealership in the U.S.
To launch the promotion, Volvo and Visit Sweden are sending four blogging pairs– Adventure Travelers, Foodies, Design Experts, and us– to explore different aspects of West Sweden's tourism offerings over the next few months.
The one thing all four of these trips will have in common? We'll all be starting off in Gothenburg, where we'll visit the Volvo factory, and pick out a brand new car (ours will be the fuel-efficient Volvo s60) to use for the week! Then we'll drive around the region on our own, sharing stories from our ecotourism adventures as we go.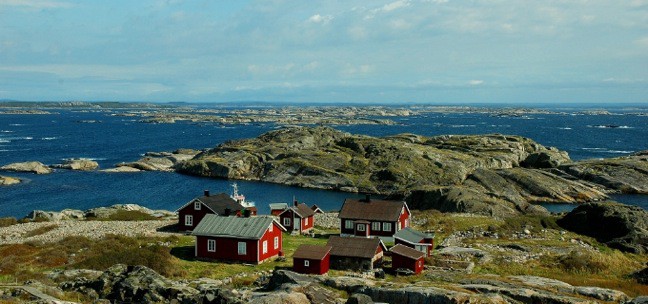 WEST SWEDEN'S ECOTOURISM OFFERINGS
We'll begin our journey in Gothenburg, which was founded in 1621.
We'll visit the historic Gunnebo House & Gardens (which was built in 1778) and the Gothenburg Botanical Garden, which features 16,000 plant species (including 1600 orchids). We'll explore Liseberg Amusement Park, which gets all of its energy from renewable resources, including its own wind power station. And of course we'll dine at the city's finest Green restaurants, such as the critically acclaimed Wasa Allé.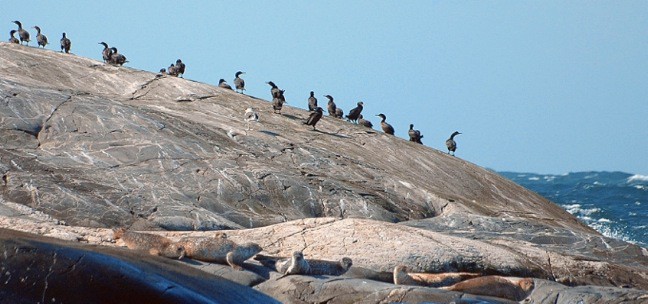 From Gothenburg we'll drive to Strömstad and take a ferry to the Koster Islands, an archipelago 10km off Sweden's west coast. There, we'll ride bikes around the islands, take a boat to remote fishing villages, and take a wildlife-watching safari in Kosterhavet National Park, a marine sanctuary filled with seal colonies and myriad species of sea birds.
Finally, we'll head the area around the Göta Canal, which was constructed in the early 19th century and forms the backbone of a waterway stretching 382 miles, from Gothenberg all the way to the Baltic Sea on Sweden's East Coast. Here, we'll hike around Lake Homborga (where Dancing Cranes often nest in late spring), visit a charming treehotel, and enjoy a picnic and biking along the canal.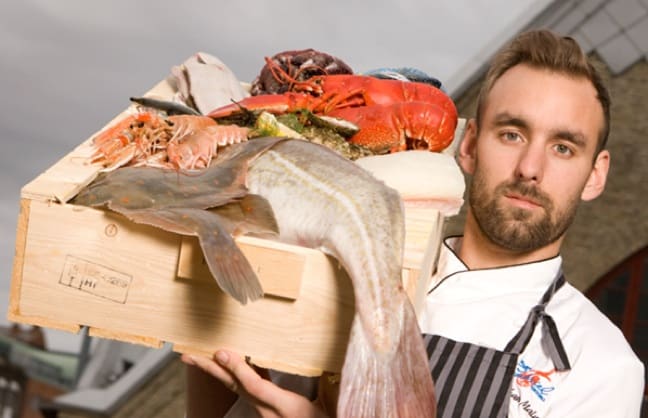 WIN A TRIP TO SWEDEN!
You can join us on our journey by following us on Facebook and Twitter, where we'll be using the #WestSweden and #InAVolvo hashtags. If you like what you see, you can also head over to the Visit Sweden website to win two round-trip tickets from SAS Airlines to explore West Sweden on your own. If that doesn't work, I guess you could always just buy a Volvo. 😉 –Bret Love; photos provided courtesy of Visit Sweden unless otherwise noted
This post was brought to you in part by Visit Sweden and Volvo.
If you enjoyed this post on Our "West Sweden in a Volvo" Adventure, you might also like:
BOSNIA & HERZEGOVINA- Top 5 Eco Attractions
CROATIA: Plitvice Lakes National Park
ITALY: Singing for the Pope John Paul II in the Vatican
MALTA: Mnarja, The National Festival
SLOVENIA: Discovering Lake Bled