Keeping secrets is a funny thing: I'm very good at it, but I find it excruciating when there's exciting news to share.
You can probably imagine the pain (oh, the PAIN!!!) of sitting on this announcement for the past 6 weeks or so, waiting for all the I's to be dotted and T's to be crossed so we could finalize the details of our agreement. I didn't want to talk about it for fear of jinxing it, because this is by far our biggest business deal since Mary and I launched GGT four years ago.
So here it is:  Our company Green Travel Media LLC has been selected by eco-tour operators International Expeditions to be the editorial voice behind their 2015 rebranding efforts.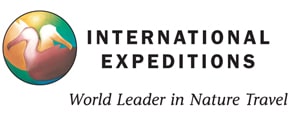 This is a huge, multi-layered, year-long partnership involving over a dozen talented travel bloggers, 70+ travel stories (which will be used on their website and in their catalogue, newsletters, etc.), social media support, sponsorships and more. The partnership may eventually expand to include other elements, such as scouting and guiding tours.
It's an exciting opportunity for all parties involved, but especially for us. International Expeditions was one of the founding members of The International Ecotourism Society, and has essentially had the same mission statement since they were founded in 1980: "The purpose of International Expeditions is to stimulate an interest in, develop an understanding of, and create an appreciation for the great natural and cultural wonders of our Earth." The company was founded on the belief that those who feel a deep connection to an environment and its people are more compelled to preserve those wonders.
We were initially approached by the company back in 2011, when we had less than 10,000 monthly page views, with an offer to take their river cruise in the Peruvian Amazon. We were blown away, not just by the destination's amazing natural and cultural attractions, but also by IE's clear commitment to the local communities.
We toured a school in Iquitos where they were educating kids about the principles of environmental conservation. We visited the village of Nueva York, where we saw IE's investment in water treatment, infrastructure and schools, and spent time getting to know the local Ribereños (River people). And we were honored with a magical blessing ceremony from Maestro Don Juan, a traditional Amazonian shaman in the village of San Jose.
This was one of the trips that helped launch GGT to its current success, and we've stayed in close contact with the IE team ever since, always looking for ways we could collaborate. We allowed them to use some of our Amazon video footage to pitch a reality TV show concept in 2013, and they came to us for some content marketing work earlier this year.
So we were delighted when they asked us to bid on the contract to oversee the content for their rebranding efforts. And we were honored that this influential company– which has been named among the Best Adventure Travel Companies on Earth by National Geographic ADVENTURE and one of the World's Best Tour Operators & Safari Outfitters by Travel + Leisure– has invested their trust in us to convey their brand message of responsible ecotourism.
"Sometimes even dedicated travelers don't understand the concept of nature travel and ecotourism," says IE's Media Relations Director, Emily Harley. "Although we're in remote and exotic destinations, an International Expeditions journey isn't an extreme adventure. As someone who wants to tell the long, rich story of International Expeditions, it was important to connect with people like Bret and Mary, who appreciate an in-depth experience in the wild… people who aren't afraid to trade-off white linens and TV for conversations with a local and sampling fruit purchased while passing a village. Green Travel Media is very exciting to me because it enables me to connect with journalists who see the world through the same eyes as IE, and helps us expose a 35-year-old brand to a fresh group of people interested in exploring and protecting the natural world."
It's equally exciting for us, because it allows us to tell great stories about many of the places we've visited in a way that will hopefully inspire others to travel there with a responsible, sustainably-managed tour company. It's also exciting because it will allow us to get paying freelance work for many of the bloggers whose work we respect the most. And, with any luck, it will hopefully lead to more opportunities like this in the future, giving environmentally conscious content creators a chance to earn a decent living without having to sell their souls.
Four years into building our dream business, Green Global Travel and Green Travel Media have a unique opportunity within both the ecotourism and travel blogging industries. We have a strong vision of a better way for professional travel bloggers and respected travel brands to do business together, and we're extremely excited about the promise that our partnership with IE holds. If you're not already a member of our Green Travel Media Facebook group, we'll hope you'll join for more details on opportunities to come!   –Bret Love; photos by Bret Love & Mary Gabbett
If you enjoyed our announcement post, you might also like: 
PERUVIAN AMAZON: Piranha, Iguana, & Hotter than a Sauna
PERUVIAN AMAZON:  Parakeets, Punk-Rock Birds & Pimp Monkeys
PERUVIAN AMAZON:  3-Toed Sloth, Toucan Sam and the Elusive Pink Amazon River Dolphin
PERUVIAN AMAZON:  Up Close & Personal with one of the Amazon's Most Endangered Species
PERUVIAN AMAZON: Shaman & Village Life
PERUVIAN AMAZON: Welcome to the Jungle
VIDEO: Amazon River Boat Party With Peruvian Music
VIDEO: Amazon River Cruise Highlights