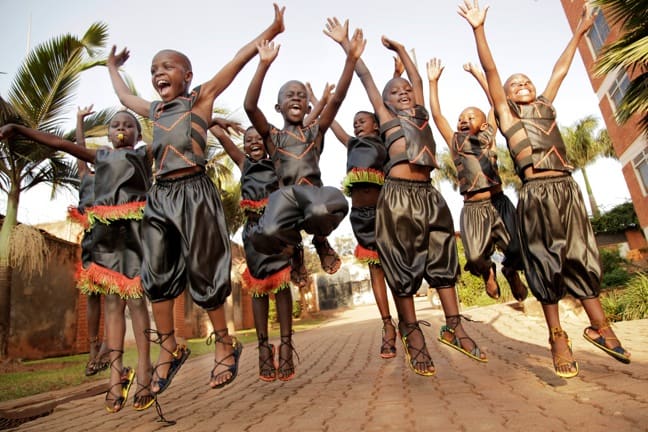 African Children's Choir
Brings Hope to the Children of Uganda
From Egypt and Libya to Somalia and the Democratic Republic of Congo, much of the African continent  has been in turmoil in recent years. But few nations have endured more tragedy than Uganda, which suffered at the tyrannical hands of Idi Amin back in the 1970s, and endured a civil war with Joseph Kony's Lord's Resistance Army from the mid-'80s until a few years ago. Thousands were murdered, millions were displaced, and many children were either orphaned or forced to become soldiers along the way.
It was into this war-torn Uganda that Canadian Ray Barnett first ventured on a humanitarian mission in 1984. When he stopped to give a young boy a ride from his destroyed village to a safer one, the lad began singing en route. His uplifting song gave Barnett the idea to start the African Childrens Choir, which (under the umbrella of its parent organization, the Music For Life Institute) gives impoverished and orphaned  African kids ages 7 to 12 a chance to get an education and, ultimately, give back to their community.
Nearly 30 years later, the choir has launched 40 North American tours, released several albums, performed everywhere from London's Royal Albert Hall to American Idol, and worked with icons ranging from Sir Paul McCartney and Mariah Carey to Josh Groban and Chris Daughtry. More importantly, it has helped thousands of kids from troubled countries like Uganda, Rwanda and Sudan to live healthy, happy, productive lives by housing and funding their education from elementary school through college.
One of those children, Dorothy Nabwami (who first toured with the choir in 1997), is now a 27-year-old who is chaperoning the ACC performers on their current tour. Nabwami was gracious enough to speak with us about her native Uganda, how the choir changed her life, and why she put her career in social work on hold to become a chaperone.