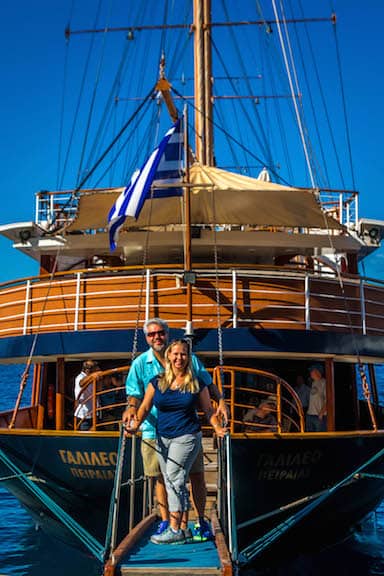 Happy Accidents on Aegina Island, Greece
Sometimes, the happy accidents of travel are far more rewarding than our planned intentions. We learned this lesson first-hand when we visited Aegina Island, located in the Saronic Gulf 17 miles (27 km) from Athens.
We weren't supposed to be on Aegina. The original plan was to board the Galileo, a 40-passenger Variety Cruises yacht, and set sail for the Cyclades, an archipelago of islands in the South Aegean Sea.
Unfortunately, the mid-October weather was not on our side. Though the sun was beaming down intensely and the skies were a deep shade of Mediterranean blue, the changing seasons brought winds and 6-foot swells that would've turned the classic schooner into a rollicking roller coaster ride.
Instead, the Captain chose to head south from the port of Piraeus, sweeping around the Saronic Islands. In retrospect, we were glad he did…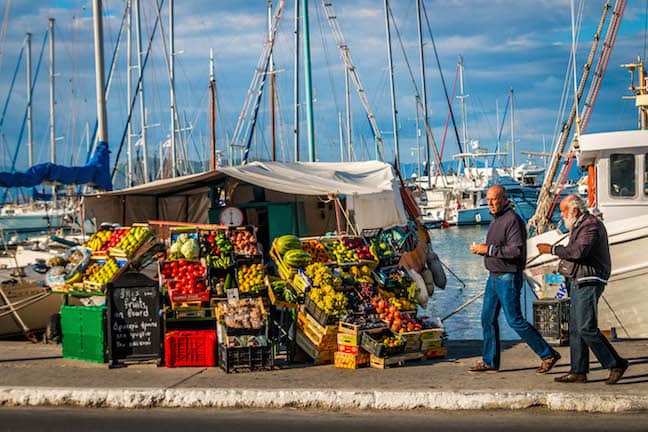 AEGINA BY NIGHT
Historically home to sailors and fishermen, Aegina is a popular weekend getaway for Athenians, and the harbor was lined with luxury yachts worth more than most of us will make in an entire lifetime.
When we docked just after sunset on Saturday, nearly every taverna along the bustling waterfront was packed with people coming down from the surrounding hills for an evening on the town.
But, aside from vendors eagerly offering samples of the fragrant, flavorful pistachios for which Aegina is best known, commerce and tourism do not seem to be a major priority here. Every conversation we heard as we walked along the busy thoroughfare was in Greek.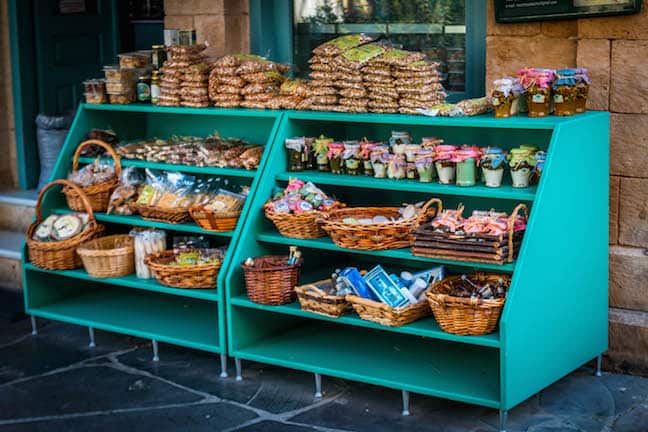 We strolled hand-in-hand, hopscotching between a steady stream of cars, mopeds and motorcycles that buzzed along the narrow main street.
Eventually we tired of dodging traffic, ducking down a side street to find ourselves in a labyrinthian maze of alleyways. We passed quiet courtyard restaurants, where mellow music set an intimate mood, and tiny unmarked shops where older men sat drinking beer and watching soccer on widescreen TVs.
Less interested in shopping than exploring on our first night in Greece, we kept moving until we reached a dead end (or an alley too dimly lit for our comfort level), then doubled back with only a vague idea of where we started. Finally my instincts led us down a quiet residential street.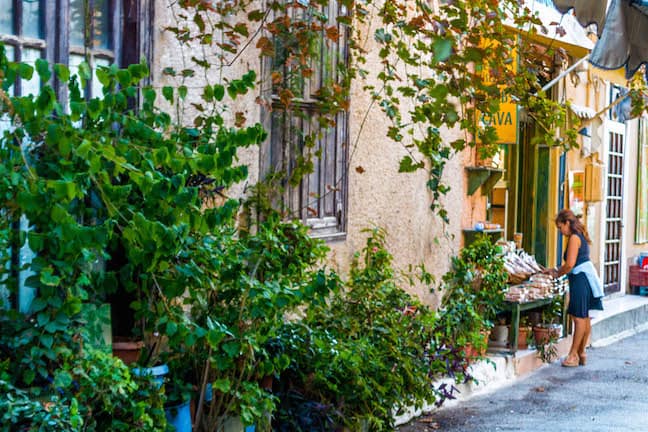 As we turned the corner, we could hear traditional Greek folk music, and saw the street filled with people. It was clearly some sort of party, with young children and their parents, elderly husbands and wives, and old friends clustered outside between a restaurant and a musical instrument shop, the only businesses on the block still open at this hour.
A collector of instruments from around the world, I was fascinated by the shop's array of gorgeous ouds, bouzoukis, violins and cellos. As we stopped for a moment, the musicians suddenly began playing again, quietly at first, then building in intensity as the audience started clapping along and singing in unison.
Accordion, fiddle, guitar, bouzouki, darbuka and riq all came together to build a lively tune, everyone smiling in recognition of the familiar melody. A beautiful brunette with a radiant smile began to dance, playfully grabbing the hand of an older gentleman and swaying back and forth around him. A young mother rocked in time with her baby in arms, smiling as several other children played a game of chase in and around the circle.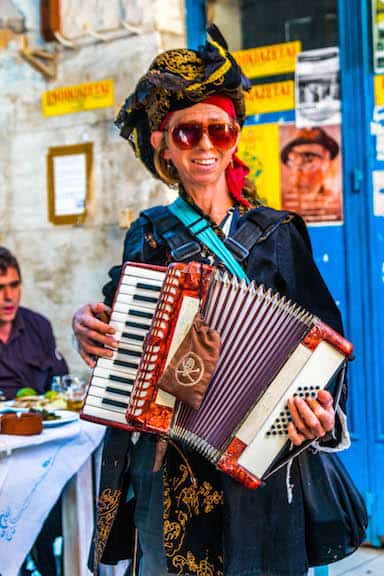 A calico kitten patrolled the perimeter, hyper-aware of every movement, enticing the excited children to play. For the first time, Mary and I just stopped, watched and listened to what we later learned was a simple neighborhood celebration of Autumn's arrival. Neither of us could stop smiling.
Travel is a funny thing. We spend so much time planning our trips in an effort to squeeze every possible adventure we can out of our limited time away from home. But so often it is these random, unplanned moments that wind up being our most memorable and impactful.
How we came upon this delightfully intimate celebration, I still have no idea. I couldn't have found my way back to it the next day, even if I wanted to. So, when these little moments happen, they have the feeling of magical serendipity, leaving us grateful and humbled by this life we are blessed to lead.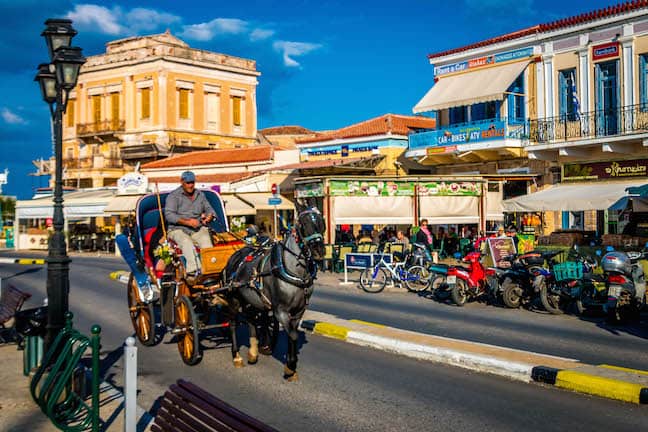 AEGINA BY DAY
We were equally grateful for the Variety Cruises staff, who were impressively efficient at organizing an Aegina excursion on the fly. The next morning, around 20 of us piled into a bus for the 13km ride east to the Temple of Aphaia. Along the way, our Cruise Director-turned-tour-guide Marita told us about the island's history.
Aegina was named after a beauteous nymph from Greek mythology, the daughter of the river god Asopos. According to legend, Zeus fell madly in love with her and followed her to the island, where he raped her and she gave birth to their son Aeacus. He grew up to become a King beloved for his justice and piety, called upon to settle disputes among both men and gods.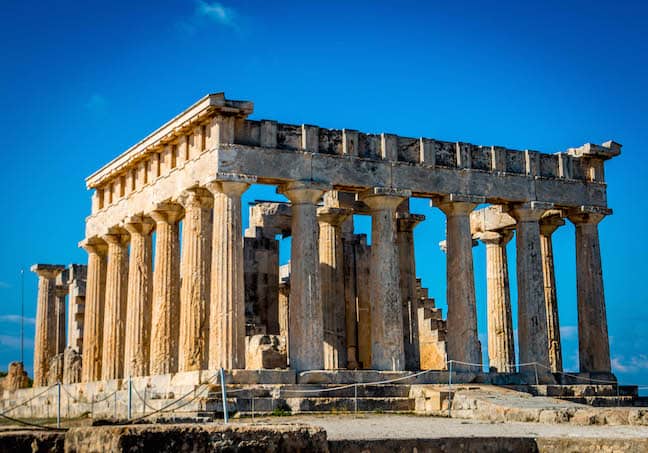 Originally thought to have been built to honor Athena, German archaeologists discovered in 1901 that the Temple of Aphaia was built around 500 BC in tribute to a local goddess associated with fertility and the agricultural cycle.
According to myth, Zeus' son Minos was obsessed with Aphaia, so she escaped into the sea and emerged in Aegina. There she became invisible, hiding in a cave on the pine-crested hill that is now home to the sanctuary built in her honor. Seen from above, the Temple of Aphaia, the Parthenon in Athens and the Temple of Poseidon at Sounion form a perfect triangle, collectively known as "the holy triangle of antiquity."
Considered one of the best-preserved temples from ancient Greece, the Doric Temple of Aphaia remains remarkable even in ruin. A small museum has reconstructions of the original pediments, depicting two mythical combats before Troy in the presence of Athena, both of which featured heroes from Aegina. The site also offers an exceptional panoramic view of Athens, just across the sea.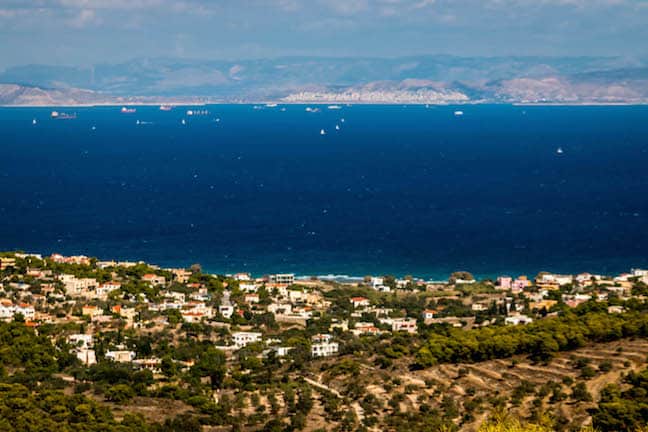 During ancient times, Aegina boasted sea power comparable with that of neighboring Athens– a heated rivalry that blossomed into war in the 5th century BC. The cities ultimately united to repel Persian King Xerxes I. But the war took its toll on Aegina's once-thriving sea trade, and the island fell into gradual decline.
Between 1826 and 1828, Aegina became the first capital of the new Greek state, and the new government of Greece was set up there. But you wouldn't know it today: Despite the hustle and bustle of the city on Saturday, the island generally feels like a sleepy fishing village, quaint and quiet once you move away from the main square.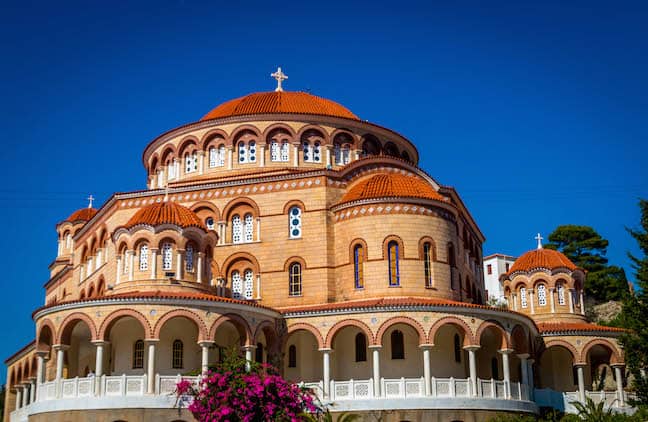 Its most impressive modern attraction is the stunning Greek Orthodox Church of Agios Nektarios, the interior of which was still under construction when we visited.
Officially recognized as a saint by the Ecumenical Patriarchate of Constantinople in 1961, Nectarios of Aegina (1846-1920) is one of the most widely known Greek Orthodox Saints, with a Feast Day observed November 9. He was known as a miracle worker who could heal every sort of disease, as well as a prolific writer, theologist, philosopher, moralist, educator, poet, ascetic and mystic.
The massive church– one of the largest in the Balkan– includes the mausoleum of Agios Nektarios, which draws thousands of pilgrims every month to pray to him and ask for his blessing. After visiting the church you can climb the stairs to the monastery of the Holy Trinity, which he founded in 1904 at the request of local nuns.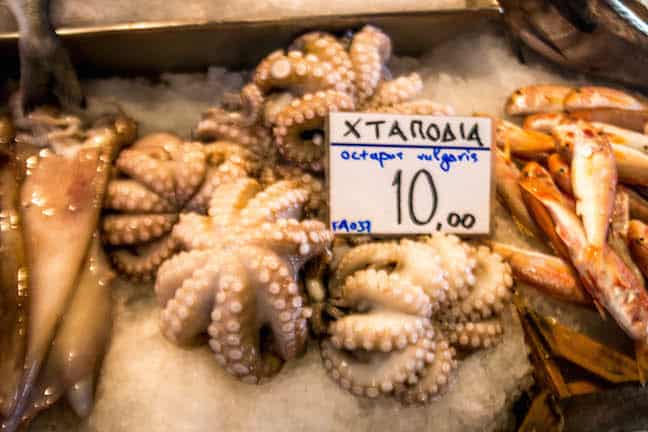 After leaving the church and making our way back to the city center, we decided to opt out of lunch on board the Galileo in favor of visiting a fish market we'd spotted (and, perhaps more importantly, smelled) during our walk in Aegina that morning.
There were a dozen or so stalls offering fresh catches of the day on ice. Right next door was To Steki, a restaurant where you could have said fresh catch cooked up in minutes flat. We went for the grilled octopus, which I'd been craving wildly since before our flight set down in Athens.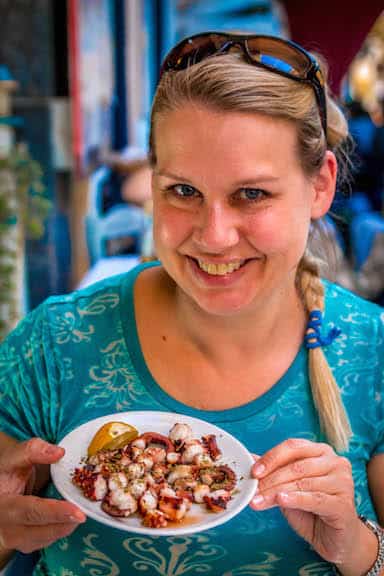 We sat there on that sunny Sunday, savoring our succulent octopus seasoned in lemon and herbs and watching the steady stream of locals that came to the lively courtyard for lunch. There were boisterous families, romantic couples, and the aforementioned accordion-playing pirate busking for bread and spare change.
We had planned to be in Mykonos, but it didn't matter. In that moment– dining on Greek food, drinking Greek wine, surrounded by Greek people spending a typical day at their favorite restaurant– it felt as if we were precisely where we were supposed to be. And all because of a happy accident… –by Bret Love; photos by Bret Love & Mary Gabbett
Our trip was sponsored by Variety Cruises and Adventure Life. But we will never compromise our obligation to our readers. Our opinions remain our own.
If you enjoyed our post on Aegina Island, you might also like:
GREECE: Ancestors & Expectations at the Acropolis of Athens
Our Next Adventure: Cruising the Greek Islands
ITALY: Singing for the Pope in the Vatican
BOSNIA & HERZEGOVINIA: Top 5 Eco Attractions
CROATIA: Plitvice Lakes National Park
SLOVENIA: Discovering Lake Bled