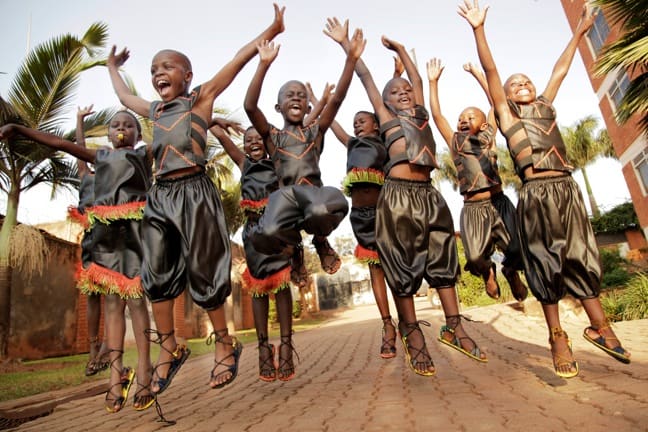 African Children's Choir
Brings Hope to the Children of Uganda
From Egypt and Libya to Somalia and the Democratic Republic of Congo, much of the African continent has been in turmoil in recent years. But few nations have endured more tragedy than Uganda, which suffered at the tyrannical hands of Idi Amin back in the 1970s, and endured a civil war with Joseph Kony's Lord's Resistance Army from the mid-'80s until a few years ago. Thousands were murdered, millions were displaced, and many children were either orphaned or forced to become soldiers along the way.
It was into this war-torn Uganda that Canadian Ray Barnett first ventured on a humanitarian mission in 1984. When he stopped to give a young boy a ride from his destroyed village to a safer one, the lad began singing en route. His uplifting song gave Barnett the idea to start the African Childrens Choir, which (under the umbrella of its parent organization, the Music For Life Institute) gives impoverished and orphaned African kids ages 7 to 12 a chance to get an education and, ultimately, give back to their community.
Nearly 30 years later, the choir has launched 40 North American tours, released several albums, performed everywhere from London's Royal Albert Hall to American Idol, and worked with icons ranging from Sir Paul McCartney and Mariah Carey to Josh Groban and Chris Daughtry. More importantly, it has helped thousands of kids from troubled countries like Uganda, Rwanda and Sudan to live healthy, happy, productive lives by housing and funding their education from elementary school through college.
One of those children, Dorothy Nabwami (who first toured with the choir in 1997), is now a 27-year-old who is chaperoning the ACC performers on their current tour. Nabwami was gracious enough to speak with us about her native Uganda, how the choir changed her life, and why she put her career in social work on hold to become a chaperone.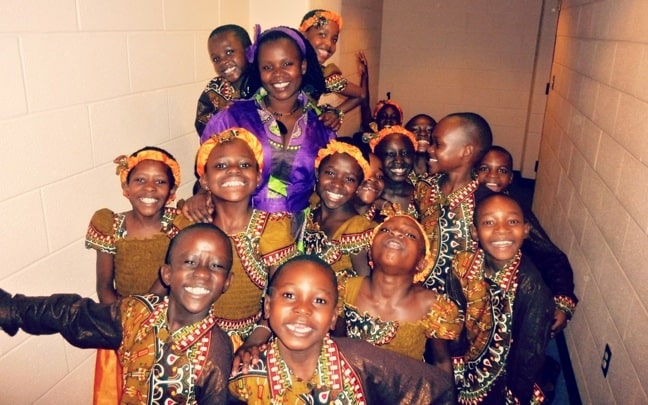 Can you start off by telling me a little about your childhood in Uganda?
I am the youngest of 10 children. We all grew up in a small two-room house in a district called Luwero, where the civil war of Idi Amin took place. My father left my mum when I was five years old, so my mum had to look for food to feed the whole family. I was not able to go to school sometimes, because my mum did not have the money to take me. When I was 9 years old, Music For Life came to our local church where I was attending. I was so lucky to be among those children who were selected to join the 12th African Children's Choir. There and then, I knew I would never go hungry again, and that my education was going to be looked after by the choir.
Joseph Kony has been in the news more than ever the past year or two thanks to the Stop Kony campaign's viral video. Can you talk about the impact the Lord's Resistance Army has had on Uganda?
The LRA's impact is more on the people from the northern part of Uganda, where the war is. Most of the children from that region have lost their parents. Some children have been forced to become child soldiers. The children I am traveling with are all from the central part of Uganda, so they have not been affected by that war themselves. But, in previous choirs, we had children from the northern part of the country who had lost both of their parents because of the war.
I don't know much about the music of Uganda. What can you tell me about your culture and the musical traditions you grew up with?
We have many different kinds of songs. We have folk songs, which are in a different language depending on the region of the country they originated in. We also have songs that we sing with traditional dances, which we normally do at weddings or other parties. Personally, I grew up dancing what we call the Maganda dance. This is a common dance in Uganda, danced by the Baganda tribe of central Uganda.
How has the African Children's Choir changed your life?
I am what I am today because of the choir. If it wasn't for the choir, my life would have taken a different path. When I traveled in the choir, it opened my eyes. I knew I could live a different life. I learned English, which is the most important language for someone to know back home. I was exposed to the Western life, learning how things are done in America, which I admired so much. It encouraged me to work hard in school so that one day I could change my community in Uganda. After the tour, I went back home, and the choir made sure that I could go to school, and afford a college education. I went to Makerere University, the best university in Uganda, and one of the best in all of Africa. I got a degree in social work, all paid for by the choir. When I was on tour, we were able to perform with BeBe and Ce Ce Winans and Ron Kenoly. We also went to Disney World, which I will never forget.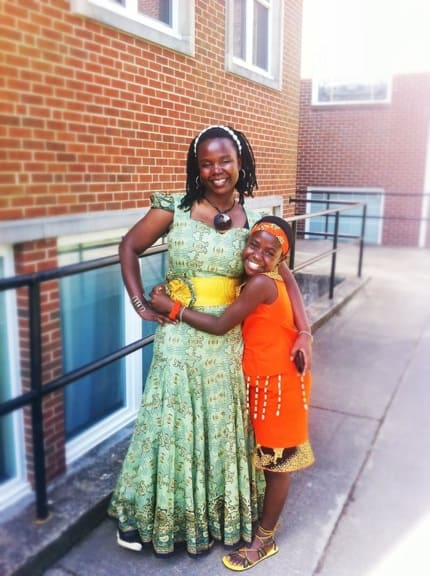 What can you tell me about the Music For Life Institute, and specifically its initiatives in Uganda?
The Makerere Choir Training Academy is where the choirs train before they come on the road to start touring. It provides shelter for the children while they are in training. The African Children's Choir Primary School is where the children who have been on the road go for their primary school. It's a boarding school, with very nice teachers and caretakers who look after the children. Music for Life Centers are in many of the local schools. Through this, children are fed, taught about the Bible, taught music and dance, and provided with scholastic materials.
Why did you decide to return to the choir now, at the age of 27, as a chaperone?
Because I wanted to give back to the organization. There was no other way to thank them for all that was done for me.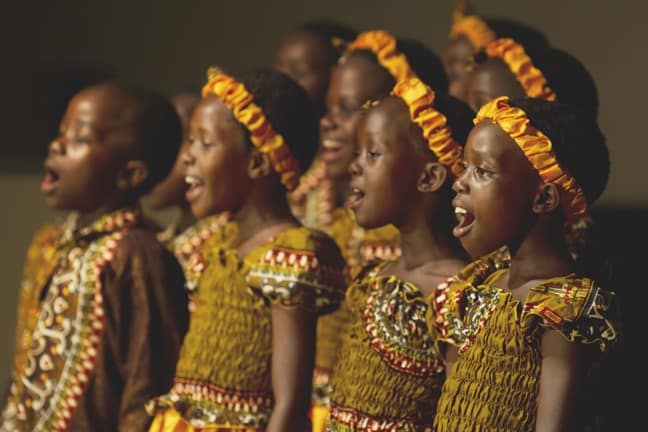 What has been the most rewarding aspect of touring with the children who are in the choir now? Do you have any favorite memories or experiences you can share?
It is so nice seeing my children with smiles on their faces because of the excitement in the hope of a bright future every new day. It's also amazing watching them grow and discovering themselves. The children recently sang at a MAC Cosmetics event in Miami, Florida. They were able to go to the beach for the first time, which was so exciting for them.
Uganda has obviously seen a lot of hardship over the last 30 years. What is your hope for the future of your country?
I have hope that one day Uganda will be a better place. Many of the children who were in the choir, and are young adults now, are starting to bring positive change back home to their communities, which is really promising for the future of Uganda.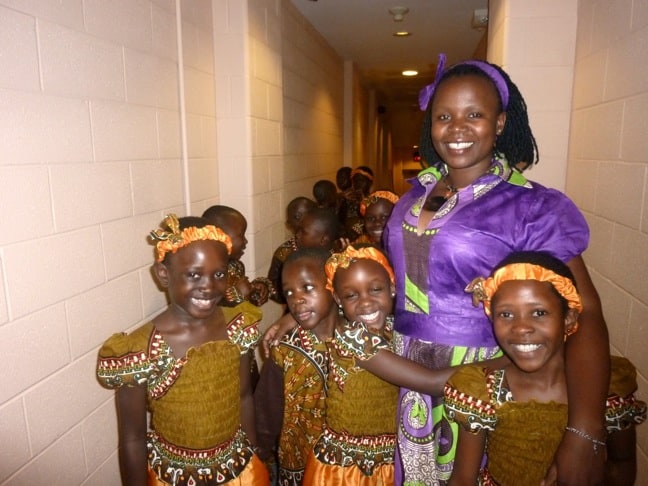 For people who want to help the African Children's Choir/Music For Life in its mission, how can they get involved?
They can get involved by sponsoring a child on a monthly basis, becoming a friend of the choir to ensure its continued success, or becoming a chaperone. We also always need volunteers. For more information, I can also refer them to our website, which is www.africanchildrenschoir.com. –Bret Love; photos provided by African Children's Choir
If you enjoyed our interview on the African Children's Choir, you might also like:
ECO NEWS: Uganda President Issues Statement On Stop Kony Campaign
INTERVIEW: Kiva Director Giovanna Masci On Ending World Poverty
INTERVIEW: Jimmy Carter On World Peace & Politics
Heifer International Works To End Global Hunger Sustainably
Preventing Gender-Based Violence & Empowering Youth in Tanzania