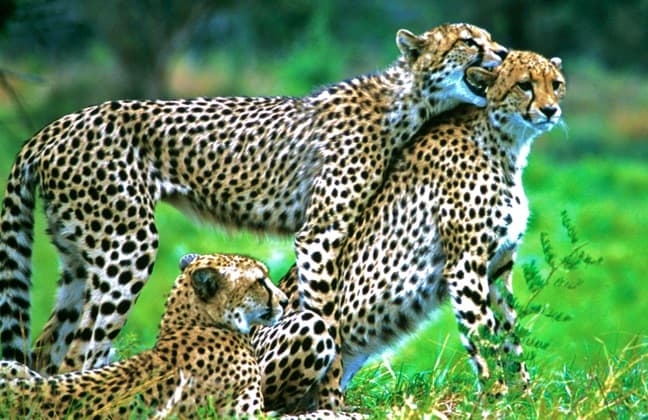 As the 2012 Summer Olympics over in London wind down this weekend, we thought it might be fun to take a look at some Amazing Animal Facts about the strongest, fastest, and most agile athletes in the animal kingdom. Wouldn't it be great to see some of these spectacular species competing against humans going for the Gold?
ANT- Iran's Behdad Salimikordasiabi may have won Gold for lifting 247 kg (544 pounds) of weight in the clean-and-jerk competition. But he's got nothing on ants, who can carry up to 50 times their weight using their mandibles alone. In human terms, they can easily carry a Kia!
BUSH BABY- American Christian Taylor set a World Record with his 17.81-meter leap in the triple jump yesterday. But the tiny primates known as bush babies (a.k.a. Galagos) can jump 20 feet or more– many times their own body length. They also move in complete silence and can see in the dark, so think of them as cute monkey ninjas.
CHEETAH- Kenyan sprinter David Rudisha also made history yesterday, becoming the first Masaii tribesman to win Olympic Gold. But even his impressive speed can't measure up to that of Africa's cheetah, whose lean body and long legs allow it to reach speeds of up to 70 mph in short bursts. Clearly they're not made for marathons.
DUNG BEETLE- Poland's Tomasz Majewski won Gold last week for his 21.89 meter throw in the shot put. But the average male Onthophagus taurus can pull over 1,100 times their own body weight, which is the equivalent of a person pulling six double-decker buses full of people. We'd love to see THAT World's Strongest Man event!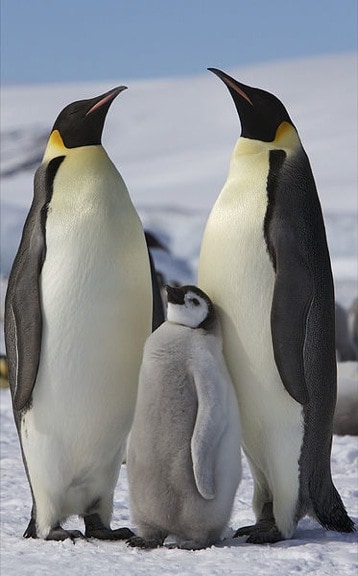 EMPEROR PENGUINS– Everyone knows that Michael Phelps is the icon of all things aquatic. But even the record-breaking Olympian should be in awe of Antarctica's Emperor Penguins, who can dive down to 1,850 feet (565 meters)—deeper than any other bird— and stay under for more than 20 minutes.
FROGHOPPER- This strangely-named bug (a.k.a. spittle bug) holds the world record as the greatest jumper in the insect world. Ivan Ukhov won the Olympic competition with his 2.38-meter high jump, but this 6-millimeter long leaper can launch itself 28 inches into the air. If it were a human, it could literally leap tall (i.e. 690-foot) buildings in a single bound.
GREYHOUND- Raise your hand if you'd love to see a sprint-off between Jamaica's Usain Bolt and "wonder dog" Brett Lee, who ran 515 meters (563 yards) in 28.88 second (the fastest greyhound time recorded). With an average racing speed of nearly 40 miles per hour, greyhounds can get up to 45 mph along straight tracks.
HUMMINGBIRD– The hummingbird may look diminutive and dainty, but like the women of the Gold medal-winning U.S. soccer team, they're incredibly strong. Nearly 30% of a hummingbird's weight consists of flight muscles (a human's pectorals are only about 5%), allowing them to fly 25-30 mph and dive at up to 60 mph.
IMPALA- This antelope (often referred to as the chicken nuggets of Africa) often uses its long, slender legs and muscular thighs to jump away from predators. When frightened, an impala can easily leap up to over 30 feet (10 meters) and soar up to 10 feet (3 meters) in the air. Sometimes, like House of Pain, they jump around just for fun.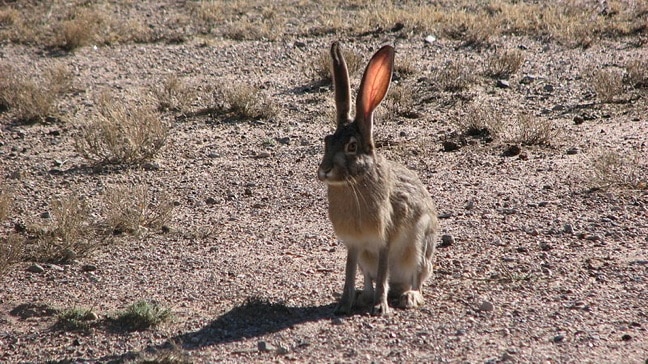 JACK RABBIT– Jack rabbits are technically hares, with more powerful hind legs and longer ears than rabbits. Like a furry Chris Paul, they often use their incredible speed (up to 40 mph), amazing hops (leaping more than 10 feet) and quick-turn juke moves to avoid predators, such as coyotes.
KANGAROO-Heavyweight boxers Oleksandr Usyk (Ukraine) and Clemente Russo (Italy) will square off tomorrow for the Gold medal, but I wouldn't bet on either of them against a kicking kangaroo. A full-on kick from a big roo is so powerful that it can break your ribs and even damage internal organs!
LOCUST- Tiki Gelana of Ethiopia set an Olympic record on August 5, running 26 miles in 2 hours, 23 minutes and 7 seconds. But in addition to causing Biblical plagues, swarms of migratory locusts move at a speed of 9-12 mph and can travel over 80 miles per day. Talk about endurance…
MONKEY- OK, so maybe comparing human beings to cheetahs or greyhounds isn't fair. But what about our ancestral relatives, the primates? The Patas Monkey of Central Africa has extremely long limbs and short digits, which enable it to run at speeds of up to 35 mph.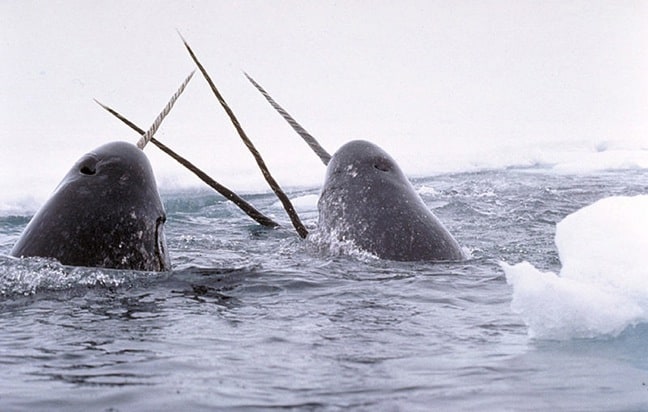 NARWHAL– Fencing is not the most popular Olympic sport– don't look for Italy's dual Gold-winning swords-woman Elisa DiFrancisca on a Wheaties box anytime soon. Maybe they should take a cue from the "unicorn of the sea," who use their tooth-like tusks for fierce jousting weapons in courtship and dominance rivalry.
OTTER- Water Polo athletes are strong swimmers, fighting off opponents while hurling balls with remarkable velocity. But the sea otter is even stronger: It's the only marine mammal capable of flipping over boulders on the sea floor to search out food. It's also the only marine mammal that catches fish with its forepaws rather than its mouth.
PEREGRINE FALCON– China's Diving team has pulled off some incredible aerial feats during the 2012 Olympics, bringing home 9 medals. But the animal kingdom's fastest flier, the peregrine falcon, uses its diving technique to devastating effect, attacking pigeon and doves in midair at speeds of up to 200 miles an hour!
QUEENSLAND GROUPER- Judoka Ricardo Blas Jr. of Guam was easily the largest competitor in London, weighing in at a whopping 481 pounds. His oceanic equivalent is the largest fish found on coral reefs, reaching up to 10 feet long and over 1,000 pounds. Some are so big that, to eat, they merely open their mouths and suck in small prey.
RACERUNNER- South Africa's Oscar Pistorius may not have taken home an Olympic medal, but the double amputee (who runs on prosthetics) is fascinating to watch nonetheless. The same could be said of the colorful Six-Lined Racerunner, a speedy lizard whose strong hindlegs allow it to reach speeds of over 18 mph.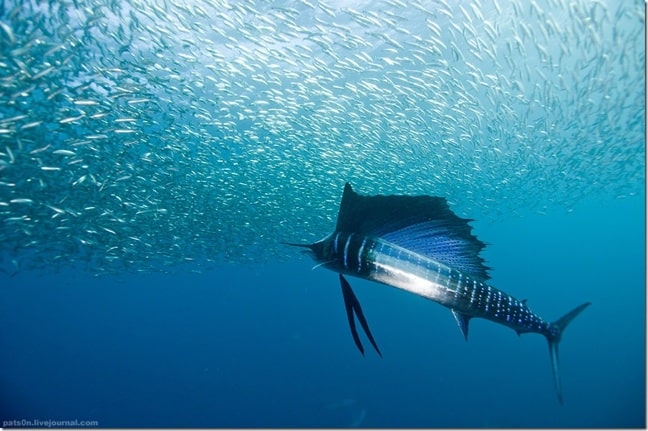 SAILFISH- China's 16-year-old swimmer Ye Shiwen aroused suspicion of doping with her Gold medal performance in the women's 400m individual medley. But the sailfish, known as billfish in sport fishing circles, doesn't need drugs to swim at lightning-fast speeds: They've been clocked at 68 mph.
TASMANIAN DEVIL– Strength comes in many forms, and for many animals their greatest strength lies in their jaws. Carnivores such as hyenas and lions, and even vegetarians such as giant pandas, have insanely strong bite force quotients, but this Australian marsupial tops them all. It can chew through strong metal wire with ease.
ULTIMATE MASTIFF– Think the Olympic Greco-Roman Wrestlers are fierce fighters? Trying going hand-to-paw against this cross between a Neapolitan Mastiff and a Dogue de Bordeaux, which can weigh over 300 pounds and were once used in battles against gladiators, bears and lions.
VAMPIRE BATS- Olympic archers and sharpshooters have an incredible knack for finding their targets. But the animal that inspired the Dracula myth has an advantage, using infrared radiation (received through three pits located around their nose) to locate blood hotspots on their prey.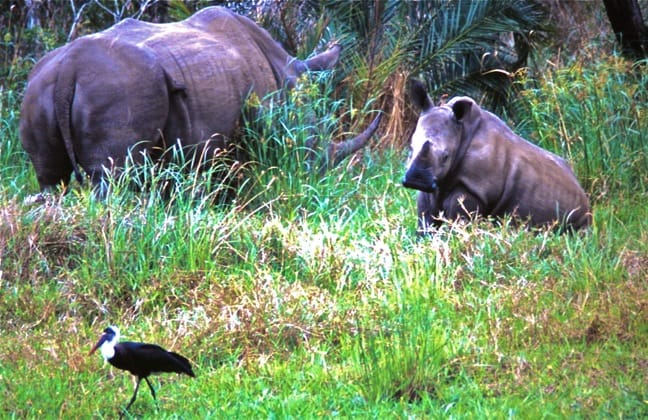 WHITE RHINOCEROS- They may average nearly 7 feet in height and over 200 pounds, but the American men's basketball team reaches devastating speeds on the fast break. White rhinos, the second largest land mammal on the planet, weight 3,000-8,000 pounds, but they can also gallop at speeds up to 40 mph!
XENOPUS- Triathlon athletes use a variety of ambulation techniques in their journey to the finish line, then have to rest and recuperate from their epic effort. This amphibian, also know as the African Clawed Frog, cannot hop, so it crawls long distances from one pond to another, and when ponds dry up may lie dormant for a year.
YAPOK- Some say American swimmer Ryan Lochte failed to live up his pre-Olympics hype. Perhaps he should take a tip from this Latin American opossum, the only animal species in the world in which both sexes have a pouch. The males place their genitalia inside their pouch while swimming, which helps streamline their bodies.
ZEREN– If nature has a decathlete, it's arguably the Zeren, a.k.a. Mongolian gazelle. These lithe beauties are fast (reaching speeds up to 40 mph), can jump as high as 6.5 feet and as far as 20 feet, are strong swimmers, and their stamina is second to none: During migration, they cover 120-180 miles in a single day. –Bret Love
If you like stories about Amazing Animal Facts, you might also enjoy: