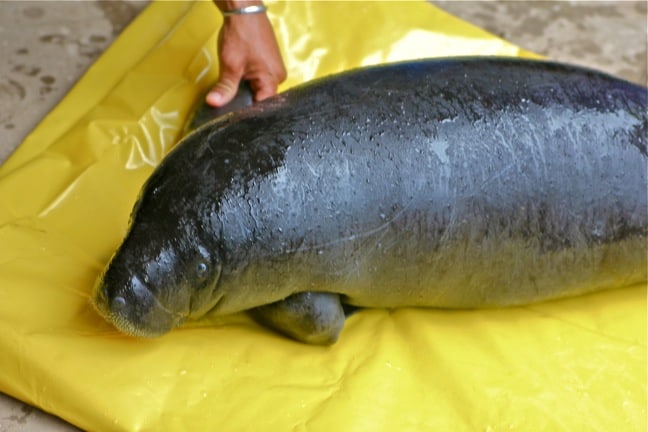 Our Encounter With A Rare Amazon Manatee In Peru
On the fourth day of our Amazon River Cruise with International Expeditions, I was almost ridiculously excited. All week I'd been looking forward to making our way deep into the Pacaya-Samiria National Reserve– as deep as tourists are allowed to go into this 20,000-square kilometer protected area– to swim in the Peruvian Amazon. I was stunned when I learned that only one of our guides and a handful of other guests would be joining us for what, in my mind, was one of the most unique experiences of my traveling life.
After a week of high heat and humidity (during which I'd actually suffered heat stroke from letting myself get seriously dehydrated while fishing for piranha) the cool waters of the Amazon tributary near Ranger Station #2 felt like my own little slice of heaven. Of the 6 travelers who wound up going for a swim, most had gotten back into the boat fairly quickly after posing for photos to prove our mettle to the folks back home. But I've always loved the water and cooler temperatures, and I was content to float lazily along on the surprisingly strong current.
When we returned to Ranger Station #2, I grew reflective, focusing on my lunch as a dozen different conversations buzzed around me. The rush of adventurous adrenaline had been replaced by quiet contentment, and I eventually grabbed the camera and headed outside for a rare moment of solitude.
It was then, as I was photographing a pretty pink-toed tarantula on the wall of the porch, that one of the rangers quietly mentioned they had a surprise for us. I walked down to the water to see two other rangers fidgeting with a dugout canoe filled with water, which was tied to a tree about 30 yards away. As they dragged it over to me, I had no clue what to expect: Were we going for a canoe ride? Perhaps learning how to make canoes?
As I wondered, one of the rangers began feeling around in the murky water of the canoe. At first there was nothing, then a splash, and I could see a shadowy form about 2.5-feet long moving around his feet. He grabbed for it, but it slipped from his grasp, only to disappear under the bow from which it had came. Eventually he got a firm grip on it, and pulled our surprise just above the surface of the water: It was a baby Amazon manatee, the smallest of the world's manatee species.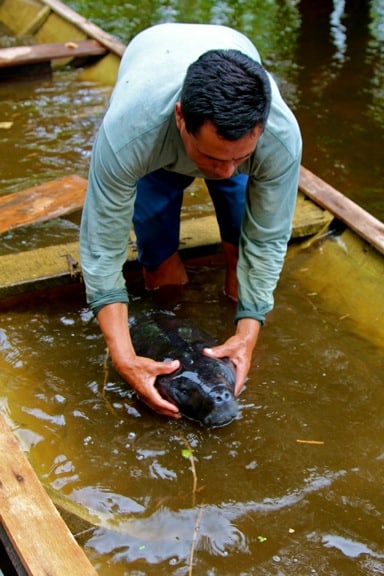 As the rangers lifted the frightened little fellow from his hidey-hole and began weighing and measuring him for their reports, our guides translated the manatee's story. The rangers, who work on a volunteer basis, had rescued the little guy from poachers in the Reserve the day before as they were heading to sell him at market. Meat is hard to come by in the Peruvian Amazon, so manatees (though ostensibly protected) are prized for the sustenance they provide. They're also very rare: None of our guides, who had been working here for over a decade, had ever seen one before!
Knowing that our group was coming, with a WWF representative and two journalists (us) in tow, the rangers had kept the manatee overnight so that we could get a hands-on understanding of the battles for wildlife preservation they fight every day. There were tears in my eyes as I knelt down to look at the clearly frightened animal's face: I felt an overwhelming sense of empathy, not just for the plight of manatees around the world, but also for that of people living in such abject poverty that they have to eat whatever they can find in order to survive. It's moments like this that fuel my passion for ecotourism.
Thankfully, the story had a happy ending: After recording data and posing for photos, the rangers gently slid the baby manatee back into the water, and back into the wild. We cheered as he slowly swam away, and I grinned in awe of what had just happened. The battle for wildlife conservation doesn't always end well for the animals. But we got the satisfaction of knowing our manatee friend would live to fight another day. –Bret Love, photos and video by Bret Love & Mary Gabbett
If you enjoyed reading about our encounter with a rare Amazon Manatee, you might also like:
Day 1 Photo Gallery: Piranha, Iguana & Hotter Than A Sauna
Day 2 Photo Gallery: Parakeets, Punk-Rock Birds & Pimp Monkeys
VIDEO: Amazon River Cruise Highlights