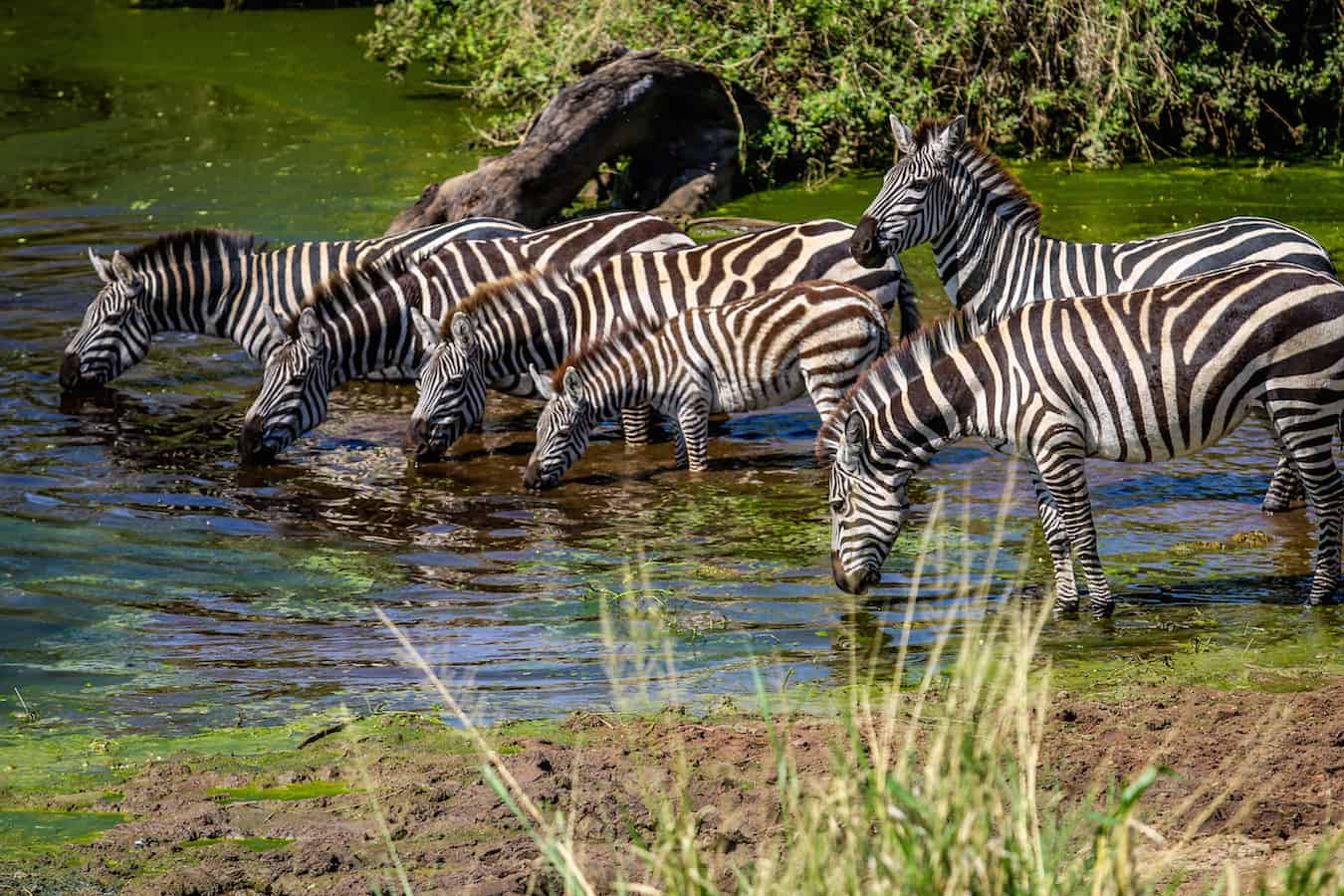 PIC OF THE WEEK:
Baby Zebra at Watering Hole in Serengeti National Park
Visiting Tanzania's Serengeti National Park in mid-September, we weren't expecting to see vast herds of animals (such as the one that protectively surrounded this Baby Zebra drinking from a watering hole).
After all, the 1,200-mile Great Migration from the Serengeti plains north to Kenya's Maasai Mara– the largest terrestrial mammal migration in the world– begins in early summer. By September the majority of the herds are long gone to the haven of their dry season refuge.
But our exceptional Tanzania Journeys guide, Rama Mmasa, knew of a remote watering hole where herds of zebras, wildebeest and impalas tended to gather. So, on our second morning in Serengeti National Park, he took us there on the off chance we might spot lions coming in for a kill.
The herds certainly seemed anxious about the possible presence of predators, as hundreds of animals nervously milled about, waiting for their turn to drink. It was fascinating to watch them cautiously creep down the bank, often getting spooked by another animal and running off. It was barely controlled chaos.
We watched for over an hour, keeping a watchful eye out for Lions, Leopards or Crocodiles. Finally, as the light rose over the treetops, six Zebras entered the water warily, with a tiny Baby Zebra in a protective spot in the middle.
They all lined up perfectly, dipping their heads down to drink and occasionally lifting them to look around. We snapped this shot at a brief, serendipitous moment when all but one of the Zebras were drinking in unison, as the mama kept her watchful eye on us. –Bret Love; photo by Bret Love & Mary Gabbett
Our trip to Tanzania was sponsored in part by Adventure Life and Tanzania Journeys, with safari clothing provided by ExOfficio. But we will never compromise our integrity at the expense of our readers, and our opinions remain our own.
If you enjoyed our Baby Zebra photo, you might also like:
TANZANIA: Exploring Magical Tarangire National Park
TANZANIA: Climbing Mt. Kilimanjaro
PHOTO GALLERY: Serengeti National Park Wildlife Safari
PHOTO GALLERY: The Wilds of Amboseli National Park & Timbavati Game Reserve
SOUTH AFRICA: My Life-Changing Experience in South Africa
SOUTH AFRICA: Londolozi Game Reserve Safari
SOUTH AFRICA: Zulu Memories from KwaZulu Natal