As a lifelong resident of metro Atlanta, I've always felt that the natural beauty of the state of Georgia is vastly underrated.
Even local residents tend to forget the amazing amount of green space we're blessed with, which offers endless excellent opportunities for recreation and ecotourism adventures.
But taking day trips from Atlanta is a great way to explore all the beauty the Peach State has to offer, from cool caves, majestic mountains, and dazzling lakes to rushing rivers and wondrous waterfalls.
With hundreds of city parks, more than 40 state parks, and five national parks located in north Georgia alone, the South's most bustling metropolis also boasts plenty of outdoor activities. And most of them can be reached within a two-hour drive from Atlanta.
Whether you prefer relaxing activities like fishing, biking, and rollerblading in well-maintained parks or more extreme adventures– rock climbing, spelunking, zip lining, and more– here's a look at the diverse array of options for day trips in and around Atlanta.
READ MORE: The Top 5 Fall Things to Do in Atlanta
THE BEST DAY TRIPS FROM ATLANTA
AMICALOLA FALLS STATE PARK
Our of our family's favorite Atlanta day trips ever since my daughter was born, Amicalola Falls is one of the state's most popular state parks.
This is largely thanks to its easy access, easy hiking trails (many of which are paved with recycled rubber), and 729-foot cascading falls (the tallest east of the Mississippi River).
Amicalola (Cherokee for "tumbling waters") has seen marked improvements in recent years, including the addition of a brand spanking new observation deck that provides incredible scenic vistas.
Hardcore backpackers often come this way, making the 8.5-mile hike to Springer Mountain, which marks the southern end of the 2,135-mile Appalachian Trail.
But most visitors go for more casual hikes, fish for freshwater trout in the well-stocked pond, and enjoy a quiet picnic near the base of the falls. It's a beautiful way to spend a warm spring or Autumn day.
READ MORE: The 20 Biggest Waterfalls in the World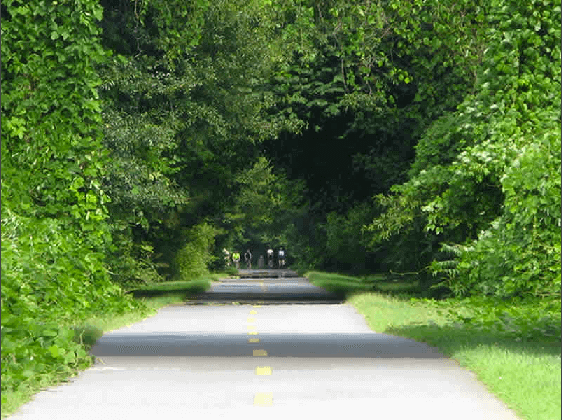 BIKING THE SILVER COMET TRAIL
Formerly the route of the Silver Comet passenger train, this paved recreational trail extends 61.5 miles from the northwest Atlanta suburb of Smyrna all the way over to the Alabama state line.
The city's first ever rails-to-trails project, the Silver Comet Trail is renowned for its many spectacular scenic vistas as it traverses numerous trestles and bridges.
The trail also offers direct access to Heritage Park, which features more than 14 acres of wetlands and the ruins of Concord Woolen Mills.
Don't have a bike? No problem, just rent one from the Silver Comet Depot, which offers full and half-day rentals on carbon road bikes, comfort hybrids, youth bicycles and child trailers.
READ MORE: Cycling on Sweden's South Koster Island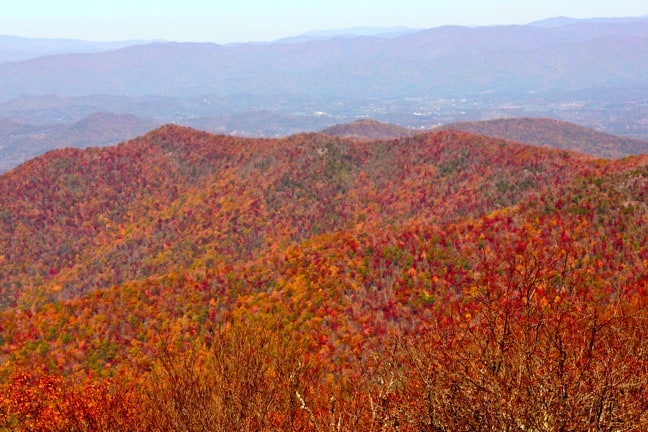 CLIMBING BRASSTOWN BALD
Georgia's highest mountain, at 4,784 feet above sea level, Brasstown Bald is perhaps the best place in the state to get a view of autumn colors at their most radiant.
Known to the native Cherokee as Enotah, the site's current name actually comes from a misunderstanding of the Cherokee word "Itse'yĭ" (New Green Place, or Place of Fresh Green), which settlers mistook for "Ûňtsaiyĭ" (Brass).
The "Bald" refers to the unparalleled, unobstructed 360-degree view visitors get from the top, where you can see four states (Georgia, North Carolina, South Carolina and Tennessee)  simply by turning your head.
As a result, the moderate hiking trail up to the Observation Tower can get a bit crowded during peak season. But, with rocking chairs, a small picnic area and such scenic surroundings, it's a great place to spend an autumn afternoon.
READ MORE: The Colors of Autumn in the North Georgia Mountains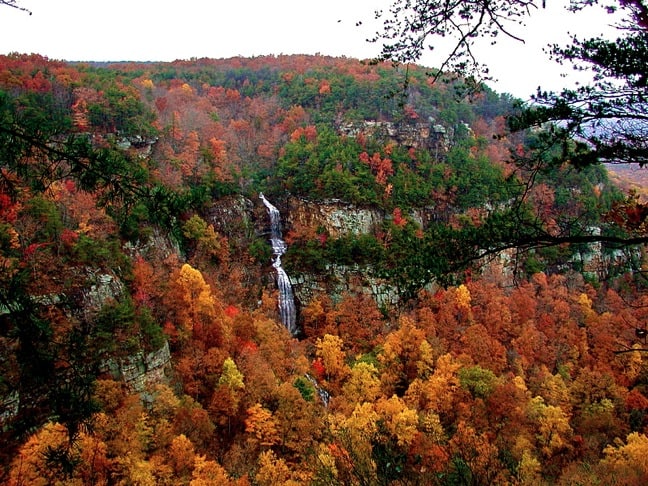 EXPLORING CLOUDLAND CANYON STATE PARK
Slightly more off-the-beaten-path, this 3,485-acre state park on the western edge of Lookout Mountain is rarely crowded. But it offers a diverse range of activities for outdoor enthusiasts of all fitness levels.
Casual nature lovers can simply stay in the picnic area parking lot, where you can get stunning overviews of the canyon without ever breaking a sweat.
But hardy hikers will love the 4.8-mile West Rim and Waterfalls Trail, which offers more in-depth exploration of the area (which ranges in elevation from 800 to around 2,000 feet).
The gorge was cut into the mountain by Sitton Gulch Creek, producing striking rock outcroppings that are offset by colorful flora. These stunning views grow increasingly spectacular in the autumn months, as the leaves begin to change.
Cloudland Canyon State Park really earns its name in the morning, when the rolling fog over the hills makes it seem as if you're walking in the clouds. In addition to 100+ campsites, they also have newly renovated cottages and 10 awesome yurts.
READ MORE: List of U.S. National Parks By State (An EPIC Guide)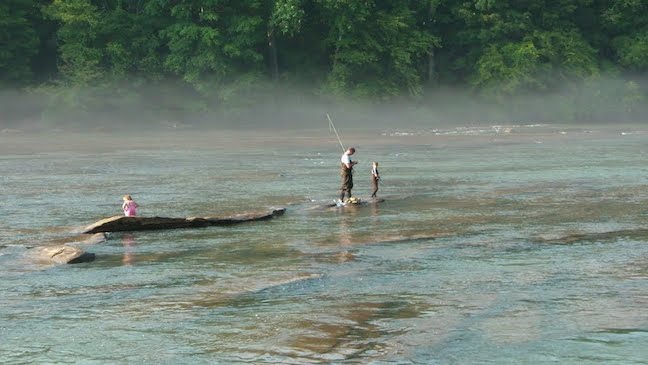 FLY FISHING FOR TROUT
Atlanta anglers seeking a break from the hustle and bustle of the 9 to 5 life often head north of the city. There, colder waters provide an ideal habitat for trout—not to mention wildlife such as beaver, raccoons and white tail deer.
Experienced fly fishing guides such as River Through Atlanta's Chris Scalley can help you find the best hush-hush hotspots, where you can immerse yourself in Mother Nature's pastoral beauty while reeling in some supper.
Scalley, who was recognized by Field & Stream magazine as a finalist for their 2007 Heroes of Conservation Awards for his efforts to protect the area's sport fishery, offers a few tips on the best areas to land a big one.
"I'm a big fan of the Chattahoochee River National Recreation Area, specifically the areas near Bowmans Island, Settles Bridge and Jones Bridge; the Conasauga River and Jacks River section of the Cohutta Wilderness; and the Chattahoochee National Forest's Jones Creek, Mountaintown Creek and High Shoals Creek."
READ MORE: Fishing Mobile Bay & the Mobile-Tensaw Delta, Alabama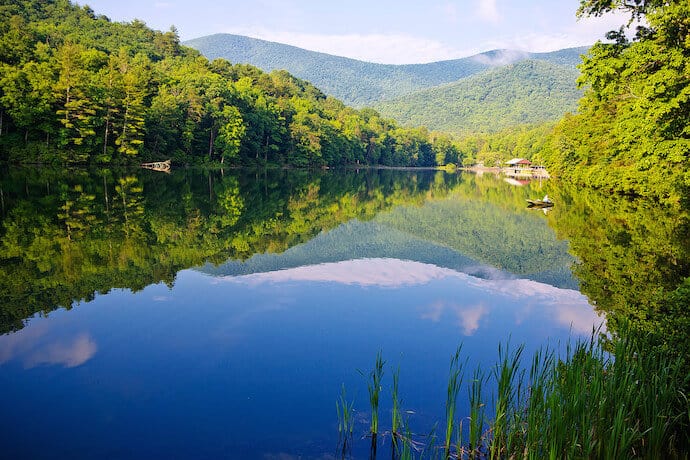 HIKING THE NORTH GEORGIA MOUNTAINS
Located less than 90 minutes from the metro Atlanta area in the foothills of the Appalachian and Blue Ridge Mountains, north Georgia is a haven for outdoor adventurers and casual nature-lovers alike.
There are nearly 20 state parks located north of the city's I-285 perimeter, ranging from the mountain biking trails at Fort Yargo State Park in Winder to the horseback riding trails of Watson Mill Bridge State Outdoor Recreation Area in Comer.
As far as hiking trails go, Georgia State Parks spokesperson Sally Winchester mentions the scenic mountain vistas of Amicalola Falls State Park and Cloudland Canyon State Park as two of her favorite places.
But she also loves Vogel State Park, which is located near the Chattahoochee National Forest. "It's a very pretty park with an easy hike around Lake Trahlyta. I like staying in the cottages there, which have nice fireplaces where you can kick back and relax after you've been outdoors during the day." Sounds divine, doesn't it?
READ MORE:Blue Ridge Mountains Travel Guide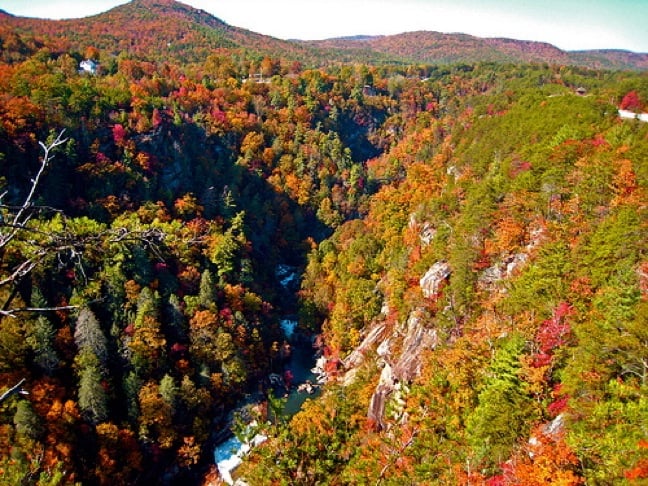 ROCK CLIMBING IN TALLULAH GORGE STATE PARK
Georgia may not be able to match the Grand Canyon for sheer size and scope. But this 2,689-acre park is arguably among the most impressive canyons east of the Mississippi, with incredible autumn colors that seem to set the hillsides ablaze.
Considered one of Georgia's "Seven Natural Wonders," Tallulah Gorge is two miles long and nearly 1,000 feet deep, with over 20 miles of trails for hiking and mountain biking. Permits for hiking in the gorge are available at the park's Interpretive Center.
The area has become popular with rock climbers, who are attracted by challenging routes with colorful names such as Digital Delight, Mescaline Daydream, Flying Frog, and Punk Wave, all of which are rated 5.8 to 5.10. The park only allows 20 total climbing permits per day, and it's best to go with experienced guides.
Some November weekends are set aside for whitewater kayaking, as controlled water releases of 500-700 cubic feet per second thunder through the gorge. The Interpretive Center also offers exhibits on the area's rich history and fragile ecosystem, as well as a documentary film about the Tallulah Gorge.
READ MORE: The 10 Best Canoe Trips (World Travel Bucket List)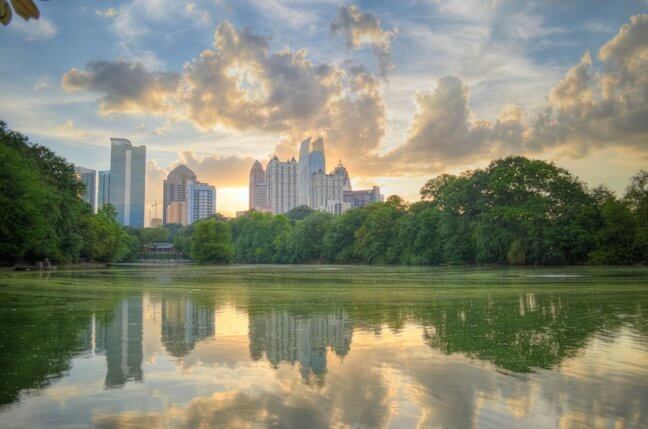 ROLLERBLADING AT PIEDMONT PARK
Don't want to travel outside the perimeter for a day of outdoor fun? Then head to the 189-acre Piedmont Park, which is to Atlanta what Central Park is to New York City.
Since our house lies about 15 miles outside the perimeter, heading into the city to spend an afternoon at Piedmont Park is a day trip to Atlanta for us. As you can see from the photo above, it's a great place to get shots of the city's stunning skyline.
A Midtown landmark for 115 years, the park has become a haven for rollerbladers, who find refuge gliding along its main roadway and the 10th Street Meadow Path while simultaneously enjoying some of the city's best people-watching opportunities.
If you don't have your own gear, you can rent from Skate Escape, which is located right across from the park at the 12th Street entrance.
READ MORE: NYC Christmas Windows (Free Walking Tour in New York)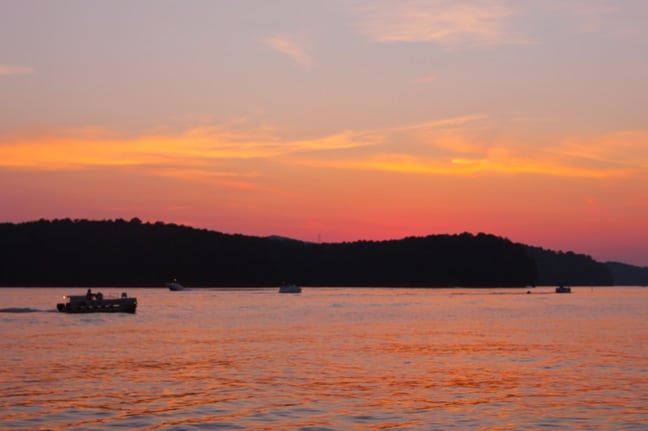 SEEING SUNSET IN RED TOP MOUNTAIN STATE PARK
We'll go ahead and acknowledge right up front that we're biased towards Red Top. It's the closest of Georgia's state parks to our house, we keep our pontoon boat docked nearby, and when we're not traveling the area is our home away from home.
The 1,562-acre park, which was named for the iron-rich soil's deep red color, is located just 45 minutes from downtown Atlanta, making it one of Georgia's most popular outdoor recreation destinations.
Set on the 12,000-acre Lake Allatoona, the park attracts avid boaters and fishermen year-round. Its 15.5 miles of hiking trails provide frequent wildlife sightings (including herons, egrets, kingfishers, osprey, geese, and ducks) and spectacular views of autumn colors.
Just last week, we watched a family of four deer frolicking and feeding in a cove there for nearly an hour. And we were pleased to see that several scenes from season 2 of Netflix's Ozark were shot there. It's truly a magical place!
READ MORE: The 20 Largest Lakes in the World (By Continent)
"SHOOTING THE HOOCH" ON A SUP
Made famous by country singer Alan Jackson, the Chattahoochee River stretches from northeast Georgia down through metro suburbs such as Roswell. "Shooting the 'hooch" on a raft, tube, canoe, or kayak has been a local tradition for decades.
In recent years, High Country Outfitters has been offering a new way to experience one of Atlanta's favorite outdoor recreation pastimes, with 3- and 6-mile jaunts down the river's in-town heart (from Powers Ferry Rd to Paces Mill Rd) via stand-up paddle board.
"We got into stand-up paddle boarding a few seasons ago," says veteran guide John Sloane, whose parents own the company. "I think that's going to be one of the bigger things on the river. It's a really easy thing that anybody can go out on the Chattahoochee and enjoy."
The company has several certified paddleboard instructors on staff, as well as equipment rentals for self-guided trips.
"We've all sat down in a kayak or canoe and floated down the river. But when you're on a paddleboard, it's like walking on water, and also a tremendous workout. It's very easy to do and very forgiving on your body, but it is an amazing workout from your feet all the way up to your shoulders, especially your core."
READ MORE: The 20 Longest Rivers in the World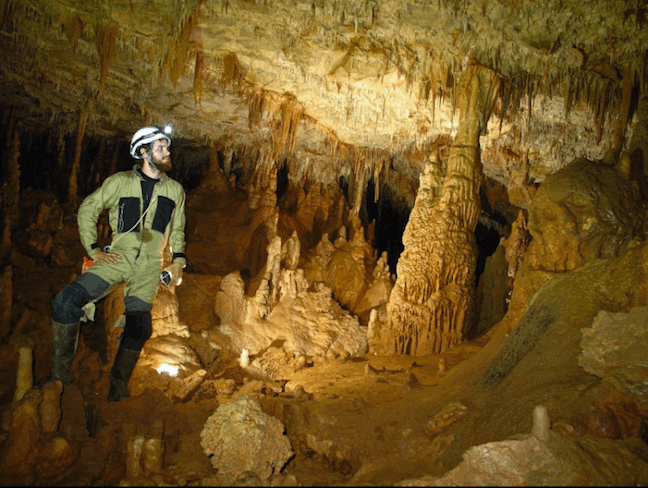 SPELUNKING IN NORTHWEST GEORGIA
TAG is the popular nickname for the beautiful area in the Cumberland Plateau where northwest Georgia meets Alabama and Tennessee.
Thanks in large part to the Southeastern Cave Conservancy, has lured spelunkers from around the world eager to explore its labyrinthine underground passages. Pigeon Mountain is particularly popular thanks to its vast network of limestone caves.
Pettijohn's Cave has six miles of previously mapped passageways that often attract a healthy weekend crowd, while the 13 miles of Ellison's Cave that have been explored include the 440-foot deep Incredible Dome Pit and the 586-foot deep Fantastic Pit.
Underground areas can be extremely dangerous for people without proper equipment caving experience. So please learn about the sport before embarking on your first spelunking expedition, and we recommend hiring local guides if possible.
READ MORE: 10 Amazing Caves For Your World Travel Bucket List

TAKING A DIP IN PANTHER CREEK FALLS
North Georgia is renowned for its many amazing waterfalls. But this lesser-known recreation area located in the Tallulah Basin arguably features one of the best.
Panther Creek Falls is accessible via a picturesque six-mile trail through a forest filled with 100-foot-tall trees, flowering shrubs, and moss-covered rock cliffs.
Panther Creek drops nearly 1,000 feet from Stony Mountain on its way towards the Tugaloo River, with a series of killer cascades leading to two impressive waterfalls.
The hike is long and somewhat challenging, particularly after a rain, but the dramatic view at the bottom is well worth the effort. If you go in the summertime, take a swimsuit along so you can take a dip in the refreshing water, which remains fairly cool all year round.
READ MORE: 10 Incredible Iceland Waterfalls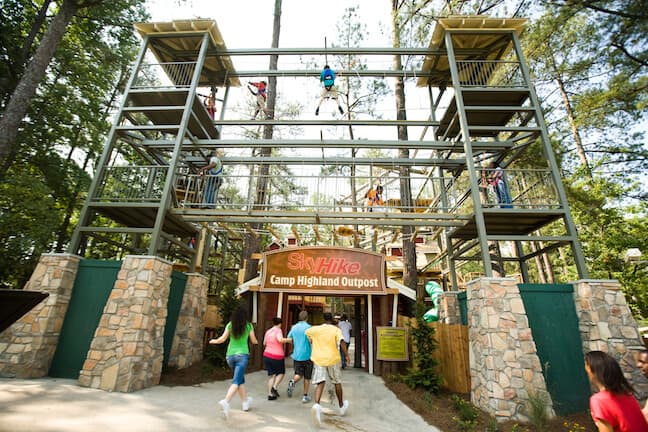 TRAVERSING THE ROPE COURSE AT STONE MOUNTAIN
Visiting Stone Mountain Park, which is located just outside the I-285 perimeter, has been one of family's favorite things to do in Atlanta for more than 40 years now.
In the summers when I was a kid we would often take picnics and go to the "laser show spectacular." When my daughter was young, we went to their annual Pumpkin Festival every Autumn. Even now, Stone Mountain Christmas remains one of our favorite Christmas light displays in Georgia.
From the ground, their action-packed Sky Hike attraction doesn't seem all that intimidating. But climb the stairs to the third level of this ¼-mile rope course, and you may find yourself questioning the "moderate" adrenaline rating.
To navigate the course, you'll need to cross suspended wooden bridges, leap from one thin wooden slat to the next, and balance on wiggling tightropes 40 feet above the ground as your hands sweat and legs shake.
Fortunately, there are also 12- and 24-foot-long rope course trails for beginners (or those with a healthy fear of heights).
READ MORE: The Top 50 Atlanta Christmas Events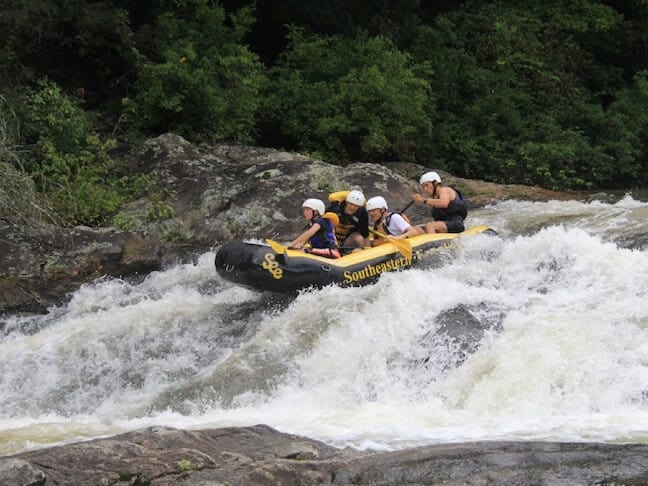 WHITEWATER RAFTING ON THE CHATTOOGA RIVER
North Georgia's Chattooga River is probably most famous as the place where much of the classic action flick Deliverance was filmed.
Designated by Congress as one of America's "Wild and Scenic" rivers back in 1974, the Chattooga offers challenges for rafters of all skill levels in the picturesque setting of the Blue Ridge Mountains.
For more extreme adventure lovers, there's Section IV, where Class IV and V rushing whitewater speeds you down the river at a breakneck pace, climaxing with an invigorating plunge down the legendary Five Falls and Soc-em-Dog.
For families seeking a kinder, gentler ride, there's also Section III, a beginner-friendly float trip with a Class IV ending at Bull's Sluice. Going with an experienced tour outfitter such as Southeastern Expeditions will ensure maximum safety and enjoyment of your trek.
READ MORE: Rafting the New River Gorge, West Virginia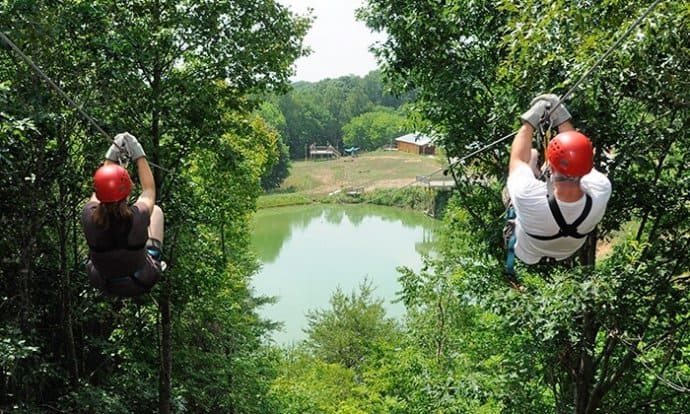 ZIPLINING IN NORTH GEORGIA
Picture yourself strapped onto a suspended cable high up in a lush forest canopy, soaring among the treetops, tiptoeing across two sky bridges, and racing your friends as you zip over rushing river rapids.
Inspired by their travels abroad, North Georgia Canopy Tour owners Kirk and Leah Watkins have recreated the popular Costa Rican adventure in the foothills of the Appalachians.
The pulse-pounding, mile-long zipline course takes you around and across the Ocoee River, providing spectacular views of serene scenery that will leave you breathless and begging for more.
"We're located at the tail end of the Appalachian region and the northern border of the southern region," says course manager Jonathan Marziliano. "So we have diverse flora and fauna as well as some bird migrations that you won't find elsewhere in Georgia.
"We have three zips that cross over the North Ocoee River and a few ponds on the property, so you get ample opportunity to see a lot of wildlife, including squirrels, birds, fishes, beaver, deer, or even wild turkey."  –by Bret Love; all state park photos used courtesy of Georgia State Parks