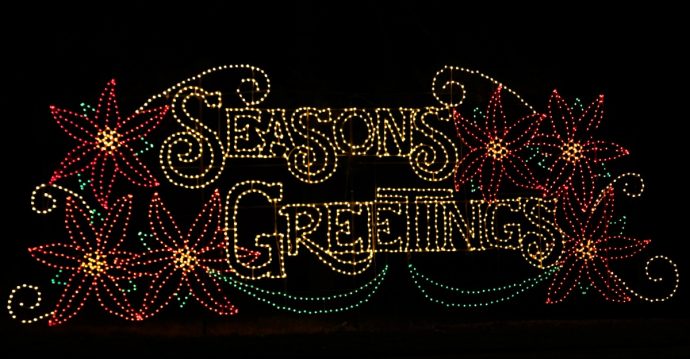 The Best Christmas Light Displays In Georgia
-Updated for 2016-
It's no secret that we love Christmas. Whether we're heading out to enjoy Atlanta's Best Christmas Events or staying home to savor our favorite Christmas Traditions From Around the World, we tend to spend the entire month of December celebrating our favorite season.
No matter how old we get, we're still delighted by the shimmering lights and spirit of the holidays. Perhaps that's why we annually visit our favorite Christmas light displays in Georgia…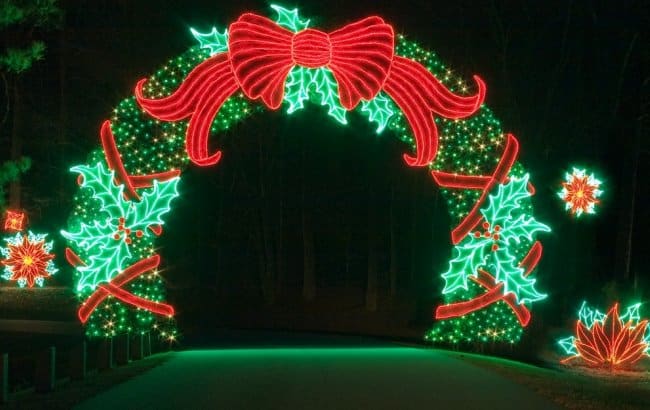 FANTASY IN LIGHTS
Callaway Gardens, Nov 18 – Jan 7
Now celebrating its 25th year, Callaway Gardens' annual Christmas celebration is the largest in the state of Georgia, and has been recognized by National Geographic as one of the Top 10 Christmas Light Displays in the World!
This year's version will be bigger than ever thanks to the addition of a new section, "Snow Day," which brings those two magical words every child loves to hear to life in lights depicting scenes of building snowmen, sledding and sipping hot cocoa. This is just the latest expansion of the state's most high-tech light display, which already included over 8 million twinkling bulbs and 14 classic themes (including "Snowflake Valley," "Magical Christmas Garden" and "Santa's Workshop") stretched across a 5-mile drive filled with holiday music.
Due to popular demand, this year's celebration lasts an extra week, running from November 18th to January 7th. Fantasy In Lights also includes narrated scenes of 'Twas the Night Before Christmas and The Nativity at Robin Lake Beach; a 22,000-square foot Christmas Village offering handmade arts and crafts, food and opportunities to visit with Santa and Rudolph; daytime sessions of "Storytime With Mrs. Claus"; and myriad special events.
Visitors are welcome to view the holiday spectacular via their own personal vehicle or take the "Jolly Trolley." For guests who want to spend a weekend, Callaway Gardens also offers special packages starting at $129/night that include a room at the Mountain Creek Inn, Fantasy In Lights admission, special Jolly Trolley loading area and reservations, a commemorative ornament, and admission to all of the Gardens' attractions.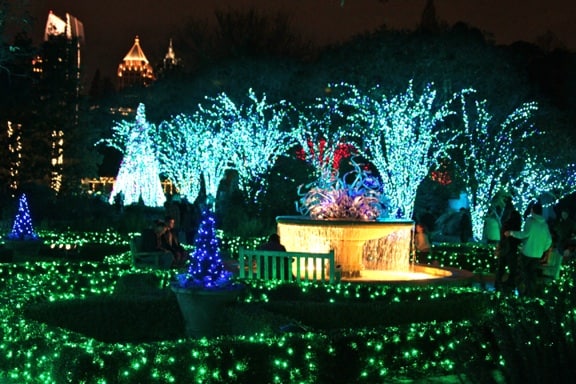 GARDEN LIGHTS, HOLIDAY NIGHTS
Atlanta Botanical Garden (Nov 12-Jan 7)
Now in its sixth year, Georgia's greenest holiday celebration brightens the Atlanta Botanical Garden's 30 acres with over 2 million colorful, energy-efficient LED light bulbs.
Named one of the nation's Top 10 Holiday Lights Displays by USA Today, the Midtown attraction showcases botanical themes that accentuate the natural beauty of the gardens while adding a uniquely festive holiday twist. Some of our favorite returning features include Santa Mantis and her Brilliant Bugs fluttering through rows of corn in the Edible Garden; the Ice Goddess' shimmering locks and the glistening Ice Storm Trees; and the glowing Orchestral Orbs, which dance with color and light to the sounds of festive holiday tunes.

The perennially popular holiday celebration offers lots of new elements for 2016, including 21 towering candles of varying sizes and colors along the Walk of Flames; an expanded galaxy of giant stars twinkling in the treetops of the Southern Seasons Garden; giant trees ranging from 20 feet (at the entrance to the new Linton's Restaurant) to 30 feet (atop the Alston Overlook); and lots of swirling red, orange and white lights blanketing the 100-foot-long Tunnel of Light (one of last year's most popular additions), which leads visitors from the Cascades Garden back to the Fern Dell's gorgeous galaxy of pulsating stars.
Unlike most holiday light displays, Garden Lights encourages people to get out of their cars and walk around, passing giant snowflakes, massive Christmas trees and beautiful Chihuly glass sculptures while listening to strolling carolers and sipping hot cocoa or tea. Six years in, it's become one of Atlanta's most beloved holiday traditions.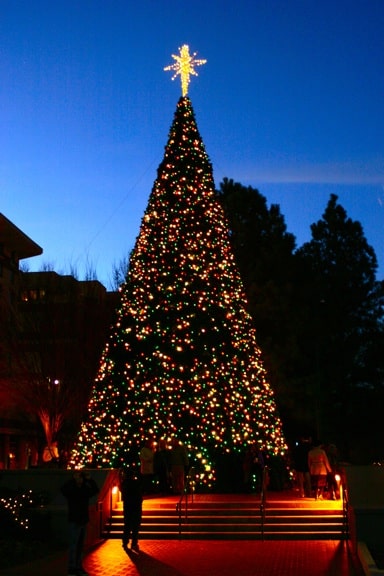 HOLIDAY IN LIGHTS
Centennial Olympic Park (Nov 19 – Jan 1)
Atlanta almost never gets cold enough for water to freeze. And with the rise in global warming, that's not likely to change anytime soon. But that doesn't mean you and your family can't lace up your skates for a day (or night) on the ice.
Now in its 21st year, the city's first outdoor ice skating rink offers 90-minute skate rentals, theatrical lighting and festive Christmas music to liven up the holiday spirit. It's also at the heart of Centennial Olympic Park's Holiday In Lights celebration, which transforms the 21-acre park into a Winter Wonderland filled with thousands of twinkling lights and a picturesque 58-foot Christmas tree, making it a lovely setting for an inner-city stroll.
It may not be quite as expansive as some of Georgia's other light displays, but it's free (if you're not skating), open on Christmas Day, and offers exceptional views of the downtown Atlanta skyline. Bring a picnic for dining among the glittering lights on the Great Lawn, or explore the array of restaurants and major tourist attractions in Downtown Atlanta's Luckie Marietta District.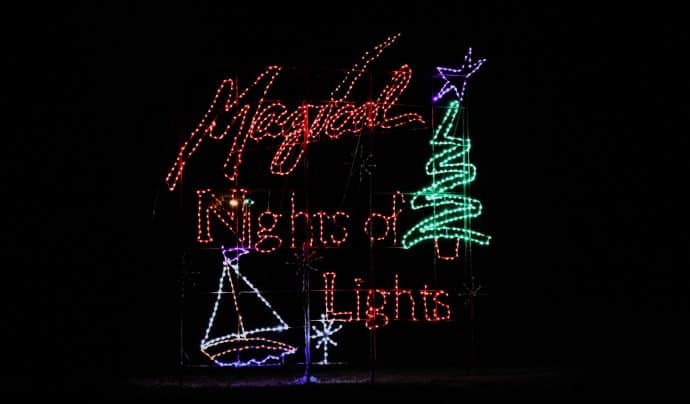 MAGICAL LIGHTS
Lake Lanier Islands (Nov 18 – Jan 3)
Now celebrating its 20-year anniversary, one of Georgia's longest-running Christmas light displays has been almost completely revamped in the last two years. Taking over Lake Lanier Islands, the recently renamed Magical Lights starts off with a scenic 7-mile drive through some of the most extravagant light displays you can imagine, including colorful themed sections such as the Snowflake Bridge, The 12 Days of Christmas and Teddy Bear Lane.
In 2014 they introduced a new, expanded Christmas village filled with carnival rides such as a Ferris wheel and old-fashioned carousel, games, pony rides and blazing bonfires for roasting marshmallows. St. Nick still holds court inside Santa's Shop, where you can grab a bite to eat after posing for family photos with the jolly ol' elf himself. The Live Nativity, which returned last year due to popular demand, is back again this year as well.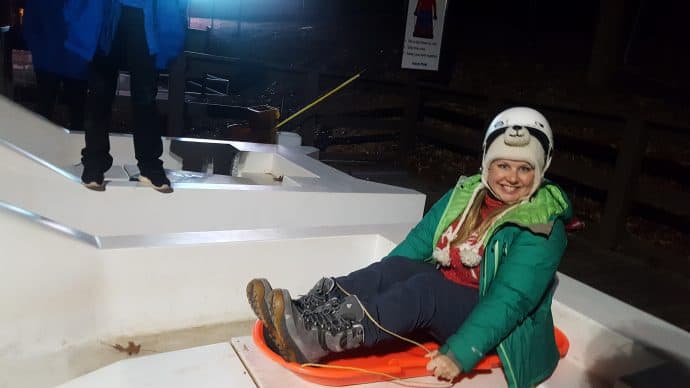 Added as a new element last year, their Winter Adventure (which runs nightly through Christmas, and then weekends-only through Feb 13) adds adrenaline-fueled "Snow Day" fun to the holiday festivities. The LanierWorld park is completely transformed into a winter wonderland: Thrilling water slides such as the Intimidator and Fun Dunker Drop will be turned into exciting bobsled tracks, wave pools and splash zones will become grounds for building snowmen and playful snowball fights, and the Thunderbolt Triple Zipline offers a bird's-eye-view of the whole shebang as it traverses one of Lake Lanier's countless coves.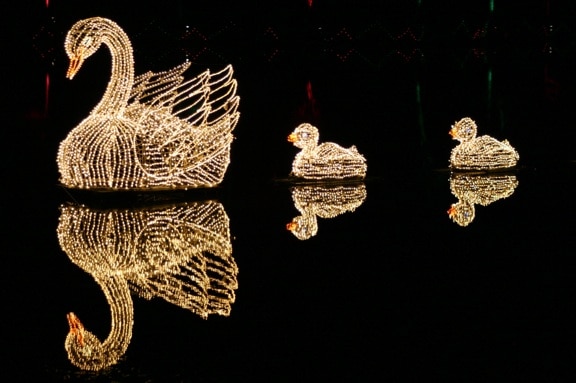 Stone Mountain Park (Nov 21-Jan 3)
Atlanta's most popular tourist attraction is also home to one of the city's most beloved holiday traditions. As the evening sun fades, the entire Crossroads Village sparkles with over 2 million lights and a gigantic outdoor Christmas tree, while Georgia's most famous mountainside is lit up by a holiday-themed laser show.
The celebration has tons of new elements added for 2016, including an eye-popping 4D film version of the holiday classic, Rudolph the Red Nosed Reindeer; meet-and-greets with live characters such as Rudolph, Clarice and Bumble the Abominable Snow Monster; and their all-new light display, "SkyLights Spectacular: A Musical Walkthrough Experience." This immersive attraction puts you smack dab in the middle of a holiday celebration in Santa's workshop, where kids' jaws will drop at the thousands of lights, projections and special effects.
There are also Sing-a-Long Christmas Train rides, storytelling with Mrs. Claus, the new "Twas the Night Before…" Holiday Cabaret, the live children's show "The Littlest Christmas Tree: Forever Christmas," "A Christmas Carol," and opportunities to pose for pictures with the Snow Angel, Santa and/or Mrs. Claus, and Rudolph and his friends.
Whatever you do, don't miss the nightly Christmas parade, which features special appearances by the Snow Angel and the Clauses, as well as the magical snowfall and rousing fireworks display that close out the nightly celebration.  –Bret Love; photos by Bret Love & Mary Gabbett
Like this Post? Pin It!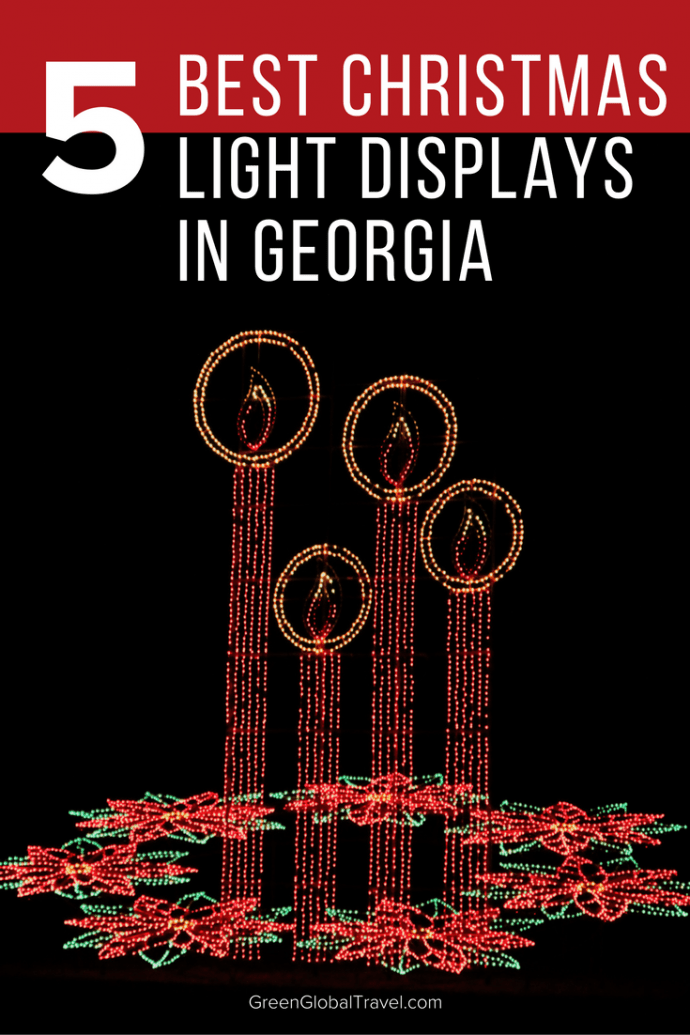 If you enjoyed  5 Best Christmas Light Displays In Georgia, you might also like: 
Best Gifts for Travelers: Christmas 2016
50 Christmas Traditions Around the World
Real Xmas Trees Vs. Artificial: Which Is More Eco-Friendly?
Top 5 Tips For A Green Christmas
GLOBAL CUISINE: Lebkuchen Recipe (Germany)