[UPDATED NOVEMBER 19, 2019]
It's no secret that our family truly loves Christmas. Whether we're heading out to enjoy our favorite Atlanta Christmas events or staying home to savor our beloved Christmas traditions and decorate our house with the symbols of Christmas, we tend to spend the entire month of December (and half of November) celebrating our favorite holiday.
Christmas lights are one of our favorite seasonal traditions. So naturally we adorn our home festively every year, both inside and out. I put up so many festive lights on the house, I've been called "Sparky" (after Clark Griswold) on more than one occasion.
But we also love visiting (and revisiting) the best Christmas light displays in Georgia.
When I was a young Atlanta native, the Christmas light displays near me were limited to just the Rich's (now Macy's) Great Tree in downtown Atlanta.
But these days there are dozens of Christmas light displays in Georgia, from Christmas lights in Atlanta to Christmas lights in Lake Lanier Islands, Callaway Gardens, Rock City, and Coastal Georgia.
No matter how old we get, we're still delighted by the shimmering lights and spirit of the holiday seasons. Perhaps that's why we continue to visit our favorite Christmas light displays every year.
Here's a look at a few of our personal favorites, as well as numerous others all around the state.
READ MORE: 2019 Atlanta Christmas Events: 50 Things to do for Christmas in Georgia
CHRISTMAS LIGHT DISPLAYS IN GEORGIA BY AREA
CHRISTMAS LIGHTS IN ATLANTA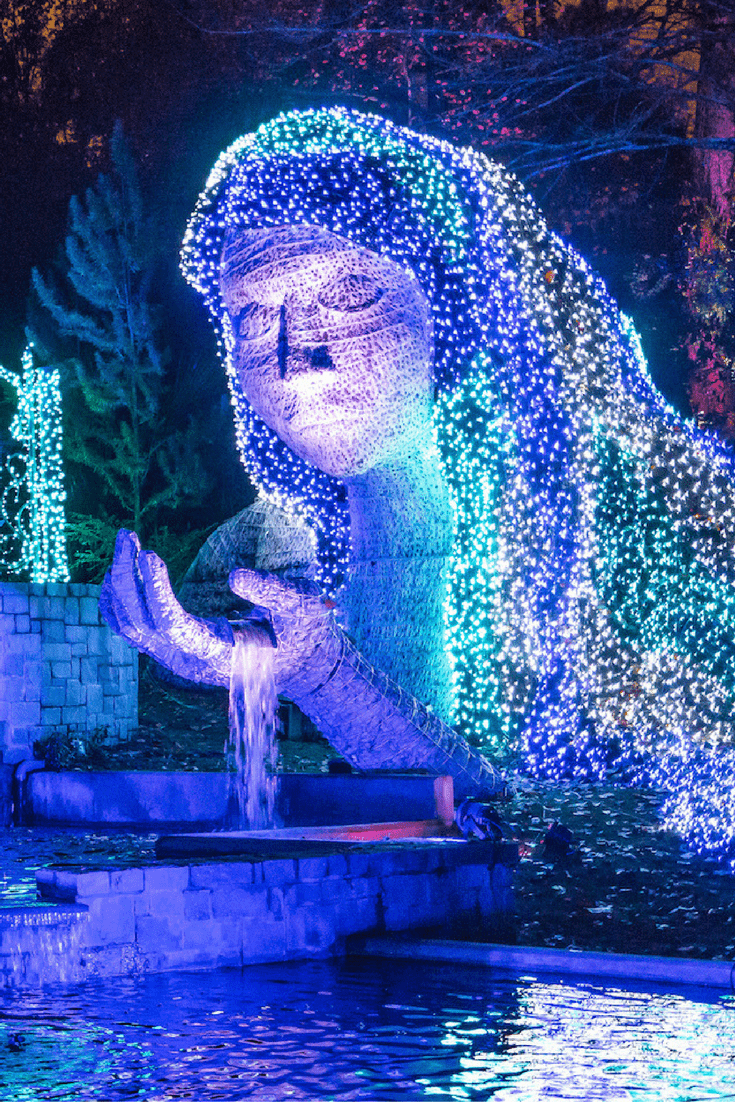 Atlanta Botanical Garden (Nov 16-Jan 11)
Georgia's greenest holiday celebration brightens the Atlanta Botanical Garden's 30 acres with over 2 million colorful, energy-efficient LED light bulbs.
Named one of the nation's Top 10 Holiday Lights Displays by USA Today, the Midtown attraction showcases botanical themes that accentuate the natural beauty of the gardens while adding a uniquely festive holiday twist.
The Skylights Lounge in the Skyline Garden will return this year. Plus, check out several larger-than-life plant giants from Imaginary Worlds: Once Upon a Time.
Be sure to check out the high-tech Nature's Wonders section, which showcases our planet's natural phenomena through countless strands of synchronized dancing lights strung high over Storza Woods. This is Mary's favorite Atlanta Christmas light display!
Some of our favorite returning features include Santa Mantis and her Brilliant Bugs fluttering through rows of corn in the Edible Garden; the Ice Goddess' shimmering locks and the glistening Ice Storm Trees; and the glowing Orchestral Orbs, which dance with color and light to the sounds of festive holiday tunes.
The perennially popular holiday celebration also offers 21 towering candles of varying sizes and colors along the Walk of Flames and an expanded galaxy of giant stars twinkling in the treetops of the Southern Seasons Garden.
We love the giant trees ranging from 20 feet (at the entrance to Linton's Restaurant) to 30 feet (atop the Alston Overlook), as well as the countless swirling red, orange, and white lights blanketing the 100-foot-long Tunnel of Light, which leads visitors from the Cascades Garden back to the Fern Dell's gorgeous galaxy of pulsating stars.
Unlike most of the Christmas light displays in Atlanta, the Atlanta Botanical Garden encourages people to get out of their cars and walk around, passing giant snowflakes, massive Xmas trees and beautiful Chihuly glass sculptures while listening to strolling carolers and sipping hot cocoa or tea.
Eight years in, it's become one of Atlanta's most beloved holiday traditions. If you're looking for a hotel near the Atlanta Botanical Garden, check out the W Atlanta Midtown. Check Hotel Rates for the W Atlanta Midtown on Booking.com.
READ MORE: The 20 Best Places to Spend Christmas in the USA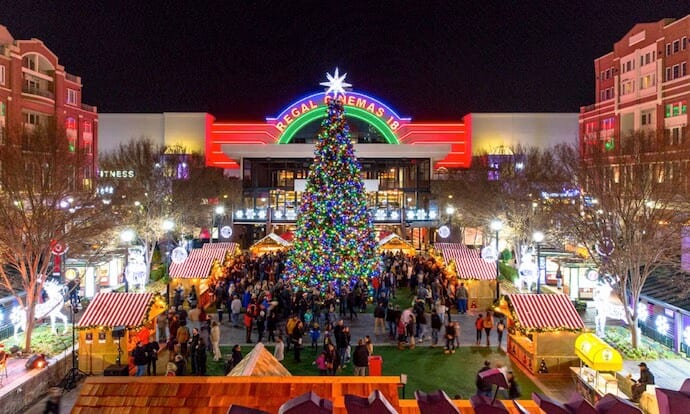 Atlantic Station (TBD)
In the years before we launched GGT, we helped run an improv comedy company in Atlanta. One of my favorite memories from that time was organizing a group to sing carols in Atlantic Station. This was one of the first years they had their 50-foot-tall Christmas tree there.
The Midtown hotspot's annual holiday celebration has grown considerably over the past eight years. Their Christmas light display now includes a quarter of a million lights within an 8-block radius, and it's FREE to walk or drive through.
This year's events will be held in a new location on WINTER WONDER LANE – just off Market Street and adjacent to Dillard's. You can explore Atlantic Station's seasonal shopping opportunities, dine at one of its 17 restaurants, or visit Santa's Cottage.
There's also an ice skating rink– one of only two outdoor rinks in metro Atlanta.
READ MORE: 75 Christmas Traditions Around the World (w/ Fun Christmas Facts)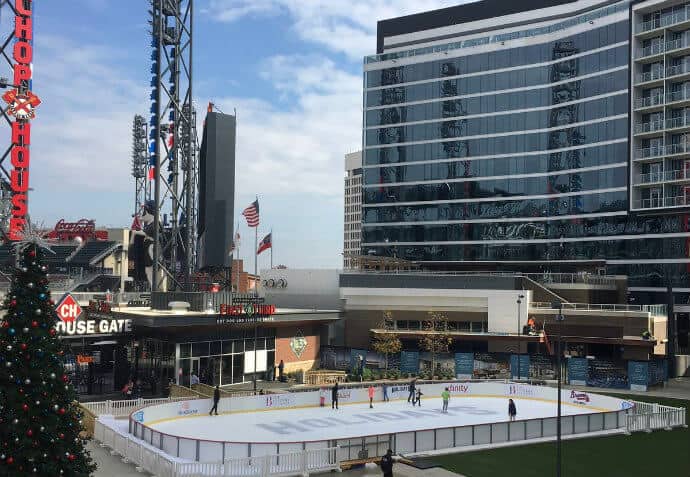 Battery Atlanta (Nov 23 – Dec 25)
Now in its third year, the Battery Atlanta will start holiday festivities at 7 PM on November 23 with the Tree Lighting ceremony. Special guests will include several current Atlanta Braves players and Santa Claus himself.
Be sure to check out the Battery's new immersive Holiday Light Show, with Christmas music all night and holiday classic The Grinch being shown on the plaza's big screen.
Santa will be available every Thursday through Sunday, as well as on Christmas Eve at the SunTrust onUp Experience for free visits and photos.
On December 1, 8, 15, and 22 (10AM to noon), there will be a low-sensory Santa experience for special needs families. On December 8 and 15, get your fur baby ready for Santa Paws Night.
READ MORE: 50 Facts About the History of Santa Claus Around the World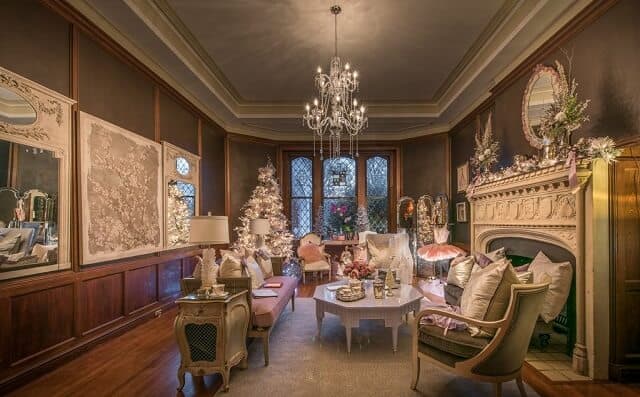 Callanwolde Fine Arts Center (Nov 29-Dec 7)
One of the most upscale places to see Christmas lights in Atlanta, Callanwolde Fine Arts Center's annual celebration of the season centers around their Designer Show House.
An Atlanta tradition for over 40 years, the 27,000 square foot mansion welcomes visitors to elaborately decorated room by some of the city's top floral and interior designers.
Your self-guided tour also includes professionally holiday displays, a artists' market offering one-of-a-kind gifts, and themed events for kids and adults.
At night, the Fine Art Center's 12-acre campus is all aglow, with the buildings and trees festively decorated by the pros at Illuminating Design.
READ MORE: 20 Recycled Christmas Decorations & DIY Christmas Crafts to Make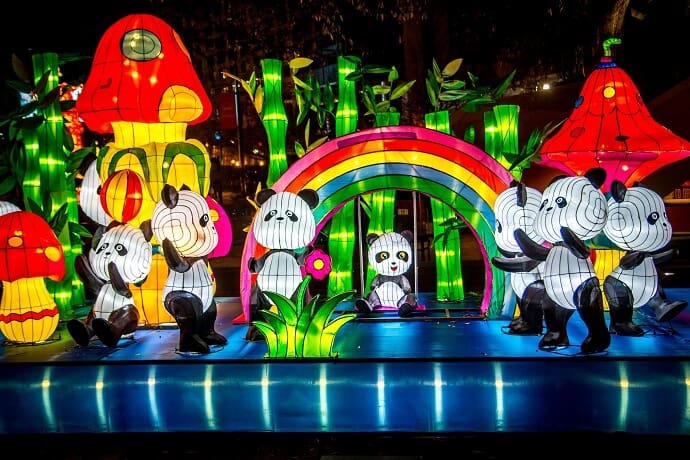 Centennial Olympic Park (Nov 22-Jan 5)
Right in downtown Atlanta, the International Winter Wonderland brings together all sorts of holiday magic through interactive festivities, nightly live entertainment, dancers, acrobats, and all sorts of delicious cultural food.
The Chinese Lantern Festival will brighten up the nights with over 25 handcrafted interactive lanterns that can be viewed and touched up close. The theme of the festival is "INTO THE WILD" and the lanterns will depict endangered species of animals in an effort to put a spotlight on the importance of animal protection.
Another cool part of the International Winter Wonderland's offerings is the authentic German Christkindl Market. There you can find food, drink, and seasonal items in open-air booths, accompanied by traditional singing and dancing.
The festive Christmas street market tradition dates back to the late Middle Ages in Europe. The market is sponsored by the German American Cultural Foundation as a means of spreading German culture within the United States.
READ MORE: German Christmas Cookies (Lebkuchen Recipe a.k.a. German Gingerbread)
CHRISTMAS LIGHTS NEAR ATLANTA (SUBURBS)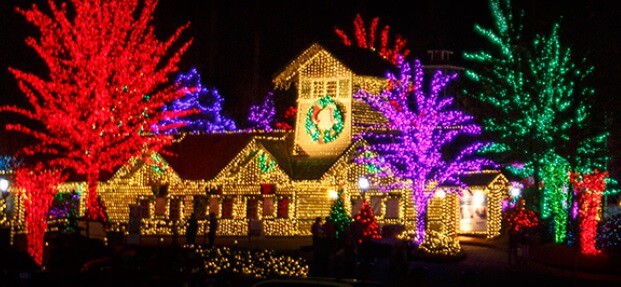 Stone Mountain Park (Nov 16-Jan 5)
Atlanta's most popular tourist attraction is also home to one of the city's most beloved holiday traditions. As the evening sun fades, the entire Crossroads Village sparkles with over 2 million lights and a gigantic outdoor Christmas tree, while Georgia's most famous mountainside is lit up by a holiday-themed laser show.
Returning for 2019, enlist all of your senses for The Polar Express™ 4-D Experience and gather round for the Enchanted Tree Lighting Ceremony each night.
There are also Sing-a-Long Christmas Train rides, storytelling with Mrs. Claus, the high-energy musical- Christmas in the City, the live children's show The Littlest Christmas Tree: Forever Christmas, and A Christmas Carol.
Don't miss the numerous opportunities to pose for pictures with the Snow Angel, Santa and/or Mrs. Claus, and Rudolph and his friends.
Whatever you do, don't miss the nightly Christmas parade (which features special appearances by the Snow Angel and the Clauses), as well as the magical snowfall and rousing fireworks display that close out the nightly celebration. Check Hotel Rates and Read Hotel Reviews.
READ MORE: The 15 Best Day Trips From Atlanta (For Nature Lovers)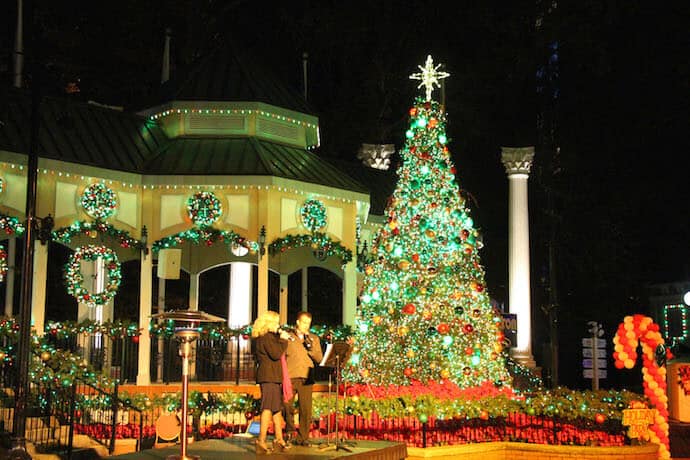 Six Flags Over Georgia (Select dates Nov 24-Jan 5)
For its fifth season at Six Flags, Holiday in the Park is upping the ante more than ever before.
The raw stats: 30 thrilling rides decked out in Christmas decor, 16 different holiday-themed sections, and more than one million twinkling LED lights. One of the most unique ways to see the park's holiday lights is from above on the Sky Buckets.
Six Flags Over Georgia's newest light show is in the tunnel of wonders. Watch as this epic holiday light show flows around you and listen for the special holiday story every 15 minutes.
Be sure to embrace the romance of the holidays at Mistletoe Mansion where you can be surrounded by a woodland of garland, mistletoe and more than 100,000 lights.
The park also features a stained glass nativity scene, Holiday Hill, Peppermint Plaza, the North Star with meteor shower lights, holiday themed entertainment and seasonal treats. . Check Hotel Rates for Springhill Suites by Marriott Six Flags via Booking.com.
READ MORE: Top 5 Autumn Activities Around Atlanta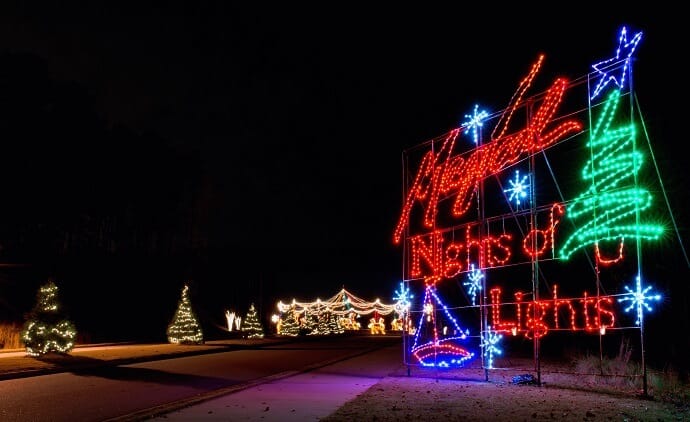 Lake Lanier Islands (Nov 22- Jan 5)
Lake Lanier Islands Magical Nights of Lights is one of Georgia's longest-running Christmas light displays. Trivial tidbit: It's also the place where Mary & I kissed for the first time, on our second date nine years ago!
Taking over Buford's Lake Lanier Islands, Magical Nights of Lights has been almost completely revamped over the last few years.
It starts off with a scenic 7-mile drive through some of the most extravagant Christmas light displays you can imagine, including colorful themed sections such as the Snowflake Bridge and Teddy Bear Lane.
Now in its 27th year, all 19 new displays created in partnership with Margaritaville at Lanier Islands will return this year. These include Jimmy Buffet-themed tropical displays such as the "It's 5 o' Clock Somewhere" clock.
Back in 2014 they introduced a new, expanded Christmas village filled with carnival rides such as a Ferris wheel and old-fashioned carousel, games, pony rides, and blazing bonfires for roasting marshmallows.
St. Nick still holds court inside Santa's Shop, where you can also grab a bite to eat after posing for family photos with the jolly ol' elf himself.
For an additional charge of $24.99, visitors can explore the new License to Chill Snow Island. The attraction includes winter-themed carnival rides, an ice skating rink, a fire pit for roasting S'mores, specialty winter drinks, and the all-new Parrot Mountain snow slide that is one of the longest winter snow slides in North America.
Be sure to check out Lake Lanier's special Holiday themed overnight packages! Check Rates for Lanier Islands Legacy Lodge via Booking.com
READ MORE: 125+ Best Gifts for Travelers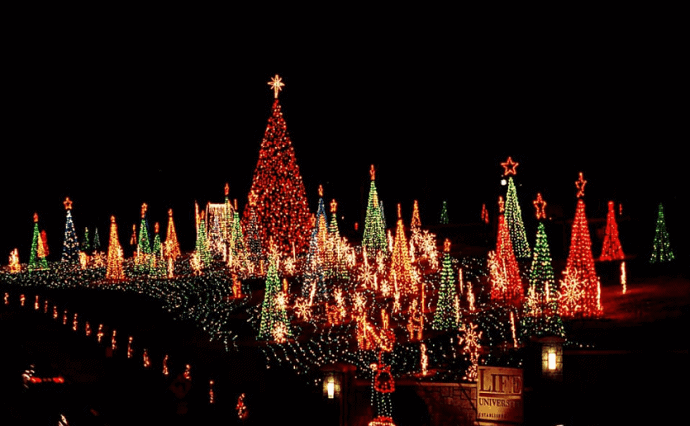 Life University, Marietta (Nov 28- Dec 31)
One of Atlanta's oldest and most underrated Christmas light displays, Lights of Life nevertheless draws huge local crowds thanks largely to word-of-mouth.
It's also much cheaper than most– just $5 per car on weeknights until mid-December, and $10 on weekend nights. During the week, Families are encouraged to visit to avoid weekend traffic and to take advantage of the lower price.
That's a bargain for a one million LED light display that includes over 100 pieces (including a 65-foot Santa/sleigh display, the tallest in the Southeast) on the 1.5 mile drive through the college's campus. Each year, the display is a little different, making each experience unique.
For additional fees, there is also a petting zoo, pony rides, train rides. and opportunities to have your photo taken with Santa.
READ MORE: 20 Symbols of Christmas: The History & Meaning of Traditional Christmas Decorations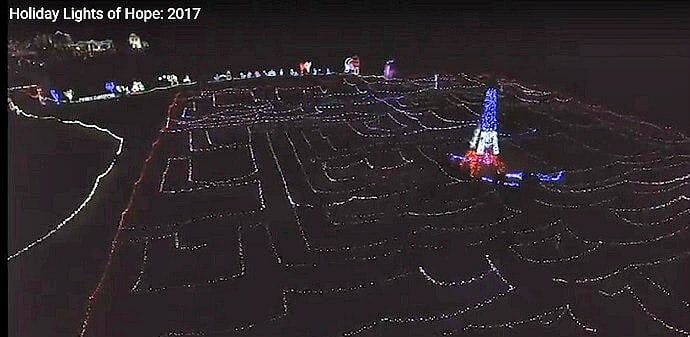 Hobgood Park, Woodstock (Dec 5-23)
This Christmas light display in Woodstock is so under-the-radar, we live less than 8 miles away and had never heard of it until we were researching this piece!
But Holiday Lights of Hope is HUGE, with more than two million twinkling lights, including traditional and animated displays.
Families will enjoy walking through a mile-long Christmas maze, roasting S'mores over a roaring bonfire, and getting pictures taken with Santa. Grown-ups can enjoy strolling down Main Street, shopping at the General Store, and listening to Christmas carolers along the way.
Best of all, your $10 adult ticket (free for children 14 and under) benefits the Anna Crawford Children's Center.
READ MORE: The 20 Best Environmental Charities & Animal Charities for Holiday Donations
Cartersville (Nov 28–Dec 30)
This 80-acre farm in Cartersville has been in the Allen family since 1945, when Lake Allatoona was expanded.
Now run by the grandchildren of the original owners, the farm features over a mile of Christmas lights to drive through ($15 per car, or $10 per person for an old-fashioned hayride). Included in the price is a visit to their petting zoo, where you can also see live Reindeer.
Santa Claus makes appearances for photo ops every Thursday through Sunday, and there's a Live Nativity scene every weekend.
Bring some extra cash along to purchase hot cocoa, apple cider, marshmallows for roasting, and kits to make S'mores on the campfire. They also have Christmas trees for sale.
READ MORE: Real Christmas Trees Vs. Fake Christmas Trees: Which Is Better?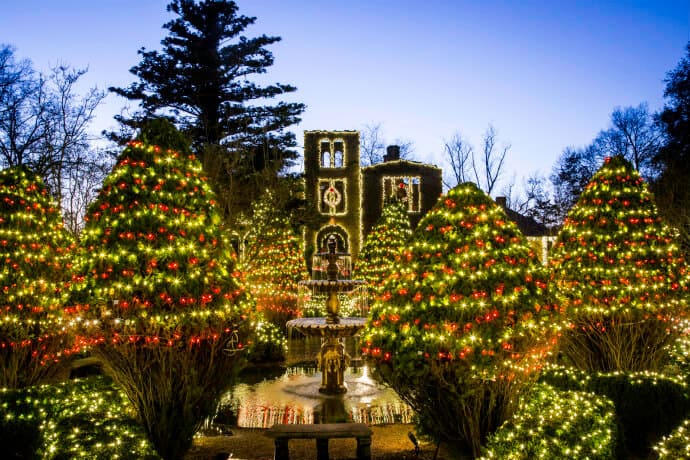 Barnsley Resort (Nov 22 – Jan 1)
Located in the foothills of the Blue Ridge Mountains, Barnsley Resort (formerly known as Barnsley Gardens) is famous for Southern charm and its gothic ruins.
The English-style garden and historic Manor House Ruins will be all lit up with colorful holiday lights for this north Georgia Christmas celebration.
Campfire storytelling, cookie decorating, gingerbread house crafting, harvest hay rides, and wreath-making classes are just some of the many holiday-themed events held throughout the season.
Be sure to come with an empty stomach on Christmas Day, to enjoy the extensive buffet from their Executive Chef in the resort's new Georgian Hall. Check Rates for the Barnsley Resort via Booking.com
READ MORE: Barnsley Resort: A Southern Gothic Love Story

Canton (Nov 29-Dec 31)
This awe-inspiring light display combines patriotism and holiday magic featuring animated Christmas displays, 2 drive thru tunnels, and over 1 million twinkling lights throughout the 2-mile drive.
A quarter mile of the drive is dedicated to veterans with displays set up as a tribute to each branch of the U.S. military.
The event costs $20 per car and includes multiple run throughs on the same night, but your ticket goes to more than just a dazzling light display. A portion of the proceeds will be donated to various charities including Papa's Pantry, Skills USA, CRPA Play it Forward, and Veterans of Cherokee County.
Starting November 29, the drive will be available until December 31 and will open at 6PM whether rain or shine.
READ MORE: 20 Ways to Celebrate the New Year around the World
CHRISTMAS LIGHT DISPLAYS IN NORTH GEORGIA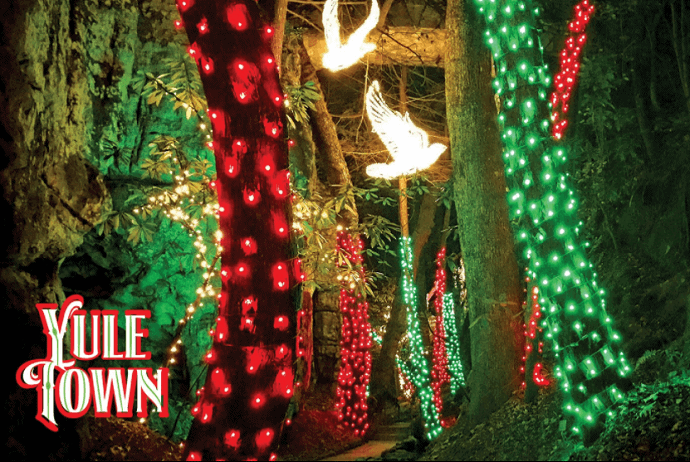 Rock City Gardens, Lookout Mountain (Nov 22-Jan 4; Closed Dec 24)
Most of us who grew up in Georgia remember the famous "See Rock City!" signs, which seemed to be painted on every barn in the area. But these days Rock City is nationally known.
Their Enchanted Garden of Lights celebration was selected as a Top 20 Event by the Southeast Tourism Society, and recently featured on ABC talk show The Chew.
With more than 30 holiday scenes and nearly a million LED lights that transform the gardens' usual splendor into a winter wonderland, this is arguably north Georgia's best Christmas light display.
There are an array of seasonal activities to enjoy, including decorating gingerbread cookies, drinking hot cocoa, and live entertainment every night. For an extra charge, kids can also enjoy Dinner with Santa, Jack Frost, Inara the ice queen, and the Dancing Forest. Check Rates at the Chanticleer Inn Bed & Breakfast on Lookout Mountain via Booking.com.
READ MORE: The 25 Best Places to Spend Christmas in Europe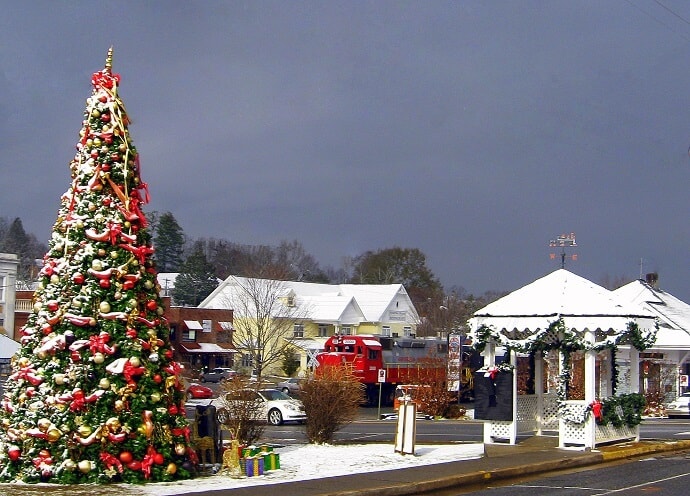 Downtown Blue Ridge (Nov 29-Dec 15)
Blue Ridge is one of Georgia's most lovely little mountain towns, and in recent years has emerged as a burgeoning progressive hotbed with a growing LTGBQ contingent.
Light Up Blue Ridge is one of the community's most beloved annual celebrations, offering an array of activities and special events that the whole family can enjoy.
The action begins with Blue Friday– their small town twist on Black Friday– on November 29. There will be killer shopping deals at many of the stores, live entertainment, and caroling in the streets (starting at 6 PM).
But the main event begins on Saturday, November 29, with a full day of fun festivities. Santa arrives on the train around 11:00 AM, and will be available for photos from 12:30 to 4:40 PM.
For kids, there will be a petting zoo, pony and train rides, and gingerbread house and window decorating contests.
For an extra charge, you can ride aboard the Santa Express or the Night Train to Santa's Pavilion via the Blue Ridge Railway.
Then at 5:30 PM the Christmas parade begins, with live music, strolling Christmas characters, and floats festooned in down home Christmas cheer.
But the highlight of the day is sure to be the 7 PM lighting of the town's 27-foot-tall Great Tree, whose shimmering Christmas lights and colorful ornaments will be the center of the action right up until Christmas Day. Check Rates for Red Apple Cabin or Blue Ridge Inn Bed & Breakfast via Booking.com
READ MORE: Blue Ridge Mountains Travel Guide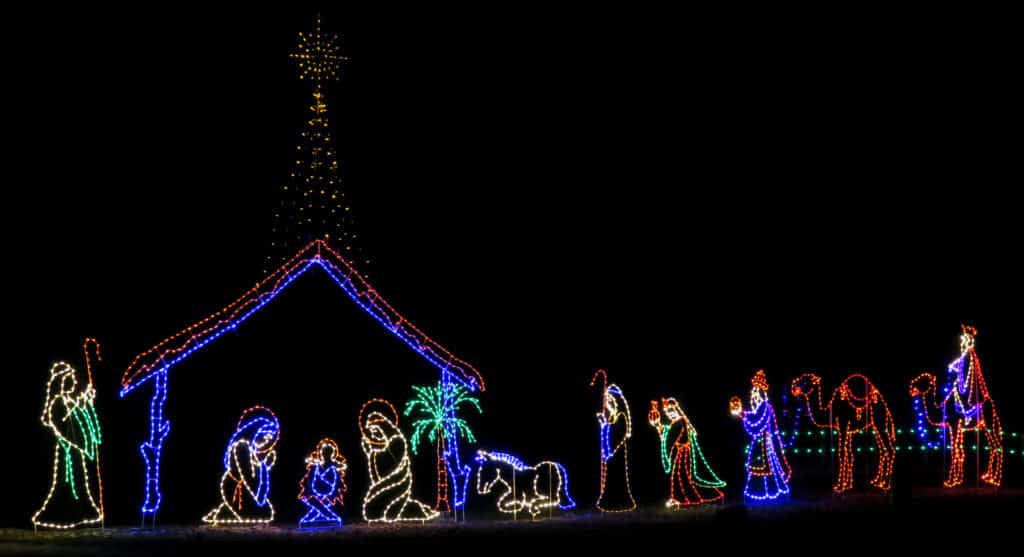 Georgia Mountain Fairgrounds, Hiawassee (Nov 28-Dec 29)
The Georgia Mountain Fairgrounds are located along the scenic shores of Lake Chatuge in the state's beautiful northeastern mountains.
The venue is best known as the site of the Georgia Mountain Fair, Georgia State Fiddlers Convention, and concerts by big bands such as the Beach Boys and Casting Crowns.
But the Mountain Country Christmas In Lights is a down-home holiday affair that transforms the fairgrounds with a spectacular light show.
Visitors can also enjoy Christmas music provided by local church groups, shopping for arts and crafts from local vendors, festive holiday food, and, of course, the requisite pictures with jolly old St. Nick! Check Rates for Hidden Valley B&B in HIawassee via Booking.com.
READ MORE: Countries that Do Not Celebrate Christmas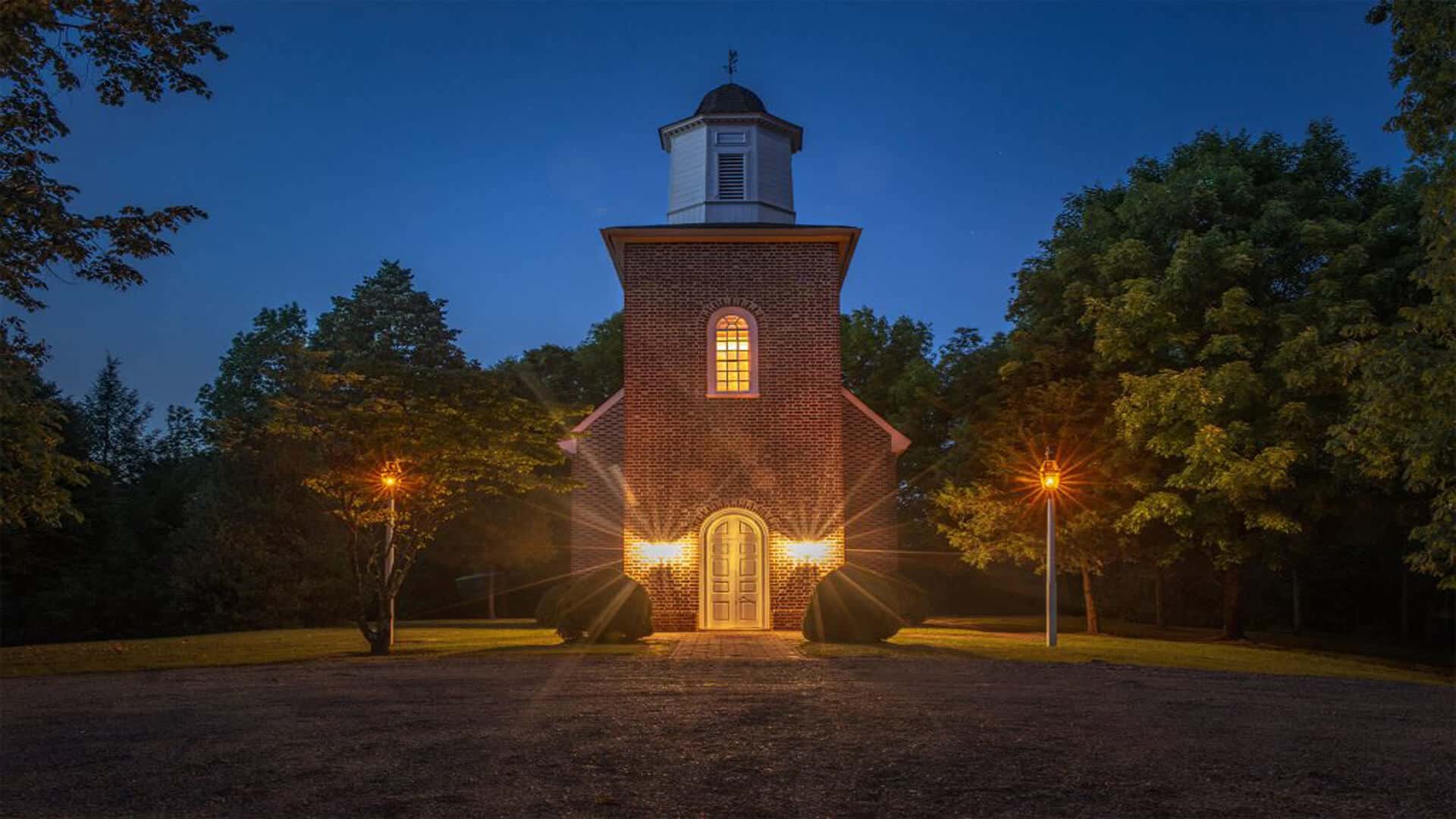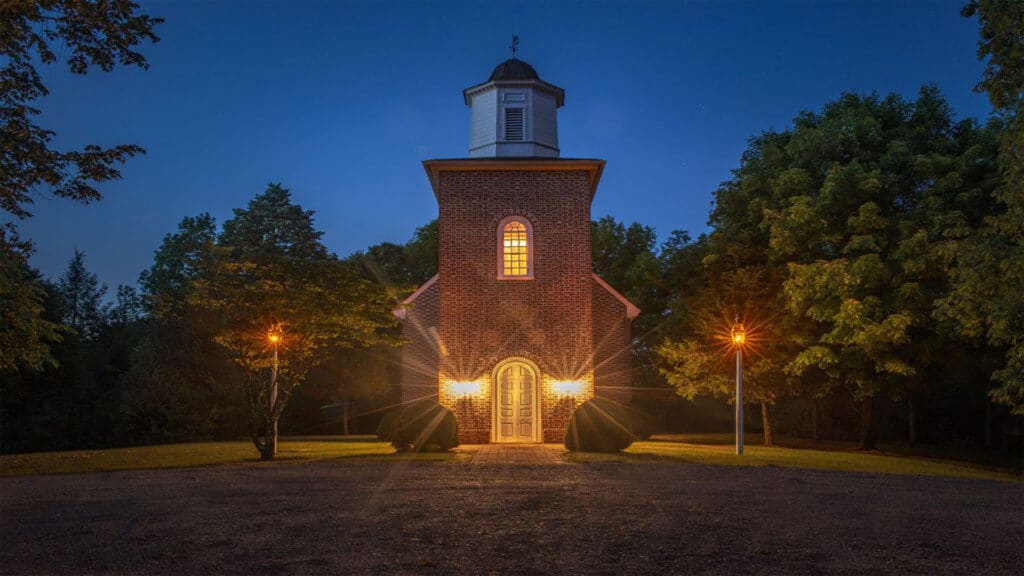 Blue Ridge (Nov 29-Jan 5)
Brand new to 2019, Holidays at INOLA Blue Ridge promises an exciting mix of Christmas festivities both old and new as well as dazzling décor throughout the colonial style village that was built in the 1980's.
The grand opening will take place on November 29th where guests can stroll through the site touring historic building replicas like Wetherburn's Tavern, the original post office and barn as well as the historic chapel.
Horse and carriage rides are available for $10 per person (children 3 and younger are free) and ice skating at the INOLA ice skating rink will be available.
Children can look forward to visiting with Santa at the Wythe Estate arbor and hearing Christmas stories with Mrs. Claus by the Wetherburn fireplace.
But the true spectacle comes at sunset when INOLA will light up as the countless holiday lights glow throughout the village and illuminated maze kicking off the Yule log celebration that begins at 7 PM in front of the Wythe Estate.
CHRISTMAS LIGHT DISPLAYS SOUTH OF ATLANTA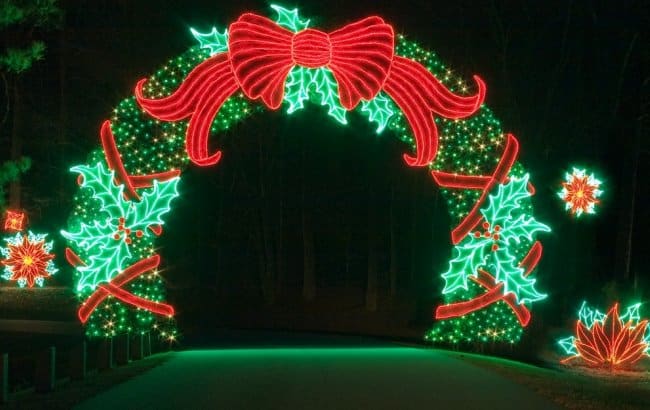 Callaway Gardens (Nov 15 – Jan 4)
Callaway Gardens' annual Christmas celebration is the largest in the state of Georgia. It has even been recognized by National Geographic as one of the Top 10 Christmas Light Displays in the World!
Be sure to check out "Snow Day," which brings those two magical words every child loves to hear to life in lights depicting scenes of building snowmen, sledding and sipping hot cocoa.
This is just the latest expansion of the state's most high-tech Christmas light display, which already included over 8 million twinkling bulbs and 14 classic themes (including "Snowflake Valley," "Magical Christmas Garden" and "Santa's Workshop") stretched across a 5-mile drive filled with holiday music.
Fantasy In Lights also includes narrated scenes of 'Twas the Night Before Christmas and The Nativity at Robin Lake Beach. There's a 22,000-square foot Christmas Village offering handmade arts and crafts, food, and photo opportunities with Santa.
Kids will especially story time with Mrs. Claus and the weekend breakfasts with beloved characters such as Frosty, the Grinch, and Rudolph. Visitors are welcome to view the holiday spectacular via their own personal vehicle or take the "Jolly Trolley."
For guests who want to spend the night, Callaway Gardens also offers special packages starting with added benefits such as shuttle service to Christmas Village and daily Gardens admission(a value of $25 per adult; per day). Check Rates for Callaway Resort & Gardens via Booking.com.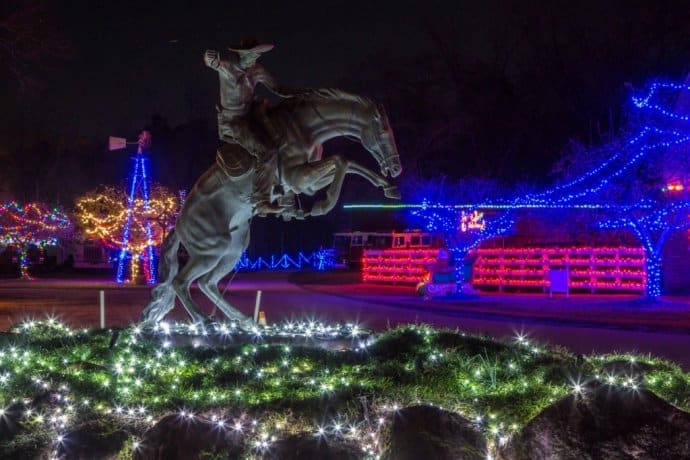 The Rock Ranch, Barnesville (Nov 28-Dec 25)
Located in central Georgia just north of Macon, the Rock Ranch is another family-owned farm. But in this case, it's a very famous family– that of the late Chick-fil-A founder S. Truett Cathy.
He started the "Country Christmas" tradition himself in 2010 when he bought a truck load of lights from Lowes and Home Depot during their annual After Christmas sales.
Now his estate offers more than a mile of twinkling Christmas lights for visitors to drive through. On "Country Christmas Nights"– November 28, December 1, 8, 15, 22, and 25– only tractor/trolley rides through the display is available.
New for 2019 is the holiday gift shop and Christmas cafe which will be available on drive-though nights.
But when you're done, you can visit Santa's Workshop for an extra charge, making Christmas cookies, having story time with an elf, and writing letters to Santa.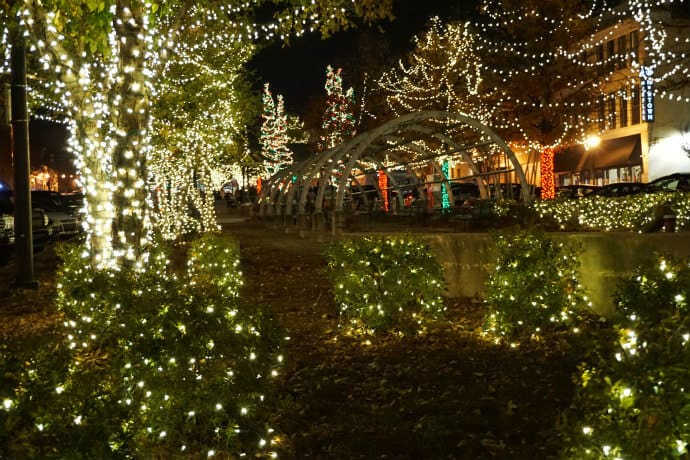 Historic Downtown Macon (Nov 29-Jan 3)
Now in its third year, this Christmas light display in Macon received an infusion of cash in the form of two grants.
The first, in the sum of $175,000 to NewTown Macon, allowed them to add two more blocks to the Christmas light show. The second, for $25,000, was awarded to the Macon Pops symphony orchestra and will pay for a free live performance on the event's opening night.
The goal, of course, is to draw more locals to historic downtown Macon, which is known as "the Heart of Georgia" due to its location near the geographic center of the state.
The town (which is known for giving birth to musical icons such as the Allman Brothers Band, Otis Redding, Little Richard, and half of R.E.M.) will be lit up with thousands of Christmas lights adorning practically every shop, shrub, and more.
The lights will all move in time to original music composed by the Macon Pops, with local artists featured on vocals.
The lights will be on from 6 to 11PM nightly, with the light shows starting on the hour at 7PM, 8PM, and 9PM.
In addition to driving through the Christmas light displays, you can also stroll streets lined with candy canes, illuminated arches, and twinkling trees as you explore the shops and restaurants downtown Macon has to offer. Check Rates for Burke Mansion in downtown Macon via Booking.com.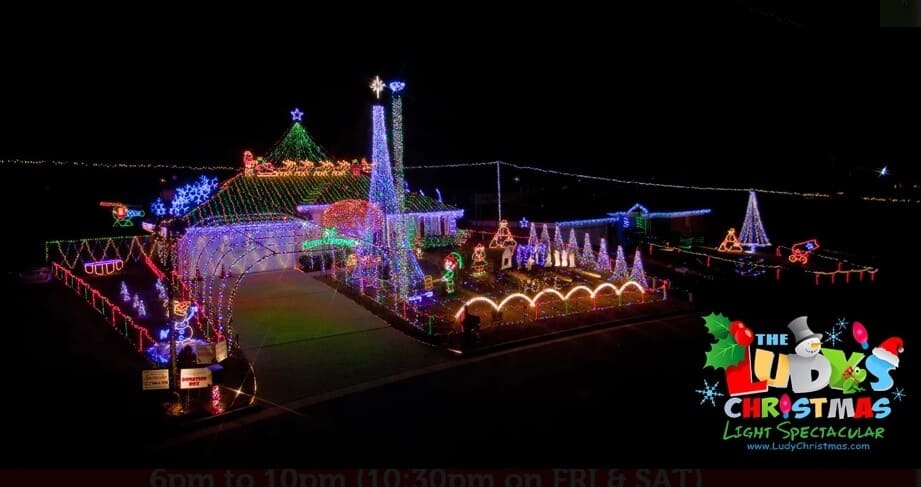 Columbus, Georgia (Nov 28-Dec 31)
If you're like us, and festooning your house with Christmas lights is a big part of your annual holiday traditions, visiting the Ludy's house will provoke a mixture of motivation and envy.
Made famous by the ABC show The Great Christmas Light Fight, this Columbus family's dedication to spreading holiday cheer would make Clark Griswold burst with joy.
From Thanksgiving Day through New Year's Eve, their house and lawn are covered with over 155,000 lights and decorations. The display is so elaborate, it takes nearly four months to put it up!
All of the Christmas lights are sequenced to music, so make sure you tune your radio to FM 90.1 as you enter their Cottonwood Subdivision.
Admission is free, but you can show the Ludy family some love by donating to the Georgia Chapter of the Make-A-Wish Foundation. Check Hotel Rates.
READ MORE: 40 Fun Facts About Thanksgiving Around the World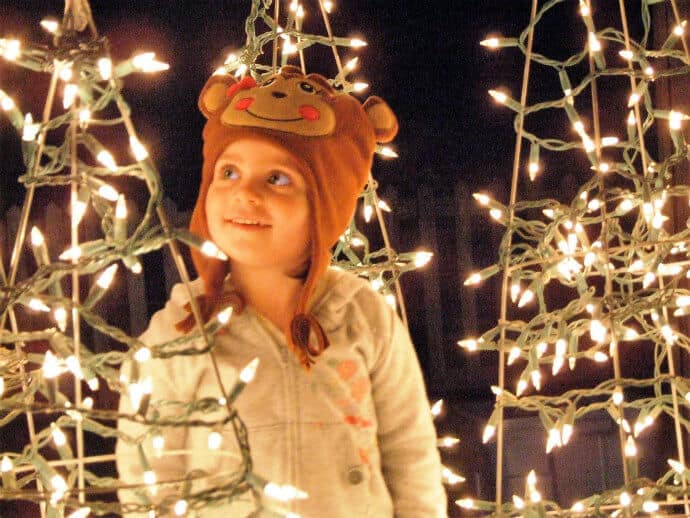 Albany (Dec 6-11, 16-18, 26-31)
Located about two hours south of Macon off I-75 and I-10, Albany is most famous as the birthplace of music legend Ray Charles.
Every year at Christmastime the tiny town of about 70,000 residents comes alive with holiday spirit, with the Festival of Lights at Chehaw Park at the epicenter of activity.
This annual tradition allows guests to self-drive or ride the Wiregrass Express Train through the park, which features festive holiday songs and more than 1,000 twinkling Christmas light displays.
Each of these pieces is made by hand in the park's welding shop, so the experience is guaranteed to be different from anything you'll see in other Christmas light displays in Georgia.
Admission to the attraction is just $15 per vehicle (or $12 per vehicle for park members) on "lights only" nights, which include Dec. 4-6 and 10-15 (to be confirmed).
But they also offer "premium nights," starting with the arrival of Santa and Mrs. Claus by train on Dec. 11, and continuing on Dec. 12-13, and Dec. 16-24 (to be confirmed). On these nights, the cost per vehicle is $17.50 for non-members and $12 for members.
In addition to visiting the Festival of Lights display and having a chance to meet (and take photos with) the Clauses, the premium nights also offer an opportunity to play in South Georgia's only real snow pit, enjoy various holiday-themed arts and crafts activities, and purchase hot cocoa, marshmallows, and other tasty treats.
The attraction will also host a few special events: On Dec. 9 (to be confirmed), all admission proceeds will be donated to area non-profit organizations of your choosing.
There will also be an early session for cyclists on Thursday from 6 to 9 pm. For $10 per person or $30 per family, cyclists can enjoy the Festival of Lights, a two-mile bike ride, a bonfire marshmallow roast, and a dinner plate. All ages are welcome.
CHRISTMAS LIGHT DISPLAYS IN COASTAL GEORGIA
Coastal Georgia Botanical Gardens, Savannah (Nov 22-Dec 23)
The northern half of the state has more than its fair share of Christmas light displays, but this is a rare gem in central Georgia.
Savannah's Coastal Georgia Botanical Gardens is bedazzled with over a million sparkling lights, with a walking tour allowing you to visit the various garden areas that are illuminated at your leisure.
But of course the lights aren't the only attraction. Kids can get photos taken with Santa Claus, visit the Coastal Rail Buff's miniature train display, or stop in Mrs. Claus' Kitchen for a hot beverage or baked Christmas goodies (where your purchase supports local non-profit groups). Check Hotel Rates.
NOTE: Because rain causes the lights to trip breakers, this display is weather-dependent.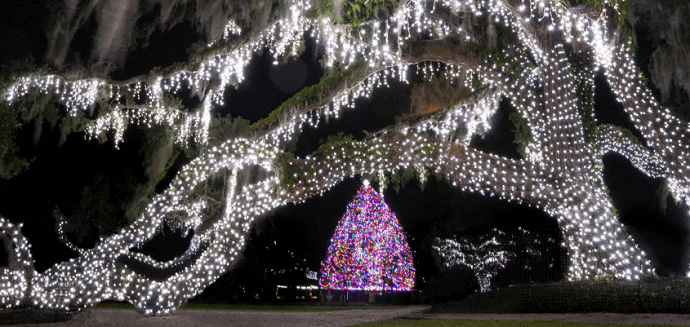 Jekyll Island (Nov 29-Jan 5)
Located on the beautiful Jekyll Island, the Holly Jolly Jekyll season returns with fun activities and festive décor sure to make your holiday get away truly unforgettable.
The island will be aglow with over half a million lights that can be viewed by foot or on a trolley with the Holly Jolly Light Tours. The tour lasts 40-minutes and costs $15 for adults, $7 for children ages 5-12, and is free for children 4 and under.
While on the tour you will be able to sit back and enjoy the historic live oaks twinkling in vibrant colors and all the light displays set in a coastal wonderland.
There will be plenty of fun activities to participate in including a skating village set up in the Historic District. It features a synthetic ice rink where you can strap on real ice skates and glide away without worrying about the pain or cold of actual ice skating.
Santa will also be at the event hosting the Winter Carnival where kids can enjoy free games, rides, and music at the Village Green and the whole family can enjoy food at the various Beach Village restaurants while viewing evening fireworks.
Be sure to look out for the Holly Jolly Jekyll Parade and the Lighting of the Great Tree on December 7 starting at 5:30 PM in the Historic District.
–by Bret Love; photos by Bret Love & Mary Gabbett unless otherwise noted
Like this Post? Pin It!