Polar Bears Photo Gallery
Our Favorite Polar Bear Pics From Churchill
When we interviewed Jane Goodall last year, she recalled that, when she first started studying chimpanzees in the wild, "it was not appropriate, especially if you were a scientist, to talk about [animals] having personalities or emotions." But after spending 4 days on an Natural Habitat's Tundra Lodge in Churchill, Manitoba, I'd argue that it would be virtually impossible not to anthropomorphize them.
When you're in a situation where you can observe 3 to 5 polar bears on any given day, for hours on end, from a proximity that ranges from 3 to 50 feet, you begin to notice distinctive characteristics and personality traits that make each animal unique. Barely on the tundra two days, our group had come up with nicknames for several of the bears that hung out around the lodge 24/7.
There was Chubby, the biggest and friendliest bear, who always hung out near the dining car or the crew's sleeper car and often looked up with sleepy curiosity. There was Gimpy, who had an injured paw, walked with a slight limp, and was a bit crusty and quick to squabble as a result. There was Freckles, who had spots on his face and seemed to come and go more often than the others. And then there was Scarface, who was much younger, smaller and more timid than the others: He tended to keep his distance from the big guys, was more skittish around the lodge, and had a noticeable scar in the center of his nose from a previous fight. But he also had the most beautiful, luscious coat, without a hint of dirt or detritus on his body.
We fell in love with these bears, and wanted to share a few of our favorite photos of them. I have a hunch you'll fall in love with them, too…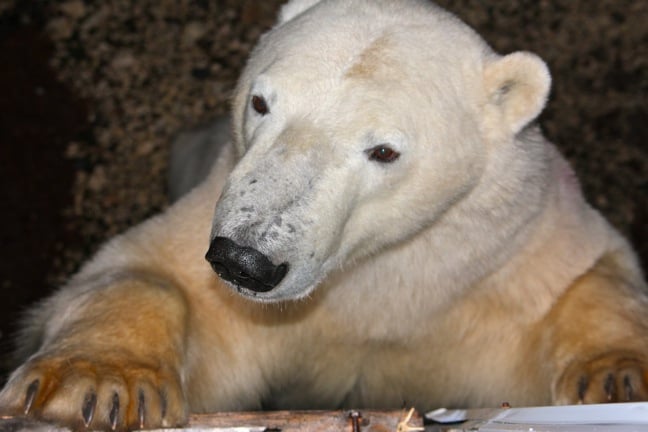 Chubby loved putting his paws up on the side of the dining car around mealtime and sniffing the smells emitting from the kitchen. This is as close as you can get to a polar bear in the wild without getting eaten.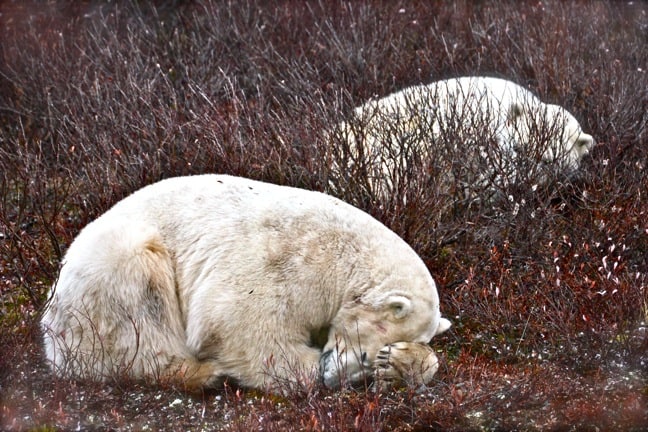 Our guides described the state polar bears are in at this stage of the season as "walking hibernation." They slept, conserving energy for the hunt to come. This one reminded me of my dog, napping with his paw over his face.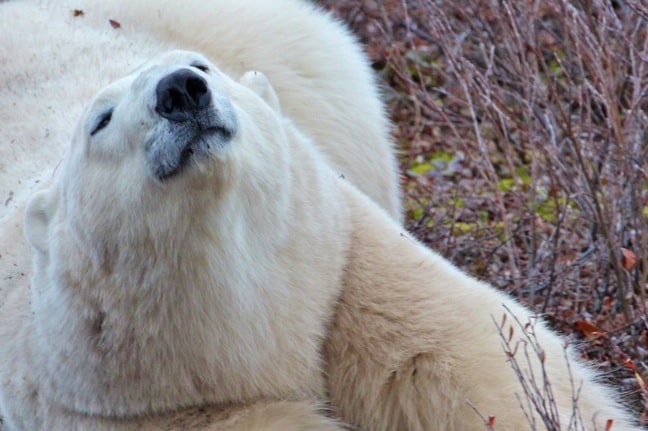 Because they were essentially sleepwalking, the polar bears' movements for much of the day tended to be slow and deliberate. Somehow, this made them even more adorable and amusing. Love this big stretch!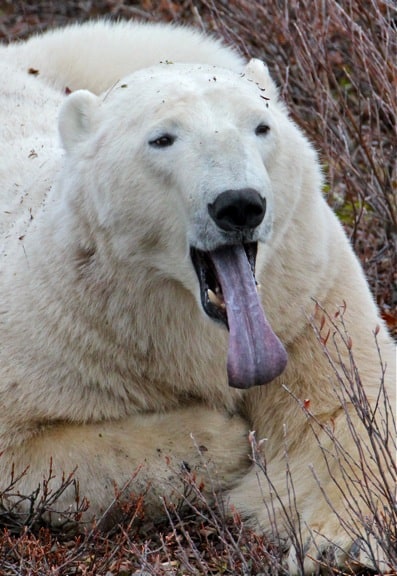 Temps hovered around freezing, so at times people got cold/frustrated waiting for the bears to do something interesting. But if you were patient, you'd get moments like this, which made all the waiting worth it. Can you believe the size of his tongue?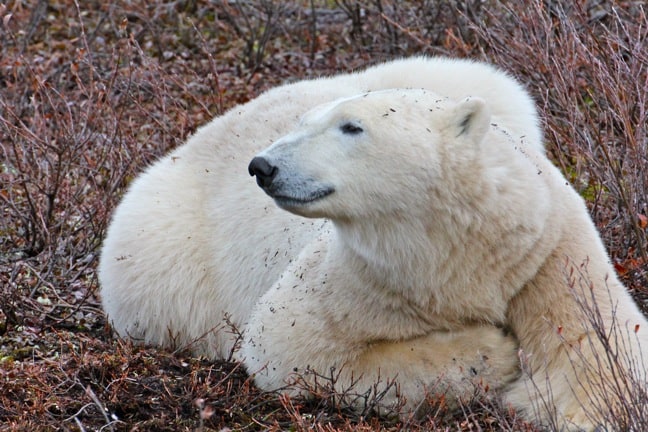 It was unusual and amazing to be surrounded by polar bears. You could just sit in the dining car, lounge, or sometimes even in bed and watch them. It really was like having Animal Planet outside your window.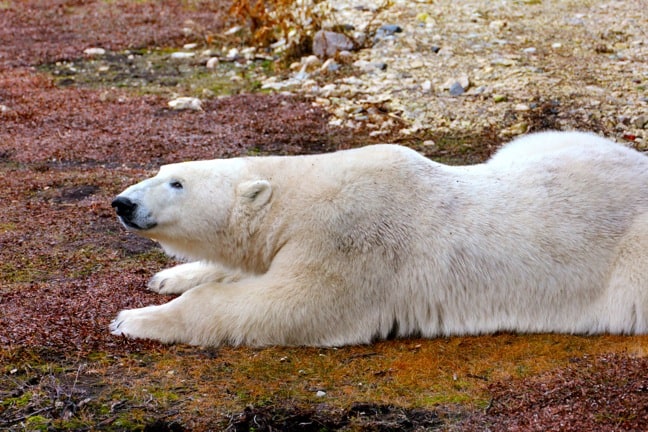 We were initially disappointed not to see snow on the ground, but we gradually came to appreciate the rich colors of the tundra. It reminded me of a microcosm of the colors of a mountain forest in late autumn.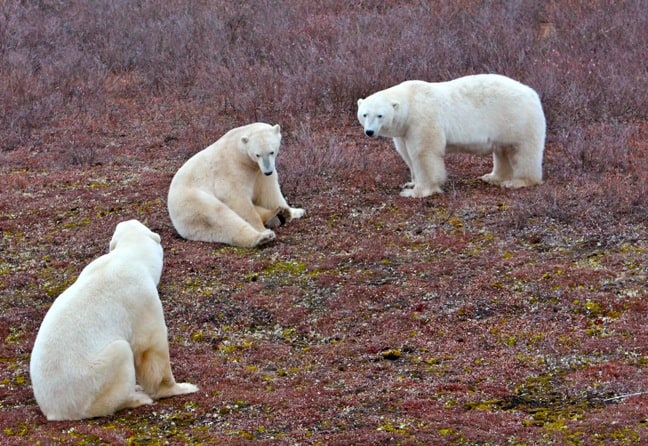 Churchill is one of the few places in the world where you can see normally solitary polar bears just hanging out together. Occasionally they'd do some play-fighting, and when they got this close we always had cameras ready.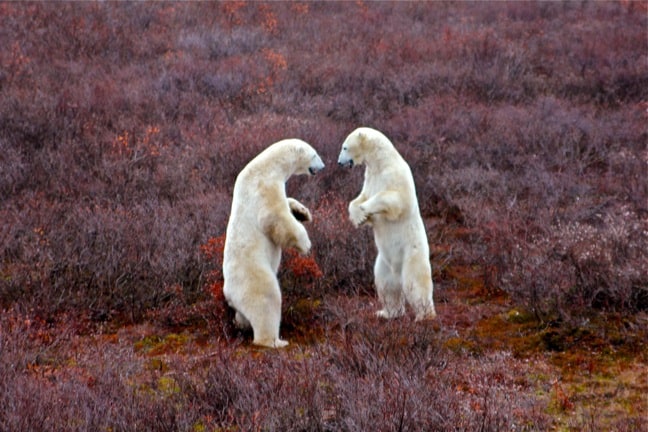 Though we knew their fights weren't serious, everyone in the lodge always buzzed with excitement when they went at it. We'll have a more detailed post coming soon on the "Anatomy of a Bear Fight."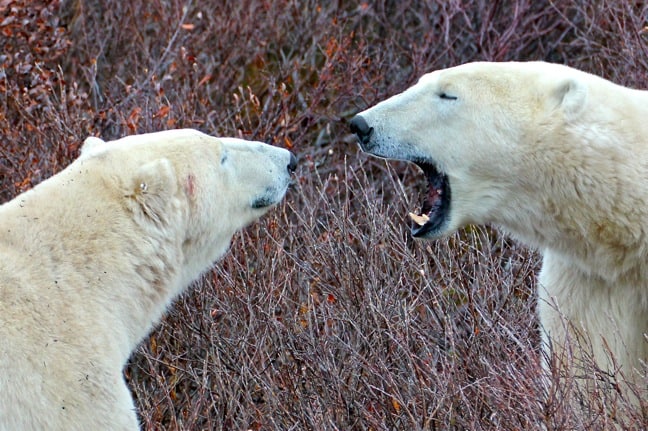 The fights never lasted very long. These bears haven't eaten in months, so eventually, after playtime was over, they'd settle back down for a nap. What looks like a fearsome growl is actually just a really big yawn.
It was hard to imagine these adorable animals doing us any harm, but in fact polar bears are the only predators who've been proven to actively hunt humans. Getting a chance to be so close to them 24/7, yet always having the protection the elevated lodge provided, made our trip to Churchill one of the most personally moving experiences of our lives. –Bret Love; photos by Bret Love & Mary Gabbett

If you enjoyed our Polar Bear Pics, you might also like:

CHURCHILL, MANITOBA: Into The Wilds of The Canadian Arctic

WWF Polar Bear Biologist Geoff York on Preserving the Arctic

ECO NEWS: WWF & Coca-Cola Protect Polar Bears Via Arctic Home

Polar Bears Mirroring