Any reason to have a party is a good enough reason for me. More people celebrate the New Year around the world than any other holiday. But that doesn't mean that we all celebrate it in the same way!
Though kissing, fireworks and champagne have all become commonplace, deeper cultural New Years traditions vary vastly. Each country seems to have its own set of unique takes on what to do for health, wealth, happiness, luck, and so on.
Some deliver strange twists that can leave other cultures scratching their heads. But regardless of cultural differences, I believe we should all be happy and bring the noise in our own time and own way.
Nevertheless, it's fun to celebrate all the interesting ways people will be ringing in the New Year around the world. And who knows? Maybe we can find something fun to adopt into our own personal traditions.
I know many of us can't wait to bid 2018 good riddance. So get ready, because the big day is coming!
READ MORE: 75 Christmas Traditions Around the World (with Fun Christmas Facts)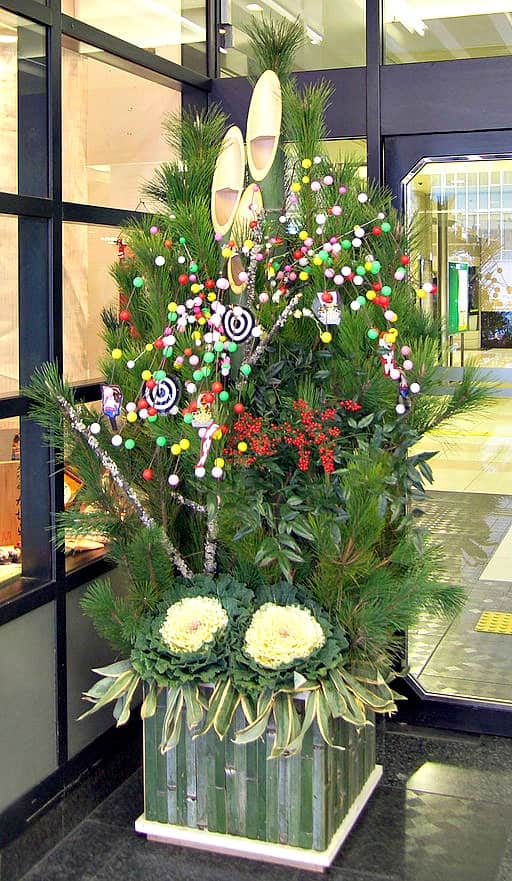 How to Celebrate the New Year at Home
The home plays an important role in many countries' New Year's traditions, which can involve everything from cleaning sessions to inviting special guests. Regardless of how it's done, home is where to celebrate New Year's all over the place.
England: For good fortune in the newly arrived year, Brits believe the first guest to enter through the front door should be a young, dark-headed male bearing gifts such as bread (to be full), salt (to be wealthy) and coal (to stay warm).
Japan: Oshogatsu is celebrated with family, which decorates the entire house as well as cleans it. Then pine branches, plum blossoms and bamboo play a special role in preparing for the upcoming year.
Denmark: As a sign of friendship, people save old dishes to break them on each others' front doors. Residents allow these broken dishes to pile up in order to show who has the most friends.
China: To symbolize happiness and good luck in the New Year, Chinese celebrants paint their front doors red. In general, red colors New Years Eve— red packets of money for children, red rackets for married couples, red lanterns— for many of China's New Year's traditions.
Puerto Rico: In addition to cleaning their homes as the Japanese do, Puerto Ricans clean everything— the car, the garden, the streets. They also have a practice of throwing buckets of water out of the window to do away with the bad juju of last year.
South Africa: Some South Africans—particularly those in the neighborhood of Hillbrow in Johannesburg— take cleaning the house for the new year to an entirely new level. Throwing old furniture and appliance (think fridges) from the windows of tall buildings helps to make the new year bright. It's actually a very serious health hazard there.
READ MORE: 15 Ways to Reduce Waste and Move Towards Waste-Free Living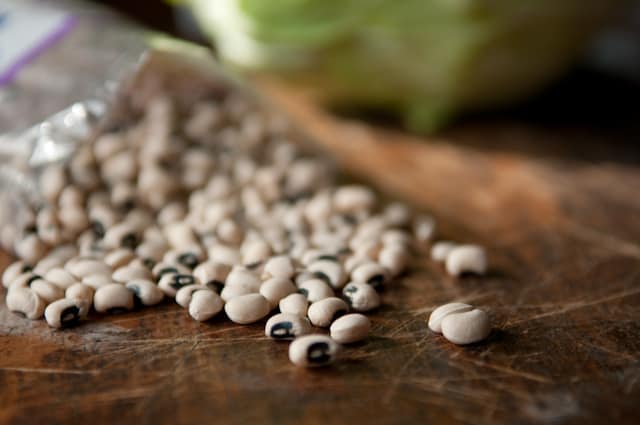 Celebrate with New Years Eve Food Traditions
Food is used to celebrate the New Year around the world. In many countries, eating the right thing has a strong influence on the next year's outlook. New Year's food traditions around the world are fun and delicious to try. That said, they don't necessarily make a lot of logical sense.
Louisiana: The tradition I grew up with is eating black-eyed peas and cabbage on New Year's Day, with the promise that it will deliver health and wealth over the next twelve months. I've spent 12 years living and working abroad now, and this how I celebrate New Year's every year. I've never stopped celebrating with the dish! Check out our Hoppin John Recipe to make your own traditional New Years Day Meal.
Brazil: Lentils are the alimentos do dia for Brazilian New Year's celebrations. The legume can come in different forms, such as soup, to help with finances in the New Year. Then, before midnight, they believe people should also eat seven raisins (obviously!).
Austria: The New Year's food festivities in Austria come two-fold. First, there is finding a lucky charm that has been hidden inside a suckling pig. Then it's onto a dessert of peppermint ice cream for economic windfalls in the coming year.
France: In France, it is edible opulence that steals the show in the form of le reveillion de la Saint-Sylvestre. Partiers feast for hours on foie gros, goose or turkey, oysters and plenty of champagne. The top- flight fare is meant to signify fortune in the year to come.
Spain: A challenge in speed-eating, Spanish tradition requires that people eat 12 grapes at midnight on New Year's Eve– one each time the clock chimes. Otherwise, you'll miss out on extra good luck!
Switzerland: In a strange twist, the Swiss don't actually eat their New Year's treat. Instead, they drop whipped cream on the floor and leave it there. Obviously, that means richness in the coming year, right?
Estonia: How Estonians ever make it to midnight could be the biggest mystery. They should be in a food coma. Tradition dictates that New Year's should be celebrated with a lucky number of meals, either seven, nine, or twelve times to the table. Whichever of these numbers an eater chooses, he (or she) is said to have the strength of that many men (or women).
READ MORE: What is Permaculture Gardening? An intro to Permaculture Design and Principals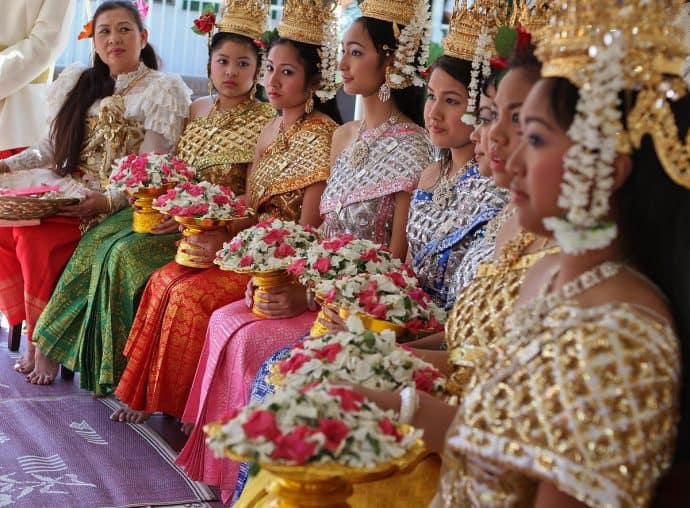 Which Country Celebrates New Year's First?
Despite the Gregorian calendar being globally recognized, many cultures and countries still follow different timetables. Thus, many countries celebrate New Year's on a different day. So as weird as it may sound, there may be some debate as to which is the first country to celebrate the new year.
India: While January first is certainly celebrated there, New Year celebration in India— a crazy multicultural melting pot— actually has many different dates. Rongali Bihu is the most common, celebrated in mid-April on the first day of the Hindu solar calendar. But the specific day changes from region to region.
Egypt: In Egypt, New Year's Day changes according to the moon. But, unlike other countries that go the lunar route, here the celebrations do not begin until a crescent moon is sighted.
Cambodia: Also a fan of April as the New Year, Cambodia has a 3-day long celebration that is dictated by the end of harvest season. It follows the same lunar calendar as India, in which the New Year begins when the sun enters the sign of Aries.
Israel: The Jewish holiday of Rosh Hashana brings in the New Year in early autumn, as does the Islamic New Year (usually in late September). Many Orthodox Christians celebrate on the first of September.
Bali: Many east Asian cultures use the lunar calendar to determine New Year's Day. But Bali and Java  use a special Saka Calendar, which puts the holiday on a different date than China's more followed lunar system. It's typically more of a somber affair, used as a day of rest.
Technically, though, there are thirty-nine time zones across the world, so based on the International Date Line, some countries reach January 1st first. The islands of Samoa and Kiribati are the first places on earth to reach the Gregorian calendar's new year. For the sake of equally remarkable status, the last country to celebrate the New Year are the U.S. outlying islands of Baker Island and Howard Island.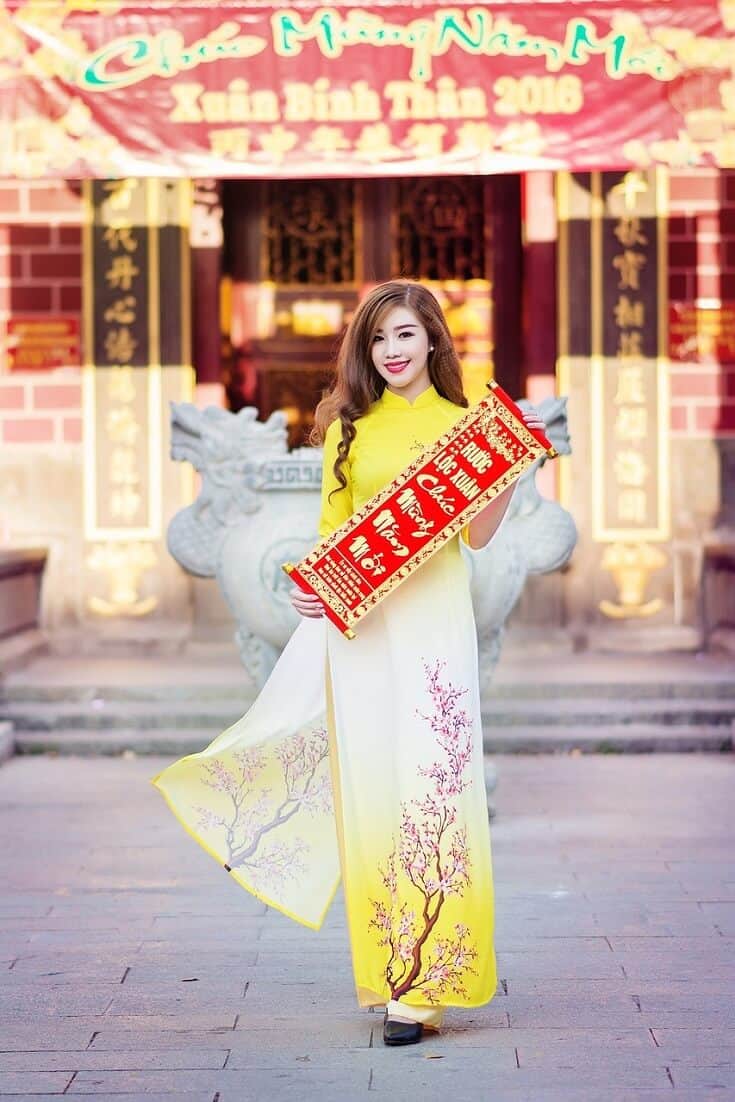 Traditional New Year's Clothing
When people think about how to celebrate the New Year around the world, many cultures take the opportunity to get dressed up whimsically or dapper, eat à la mode, or explore other, odder fashionable choices. Most of the time these New Year clothing choices are wrought with meaning, and often times they are good for a laugh or two as well.
Philippines: For New Year's in the Philippines, round is all the rage. People exercise this fashion with the food they eat, the coins in their pockets, and lots of polka dots. The round shape symbolizes money, and including this symbol as much as possible is believed to boost finances for the next year.
Vietnam: The Vietnamese wear new clothes to bring in the New Year with a fresh start. The new clothes are not the Western style most people wear in their daily life, but rather a traditional outfit called ao dai.
Russia: In a throwback to the Soviet era, most of Russia (except for Russian Orthodox Christians) celebrates something similar to Christmas at New Year's. Grandfather Frost visits at midnight to leave presents while the kids aren't looking. Christmas was banned during Soviet times, so New Year's took its place.
Italy: Like the Vietnamese, Italians wear new clothes to bring the New Year. Like the Russians, it's a time for presents, with each gift (things like honey, gold, money and lamps) symbolizing something specific for the receiver. The gifts are serious business!
Turkey: Wearing red underwear at midnight is crucial to have good luck in the coming year in Turkey. For that matter, this tradition holds true in several countries, including Italy, Spain, and Mexico. Red, as it is in China, is traditionally a lucky color this time of year. Who knows why the underwear in particular is important.
Brazil: Taking the idea of New Year's underpants even further than simply red, in Brazil, Ecuador, Bolivia, and Venezuela, the color of underwear helps to determine the specific successes for next year. Red brings love, yellow money, white peace, green luck, and so on. Markets in these countries will be festooned with brightly colored underpants leading up to the new year.
READ MORE: The Best Travel Clothing For 7 Travel Styles (An Epic Guide)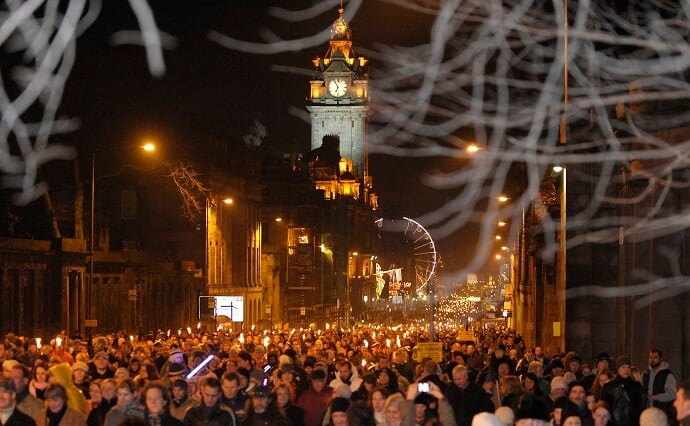 Celebrate with New Year's Festivals
Some New Year's traditions have an heir of seriousness about them. They are tied up in religious ritual. They've been formed by lawful decrees. Or, maybe they just involve huge fires in public spaces. Sometimes it's important to recognize why New Year's is celebrated the way it is.
Scotland: Celebrating Hogmanay, which denotes the last day of the year, is a big deal in Scotland, sometimes overshadowing Christmas. Christmas was outlawed by the Church of Scotland for nearly four centuries, until 1958. Though Christmas has now returned, the New Year Festival of Hogmanay still holds a sacred place in Scottish hearts.
Australia: Sydney Harbour hosts one of the biggest New Year's Eve celebrations around the world.  It's mid-summer in the southern hemisphere and thousands of people will gather around the Opera House in anticipation of the night's Big Show. An aerial show and water display kick off the celebrations at 6pm. A family friendly fireworks show starts at 9pm and the main attraction, the Harbour Light Parade, is always at midnight.
Belarus: In Belarus, New Year's is included as a part of a 13-day festival, Kaliady, which originates from the old pagan recognition of the solstice. Later the Orthodox Christian added celebration of Christmas (on January 7). Kaliady has customary foods in three ritual dinners, trick-or-treating, caroling, and more.
Netherlands: Amsterdam hosts one of the largest street parties on New Year's Eve with people attending from around the world. Be sure to buy some oliebollen (oily balls) from street vendors to eat at Midnight. Germanic myth says that eating these deep fried dough balls will ward off evil spirits in the New Year. As the sun goes down, be on guard for Fireworks going off on every bridge and open space. Dam Square (the craziest), Rembrandtplein, Nieuwmarkt and Leidseplein, host unofficial street parties with music, fireworks and beer tents. Amsterdam's New Year's Eve celebration is not for the casual festival goer as some have likened it to a 'warzone'.
United States: Because I have seen it all my life, it never occurred to me how unusual the tradition of dropping the ball on New Year's Eve is. Each year, tens of thousands of people flock to New York City to see it happen. All across the US, we watch a huge ball drop over Times Square on the hour every hour to show each time zone crossing over into the new year.
This tradition actually began as a replacement for fireworks, which had been banned in NYC. In addition to watching balls drop, in other places in the US you can watch huge apples, peaches, giant walleye, and other locally relevant symbols lowered as the clock counts down to midnight.
READ MORE: 20 Best Festivals in the World (for Your World Travel Bucket List)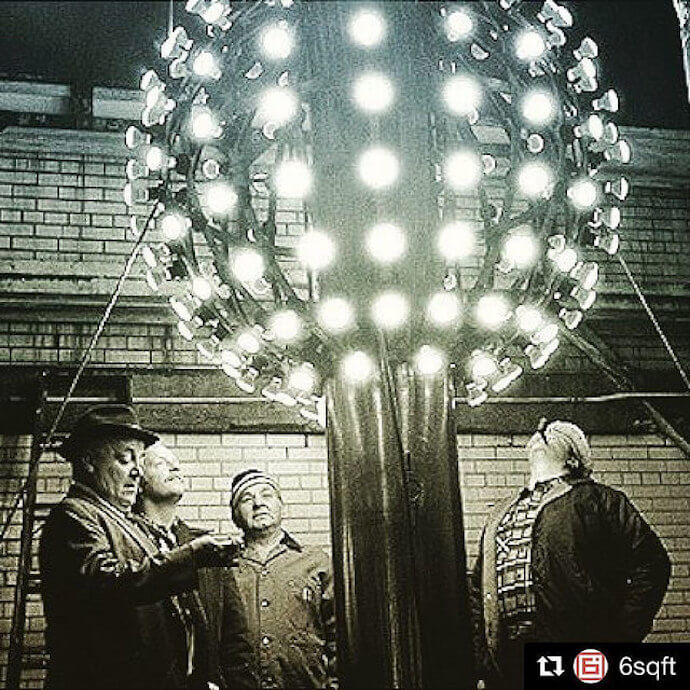 Celebrate New Year Good Luck Traditions
One of the best parts New Year good luck rituals is that not all of them seem completely sane. Many of traditions we've already learned about on this list seem a bit off-the-wall, but here are a few that seemingly come out of nowhere but remain integral pieces of some country's New Year customs.
Colombia: One of Colombians' favorite ways to celebrate New Year's is to carry an empty suitcase around the block. The tradition is meant to bring about a year of travels, which hopefully will involve a little more packing.
Denmark: Many New Year's traditions revolve around the stroke of midnight: fireworks blasting off, the ball dropping, kissing a loved one. In Denmark, people jump off of chairs in unison. They are jumping forward into the new year and leaving bad things behind.
Belgium: In Belgium, Walloon and Flemish farmers rise early on New Year's Day and promptly head out the stables to wish the cows (and other domesticated animals) a happy New Year. Though the origins of this tradition is unknown, the same thing is also practice in Romania.
Finland: Going to a fortune-teller can be a fun or harrowing experience, but Nordic New Year tradition involves reading the future for yourself. Finnish people melt tin horseshoes, pour the molten metal into cold water, and use the resulting solid to gain insight into the coming year. It's shape and shadow tell all, and a broken piece of tin is a sure sign of bad luck.
Japan: Joya no Kane is a Buddhist ritual that takes place at midnight on New Year's Eve in Japan. It involves ringing a bell exactly 108 times. Buddhists believe that we are entrapped by 108 desires that keep us suffering. The chimes symbolize purification from the accumulation of these passions over the previous year.
Chile: In a small town in Chile, Tulca, it is tradition to spend the last night of the year at a sleepover at the cemetery. Locals believe that the souls of friends and family come to hang around on the night of New Year's Eve, so they make fires, bring food and drink, and decorate the graves for some ghostly quality time.
Ecuador: In Ecuador, "los años viejos" (the old years) is a beloved part of how to celebrate the New Year. People construct large scarecrows of those they don't like and set them alight at midnight in order to burn away the ills of last year. Building the scarecrow is a family activity. While mostly for fun and laughs, controlling the bevy of fires is some serious undertaking.
Panama:  Panama has the same "viejo" tradition as Ecuador, only the effigies are called "muñecos". Rather than simply setting them on fire, the dolls are typically stuffed with fireworks to get the festivities cranking. Who knew something could seem more sinister than burning the likeness of celebrities!
READ MORE: The 20 Largest Lakes in the World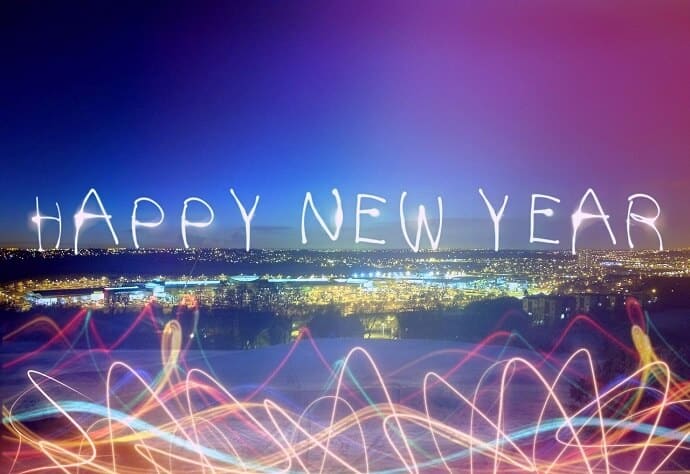 Shared New Year's Eve Traditions Around the World
And, then, there are traditions that have caught on throughout much of the world, the aspects of the holiday that now make it an annual global celebration. These are how we share the holiday across borders. They are New Year's traditions around the world.
Auld Lang Syne Lyrics:

Should auld acquaintance be forgot,

And never brought to mind?

Should auld acquaintance be forgot,

And auld lang syne.

CHORUS

For auld lang syne, my jo,

For auld lang syne.

We'll tak a cup o' kindness yet,

For auld lang syne.

And surely ye'll be your pint-stowp!

And surely I'll be mine!

And we'll tak a cup o' kindness yet,

For auld lang syne.

REPEAT CHORUS

We twa hae run about the braes

And pu'd the gowans fine

But we've wander'd mony a weary foot

Sin auld lang syne.

REPEAT CHORUS

We twa hae paidl'd i' the burn

Frae mornin' sun till dine.

But seas between us braid hae roar'd

Sin auld lang syne.

REPEAT CHORUS

And there's a hand, my trusty fiere!

And gie's a hand o' thine!

And we'll tak a right guid willy waught,

For auld lang syne.

REPEAT CHORUS

Should old acquaintance be forgot

And never brought to mind?

Should old acquaintance be forgot,

And long, long ago.

REPEAT CHORUS

And for long, long ago, my dear

For long, long ago.

We'll take a cup of kindness yet

For long, long ago.

And surely you'll buy your pint-jug!

And surely I'll buy mine!

And we'll take a cup of kindness yet

For long, long ago.

REPEAT CHORUS

We two have run about the hills

And pulled the daisies fine;

But we've wandered manys the weary foot

Since long, long ago.

REPEAT CHORUS

We two have paddled in the stream,

From morning sun till dine;

But seas between us broad have roared

Since long, long ago.

REPEAT CHORUS

And there's a hand, my trusty friend!

And give us a hand of yours!

And we'll take a deep draught of good-will

For long, long ago.

REPEAT CHORUS
Singing the New Year Song, Auld Lang Syne
Singing "Auld Lang Syne" at midnight is done throughout the English-speaking world and beyond.
The Scottish folk song was transcribed, not written, by poet Robert Burns in 1783, after which it became a common song of celebration—for weddings, graduations, funerals, and New Year's—throughout Scotland. The Auld Land Syne translation is "old long since," which really means, "days gone by."
In the nearly two and a half centuries since, "Auld Lang Syne" has become the New Year's Eve song sung across the English-speaking world.
The tradition was further popularized by a 1928 Canadian band, Guy Lombardo and the Royal Canadians. The hit band, from a part of Ontario settled by Scots, often covered the song, somewhat as a ploy for one of the sponsors for their radio show, Robert Burns Cigars.
The band got a chance to do a New Year's Eve show and closed their set with "Auld Lang Syne". It became the show's closer for nearly 50 years, the remainder of Lombardo's life.
READ MORE: Exploring Doune Castle, One of the Most Famous Filming Locations in Scotland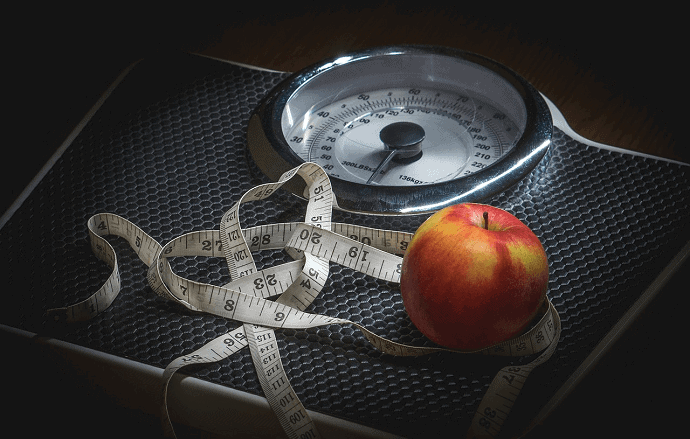 New Year's Resolutions
Dating back to the Mesopotamians, literally thousands of New Years ago, people have been making New Year's resolutions.
The tradition began as part of a 12-day New Year Festival (in March) called Akitu, during which citizens of Babylonia would swear an oath to the sitting king or allegiance to a new one.
The Romans did a similar thing, also in March, devoting themselves to the emperor. Ultimately, in the mid-1700s, the Methodist church used the New Year to encourage members to renew commitments to God.
Nowadays, resolutions are neither oaths to kingdoms or religious tradition. Rather, they are generally commitments to ourselves and typically in some effort towards self-improvement. Unfortunately, studies show that, while nearly half the US population annually makes resolutions, less than 10% of them are kept.
Here are some of the Top New Year's Resolutions:
Exercise more / Get in shape
Lose weight
Get organized
Learn a new skill or hobby
Live life to the fullest
Save more money / spend less money
Quit smoking
Spend more time with family and friends
Drink less
Eat more at home
Floss
Look at cell phone less
Reduce stress
Get more sleep
Travel more
READ MORE: How to Start a Travel Blog & Build a Successful Travel Blogging Business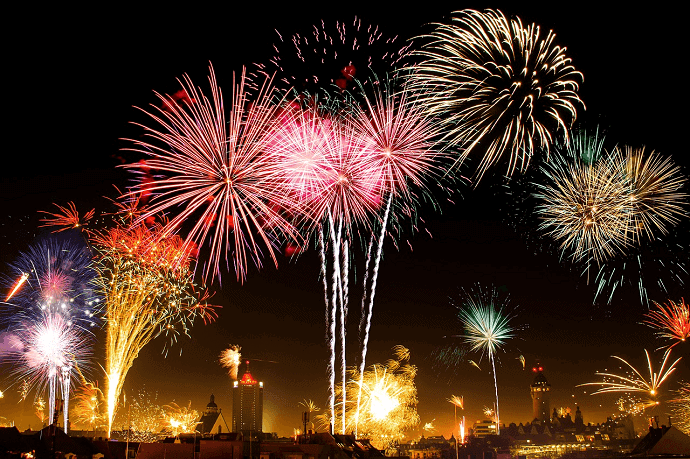 New Year's Fireworks
Invented in ancient China, fireworks were originally made from dried bamboo stalks, which when thrown in a fire would emit loud bangs.
These were later filled with gunpowder (also a Chinese invention) to enhance the effect. Finally, the bamboo was replaced by paper (another Chinese invention).
Around the 12th century, gunpowder and fireworks worked their way over to Europe. Some accounts credit the Mongols, and others believe they were invented independently.
Since the beginning, fireworks have been used to scare away evil spirits and enemies. Because New Year's is often associated with starting anew, fresh and clean, they have been a part of celebrations, setting up partygoers for a positive year to come.
This tradition of setting off fireworks as a New Year celebration has caught on worldwide.
READ MORE: How to Experience Traditional Mongolian Culture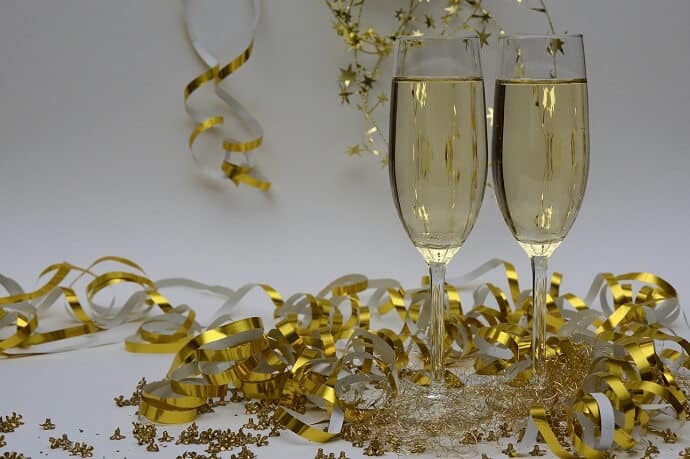 New Year's Champagne
Champagne, many claim, was actually an English invention, not a French one.
The English developed the technology to bottle carbonated drinks in the late 1500s, and using techniques translated from cider-making, they began to make sparkling wines, i.e. champagne. The invention also required coming up with stronger glass that could withstand the pressure built up inside by the fermenting drinking.
However it came to be, champagne was made popular for celebrations by the royal courts of Europe.
It became a worldwide phenomenon in the late 1800s when the price began to drop and producers marketed it to common folks. While commoners couldn't afford it for daily table wine, it was possible for special occasions.
Regarding New Year's, this worked doubly so because opening the bottle produced a firework-like pop and the beverage flowed out in a show of abundance.
READ MORE: Weird Foods the French Consider Delicacies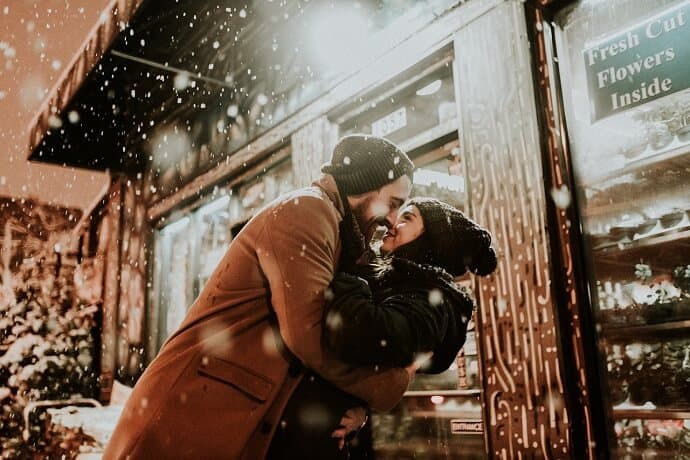 New Year's Kiss
The New Year's Eve kiss, at the stroke of midnight, is featured in countless Hollywood movies, from the Godfather II to When Harry Met Sally.
It is ingrained in modern New Year's celebration sand contemporary popular culture. Amazingly, the practice has been around for millennia, beginning with the Roman Festival of Saturnalia. Most Western cultures now adhere to this tradition.
Lots of meaning has been attributed to the kiss over the years. In Roman times, it was more an act of basic debauchery.
German and English folklore cited that the first person encountered, and how that encounter went, in the new year would set the tone for the rest of the year.
Attendees of masked balls in Europe used it as an act of purification after removing their masks. And, these days it's believed that failing to kiss means a year of loneliness.
However and wherever you may celebrate the New Year, most people around the world embrace and honor the passage of time with mixtures of reverence and revelry. It's yet another thing that shows just how similar, yet unique our diverse cultures are.
We value analogous things and celebrate in our own ways, but we all love to share these moments we hold sacred. We should all remember and relish that this New Year's. At a moment when division and dissidence seems inevitable, we still have each other.
Happy 2019, everyone!   –Jonathon Engels
READ MORE: 10 Romantic Places for your World Travel Bucket List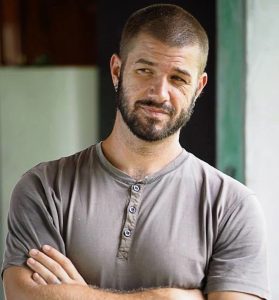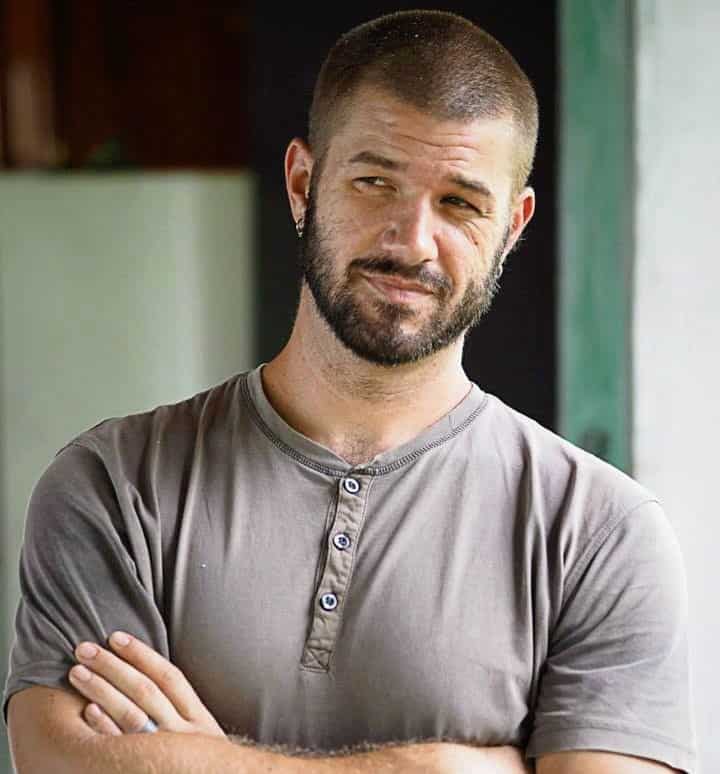 Jonathon Engels is a traveler, writer & teacher who's been living abroad as an expat since 2005. He's worked in nearly a dozen countries, and visited many others in between. He's currently on a slow travel trip from Central America to Patagonia, volunteering his way throughout the journey. He's a regular contributor to One Green Planet as well as Permaculture News, which focus on helping to keep the world green and clean. He's also the founder of The NGO List, a compilation of grassroots NGOs seeking international volunteers.