Growing up in a lower-middle class family in Atlanta, we didn't really have the money to take vacations. In fact, I don't remember anyone in our working class neighborhood doing much traveling.
So, aside from my tour of Italy with the Atlanta Boy Choir when I was 12, most of my childhood travel memories involved family camping in the north Georgia mountains.
Back then my parents led our Episcopal Church youth group. So by the age of six I was hiking parts of the Appalachian Trail, and camping with my family in Blood Mountain and Cloudland Canyon State Park.
Although my travel style (and budget) has changed considerably over the years, these early family camping memories were influential on my love of nature and exploring the great outdoors.
Camping offers excellent family bonding time, not to mention an affordable way to immerse yourself in nature's immense beauty.
So here's a look at 15 of the best camping tents for families, including an array of 3-person, 4-person, 6-person, and 8-person tents to choose from.
READ MORE: 20+ Camping Tips & Tricks for Responsible Travelers
Camping Tents for Families by Size
Best 3 Person Tents
Check Price on Amazon Check Price on MSR
The Mutha Hubba from MSR Gear is the ultimate backpacking tent. With a packed weight of just 4.8 lbs, it's an easy-to-use camping tent for family adventures with active kids.
Featuring Xtreme Shield Waterproof Coating and durable poles, this tent is really designed to withstand rain and windy conditions.
With the optimized floor plan, each person has access to the door, which is great for midnight bathroom trips. The 39-square-foot floor space ensures that each of the three occupants has ample room for a comfy night's sleep after a long day of hiking.
On the downside, the tent's center peak is only 3'6″, so adults will need to crouch down while inside. But the rainfly extends out far enough to allow ventilation without letting any moisture in the tent, and the external guy out loops are designed to keep the tent stable in strong winds.
The Mutha Hubba is built for the harsh conditions you'll find in places like Patagonia, but can also easily be used on a milder camping trip in the great outdoors.
READ MORE: 60+ Cool Camping Gear Reviews (For Every Camping Style)
Pros
Xtreme Shield Waterproof Coating
New design to prevent condensation seeping in
Cons
No ceiling pockets or light hooks
The Radama Hub 3-man tent from Peregrine is one of the best family camping tents we're tested for almost any weather. Perfect for two parents and a young child, or one parent and two kids, this tent promises many future camping memories.
It is extremely spacious thanks to its 42.2-square-foot floor area, and the two roof vents add fresh airflow as well. The extra ventilation also helps to improve the headspace, since the center peak is just 3'7″ feet high.
The Radama Hub is a great option for summer camping trips in hot and humid conditions. The durable PU-coated fabric and aluminum poles offer stability and safety from any surprise storms.
The tent has two doors, allowing for easy entry and extra ventilation. It also features multiple mesh pockets along the roof and walls, as well as several ceiling hooks.
These extra features, combined with the tent's 4 lbs, 12 oz weight, make it great for warm-weather mountaineering and backpacking.
READ MORE: The 40 Best Backpacks for Travelers
Pros
Large floor space
Two doors
Many pockets and hooks for organization
Cons
Not ideal for cold conditions
Another brilliant family camping tent from Peregrine, the Kestrel Ultralight is built for more adventurous trips. Although it's a bit on the pricey side for a 3-man tent, it's great for a smaller family.
Weighing just 3 lbs 6 oz, the Ultralight truly lives up its name. Thin and compact enough to take on longer backpacking trips, it's the perfect shelter from the elements.
It even has DAC NSL Featherlite poles. Despite their light weight, these poles are designed to withstand extremely windy conditions.
This tent is made from Silicon/PU-coated Nylon, including the floor and rainfly, which allows it to keep you dry and cozy in rain, wind, and snow. There are many pockets and hooks in the Kestrel UL, saving space by keeping accessories and gear away from the sleeping area.
The center height is just 3'8″. So there's enough head room for even taller adults when sitting, but they won't be able to stand up inside the tent.
READ MORE: Homemade Camping Equipment (DIY Camping Stove)
Pros
Ultra-light and easy to carry
Can withstand heavy winds
Cons
Pricier than other 3-man tents
Check Price on Amazon Check Price on Tensile
Tentsile's Stingray tree tent is a unique family camping tent that's designed to suit just about any camping style, from simple backyard glamping to rugged desert camping.
This durable 3-person tent can be left up for long periods of time without getting worn or damaged. It's made using the toughest, high-quality, UV-resistant materials and comes with a 5-year warranty.
The Stingray can hold a family of three adults, or two adults and two children, with a combined weight limit of 880 lbs. So it's really one of the best tents for families with older kids. The floor size is 75 square feet, and the packed tent weighs 20 lbs.
The height of the tent peaks at 4 feet, which doesn't allow for the average adult to stand. But it is perfect for sitting comfortably while hovering above the ground.
The Stingray features three ratchet straps made from heavy-duty industrial webbing, which secures to poles and trees. There are three entry points, including a floor hatch from which a ladder can be hung to reach the inside.
Best of all, for every one of these tents sold, Tentsile will plant 20 trees. We love that the brand is helping to fight deforestation and ensure there are always forests for families to enjoy in the future.
READ MORE: 10 Eco Lessons We Can Learn From Quotes From The Lorax
Pros
Unique design
Large floor space
20 trees planted for every tent sold
Best 4 Person Tents
We've been fans of the Big Agnes brand of outdoor gear for years. Now they've designed what is arguably the best tent for a family of four.
The Big House 4 Deluxe is built for car and base camping and offers a secure, comfortable living space for any outdoor adventure. A family of two adults and two kids, or even one adult and four kids will fit snugly into the tent.
The tent has two large doors on either side and offers 56 square feet of floor space. Its packed weight is 8 lb 4 oz, and it has its own storage bag for easy transportation. The center height of the Big House 4 is 5'6″, which provides enough space for shorter adults to stand up.
Color-coded webbing and buckles allow for quick and easy setup, even for the novice camper. With the addition of an optional vestibule accessory, the Big House 4 can become an ideal living area for even longer periods of time.
The tent offers added luggage space as well as a shelter from the wind and sun. The tent and vestibule make a great option for family weekends at your favorite state or national park, or on a quiet lake.
READ MORE: List of National Parks by State (An Epic Guide)
Pros
2 doors
Optional large accessory vestibule
Multiple pockets and gear lofts
Cons
Pricey
Taller campers won't be able to stand up straight
We've been fans of Big Agnes' mtnGLO line for a while, thanks to its integrated LED lighting system and innovative designs.
The versatile Titan 4 Package steps it up a notch by including a 4-person tent, footprint, and 34 square foot vestibule that allows you to use it as a double-wall family tent or separate shelter.
Combined, the tent and vestibule provide 90 square feet of floor space, with a peak height of 60 inches. In addition to the vestibule, the tent includes 8 interior mesh pockets for storing your gear. You can also move the LED lights outside for illuminating your campsite.
If there's a downside to the Titan 4 mtnGLO Package, it's the weight. At 10 lb. 14 oz. for the tent, 2 lb. 4 oz. for the vestibule, and 1 lb. 2 oz. for the footprint, this beast is better suited for car camping than backpacking. But for parental units wanting a bit of privacy, it might just be the perfect family tent.
Pros
Privacy
Integrated Lighting
Check Price on Amazon Check Price on MSR
The 4 person Papa Hubba from MSR Gear, is the larger version of the Mutha Hubba tent. Family camping is made even more enjoyable with the additional space for one more member.
This tent is the perfect accessory for a backcountry trip with the kids, as it's light enough to carry on long hikes and setup is easy and efficient.
The Papa Hubba offers the same durability, stability, and lightweight feel as the rest of MSR's Hubba line. The Xtreme Shield Waterproof Coating keeps all occupants dry, and the lightweight poles stay sturdy in the windiest conditions. It also has an extendable rainfly to prevent condensation coming into the tent.
The 4-man tent also offers two doors that can be used as vestibule areas, and its packed weight is just 7 lbs. The tent's center height is 3'6″, and the floor space is 53 square feet. So you'll easily fit 4 adults or teens in this tent, or 2 adults and up to 3 little ones.
READ MORE: The World's Best Hiking Trails
Pros
2 doors
Lightweight yet durable
Xtreme Shield Waterproof Coating
Cons
Center height is just 3.6 feet
Minimal internal storage space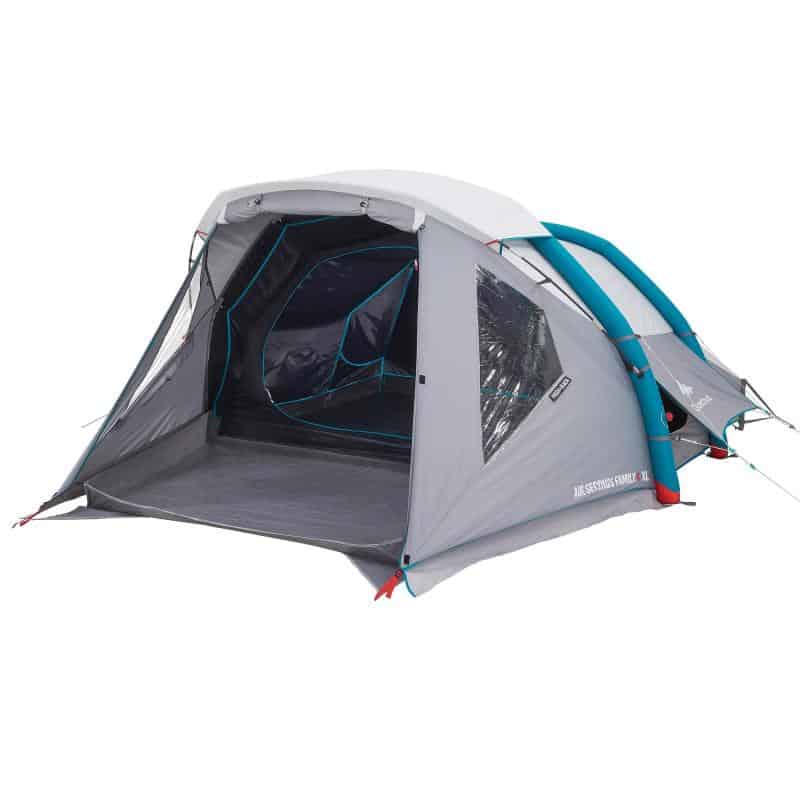 8. Decathlon Quechua Air Seconds Fresh 4 person tent
With its innovative design, the Quechua Air Seconds 4 man pop up tent from Decathlon makes family camping more fun thanks to an effortless assembly process.
It's pitched using two attached inflatable poles, which can be pumped up in seconds using a hand pump. It's also extremely easy to take apart, and can be stored in its own small transportation bag.
The Air Seconds weighs a whopping 20.9 lbs when packed, so it's best used for base and car camping. It can accommodate four adults laying horizontally, and includes a vestibule-covered sitting area with 4 square feet of floor space.
With a peak height of 5 feet, the tent has only one door, but features multiple air vents to allow airflow. The fabric has UPF 50+ sun protection, is waterproof, and contains heat-resistant properties.
The entire Quechua tent is sturdy enough to withstand winds of up yo 37 mph. So of all the ones we've tested, this is one of the best family camping tents for trips to destinations with unpredictable weather.
READ MORE: Best Hiking Shoes & Waterproof Shoes for Travel
Pros
Quick & easy inflatable set up
Waterproof and wind-resistant
UPF 50+ protection
Cons
Only one door
Quite a heavy tent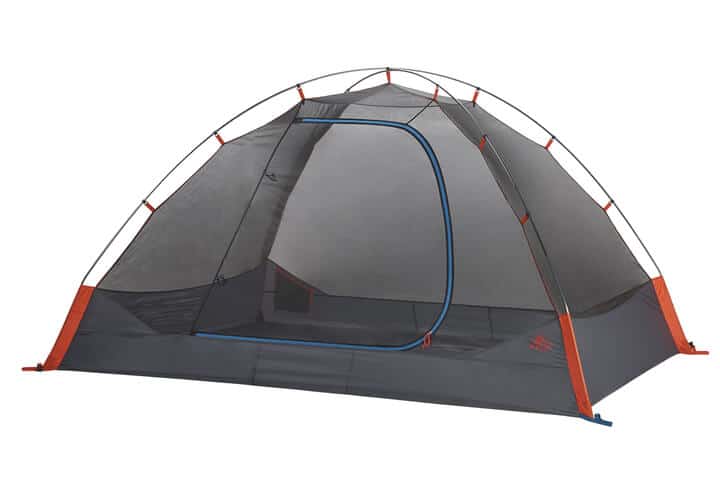 9. Kelty Late Start 4P
The Late Start 4P from Kelty is primarily designed for ease of setup. It's simple enough for even one person to put up on their own, even in the dark if necessary. So this is the ideal beginner camping tent with which to introduce the family to the true outdoors.
When packed, the tent weighs 6 lbs, 14 oz, which is still light enough to carry on a backpacking trek. There's 55.7 square feet of floor space, with an additional 9.14 square feet of space in the vestibule.
The Late Start's height of 4'6″ doesn't allow for taller adults to stand upright. But the full-coverage waterproof rainfly and aluminum poles make the tent durable and sturdy.
This is one of the best family tents for active camping vacations, and would work especially well for those with teenage kids. The waterproof features make it safe for wet conditions, and the mesh canopy provides ample ventilation on really hot days.
READ MORE: The Best Vegan Boots for Women & Men
Pros
Light & compact
Effortless setup
Cons
Only one door
May catch condensation on walls
Check Price on Amazon Check on Price on Kelty
Back in 2016 we reviewed Kelty's Gunnison 2.3, which we found a bit too small for our taste.
But the redesigned Gunnison 4 is a perfect sized tent for families our size. At 99 inches long and 88 inches wide, it offers considerably more head and shoulder space than its predecessor.
The 3-season tent has two doors and two vestibules, one of which can be transformed into an awning using hiking poles.
The Kelty Connect all-in-one hubbed pole design and included footprint are both really easy to set-up. And the roll-top cube carry bag and 7 lbs, 13 oz weight makes it surprisingly portable for a 4-person tent.
This is arguably Kelty's most accessible family tent to date, and it's perfect for backpackers and novice campers alike.
READ MORE: What is Glamping? (A Guide to Luxury Camping)
Cons
Too heavy for long distance hiking
Best 6 Person Tents
Check Price on Amazon Check on CampSaver
Coleman's connectable 6-person tent is very large. Measuring 12′ by 10′, with a 6'3″ center height, it's big enough to fit two queen size mattresses inside.
The tent boasts a fast-pitch setup, making it easy for just about anyone in the family to assemble. This is more of a luxury tent, offering space and comfort on any camping trip.
The tent weighs quite a lot, but its size makes that understandable. It's best used for car camping, as the weight would make it hard to carry. The 6-man connectable tent is weatherproof and able to withstand the elements, so it can be used without worry in any sort of inclement conditions.
If this wasn't already among the best tents for family camping, the connectable feature means it can be linked to up to three other Coleman tents of different sizes, which you can buy together or separate.
This allows the whole family to enjoy one humongous camping space. From Mom and Dad to Granny and Grandpa, aunts,uncles, and kids, these connected family tents can grow as your group does!
READ MORE: Family Traveling & the Bonds We Make (or Break)
Pros
Can be connected to more, smaller tents
3 connection points
Weather-proof
6'3″ peak height allows average adult to stand up inside
Check Price on Amazon Check on CampSaver
This 144-inch long, 84-inch wide dome tent from Coleman is one of the most affordable family tents on the market.
It's an entry-level tent, but offers the durable quality for which Coleman is known. The frame is tested to withstand winds over 35 miles per hour, and their patented WeatherTec system is guaranteed to keep you dry no matter how bad the weather gets.
The 5'8"-tall interior is wide enough to hold two Queen-size air mattresses, and the extended door awning creates additional space for dry storage.
It's obviously too heavy for backpacking, but this green giant is perfect for drive-up campsites, with a built-in E-Port for electrical power.
READ MORE: 45 Going Green Tips For Travelers
Check Price on Amazon Check on Slumberjack
For its large size, the Daybreak 6P tent from Slumberjack is considerably lightweight and compact, with a weight of just 16.10 lbs when packed.
This allows you to take it on almost any camping trip, from car camping to trekking in the mountains with the older kids.
The multiple mesh pockets inside allow things to stay organized, even with the whole family sharing the tent.
The full-coverage rainfly provides protection from rain and moisture, but can also be used as a vestibule in dry weather. With additional trekking poles, it can also be used as an awning on sunny days.
The tent's floor area of 91.1 square feet means enough room for each of the 6 occupants, so even growing teens will fit into the family tent. And a center height of 5'9″ offers sufficient head space.
The full mesh canopy ensures breathability inside throughout the day and night. Although this can mean that the tent is best suited to warmer conditions.
READ MORE: The Best Gifts for Travelers (125+ Ideas)
Pros
Vestibule can convert into a shade awning with additional poles
Lifetime warranty
Suitable for 3 seasons
Cons
Doesn't hold in heat very well
Only 1 door
Best 8 Person Tents
If you've got a big family that enjoys the outdoors, the Arizona GT from NTK is exactly what you need.
Comfortably fitting 7 to 8 people, this family tent is great for a weekend of car camping. The two doors and two windows give it a spacious, airy feel, while the mosquito mesh keeps unwanted pests out.
Weighing in at 24.9 lbs, the tent measures 14 by 8 feet and has a center height of 6'7″, allowing an average adult to stand up straight inside. The easy-assemble frame and color-coded poles make this the perfect tent for families with little ones. Less time setting up camp allows for more time out exploring.
The tent shields your family against the elements with its waterproof full-coverage rainfly and UV-protected fabrics. It also has an anti-fungus polyethylene floor, protecting against water on the ground. This makes it an ideal tent for camping near lakes or rivers, or in rainy conditions.
READ MORE: The World's 20 Biggest Waterfalls
Pros
Heavy Duty Anti Fungus flooring
Rated #6 for Best Family Tent in USA
Suitable for 3 seasons
The Eldorado 8 from Wenzel is a unique 8 person tent perfect for a large family, a family reunion, or even camping with family friends.
A 126 ft2 floor area gives everyone the option to pack their favorite camping activity without sacrificing any space to spread out. With a 7'2" peak center height, everyone is able to comfortably walk around the tent without ever having to crouch down. Best for car or base camping, the Eldorado 8 weighs a whopping 28 lbs and 12 oz, though it is understandable due to its size.
The design of this tent is what makes it an interesting choice to check out. Your family can enjoy views of the mountains or nearby lakes with an enclosed screen room.
Perfect for games, picnics, or just appreciating the scenery while taking a break from the sun, the screen room is an exclusive feature of this tent. Once it's time to rest, you can even convert the screen room to create a larger sleeping area.
If you are planning a getaway that includes everyone in the family, the Eldorado 8 is the tent to try out. Even the family dog wouldn't be left behind.
Pros
Convertible enclosed screen room
Enough space for a large group
Affordable
Cons
A heavy tent best suited for car camping
–by Bret Love & Tammi Dooley