In this era of social distancing, quarantines, and travel restrictions even within the US, "getting away from it all" has never more vital for nature-lovers.
But with national parks overcrowded by tourists and even some state and local parks being overwhelmed with visitors on weekends, it's getting harder and harder to find personal space in the wilderness.
But backcountry camping away from roads and developed areas offers an excellent opportunity to get away from the crowds of mass tourism.
Backcountry hiking and camping gives you a chance to explore the most pristine parts of nature. It's a rare chance to immerse yourself in serenity and solitude– a chance to breathe and ground yourself in the beauty of forests, mountains, lakes, rivers, and waterfalls.
But of course camping in remote backcountry areas requires more preparation and different types of gear, since you'll need to be able to pack and carry everything you'll need during your journey.
So here's a look at some of the best backcountry camping gear, including an array of tents, sleeping bags, backpacks, camp cooking gear, camping tech devices, and more.
READ MORE: The Best Backyard Camping Gear
Backcountry Camping Gear Guide
Tents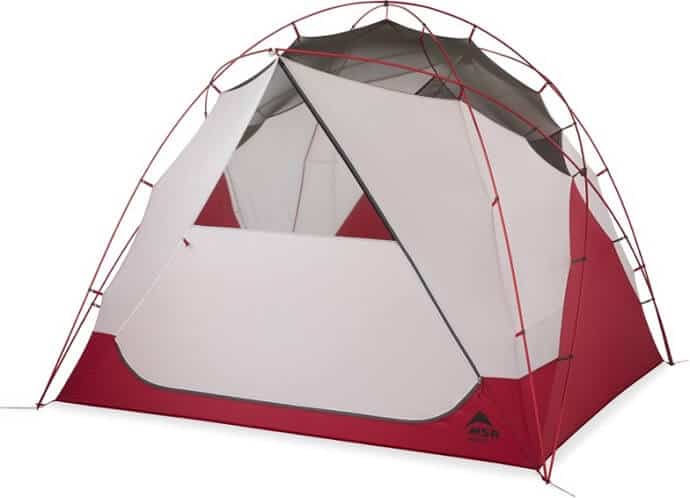 MSR Habitude 4-Person Camping Tent
Established by Seattle engineer and lifelong mountaineer Larry Penberthy in the 1960s, MSR (Mountain Safety Research) carries a 50+ year legacy of innovation and durability.
So perhaps it's no surprise that their new Habitude 4-Person Camping Tent combines the quality you'd expect from a $500 backcountry tent with the comfort families need for their adventures.
Weighing in at around 12 pounds, this behemoth offers a total of 85.9 square feet of space (including the 23.5 sq ft vestibule), and a peak height of 73″. The high ceiling and vertical sidewalls lend a roomy interior feel, with a wide door and hang loops for stashing gear.
One-person set up is quick and easy, thanks to the simple design, color-coded pole clips, and hubbed aluminum poles. The rugged 68D ripstop polyester rainfly and 68D taffeta polyester & DWR floor and canopy are designed to withstand even the worst of inclement weather.
Our favorite features of this great family camping tent include the integrated porch light for easy entry at night, the interior storage pockets, and the airflow provided by strategic mesh.
READ MORE: The 15 Best Camping Tents for Families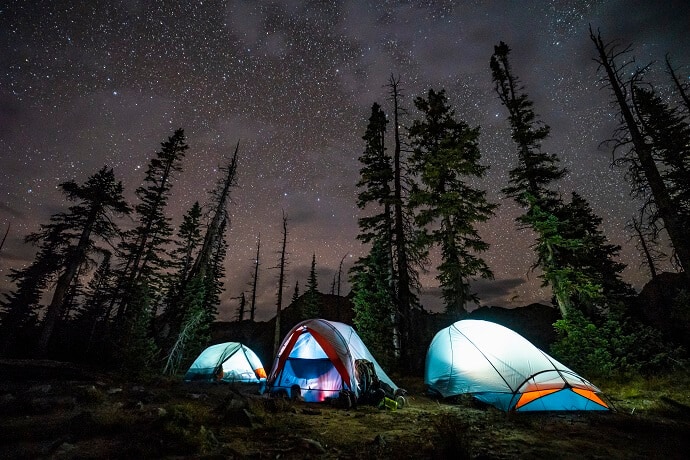 Kelty All Inn 3-Person Tent
When you're trekking into remote areas, weight is a serious consideration. Serious backpackers may want to add Kelty's All Inn 3-person Tent to their list of backcountry camping essentials.
The 3-season, 3-door tent weighs just 4 lbs, 9 oz, yet it offers 38.8 square feet of floor space, plus an 8 x 2 square foot vestibule (the total area measures 84″ x 70″ x 43″). It feels even more spacious than it looks, thanks to a mixture of vertical and outward leaning walls.
The tent is made of strong, but lightweight Sil-Nylon fabric, and held together by the sturdy DAC Pressfit™ hubbed pole set (including a brow pole). So it's designed to withstand the elements, yet the Genius ventilation system keeps the air flowing and reduces condensation.
When you're ready to hike to the next campsite, the tent packs down easily into its 18″ x 6.5″ Shark Mouth carry bag. It's arguably the coolest backcountry camping tent we've tested this year.
READ MORE: Mountain Gorilla Trekking in Rwanda (w/Dian Fossey's Porter)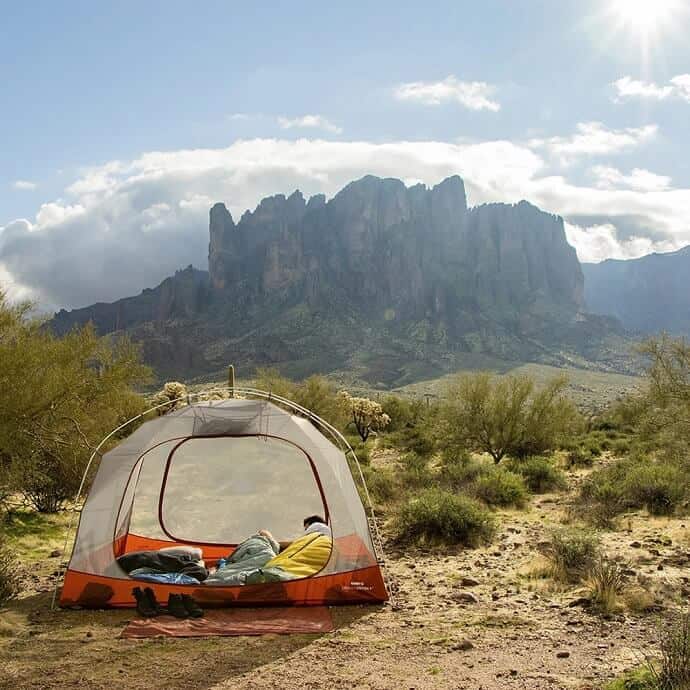 Klymit Cross Canyon 4 Person Tent
Although it's designed more for weekend warriors than hardcore backpackers, the Cross Canyon 4-Person Tent from Klymit offers loads of space and comfort at an affordable price point.
The 3-season tent weighs 10 pounds, and packs down to 20″ x 9.5″. But it offers more floor space (100″ x 86″, or 59 sq feet, plus a 15 sq foot vestibule) and headspace (65″) than the Kelty tent above.
The Cross Canyon design is a bit more simple than the All in One, with two entry doors, rectangular shape, and aluminum poles holding it all together.
But we do like features such as the dual overhead ventilation, interior storage (three overhead and two corner pockets), and the mat that doubles as a roll-style stuff sack.
READ MORE: 60+ Cool Camping Gear Reviews
Sleeping Bags & Quilts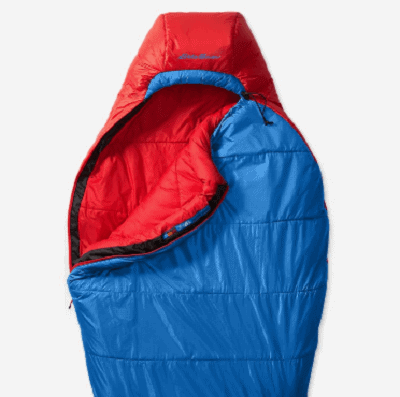 Eddie Bauer Igniter 20° Synthetic Sleeping Bag
We'll acknowledge bias on our part towards Eddie Bauer. They were one of the first outdoor brands we ever worked with, as the clothing/gear sponsor for our 2012 trip to Patagonia and Antarctica.
The fact that we're STILL wearing the winter pants and jackets (not to mention the waterproof backpack) they sent us 8 years ago is a testament to the brand's timeless style and durability.
Their Igniter Synthetic Sleeping Bag makes a great addition to any backcountry camping list. Weighing just 2 lbs, 7 oz, the bag uses Climashield Apex continuous-filament insulation to provide exceptional thermal efficiency that protects you from cold and damp conditions.
Part of their First Ascent line, the mummy-design bag features an abrasion-resistant 20D Pertex nylon shell and a three-dimensional footbox for added comfort. The regular bag measures 84″L x 33″W, but there's also a 90″L x 33″W Long size available for us large/tall folks.
We also dig the 30D Cordura stuff sack, whose DWR finish protects the Igniter bag in even the worst weather conditions.
READ MORE: The Best Travel Clothes for Women & Men

Kelty Cosmic Synthetic Bag
One of the things we've always loved about the Kelty brand is how they offer high-quality camping gear at prices that make it easier for beginners to dip their toes in the water.
Case in point, their Cosmic Synthetic Bag retails for around $100 (regular size) to $110 (long), yet it offers a lot of the same features you'll find in much more expensive sleeping bags.
These include an ISO Temp Rating of 22° / -6°C thanks to their lightweight CirroLoft insulation, PFC-free water repellant (DWR), a spacious footbox that gives you plenty of room, and a handy stash pocket for stowing valuables close at hand.
The regular sized bag measures 78″L x 31″W at the shoulder, with a total weight of 2 lbs, 13 oz. While the long sized bag measures 84″L x 32″W at the shoulder, with a total weight of 3 lbs, 4 oz. Whichever one you choose, it's a great bag for campers on a budget!
READ MORE: What is Glamping? A Guide to Luxury Camping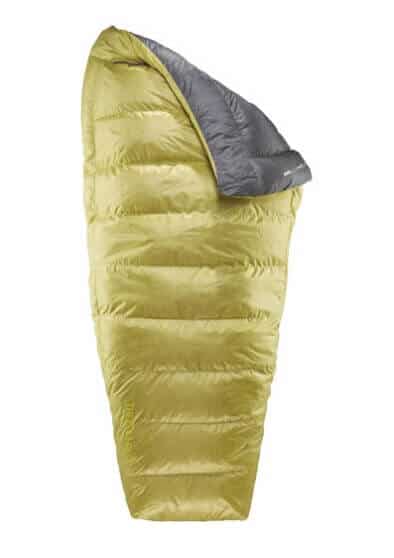 Therm-a-Rest Corus 20
As a 6'2″, 250-pound man who lives in the Deep South and tends to burn hot, I'm actually not fan of sleeping bags for camping unless it's REALLY cold outside.
But the Corus 20 from Therma-a-Rest offers a more versatile option for camping in the backcountry that's also a lot more packable than a full sleeping bag.
The lightweight Corus weighs just 1 lb 10 oz. Yet it's good for three seasons (rated to 20F/-6C) thanks to Responsible Down Standard Certified, 650-fill Nikwax Hydrophobic Down, which absorbs 90% less water and dried three times faster than untreated down.
Other features we love include the box baffled construction (which maximizes warmth) and the cleverly designed foot box, which can slip over your sleeping pad to help eliminate drafty air.
READ MORE: Wadi Rum Desert Camping & Camel Trekking in Jordan
Backpacks
While just about any pack will do for easy day hikes, your choice of backpacks is really essential for backwoods camping, where you have to carry everything you need.
Even a brief overview of the extensive features on Deuter's Futura Vario 50+10 makes it clear that not all backpacks are created equal. Measuring 76″ x 34″ x 32″ and weighing 4.5 pounds, this bag is clearly designed for long-distance hiking.
Its highlights include a VariSlide System that guarantees a great fit, with cushioned Variflex Ergonomic Comfort Lock hip fins to prevent slippage and Active-Fit shoulder straps that adjust automatically. The Aircomfort Sensic mesh back system offers great ventilation, even on hot summer days.
In terms of storage, there are 3 outer pockets, separate lid and bottom compartments, an inner pocket for valuables, and an elastic inner compartment. There are also places for attaching ice axes and trekking poles, plus a removable rain hood with a storage compartment.
READ MORE: The 40 Best Backpacks for Travelers

Granite Gear Blaze 60 (Womens Fit)
For some strange reason, it took the outdoor industry a long time to recognize that men's and women's bodies might require different backpack designs.
The Blaze 60 Backpack from Granite Gear addresses that issue admirably, with an A.C. frame that allows ladies to adjust the fit precisely to their torsos.
In conjunction with their fully adjustable Re-Fit hip belt and a molded foam back panel, it makes for a supremely comfy carry.
But those aren't the only noteworthy features on this multi-day pack. The removable lid can convert into a chest pack. A hidden zipper allows you to access the entire main compartment quickly and easily. And their new 210D Robic nylon UHMWPE triple ripstop makes this the brand's most durable pack to date.
The Blaze 60 comes in two sizes: The Short Torso is 15-18 inches and weighs 2.9 lbs, while the Regular Torso is 18-21 inches and weighs 3 lbs.
READ MORE: The 35 Best Daypacks for Travel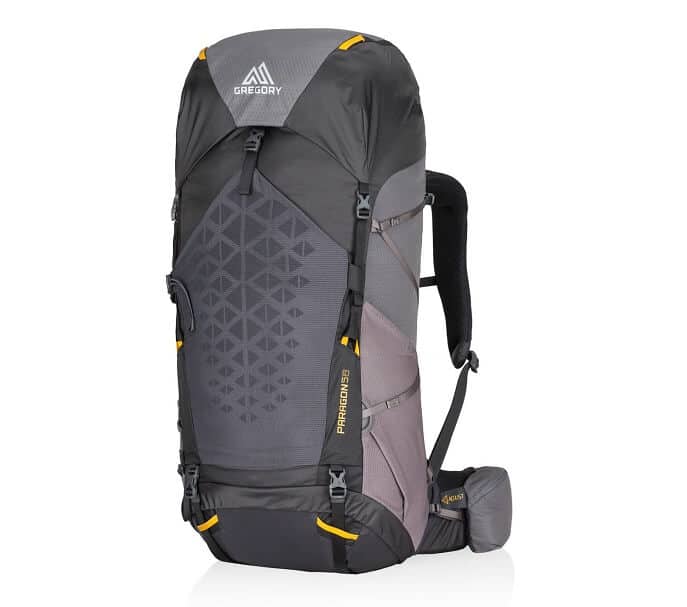 Gregory Paragon 58
Weighing in at just 3 lbs 9.3 oz, the Paragon 58 from Gregory offers a lighter option for long-distance hiking than their heavyweight pack, the Baltoro.
The backpack has been updated, with a new side zipper offering access to the main compartment and a mesh-heavy suspension system.
But the comfort for which Gregory's packs are known remains, in part due to the cushioning back panel and shoulder straps. The Paragon 58 also offers a surprisingly strong frame for a lightweight pack, with metal support around the perimeter and across the back.
We found the hip belt slightly less formidable, which may be a problem for those carrying 40+ pounds. But we love the large mesh "shove-it" pocket in front, the improved ventilation, and the built-in rain cover that tucks away under the top lid.
READ MORE: The 25 Most Comfortable Walking Shoes & Hiking Shoes for Men

Mystery Ranch Terraframe 65
We didn't know much about Mystery Ranch until we stumbled across their booth at the Outdoor Retailer trade show in 2018. But we've become big fans of the Montana brand's hand-built quality and durability.
The company was co-founded by Dana Gleason and Renee Sippel-Bake, who previously led Dana Design to become one of the most respected backpack brands of the 1990s.
Mystery Ranch builds on that legacy, with Gleason's patented lumbar wrap and NICE frame design elements earning fans in the military, wildland firefighting, and mountaineering fields.
Their Terraframe 65 is a behemoth of a pack designed for carrying big loads into the backcountry. Thanks to MR's "Overload" feature– a rigid carbon fiber frame whose suspension allows for impressive flex of the torso– the pack can support loads up to a whopping 150 pounds!
Tailor made for the mountains, the expandable pack's other features include two external long pockets, two full-length side zip access, top-loading shroud with zippered access to the full bag, internal compression straps, stretch-woven water bottle pockets, and more.
READ MORE: 30 Most Comfortable Walking Shoes & Hiking Shoes For Women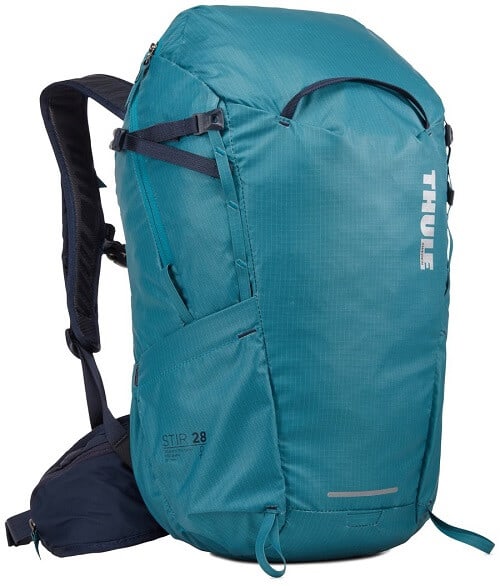 Thule of Sweden Stir Hiking Backpack 28L Womens
By far the smallest pack on this list, Thule of Sweden's 28L Stir Hiking Backpack (available from Aktiv) is better suited to day hiking than long-distance trekking. But we love its simple, utilitarian design, which is typical of the Scandinavian outdoor brands.
Made from Elastin-coated 210D Robic/ 70D Nylon, this ultra-lightweight backpack weighs just 1.61 pounds, with a shorter should-to-hip length that makes it better suited for the female frame.
Storage options for this 19.7″ x 11.4″ x 10.2″ bag include a small stretch pocket on the shoulder strap, a zippered pocket on the hip belt, two side water bottle pockets, and loops for trekking poles or ice axes.
With the breathable back panel and shoulder straps and removable hip belt and sternum straps, it's a great little backpack for day hikes.
READ MORE: Meeting The Moose Whisperer & the Coolest Moose in Sweden
Hydration Packs/Duffles/Etc.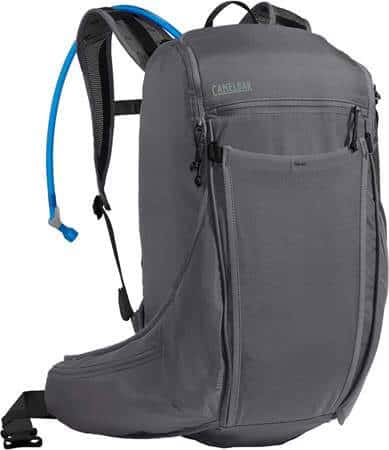 Camelback Women's Shasta 30
When you're making your backcountry camping gear checklist, water needs to be right up there with weigh among your primary considerations.
Experts recommend a half-liter of water per hour of moderate activity, or a liter per hour of strenuous activity. So a 3-day hike in the heat may require 24 liters or more in order to keep you fully hydrated.
The Women's Shasta 30 hydration pack from Camelbak offers 30 liters of compressible space, including an integrated 3-liter reservoir that holds 100 ounces of water. The Quicklink tube ensures your drink is always close at hand, accessible but also secured while you're on the go.
The bag is made for a women's body, with an Air Support back panel for ventilation and a dual wing belt to help distribute the weight evenly for a more comfortable carry.
Organizational features include an external overflow pocket, side stretch pocket for water bottles, and smaller pockets for all your essentials.
READ MORE: How to Save Water (15 Conservation Methods)

SealLine Pro Zip Duffle
As people who spend a lot of time on and around the water, protecting our photo equipment and other gear when we're hiking, kayaking/canoeing, or Scuba diving is essential.
We've been using SealLine's roll-top dry bags on our pontoon boat for years. So we were excited to finally get a chance to test their Pro Zip Duffle bags, which come in 3 sizes (40, 70, and 100 Liter).
Made from heavy duty, PVC-free polyurethane-coated polyester, with welded seams and rugged YKK AquaSeal waterproof zippers, these burly bags are designed to be 100% submersible up to 1 meter.
We especially like the four side-haul handles, lash points for securing the duffel, and removable carry handles/shoulder straps, which are handy for backcountry river crossings.
READ MORE: The 20 Longest Rivers in the World (By Continent)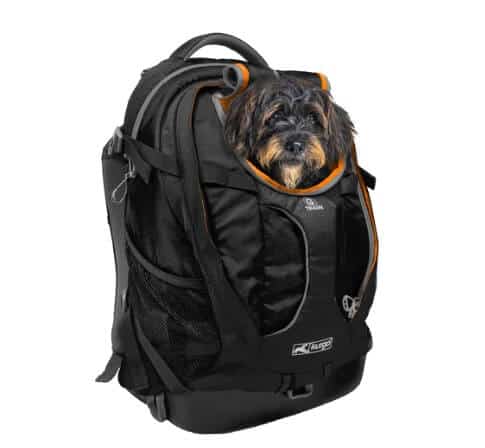 Kurgo G-Train Dog Carrier Backpack
We don't currently have a dog small enough to fit into a backack, but the G-Train Dog Carrier Backpack from Kurgo really makes us wish we did!
Measuring 21″H x 13″W x 10″D, the bag looks like (and has many of the same features as) a rugged, high quality daypack. There's a padded laptop compartment, water bottle holders, lots of zippered storage, mesh back and side panels for ventilation, and a waterproof Armorsole bottom.
But there's also a special pet carrier compartment with a zip-open mesh top. It's perfectly sized for dogs weighing up to 25 pounds, and includes an interior tether to which you can attach a leash/hardness.
We also love the stow-away shoulder straps, which allow you to convert the bag from backpack to pet carrier in a matter of seconds. So it's great for travel as well as hiking!
READ MORE: The Best Gifts for Travelers (125+ Ideas)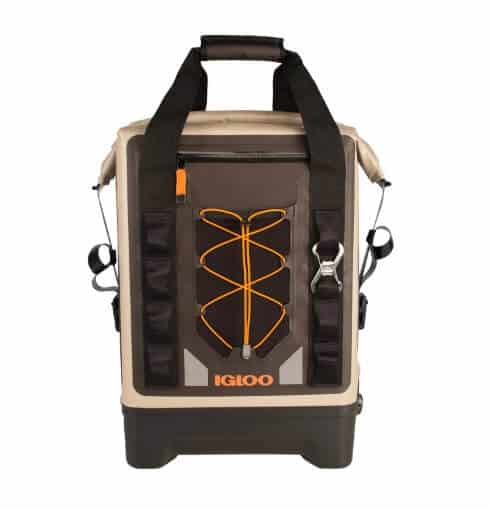 Igloo Sportsman Backpack Waterproof Cooler
Ok, so a cooler isn't necessarily the most practical thing to be schlepping for miles for your weekend backcountry camping trip.
But if you're the sort of person who likes to sit around the campsite (or by your favorite fishing spot) drinking a few cold ones, the Igloo Sportsman Backpack Cooler is a great solution.
Measuring 20″ x 13.75″ x 7.25″ and weighing 6 pounds, the rugged 17-quart cooler features extremely thick insulation that can keep your ice and drinks cold for up to 2 days. The wide-mouth roll-top opening keeps the ice in and water out, and there's a threaded plug for easy draining.
Other features include a removable padded shoulder strap, front pocket with water-resistant zipper for keeping small valuables dry, and a Nite Ize stainless steel carabiner/bottle opener.
READ MORE: Fishing Mobile Bay & the Mobile-Tensaw Delta in Alabama
Camp Cooking

BioLite CampStove 2 Bundle
Grilling while backwoods camping can be challenging, even for experienced outdoorsmen. You can't always find firewood, and even when you can there's a chance it may be wet or rotten.
But the innovative CampStove 2 Bundle from BioLite offers a complete camp kitchen in a remarkably handy little integrated kit.
It includes the wood-burning CampStove 2, KettlePot, a portable Grill large enough to cook four burgers at once (12″ x 9.5″ x 3″), and a FlexLight to illuminate it at night.
The smokeless stove can burn sticks, pine cones, wood scraps, or pellets, and can boil a liter of water for coffee in under 5 minutes. It also generates enough power (3W) to charge your electronic devices.
The entire bundle weighs just under 5 pounds, and we really love how the CampStove is made to be stored inside the KettlePot to save valuable space in your backpack.
READ MORE: The Best Coffee in the World: A Gourmet's Guide

Breeo Outpost Grill
The new Outpost Grill from Breeo is another option for backcountry camp cooking, because it's made to be used with any of the brand's fire pits or over a campfire.
Made from sturdy, high-grade 304 stainless steel, the 19-inch grill comes with a patent-pending Anchorpoint mount. This allows you to firmly plant the Outpost in the ground in order to give you a stable grilling surface anywhere.
To use it, you simply hold it in place where you'd like to plant it, then insert the top end of the post. It's surprisingly easy to use the post to pound the Anchorpoint into the ground. Then you simply pull the post out, reverse it, lock it into place, and attach the grill.
It's a brilliantly simple way to create a backcountry grill wherever you need it, and packs down into the included carrying bag for easy portability.
READ MORE: How to Make DIY Stoves for Off-Grid Living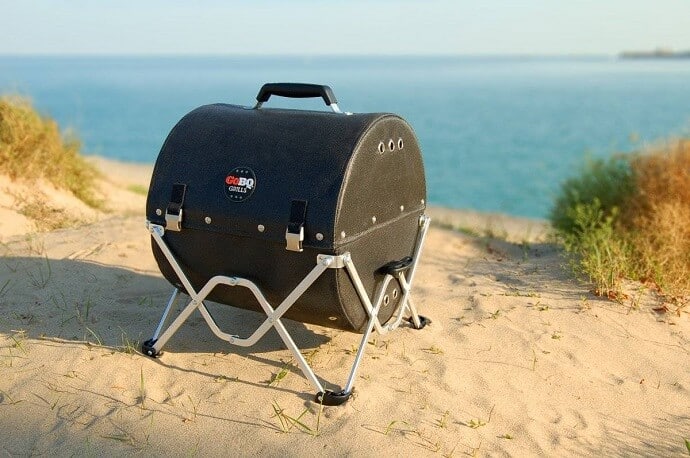 GoBQ Portable Charcoal Grill
Another excellent option for backcountry camping, the GoBQ Portable Chracoal Grill has one of the most unique, game-changing designs we've ever seen.
First off, both the base and lid are made from a flame- and heat-resistant fabric (hands up if you've ever seen a fabric grill before?).
The nickel-plated steel grate rolls up, while the nickel-plated steel charcoal basket folds up inside the base. You can also add a sheet of tinfoil under the basket to make post-meal cleanup a breeze.
Weighing 9.5 pounds and measuring 15.5″ x 8.5″ x 6.75 when fully assembled, the entire thing folds up jusy like a camping chair into a carrying case so small, it can fit inside an average backpack.
It's the most portable grill we've ever tested, great for the backcountry, beach, tailgating, and more!
READ MORE: The Ultimate Beach Vacation Packing List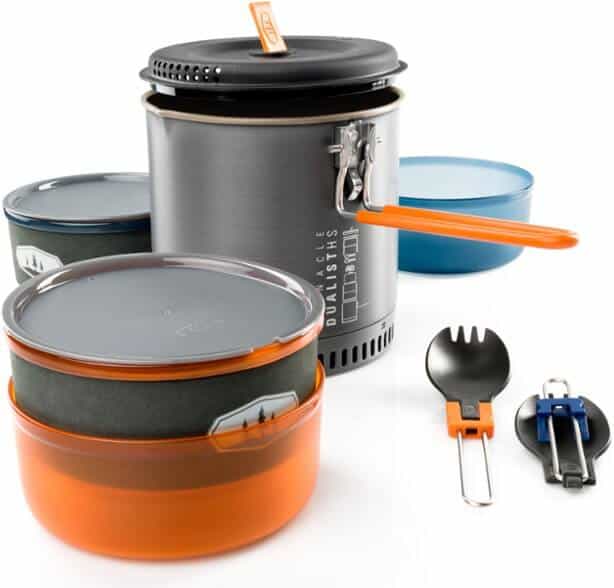 GSI Outdoors Pinnacle Dualist HS
We've been fans of the GSI Outdoors brand for years, and I use my rocking camp chair from them almost every time we go to the lake.
So it's no surprise that their Pinnacle Dualist HS is arguably the lightest, most durable and efficient 2-person cooking systems for backpackers we've ever seen.
The set includes everything you need for cooking backcountry camp meals. There's a Teflon-coated, hard-anodized aluminum 1.8L pot, strainer lid, two 20 oz bowls, two 20 oz mugs with insulated sleeves and sip-through lids, two folding Foons (kind of like a spork), and a welded storage bag/sink.
The hard-anodized heat-sink base helps speed up your cooking times by 30%, and the PFOA-free, 3-layer Teflon with Radiance Technology ensures non-stick performance and raises cooking temps 25% faster.
Best of all, the whole kit cleans easily and nests together into a 6.2″ x 5.8″ x 5.9″ package with a 220-gram fuel canister (sold separately). And it weighs just 1.44 pounds, making it easy to stow in your pack!
Camping Tech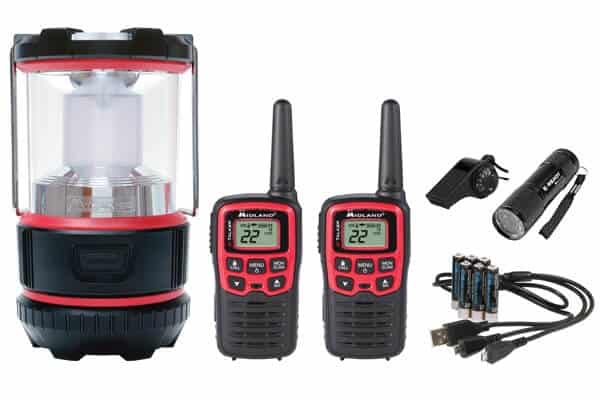 Midland EX500 VP E+Ready Kit
As a society, we've gotten so used to having constant access to our smartphones that it's hard to imagine there are still places in America where you can't get service. But as anyone who lives in the North Georgia mountains can tell you, they do still exist, and closer than you might think!
The EX500 VP E-Ready Kit from Midland USA includes several essential outdoor gadgets for exploring remote backcountry areas where using cell phone signals simply isn't an option.
The kit includes the ML500 500 Lumen LED lantern (which features a lifetime CREE LED lightbulb with two settings), a pair of X-Talker T31 walkie talkies, an ultra-bright flashlight, old school compass, and a softshell case for carrying it all.
Retailing for around $70, it's a small price to pay for the security that comes from being able to see, communicate, and navigate when you're exploring the wilderness.
READ MORE: The 10 Best North Georgia State Parks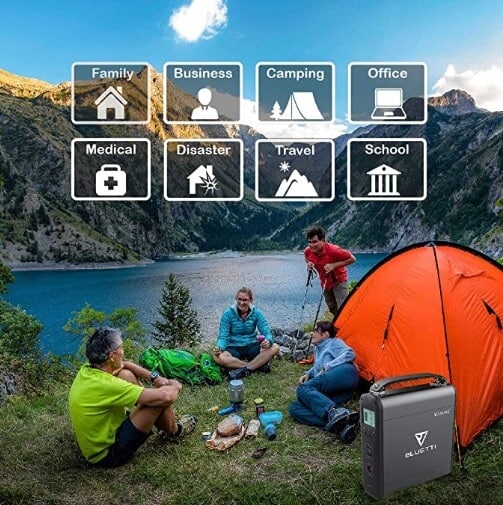 MAXOAK Bluetti Portable Power Station 200Wh
Most people venture into the backcountry to get away from it all, including technology. But for those of us who make our living on the Internet, staying connected as often as possible is just part of the job.
The
MAXOAK
Bluetti Portable Power Station is designed for the outdoors, allowing you to charge your phone, cameras, tablet, and even small laptops with 200Wh (3.7V 62400mAh/11.1V 18000mAh) of power.
Powered up via AC wall outlet or DC charger, this generator can charge the average smartphone 15+ times, a tablet 5+ times, a 2018 MacBook 3.9 times, or a 2018 MacBook Air 3 times. Measuring 8.15″ x 7.95″ x 2.64″ and weighing 7.6 lbs, it's easily portable, and you can even charge it using solar panels (sold separately).
Some of our favorite features include the silent operation (no fan involved), the improved heat dissipation of the aluminum shell, and the automotive-grade battery cell, which has a longer life cycle than other types.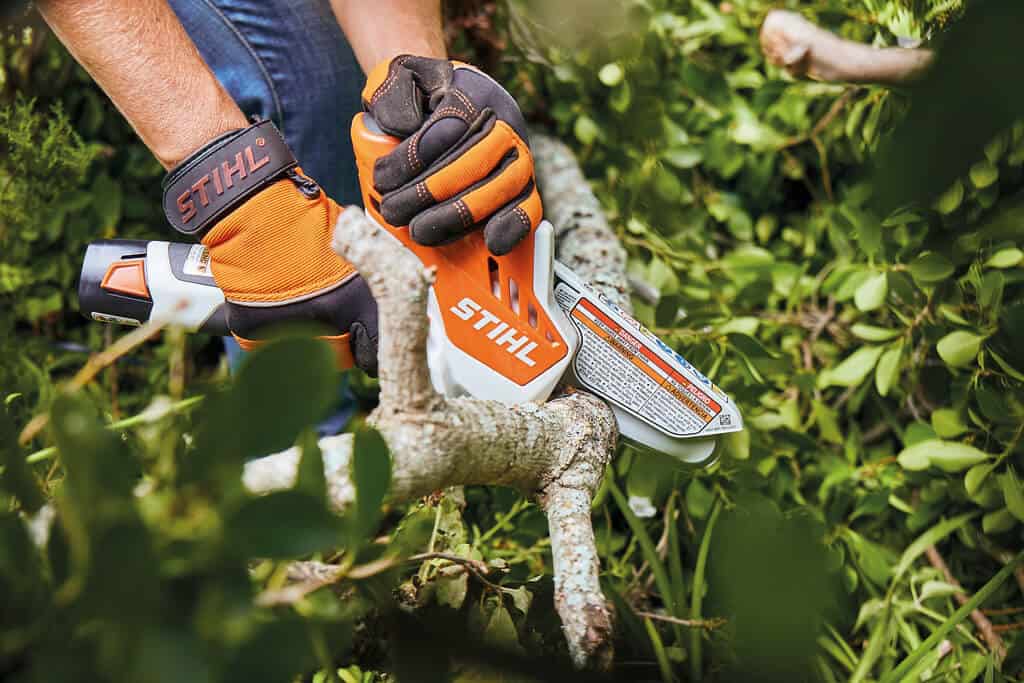 STIHL GTA 26 Battery Powered Pruner
Although it's technically billed as a battery-powered garden pruner, the STIHL GTA 26 is also a first-of-its-kind product being targeted to backcountry campers.
Weighing just 3.1 pounds and small enough to easily fit into a backpack, this tiny chain saw is also perfect for clearing trails and campsites, or cutting fallen wood for the fire.
The tiny wonder uses a 10.8V rechargeable AS 2 battery with a run time of up to 25 minutes on a full charge. And despite its diminutive size, the ¼" PM3 Saw Chain and 4″ guide bar allow you to make quick work of cutting small branches, shrubs, and other detritus along the trail.
For those who prefer the old school approach to chopping wood in the forest, STIHL's Handheld Woodcutter Camp & Forestry Hatchet is also a solid, lightweight option!
READ MORE: Intro to Permaculture Gardening Design & Principles

Uncharted Supply Co. The Zeus: Portable Jump Starter & USB Charger
Another awesome option for providing power when you're adventuring off-grid, the Zeus from Uncharted Supply Co. is a 20,000 mAh portable battery jumper that boasts enough power to start even the largest trucks multiple times.
It's primarily designed to get you (and your car or truck) back on the road when there's no one else around with jumper cables to give you a boost.
But this handy road trip essential can also recharge an iPhone Plus from 0 to 100% up to 10 times, and it can provide light for days with its built-in flashlight.
We love the fact that the Zeuc can be charged via AC power at home or using the cigarette lighter adaptor while you're on the road. And also the unique Reverse Polarity + Spark Protection feature, which guarantees you won't get any surprise sparks if it's not connected correctly.
READ MORE: The World's Best Road Trips Bucket List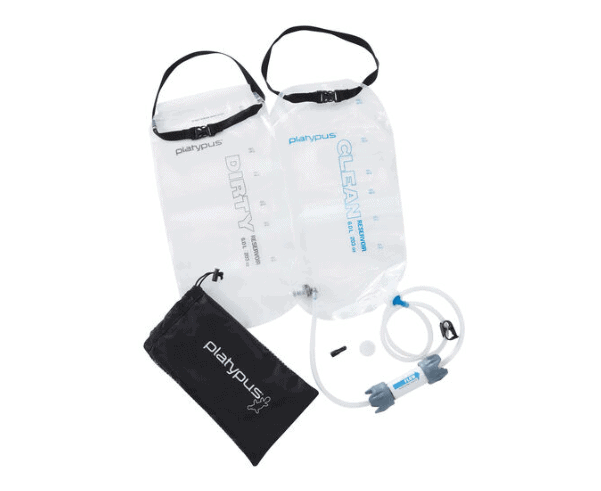 Platypus GravityWorks 6.0L Water Filter System
Back in my teens and early 20s, I learned the hard way the importance of taking plenty of fresh water with you when you go hiking.
During a high school trip to Georgia's Okefenokee Swamp, I suffered a mild heat stroke from a combo of dehydration and exertion. A few years later, while camping with my family in Cloudland Canyon, I made the mistake of refilling my bottle from a fresh mountain stream and wound up with severe dysentery.
Lesson learned: NEVER venture into the wilderness without plenty of water! And the GravityWorks 6.0L Water Filter System from Platypus offers an easy solution, filtering up to 1.75L/minute with no pumping.
With a microfilter that removes 99.9% of bacteria and protozoa and lasts up to 1500 liters of water, the 12 liter capacity (6L filtered, 6L unfiltered) system is easy to use. You just fill it with water, hang it up, and let gravity do the rest in a matter of minutes.
The filter can be cleaned in the field in under 5 seconds, and we love that it weighs just 11.5 ounces, stowing smaller than most 1-liter water bottles.
READ MORE: How to Save Water (15 Water Conservation Methods)

RapidPure Trail Blazer Gravity Purifier
The Trail Blazer Gravity Purifier from RapidPure is another solution for providing filtered water when you're camping in the backwoods.
This water treatment system includes a 9-liter bag, hose, and 6.5″ RapidPure filter cartridge.
But unlike the Platypus system, this one purifies water using electroadsorption to completely remove all bacteria, parasites, viruses, chemicals, heavy metals, pesticides, and microplastics, as well as filtering out sediment.
Because of the technology it uses, the Trail Blazer is billed as the fastest gravity water filter on the market, purifying up to 5 liters a minute with no pumping or batteries required.
READ MORE: How to Maker a DIY Rainwater Harvesting System
Sawyer S3 Purifier
Thought considerably smaller than the Platypus and RapidPure products (just 20 ounces), the Sawyer S3 Foam Filter water bottle offers an economical solution for water purification in the wild.
The package includes a Select Foam System with Silicone Bottle and Reducer Cap, 0.1 Micron Absolute Sawyer Micro Squeeze Filter, Cleaning Plunger, and Cleaning Coupling.
Good for up to 400 uses, the system removes all bacteria, chemicals, heavy metals, pesticides, protozoa, and viruses.
The process is simple: Fill the bottle, screw on the filter, squeeze the bottle in an alternating motion with both hands for 10 seconds, then you're ready to drink safely!
It may not be as large or as easy to use as the gravity filters reviewed above (which are better for group camping trips). But it's a great bottle to carry with you for filtering water when you're out on the trail.
READ MORE: Water.org's Mission to Bring Fresh Water to the World
Miscellaneous Camping Gear

Adventure Medical Kits- Mountain Guide
When people ask us to recommend travel essentials, one of the first things we always mention is a good First Aid kit.
This expansive Mountain Guide Medical Kit from Adventure Medical Kits is one of the best we've seen. It's also the official medical kit of the International Mountain Guides.
For starters, it comes with a comprehensive guide to "Wilderness & Travel Medicine" (by wilderness expert Eric A. Weiss, MD), featuring 100 illustrations for treating outdoor injuries and illnesses. We also love the "Find It Fast" kit map, which makes it easy to find what you need quickly.
We don't have space here to list all of the medicines and hospital-quality tools (including digital thermometer, EMT shears, irrigation syringe, etc) the kit contains.
But suffice it to say that if you need to treat blisters, burns, cuts, scrapes, fractures, sprains, or bleeding wounds, it's got everything you need as well as detailed instructions on how to use it.
READ MORE: The Best Mountains in the World Bucket List

Counter Assault Bear Spray
If you're a responsible traveler, you're aware of maintaining a respectful distance from wildlife at all times. But unfortunately the wildlife doesn't always read the memo, or follow the rules.
Though we've never stumbled upon an angry bear in the wild, I've seen them while camping in North Georgia and glamping at Alaska's Kenai Fjords Glacier Lodge. And every time we went hiking there, we were required to carry bear spray, just in case.
Counter Assault Bear Spray offers the industry's first major innovation in 20 years. Developed in conjunction with the University Montana as a means to protect people from bears in a non-lethal manner, the pepper spray is the hottest on the market and was the first approved by the EPA.
Their new version offers optimized spray distance and time, discharging at 40 feet in 8 seconds or at 32 feet in 7 seconds. Here's hoping you never have to use it in the backcountry, but if you do, it can save your life AND the bear's.
READ MORE: 40 Species of Alaskan Animals You Can See in the Wild

SOL Escape Bivvy
A bivvy (short for bivouac) is another type of survival gear that we've never needed personally, but which is always great to have on hand if you're exploring the backwoods.
The bivouac was originally created for mountain climbers who wanted lightweight weather protection for their sleeping bags during multi-day ascents, particularly on big walls.
The Escape Bivvy from SOL (Survive Outdoors Longer) is an ultra-light emergency shelter that addresses a common issue with condensation inside the bag as you get warm.
It's made with a proprietary fabric that lets moisture out while protecting you from rain, snow, and wind by reflecting your body heat back to you.
With its 100% waterproof seams, you can use the drawstring hood closure and side zip to completely close yourself off from the elements. Or you can use it like a traditional sleeping bag, with the ultra-bright orange exterior making it easy for rescuers to see you in an emergency situation.
READ MORE: Climbing Nigardsbreen Glacier in Norway (He Said, She Said)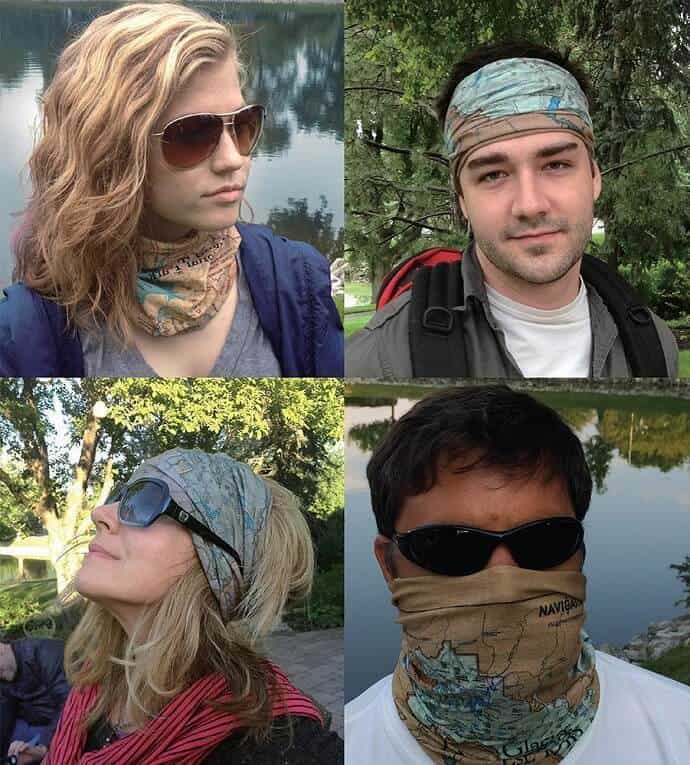 McGovern & Co National Park Banas
There was a time when bandanas and buffs were used almost exclusively by rock stars and Survivor contestants.
But in the Covid-19 era, they've come to serve double duty as face masks, adding a layer of protection from the virus when you're hiking in the great outdoors.
McGovern & Co has come up with some pretty ingenious "banas" for their new National Parks collection. We especially love the ones that are imprinted with detailed geographical maps of some of the nation's most beloved national parks.
You can choose from a Grand Canyon National Park Map Bana, Great Smokey Mountain National Park Map Bana, or a Yellowstone National Park Map Bana.
All of them are stylish and multi-purpose, keeping a map close at hand while also adding a layer of protection from fellow hikers who get a little too close for comfort.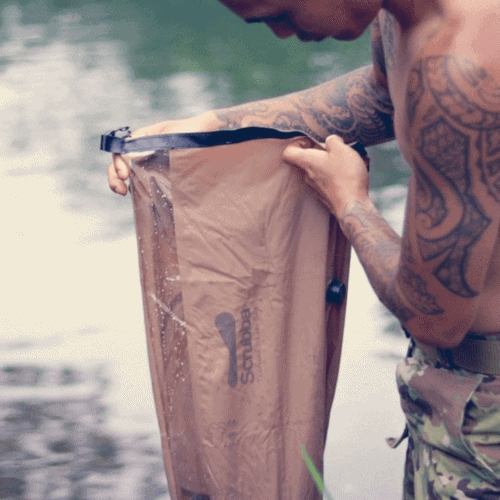 Scrubba Tactical Wash & Dry Kit
A breakout hit when it made its debut at Outdoor Retailer back in 2013, the Scrubba is essentially a complete kit for washing and drying clothes on the go.
Their Tactical Wash & Dry Kit includes the Scrubba Tactical Wash Bag, which gives you a machine quality wash in 3 minutes; a huge travel towel for partially drying clothes (or yourself); a pegless travel clothesline; and 2 inflatable coat hangers.
It all packs down nicely into the enclosed packing cell, which is lightweight and fits easily into even the smallest backpacks.
It's a great way to keep your clothes from smelling funky when you're spending days exploring the beauty the backcountry wilderness has to offer! –by Bret Love; lead image via Canva