When I was a kid, hiking and backpacking the mountains of North Georgia and sections of the Appalachian Trail with my family, our equipment was fairly rudimentary.
The extensive array of cool camping gear that's available now, more than 30 years later, would have blown our minds.
We've been so busy traveling the world in the eight years since we started Green Global Travel that camping has taken a bit of a backseat.
But we still love exploring the world's best hiking trails. And we're already planning a massive RV road trip to explore the incredible U.S. National Parks after my daughter heads to college in a few years.
In the meantime, we're building up an impressive collection of cool camping gear, from hammock and roof top tents, sleeping bags, and backpacks to unique items that make life around the campsite more enjoyable.
Here's a look at some of our favorite camping gear this year.
READ MORE: The 15 Best Campgrounds in North Georgia
TENTS & TENT HAMMOCKS
The first thing you'll notice about this 4-person, 3-season tent is its design. The aptly-named Roughhouse is like the Volvo of tents– stout and boxy, with a low profile and hybrid steel/fiberglass poles designed to withstand the strongest of storms.
With a height of 60.5 inches and a width of 61.82 square feet, this spacious bad boy is big enough to hold a queen-sized bed. It also includes a waterproof vestibule (which converts into a shade awning) and four mesh pockets for internal storage.
The body of the Roughhouse is made from no-see-um mesh, which keeps bugs out but allows awesome airflow in. But the full coverage rain fly ensures you stay dry even in the most inclement weather.
Much like the Big Agnes model, Slumberjack's 4-person tent is decidedly not backpacker friendly, with a minimum weight of 13 pounds. But in terms of standing up to the elements, the Roughhouse 4 more than holds its own.

Comparatively speaking, MSR's new Hubba Tour 2 is a lightweight tent (4 lb. 13 oz.) that's designed for mountaineers, long-distance cyclists, and other types of adventure tours. In other words, it's meant to make "long-term roughing it" a LOT easier.
For the weight, the 32 square foot tent offers an impressive amount of interior space. The 25 square foot vestibule provides a nice indoor-outdoor transition area, as well as a place for gear storage. There are also numerous interior pockets for storing stuff, and the glow-in-the-dark zippers making going in and out of the two entrances easier at night.
In terms of set-up, the Hubba Tour 2 is simple because of its stylish exoskeleton frame and unified rainfly/body. Thanks to its unique design and Xtreme Shield coating, the tent's interior stays completely dry even if you set it up during a torrential downpour.
With a high list price, this 2-person tent is clearly not aimed at the average camper. But for serious adventurers who want a tent they can hang out in for days when weather gets rough, the Hubba Tour 2 is worth every penny.

The lightest tent we've tested this year, Nemo Equipment's Dagger 2-person tent is designed with backpackers in mind.
With around 31 square feet of floor space and a peak heigh of 42.2 inches, it weighs in at a paltry 3 lb. 12 oz. Their unique Divvy dual-stage stuff sack even allows two people to divide the load between them.
The Dagger 2P has two doors for easy access and two trapezoidal vestibules, which are perfect for storing gear and backpacks when the rainfly is attached. If the weather is nice, you can remove the rainfly and let the no-see-um mesh keep pesky insects at bay. We also love the overhead Light Pockets, which use a light-diffusing fabric to create a gentle glow at night.
My only issue with this tent is its size. I'm 6'2" with very broad shoulders, so the 50" wide sleeping area doesn't provide a lot of elbow room. But for two normal-sized humans, this probably wouldn't prove a problem.

One of the more uniquely designed tents we've ever tested, Wenzel's Shenanigan 5 is a tent/teepee hybrid that has none of the space issues we experienced with the Dagger 2P. In fact, its interior could be accurately described as ginormous, with a center height of 90" and 86 square feet (11'6" by 10') of floor space. There are also two interior pockets for gear storage.
The design– which includes a steel center support pole and fast feet construction– makes the 5-person tent easy to set up. But the inverse cone style can make things a bit awkward when multiple people are trying to move around inside.
With three roll-back window flaps, an inverted T-style door with roll-back flaps, two rear vents, and three peak vents, the Shenanigan 5 provides decent ventilation. But the polyester canopy also seems to make the interior warmer than some of the other tents we tested.
On the upside, the 10 lb. 12 oz, tent is the most affordable one we've reviewed. On the downside, in terms of overall quality, it does feel like you get what you pay for.


Another fascinating concept, the Tentsile Connect is a tent/hammock hybrid that can hold up to two people and 880 pounds. The coolest part is that you can use it either in the air or on the ground.
Set up isn't exactly what you'd call intuitive, so it's highly recommended that you read the instruction manual and do a trial run at home before you hit the trail. there are also helpful videos on their site showing how to use the straps and heavy duty ratchet buckles to suspend the "tree tent" between three strong anchors.
The Connect offers approximately 50 square feet of floor space when hanging, and 65 square feet when on the ground. You can also peg out the rain fly to create a "dry porch" covered area beneath it.
Other than the learning curve on assembly, other downsides include the weight (14 pounds) and lack of vestibules for storage when it's hanging. Still, it's a really cool design concept that merits further experimentation, and Tensile plants 18 trees for every tent sold!


Kammok's Sunda Tent Hammock works very much like the Tentsile Connect: It's a tent and a hammock in one. But the Sunda has a slight advantage in terms of the versatility of its innovative design.
There are four ways to configure it: You can use it as a 35 square foot two-person tent. You can convert it into an all-in-one aerial hammock shelter. You can use the footprint, poles, and rainfly to create a simple "fly light" shelter. Or you can use it as a traditional solo hammock.
Other noteworthy attributes includes the Katabatic cross-ventilation system for keeping the interior cool, proprietary Lumos fabric that amplified light within (but blocks out the sun), and storage that includes six internal pockets and nine internal gear loops.
But the two biggest advantages this Kammok model has over Tentsile's are the trail weight (around 4 lb. 8oz.) and the lower price. Check prices.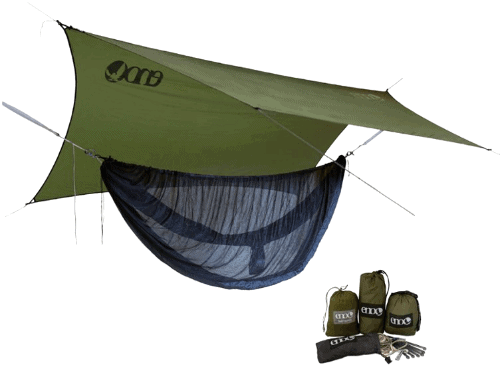 Based in Asheville, North Carolina, Eagles Nest Outfitters has been one of our favorite outdoor brands for years. Not just because of the great products they create, but also because of their pledge (through 1% for the Planet) to donate 1% of their annual sales to support NGOs focused on environmental conservation.
Their new ENO SubLink Hammock Shelter System with Sub7 Hammock is designed for adventurous campers. It's especially good for those who are planning to hike, bike, or climb for most of the day, only needing a resting place for the night.
This system– which comes complete with a hammock, bug net, rainfly, suspension system, and stakes– is a one-person shelter capable of holding up to 300 pounds. Yet it's super lightweight (just 2 lb. 13 oz.) and compact 8" x 14"), making it perfect for backpackers. It's also easier to set up than some of the other hammock hybrids featured above.
If there's a downside to the ENO SubLink, it's that it doesn't have room for gear storage and wouldn't provide complete coverage from high winds or heavy rains. But for solo adventurers and sunny days, it's a sweet shelter set-up. Check Prices.
SLEEPING BAGS & BLANKETS

Created primarily for active outdoor adventures, Therm-a-rest's Oberon sleeping bag was designed to provide maximum protection in cold-weather climates.
Certified by the Responsible Down Standard, the bag stands up to extreme conditions admirably. Its 800-fill Nikwax Hydrophobic Down repels moisture, stays warm even when it does get damp, and dries three times faster than untreated down.
But that's just the beginning of the Oberon's heat-holding features. Others include a ThermaCapture lining that helps trap your body heat inside the bag; zoned insulation (i.e. 60% on top, 40% on the bottom) to ensure maximum warmth; an ergonomic toe box that envelops your tootsies in toasty down; and heat-trapping draft collars.
The Oberon is the most expensive sleeping bag we've tested this year, and it's probably more than you'll need for spring or summer camping adventures. But if you're traveling to extremely cold environments, it's an awesome hot pocket for your body.


Though considerably less expensive than the Oberon, the Singi sleeping bag benefits from Fjällräven's classically Scandinavian attention to detail and quality.
The insulation is made from 90% goose down, which is ethically produced and traceable: Fjällräven's "Down Promise" is considered one of the best in the outdoor industry.
The mummy-shaped bag features added insulation over your core and feet, plus there's a down-filled collar to prevent heat loss around your head. But there's also a 2-way zipper for opening the footbox if you get too warm.
The technical trekking bag weighs just 2.8 pounds, but is designed to keep campers warm down to around 17º Fahrenheit. Lightweight and easily compressible into the included stuff sack, it's a great 3-season sleeping bag for backpackers. Check prices.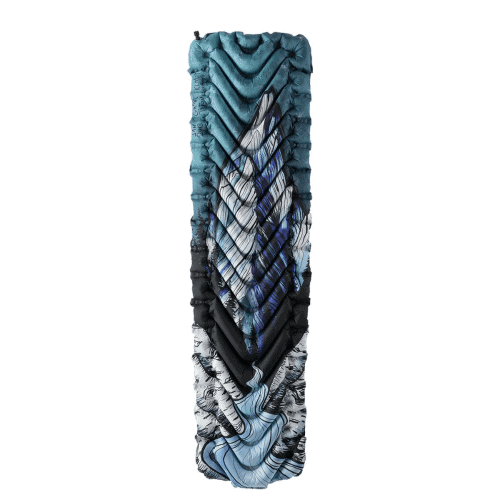 Klymit V Ultralight SL Grand Teton Edition
Klymit's new V Ultralight SL sleeping pads were one of our favorite cool camping gear discoveries at this year's Outdoor Retailer trade show in Denver. The line finds the brand partnering with local artists to create limited edition designs evoking images of their favorite U.S. National Parks, with a portion of proceeds benefiting the National Park Foundation.
We love the Grand Teton Artist Edition, which was designed by Jackson Hole-based artist/mountain athlete Kelly Halpin. Her vivid, colorful imagery depicts the 13,775-foot mountain for which the park was named. But the pad also has substance to go with its ultra-cool style.
Weighing in at just 11.9 ounces, the 20 x 72-inch pad features lofted air pockets and deep weld patterning that improves thermal distribution. The integrated side rails help you stay centered, no matter whether you sleep on your back, side, or stomach.
There's also a twist-pull valve that makes for quick inflation (in as a few as seven or eight breaths) and complete deflation, as well as a patch kit in case you need to make emergency repairs.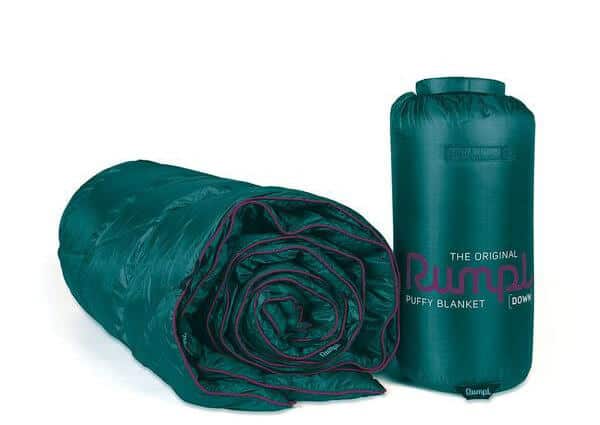 Rumpl 2-Person Down Puffy Blanket
Here in my native Georgia, where it's usually 90 degrees by May and doesn't get cool again until October, sleeping bags are overkill on most nights. I've been camping in north Georgia many times where a cozy blanket was all we needed.
Measuring 88 x 84 inches (and compressing down to 8 x 9 inches), Rumpl's 2-person Down Puffy blanket offers a great alternative. It's made from water/stain-repellant 20D Ripstop Nylon fabric and stuffed with 600 fill down insulation (the same stuff used in premium sleeping bags). So it's comfortable down to about 40º Fahrenheit, which is perfect for spring and summer nights.
Best of all, it weighs just 2.1 pounds and compressed down to 8 x 9 inches, making it a light and compact option that should appeal to backpackers, campers, and glamping enthusiasts alike.
Product review features like these are usually a mixed bag. There are some types of gear we review primarily because we know certain segments of our audience will be interested in them. But then there are those cool camping gear items we personally can't wait to get our hands on.
The Cotocachi Blanket from Ecuadane falls into the latter category. It's got a stunning South American-style print, inspired by a dormant volcano in the Ecuadorian Andes, rendered in warm, vivid colors (including yellow, orange, red, and brown).
Made in Otavalo, Ecuador from a blend of Ecuadorian alpaca and synthetic materials, this beauty is super soft, lightweight, and equally suited to a picnic in the park or a cozy sofa in front of the fireplace. The only problem is that the blanket is so darn attractive, you probably won't want to get it dirty!

Another blanket that's equally suited for a beach vacation or a camping trip, Mountainsmith's rugged Mellow Meadow can be used as a ground cloth, blanket, or zipped up to become a sleeping bag.
Measuring 80 x 80 inches, it's got a waterproof polyester bottom panel, an ultra-soft microfiber top panel, and 500g Hollowfill insulation in the middle to provide extra warmth and cushioning. It also includes a zippered stash pocket for storage, as well as a ventilated stuff sack for easy transport.
The only real downside to the Mellow Meadow is its weight– 6 lb. 6 oz. But it does come with Mountainsmith's "Forged For Life Guarantee," an awesome warranty that ensures it will last for a lifetime of adventures.

BACKPACKS & BAGS
Since Mary and I are not hardcore backpackers, our needs for a bag are pretty simple. We want something light, preferably carryon size, rugged enough to stand up to our adventures, with plenty of storage pockets for gear organization. Eagle Creek's 31-liter Afar Backpack has met these needs perfectly the last few years: It's literally the only backpack I've used since we got it.
For those who need something bigger, the Global Companion 65L is a behemoth, offering more than double the space in a 13.25 x 26 x 12.25-inch bag. It's just as rugged as the Afar, with a Bi-Tech fabric bottom that resists abrasion and the elements, a separate compartment for shoes, and a Rainfly that can be tucked way when not in use.
Weighing just over 5 pounds, this pack is aimed at travelers rather than trail-trekkers. It offers nine pockets designed to hold water bottles, windbreakers, tripods, toiletries, passport, and more, plus a suitcase-style butterfly opening that reveals zippered mesh compartments inside. Best of all, the ergonomic design ensures a comfortable carry no matter how much weight you're packing.

Although Lowe Alpine's Kulu 65:75 is obviously aimed at backpackers, this is another bag whose designers clearly kept travelers in mind. For one, their "Travel FlipBelt" technology allows you to stash the padded hip belt on the side while traveling. You can also use the rain cover to wrap/cover the pack, securing the straps and making it more like a standard piece of luggage.
Once you reach your destination, the 65-liter, 4.6 pound pack offers tons of features designed to make your hikes more enjoyable. The adjustable AirMesh back and two front handles provide an array of carrying options.
In terms of storage and organization, there are hip belt pockets, stretch mesh side pockets, a secure internal lid pocket, a lower entry with zip out divider, and a large zippered front panel that allows for quick access to your gear.
The Crown2 60 from Granite Gear is an ultra-light multi-day backpack made with serious backpackers in mind. It's available in three different torso lengths, weighing in at just 2.26 pounds for short (15-18 inches) and 2.46 pounds for long (21-24 inches).
It's built on the new Vapor Current Mark 2 Frame, which is made from molded polypropylene with die cut holes to minimize weight. For longer treks, the frame can be removed completely to shed an additional .38 pounds. Working in conjunction with the molded foam back panel, ventilation channels, and Re-Fit hip belt, it makes for one of the most comfortable backpacks we've ever tested.
Another cool feature is the zippered lid, which adds an additional 5 liters of storage (and 2.8 ounces of weight). But, as with the frame, the lid can be removed: Getting rid of both drops the normal torso pack down to a featherweight 1.7 pounds!

Wayne Gregory is considered a pioneer in the backpack business: His eponymous company has made a number of unique design innovations. They were the first to create backpacks with different sized frames and harnesses; the first to make a waistbelt system that adjusts to different hip angles; and the first to use the center-locking bar tack, a stitch that improves durability at major stress points.
Available in three sizes and weighing 2.4 (for the small) to 2.7 pounds (for the large), the new Optic 58 is another fine addition to the storied Gregory line. The ultralight aluminum perimeter frame, Leaf-Spring lumbar pad, dual-density FocusForm shoulder harness, and the moisture-wicking ventilation of their AeroSpan suspension makes it one of the more comfortable packs we've tested.
In terms of storage, there's a removable top zippered pocket, a QuickStow system on the shoulder harness for sunglasses, two stretch side pockets for water, two zippered pockets on the hip belt, and an oversized front stretch mesh pocket that allows quick, easy access. There's also two loops for attaching gear, as well as a custom fitted rain cover in the top pocket.

Deuter is another brand we'd never covered before meeting them at Outdoor Retailer. But several friends in the adventure travel sphere have been raving about their high quality backpacks for years. We love the German company's CSR commitments, which include co-founding the European Outdoor Conservation Association, membership in the Fair Wear Foundation and Partnership for Sustainable Textiles, and adherence to the Responsible Down Standard.
Deuter's Traveller 60+10 SL is designed with women in mind, with a shorter length than their standard packs and VariQuick adjustment system to ensure a customized fit. The breathable foam back, flexible x-frame, and ergonomic hip fins are designed for comfortably carrying heavy loads. But– at 6 lbs, 12 oz– this pack is better suited traveling than trekking.
It's got great storage options, including stretchy side pockets, a hidden pocket inside for tucking away valuables, a compartment perfect for quarantining wet/sweaty clothes, and a bottom compartment with a removable separator for organization. But our favorite feature is the zip-off 10-liter daypack, which makes this feel like two packs in one.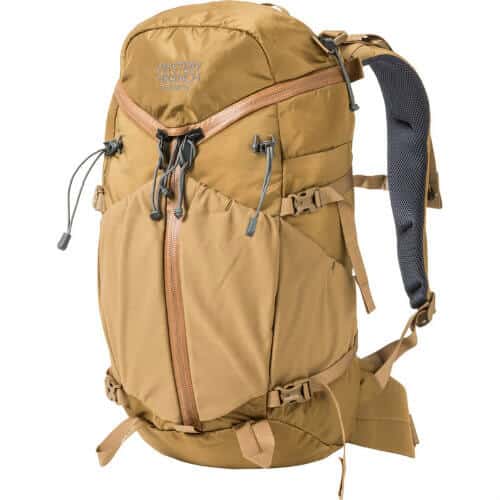 Mystery Ranch Coulee 25L Backpack
Based in Bozeman, Montana, Mystery Ranch is another new-to-us brand that we met at Outdoor Retailer. The company started out in 2000 as a traditional wholesale manufacturer of bags and backpacks. But in 2004 they were asked to design custom packs for Navy SEALs, which led to work for other high-level organizations in the military, wild land firefighting, and mountaineering fields.
The result is a hand-built line of durable bags whose user-centric designs offer a great balance of comfort, function, and quality. The Coulee 25L backpack, which weighs 2.7 pounds and measures 24.5 X 14 X 10 inches, is a perfect example. It's built on their supportive (and removable) HDPE frame sheet, with a patented yoke that allows for quick adjustment of the torso length.
The daypack makes the most of Mystery Ranch's trademark 3-zip design, which offers easy access to the expansive interior. There are also two stretch woven pockets on the front, side stretch pockets perfect for holding water bottles, a zippered compartment inside the top lid for items you need quick access to, and two loops for carrying tools. Check Prices on Mystery Ranch Backpacks
.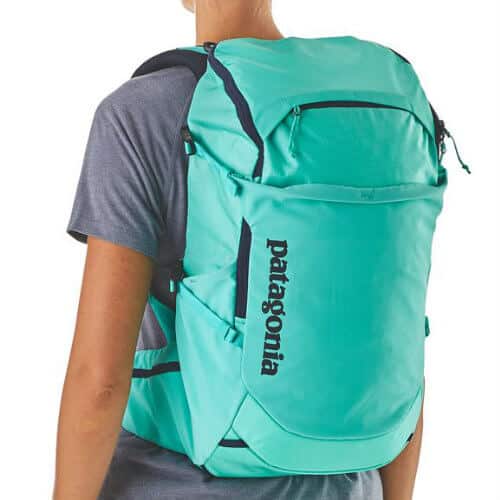 Patagonia Women's Nine Trails Backpack 26L
Patagonia is one of our favorite outdoor brands. And not just because of the quality of their products, but for their commitment to "Footprint Chronicles," which ensure environmental responsibility, fair labor practices, and safe working conditions during the manufacturing process. The fact that founder Yvon Chouinard is a forward-thinking environmental activist doesn't hurt either.
Their 26L Nine Trail Backpack is a great day pack for women, with a harness and back panel that were designed to fit the female form. The latter, made from mono-mesh to prevent moisture buildup, is impressively breathable. The foam-padded waist belt and shoulder harness are more narrow and tapered, which centers the load. Some women have found the S/M size too narrow, so you may want to get the L/XL if you have broad shoulders or torso.
Made of strong CORDURA nylon ripstop and weighing 2 pounds, the bag boasts a DWR finish to repel rain and snow. Inside the main compartment's U-shaped zipper, you'll find 26 liters of space for your stuff, with multiple stash pockets for organizing smaller items. Outside, there's a huge stretch pocket in the front, and two side pockets for anything you need easy access to. Check Prices on Patagonia Packs
.
I learned about the importance of hydration the hard way during our trip to the Peruvian Amazon in 2012. Temperatures were in the 90s, but the humidity was off the charts. Despite drinking several bottles of water during a morning boat tour, I got so dehydrated from constant sweating that I wound up with a minor case of heat stroke. Not fun.
The Duthie AM 10.0 pack from Platypus is designed to carry all the gear you need for a day hike or bike ride. But it also features a dedicated hydration pocket with a Big Zip LP reservoir that will hold 3 liters of water. Magnetic hydration hose retention ensures you always have quick, easy access, but also tucks out of the way without the need for a clip.
The lightweight frame and breathable mesh of the FloatAir back panel ensure your back stays relatively cool, while the waist belt offers two pockets for storing snacks and other essentials. There's also a fleece-lined pocket for sunglasses, internal mesh pockets for organizing your gear, and a front stash pocket with adjustable straps big enough to hold a helmet.
CAMP COOKING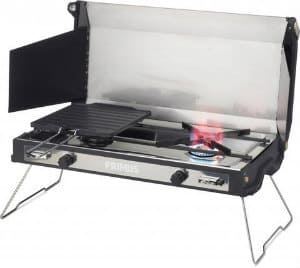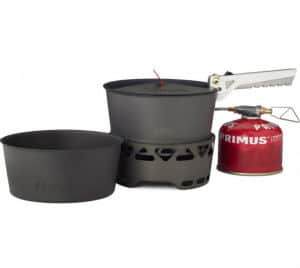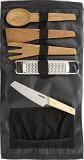 Rooted in Swedish engineering, Primus has been a pioneer in outdoor cooking since 1892, when Frans W. Lindqvist invented the first soot-free kerosene stove. Primus stoves were there when Roald Amundsen reached the South Pole in 1911, and when Sir Edmund Hillary and Tenzing Norgay summited Mount Everest in 1953. In short, they are the standard by which camp stoves are judged.
Of all the Primus products we checked out at Outdoor Retailer, their Tupike Stove was our favorite. Weighing 9 pounds, the classic 2-burner isn't for backpackers. But the stainless steel body, oak laths, and brass details make it a thing of beauty for car campers. The lid and side screens keep the wind at bay, and it includes a non-stick aluminum griddle plate and a removable drip tray for easy cleaning.
For hiking trail-trekkers, there's the PrimeTech Stove Set. We tested the 2.3-liter version, which weighs 30.6 ounces and includes a transparent lid with integrated colander, windscreen with integrated burner, two pots, and a detachable handle. It boasts an impressive 80% fuel efficiency (compared to 40% for most camp stoves), and it all packs down into an insulated storage bag.
Pair either stove with Primus' Campfire Prep Set– which includes a campfire knife, spatula, fork, spoon, and a stainless steel grater– and you have everything you need to be a master camp chef… Well, except for the food ingredients and culinary skills. Check Prices on Primus Stoves.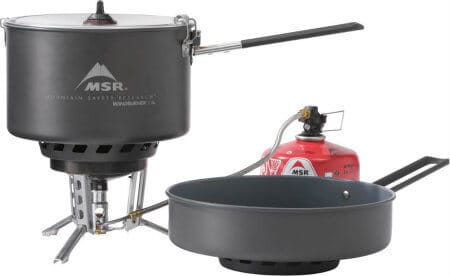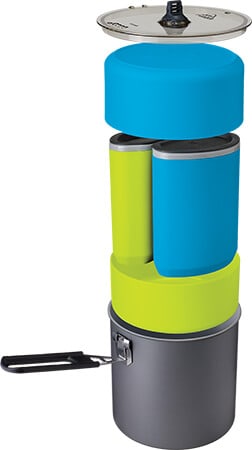 Formally known as Mountain Safety Research, MSR was founded in Seattle in 1969 by Larry Penberthy with one core mission in mind: To improve the safety and quality of climbing equipment and other outdoor gear.
New for 2018, their Windburner Stove Combo is a 29-ounce modular system centered around a stove that boasts a windproof radiant burner and pressure regulator to ensure efficient cooking even in inclement weather conditions. The nesting set also includes a strainer lid (with locking latch), a 2.5-liter nonstick sauce pot, 8" nonstick skillet, and room for an 8-ounce fuel canister (not included).
For a complete camp cooking package, you can add MSR's Trail Lite Duo Cook Set, which weighs in at just 21 ounces. It includes a 2-liter nonstick aluminum pot, clear strainer lid, two insulated mugs, and two DeepDish bowls, all nested into a compact 5.5 by 6.25-inch package. Check Prices on MSR Products
.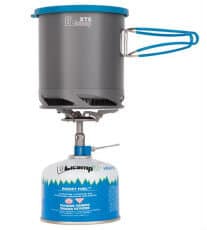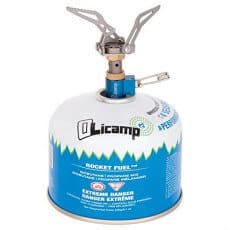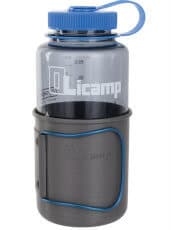 We were unfamiliar with Olicamp until we met their distributors at Outdoor Retailer, but the Utah-based brand has been around since 1984. They specialize in backpacking stoves and cookware, with a focus on efficiency and self-containment.
Their Kinetic + XTS Stove Combo is a perfect example. At just 2.5 x 2.6 inches and 1.7 ounces, the Kinetic Ultra Titanium Stove ranks among the smallest and lightest on the market. Yet its 9,620 BTU output allows it boil water in 3.5 minutes, and you can easily fit it and a fuel canister (sold separately) into the XTS cooking pot.
If the Kinetic is still too heavy for you, their ION Micro Stove is even smaller: Just 1.5 inches wide and 2 inches tall, weighing a whopping 1.5 ounces. With 8,900 BTU, it'll boil 8 ounces of water in about 4 minutes and 20 seconds. You can also complete your ultralight camp cooking package with Olicamp's Space Saver Mug + 1-qt Nalgene Bottle. Check Prices on Olicamp products.
Although I rarely talk about it on GGT, pizza played a huge role in my life. I actually paid my way through college by working at pizza places as a delivery driver and manager. My 16-year-old daughter and I have a weekly pizza tradition dating back to when she learned to chew food.
So I was genuinely more excited to receive the Uuni 3 Wood-Fired Oven than just about anything else featured here. At nearly 30 pounds, it's not the most portable camp cooking item. But for car camping, tailgating, or backyard BBQs, it's a beauty!
Made of brushed stainless steel, the insulated body ensures excellent heat efficiency. It burns sustainably sourced oak wood pellets, which allow the oven to go from cold to 932º F in 10 minutes (and cook a pizza in 60 seconds). You can also use it for quick-cooking meat, seafood, veggies, and protect the whole thing with a Uuni cover/bag once you're done.
Complete Billed as "the ultimate mess kit" for two, this new cook set from GSI Outdoors was another great find from this year's Outdoor Retailer show.
The Pinnacle Dualist Complete package centers around the fuel-efficient Pinnacle Canister Stove, which includes an integrated windscreen. It also comes with two 20-ounce insulated bowls, two 20-ounce insulated mugs, two telescoping "foons" (a.k.a. sporks), a 1.8-liter pot, a strainer lid, and a welded stuff sack that also doubles as a small sink.
The best thing about this set is its brilliant design, which includes integrated nesting for fuel canisters and compacts into a space-saving package. Weighing in at just 26.6 ounces, it's a great gear option for ultralight backpackers.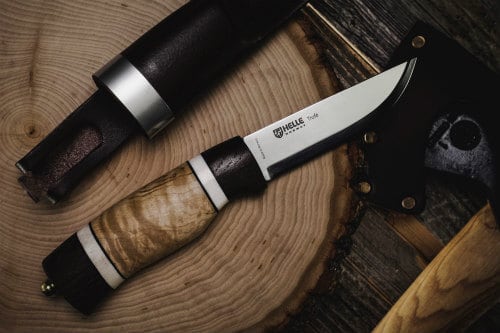 When I was a boy, my dad would occasionally lecture me on the value of having a good knife in the great outdoors. He was a Case Knives collector, but I think he would've loved the Scandinavian craftsmanship of the 85-year-old Helle Norway brand.
Their Trofé Knife was another of my favorite finds at this year's Outdoor Retailer. Its 4.3 inch handle is truly an exceptional work of art, made using natural elements including curly birchwood, darkened oak, and stag horn. It also comes with a stitched leather sheath.
But Helle Norway always ensures their knives have substance that measures up to their swanky style. The Trofé also boasts a triple laminated, 3.5 inch stainless steel drop point blade that is designed to remain razor sharp. They're also easy to maintain, with cleaning and drying after usage typically the only maintenance required. Check Prices on Helle Norway Knives.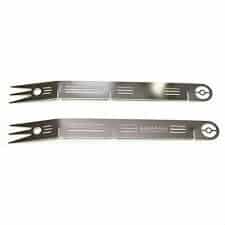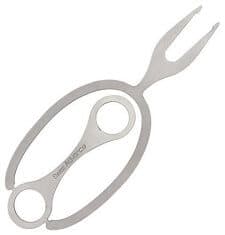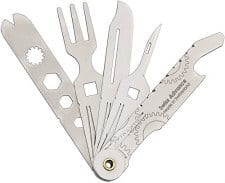 Distributed by Asheville's Sport Hansa– the same company that brought Helle Norway to the United States– Swiss Advance is a newer European brand that we discovered at Outdoor Retailer. Made in Switzerland, they specialize in tools and kitchenware for camping, using eco-friendly materials, Zero Waste manufacturing processes, and donating to 1% For the Planet.
Their Thyla BBQ Tongs were the first product that got our attention. Their innovative design allows the two sleekly minimalist pieces to serve numerous purposes. Connect them one way and they're tongs for the grill or serving salad. Make a X with the slots in the middle and they become a trivet for hot pots. Or you could simply separate them and use them as forks.
Speaking of forks, their Doro BBQ Grill Fork is another ingenious invention that will appeal to anyone who's ever lost their marshmallow or hot dog to the campfire. The small stainless steel fork has two holes with which you can mount it on a stick (using tension), plus spikes on the tines to ensure your food doesn't slip off. It's simple, but oh so brilliant.
Their Crono N5 Pocket Knife is a small, sleek update on the classic Swiss Army knife concept. Measuring just 9.5 x 1.6 x 0.6 cm, the stainless chromium steel tool is wafer thin and so light you won't even feel it in your pocket. Yet it features a bottle opener, fish scaler, wire stripper, ruler,hexagons, wing nut opener, cheese knife blade, square, fork, screwdriver, and more! Check Prices on Swiss Advance products.
Another new brand we met at Outdoor Retailer, Wonderbag is a simple line (one product, two sizes, seven colors) with a simple design. It has one singular goal in mind: Using heat retention to cook your food in a more eco-friendly fashion.
As mentioned above, most camp stoves are shockingly inefficient, usually offering 40% fuel efficiency. With conventional cooking methods, any heat used after the pot starts to boil is simply replacing heat lost via exposure to air.
The Wonderbag works like a slow cooker. Once your food simmers for a few minutes, you put the pot in the bag (up to 2 quarts for the small size, up to 12 quarts for the large) and let the insulation do the rest. The results save up to 80% of the energy normally required for camp cooking, and the bag keeps food hot for up to 12 hours.
OUTDOOR TECH GEAR
In an era where most people use their smartphones for everything, a watch has to do a lot more than tell time if it wants to stand out. This new model from Casio's Pro Trek line is designed specifically for outdoor enthusiasts, and has a bevy of fantastic features that should appeal to avid climbers, hikers, and divers alike.
First off, it's got a solar rechargeable battery, so you should never have to worry about replacement. It's water resistant to 200 meters, with an auto LED backlight for keeping track of dive time in the darkest depths. It also has a built-in altimeter, barometer, digital compass, thermometer, sunrise/sunset time data, stopwatch, and a World Time feature that includes 31 different time zones.
Fortunately it also has style to go with its substance. With a dark olive silicone band and a big, bold rotary bezel, this is a watch designed to look as good when you're off the trail as it works when you're on it.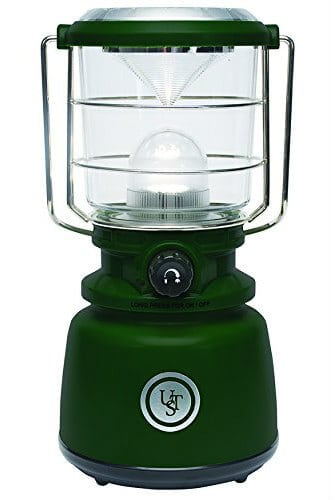 Another company we connected with Outdoor Retailer, UST (Ultimate Survival Technologies) is a Jacksonville, Florida-based brand that specializes in an expansive assortment of survival and camping gear. We tested two of the company's lanterns for this feature.
The 60-Day DURO LED Lantern is sleek and rugged, with an unbreakable, water-resistant, rubberized plastic housing. Inside the removable globe you'll find three 1.4-watt LEDs that can produce 1200 lumens on high, 200 on medium, and 20 on low. The lantern also includes an SOS emergency strobe, handle, and a recessed cook for hanging it as a downlight.
UST's new Heritage Camp Lantern combines a cool retro design with modern technological innovations. It includes four different modes: Natural White (up to 1000 lumens), Cool White (480), Amber (370), and Amber Candle Flicker. The latter mode is perfect for use inside the tent, and the other modes allow brightness control via a dimmer switch. It's a cool tool for campsite illumination. Check prices for UST Lanterns.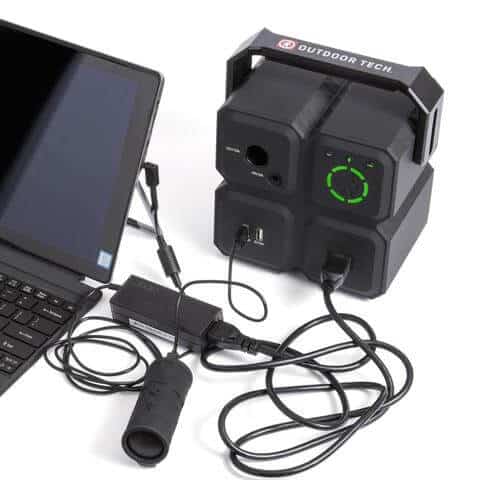 Outdoor Tech Kodiak Power Station 200
Arguably the biggest obstacle for us in terms of spending more time in the wild is the fact that our work requires us to have access to the internet and an AC power source for a good portion of the day.
The Kodiak Power Station offers a great solution in a compact, portable 4.19-pound package. It's made from rugged rubberized plastic that's designed for the great outdoors. It provides 200 Watts of power, with 12 volt, 110 volt, and two USB outputs. You can charge it via AC adapter, auto adapter, or by plugging it into a solar panel (we recommend Goal Zero's Nomad 28 Plus).
In other words, it's a perfect power source for outdoor adventures. And when paired with Outdoor Tech's Calamari Ultra 3-in-1 charging/data transfer cable (which includes USB, micro USB, and Apple MFI connectors), it's got everything we need to keep our devices charged for a full day at the lake, beach, mountains, or wherever our adventures take us. Check Prices on Outdoor Tech products.
Need proof that big things often come in small packages? Check out the WakaWaka Power+, a 3000mAh solar light and charger that measures just 4.7 x 3 x .6 inches and weighs a whopping 7 ounces.
It can be powered by the sun (a full charge takes 12-18 hours) or via an AC outlet (6 hours). It provides light for up to 200 hours, or it can charge the average smartphone up to 1.5 times. There are four different light settings, ranging in brightness from 5 to 70 lumens, as well as an SOS emergency beacon.
Best of all, every purchase contributes to a philanthropic mission: To make light and energy accessible to people in remote, underprivileged areas around the world via their WakaWaka Foundation.
We generally love almost every aspect of Mother Nature. But mosquitos? They're on a shortlist of pests (along with horseflies, biting ants, and wasps) that we try to avoid at all costs. Unfortunately, living in a hot, humid place like Georgia, this is easier said than done.
Last summer we tried Thermacell's Backpacker Mosquito Repeller, which was eminently portable but used butane fuel canisters. The new Radius uses a rechargeable lithium ion battery (which lasts 6 hours per charge) to heat the repellent. Lasting up to 40 hours per refill, the repellant is scent-free and DEET-free, creating a 110 square foot area of protection.
Smaller than a soda can and approved by the DOT for flights, the Radius is great for travel, whether by air or foot. We're looking forward to testing it further this summer, when mosquitos in our area reach their peak!
MISC COOL CAMPING GEAR
Though it's called a cabana, this crazy-cool concoction from Treepod looks like a tent/hammock hybrid from a Cirque du Soleil show. But it was actually inspired by the Magis Spun Chair (by Thomas Heatherwick) at the Museum of Modern Art in New York City.
One of the coolest designs we saw at the 2018 Outdoor Retailer show, the mesh-sided cabana comes in six colors and three sizes (4', 5', and 6'). It comes with everything you need for set-up– the pod, rope, frame, hand strap, and quick link, all in a handy bag– but it's much easier to assemble if you have two or more people. The 6' version is easily big enough for two to lounge comfortably.
You can hang it from a tree or buy the optional Treepod Stand, which is a bit pricey. But I highly recommend buying the Bug Net, which is sold separately, but WELL worth the price once the mosquitoes start coming out to feast.
In my teens and twenties, I never understood why people used hiking sticks. Now, as I near 50 and my knees are a bit creakier than they used to be, I totally get the appeal of trekking poles. Especially when we go hiking in mountainous places such as Antarctica, Patagonia, and Rwanda.
LEKI's new Micro Vario Carbon trekking poles boast a "Dynamic Suspension System" that's designed to protect your muscles, joints, and ligaments by reducing the shock and vibration of peak impact by around 40%. The carbon makes them ultra-light (8 oz. per pole), while the rounded Argon Thermo grip ensures a comfortable fit in your hand.
They're a little bit on the expensive side, but you're paying for performance. The poles are easily adjustable from 43 to 51 inches using the convenient Speed Lock 2 system. When you're done hiking/climbing, they break down quickly into the included 15.5" travel/stow bag.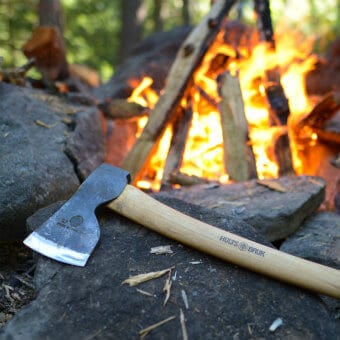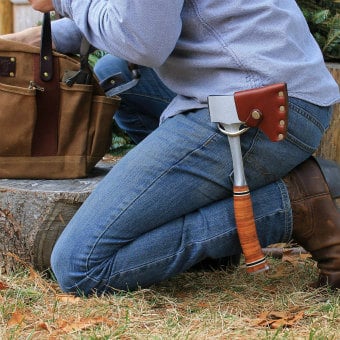 The deeper we go in our quest for sustainability and, ultimately, self-sufficiency, the more I reconnect with my youth. When I was 15 my family bought 32 acres of pristine woodland. I helped clear big sections in order to make way for a house, barn, yard, garden, tractor trails, and campgrounds. So axes, machetes, and pickaxes were tools I used daily.
These days, I mostly use axes for cutting firewood and sections of fallen trees for our permaculture garden. The Akka Forester's Axe (from Sweden's 320-year-old Hults Bruk brand) is an absolute beast of beauty, with a 24" American hickory handle and straight knife-ground edge that slices and dices wood like a Ginsu for lumberjacks. Weighing just 2.2 pounds, with a gorgeous protective sheath embellished with Swedish decoration, it's perfect for clearing forest trails.
American Bench Craft's Estwing Sportsman Axe is smaller (13.5" long) and about half the price of the Hults Bruk. But it's designed to be used one-handed, more like a hatchet, so it's better suited for smaller jobs as opposed to logs. Still, it's made from a single piece of stainless steel, with a beautiful leather handle and premium leather sheath, so it's a beauty.
A few years ago, a freelance magazine assignment had me dipping my toes into the chilly waters of fly fishing, spending a day with a guide catching trout in Atlanta's Chattahoochee River. I loved it so much, I've dreamed of doing more of it when Mary and I take our big cross-country U.S. National Parks RV road trip.
The Sierran Transition Wader from Frogg Toggs will definitely be coming along for the ride. The New Product Showcase winner at the 2017 ICAST (International Convention of Allied Sportfishing Trades) trade show, this breathable, modular wader has a HUGE zip/flip chest pocket tray that's perfect for keeping flies and tools within easy reach.
Other noteworthy features include an additional external fly storage area, a back D-ring for holding a net, attached gravel guards with no-slip elastic openings, an adjustable locking chest cord, and adjustable X-back suspenders with a locking buckle and more D-rings.
Little-known trivial tidbit about me: I love spending time outdoors, but I hate getting dirty. Perhaps that's because, as a boy, I was so allergy to everything (grass, hay, pollen, pets, etc) that I had to get shots once a week.
The Hex 2.0 Original Chair from Crazy Creek offers an easy way to cushion your tush while its 210D coated tiptop nylon exterior protects you it from the elements. The 8mm high-density EVA foam provides an impressive amount of insulation and comfort, and its size (33 x 15.5 inches) makes it big enough to use as a small sleeping pad or pillow at night.
Best of all, the Hex 2.0 weighs just 21.9 ounces, and rolls up into a 4-inch diameter bundle that you can attach to a backpack using the attached hanging loop.
Water is essential when you're hiking in the backcountry. And while it's nice to camp right by a river or stream, where you can easily get water to boil anytime you need it, it's not always possible.
The Expedition 8L is HydraPak's largest capacity system, holding 270 fluid ounces of water. It's super portable and constructed from lightweight (3 ounces) Thermoplastic Polyurethane, yet it's rugged enough to withstand abrasions and can even be frozen. Other features include a low profile daisy chain for lash points, external capacity gauge, and dual baffles for added stability.
The wide-mouth cap enables easy pouring, or you can use the tap insert for more controlled dispensation. It's compatible with the Katadyn Vario Filter (sold separately), which you can screw onto the top for filtering water in the backcountry. But our favorite feature is the Plug-N-Play Cap Kit attachment (also sold separately), which turns it into a portable camp shower.
Did you ever notice that campers and survivalists have a lot in common? Both require a specific range of supplies, a good bit of planning, and an ability to improvise in order to be truly successful.
Made by the Sustain Supply Co., the Comfort 4 is a 4-person emergency survival bag/kit that works equally well for a weekend in the woods or keeping your family alive during a disaster. It comes in a large, water resistant backpack designed to stand up to the elements, made from rugged 600D polyester.
Inside you'll find virtually everything you need to survive for 72 hours, including basics such as 24 servings of Mountain House food, 48 packets of Datrex water, a portable camp stove, and four InstaFire tinders for lighting it. The massive pack also contains two LED lanterns, two flashlights, eight Cyalume snap lights, a stainless steel survival knife, a fully stocked first aid kit, four emergency blankets, four bowls and utensils, a hand crank/solar radio and more. It's the perfect 4-person "go bag." –Bret Love & Mary Gabbett